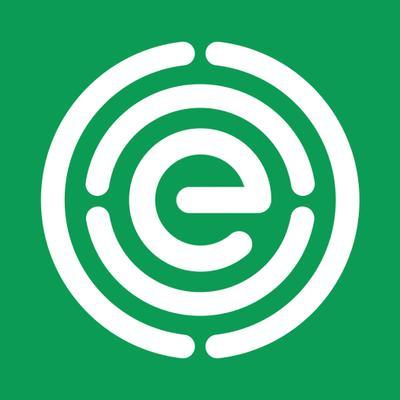 For Immediate Release
April, 23 2019, 12:00am EDT
Former EPA Head Scott Pruitt Hired as Lobbyist to Save Coal in Indiana. (He Can't)
EWG: Battle between coal and renewables is over, and coal lost
WASHINGTON
A major coal mining company in Indiana has hired former Environmental Protection Agency chief Scott Pruitt to lobby against plans to close several coal-fired power plants in the state.
Hallador Energy Company issued a news release heralding its decision to hire Pruitt "to attempt to protect the ratepayers of Indiana" from plans by two electric utilities, Vectren and NIPSCO, to shutter all aging coal-fired power generation facilities in the state by 2030.
Hallador is a subsidiary of RailPoint Solutions LLC and Sunrise Coal, the second largest coal operation in Indiana.
"Who better than Scott Pruitt to aid the Indiana legislature on what Trump energy policy will look like?"said Hallador's release.
Last week, The Indianapolis Star reported that Pruitt - who resigned in July 2018 from the EPA after an 18-month tenure marked by spending and ethical scandals - had registered as a lobbyist in Indiana.
Earlier this month, the Republican-controlled state legislature strongly rejected a measure that sought to place a moratorium on coal plant closures by prohibiting utilities from purchasing new electric generation from renewable and natural gas sources. Other than coal mining companies, no groups - including utilities, the Chamber of Commerce or state consumer interest and environmental organizations - supported the measure.
Now Hallador and Pruitt are pushing another scheme, urging lawmakers to include language in the budget bill that would prohibit the Indiana Utility Regulatory Commission from considering Obama-era regulations at EPA that were put in place to reduce carbon emissions in the commission's decisions about rates and other issues that could impact the future of coal-generated electricity in the state.
Hallador is falsely asserting that Obama clean air regulations are the reason coal costs more than wind, solar and natural gas. They argue that once President Trump and current EPA head and former coal lobbyist Andrew Wheeler are finished gutting those regulations, the price of coal will drop. Both Vectren and NIPSCO acknowledge that rates will go up slightly at first to help cover the costs of transitioning to renewables and natural gas, but that they will ultimately be lower than current rates.
"The decisions we're making regarding generation are squarely focused on economics and cost savings for our customers," NIPSCO spokesman Nick Meyer told E&E News.
State House Speaker Brian Bosma told the Star it is highly unlikely Pruitt and Hallabor's suggested moratorium language to stave off coal-fired power plant closures will be added to the budget bill, which is expected to be voted on this week in the final days of the legislative calendar.
The U.S. Energy Information Agency's own data show that coal consumption has plummeted to its lowest levels in nearly 40 years. The drop in coal use by utilities "is the result of both the retirements of coal-fired power plants and the decreases in the capacity factors, or utilization, of coal plants as increased competition from natural gas and renewable sources have reduced coal's market share,"according to the EIA. In fact, more coal-fired power plants have closed in the first two years of the Trump administration than during President Obama's entire first term.
The trend for renewable energy sources is a much different story:
"The battle between coal and renewables is over. Coal lost,"said EWG President Ken Cook. "And nothing, including lobbying by an inept grifter like Scott Pruitt, is going to bring it back."
The Environmental Working Group is a community 30 million strong, working to protect our environmental health by changing industry standards.
(202) 667-6982
LATEST NEWS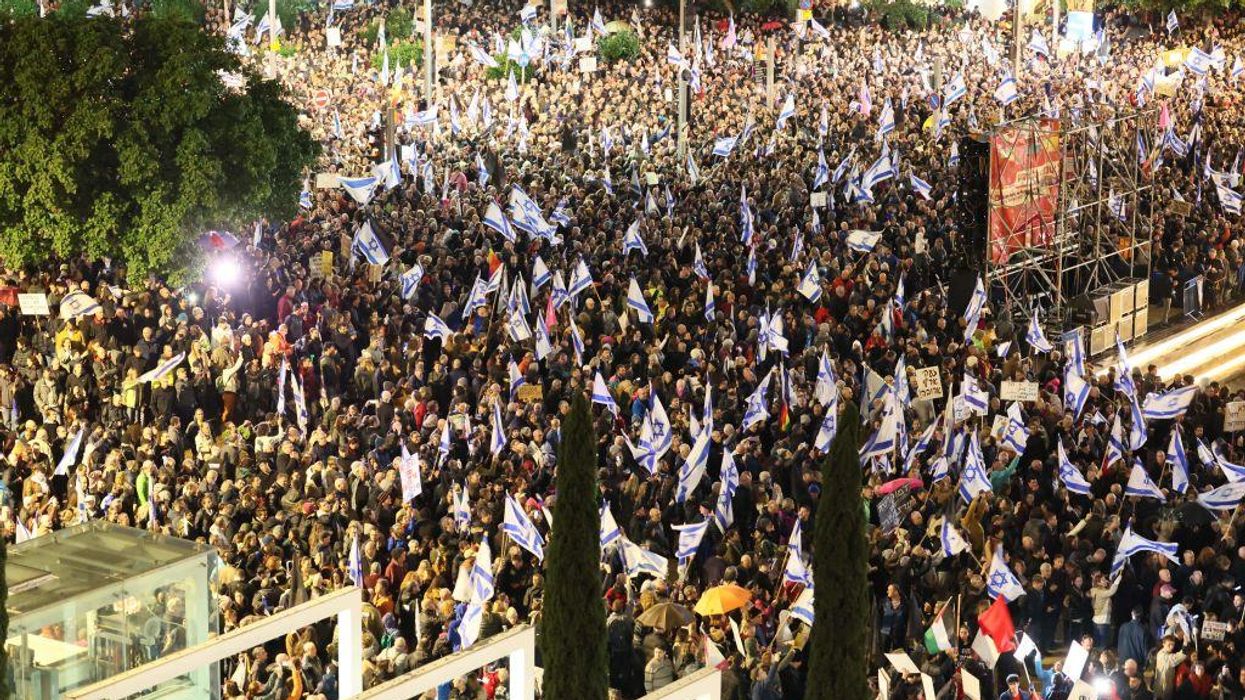 Over 100,000 marched in Tel Aviv against the government, in one of the biggest protests in Israel in many years
Tens of thousands of Israelis marched in central Tel Aviv and in two other major cities on Saturday night, protesting far rightwing PM Benjamin Netanyahu's plan to overhaul the legal system and weaken the Supreme Court — undermining democratic rule just weeks after his election.
Despite cold, rainy weather, marchers, many covered with umbrellas, held Israeli flags and placards saying "Criminal Government," "The End of Democracy," and "We Are Preserving Our Shared Home." Netanyahu was guilty of a "legal putsch," read another.
Critics say Netanyahu's would cripple judicial independence, foster corruption, set back minority rights, and deprive Israel's court system of credibility.
Netanyahu and his ultranationalist security minister Itamar Ben-Gvir ordered police to take tough action if protesters displayed Palestinian flags at Saturday's protest. Social media footage showed a number of Palestinian flags on display in defiance of Netanyahu.
"Elections do not give anyone the power to destroy democracy itself," said former Justice Minister Tzipi Livni as she addressed the protest in Tel Aviv, adding that Israel's far-right government is "carrying out a political takeover of the country and waging a war against its democratic institutions."
"Spilled poison, lies, slandering one's brother, marking as an enemy anyone who thinks differently. [They are doing] everything so that we crumble from the inside and weaken as a society before the big attack," she said.
"We will stop you, and we will not compromise because democracy in Israel, our freedom and our rights are not political trade," Livni said. "They can call us traitors, but we are the ones who protect the motherland from them. They can threaten handcuffs – we are not afraid," she said.
News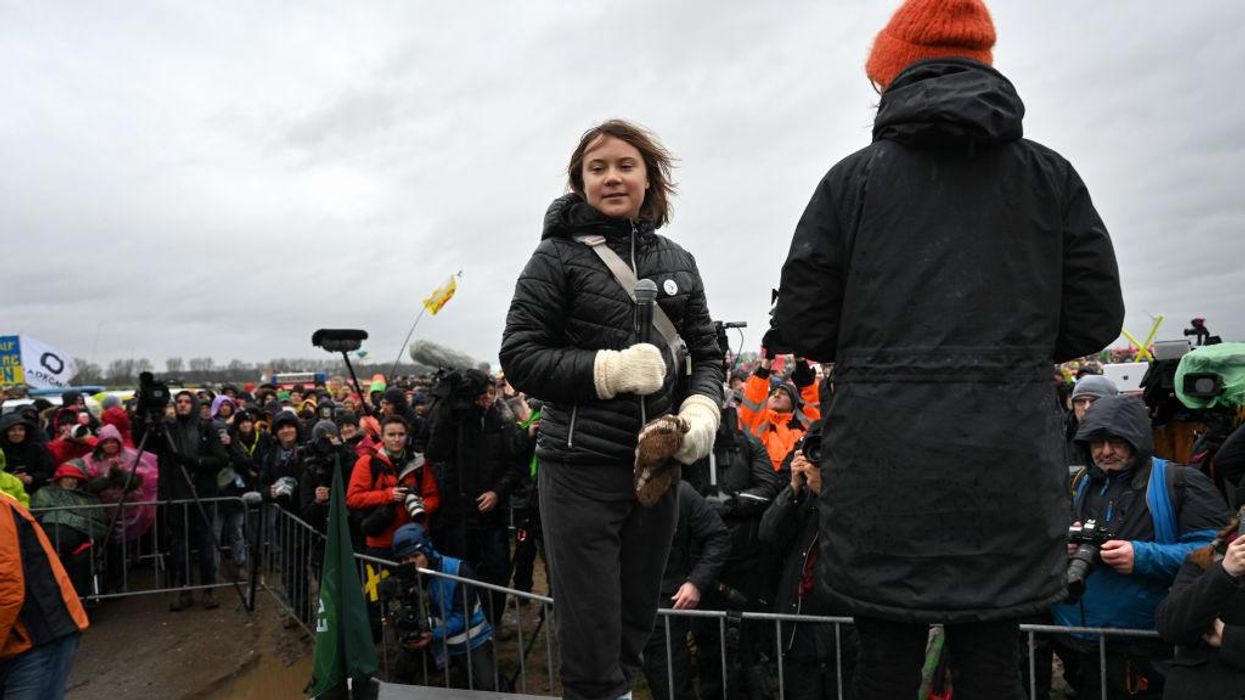 Greta Thunberg criticized Germany's Green Party on Saturday for supporting the demolition of the village of Lützerath
Thousands of people demonstrated in a pouring rain on Saturday protesting the clearance and demolition of a village in western Germany that is due to make way for the expansion of the coal mine Garzweiler.
Swedish climate activist Greta Thunberg joined the demonstrators as they protested the clearance of Luetzerath, walking through the nearby village of Keyenberg. Protesters chanted "Every village stays" and "You are not alone."
Activists from climate action groups including Fridays for Future, Extinction Rebellion and Last Generation came from across the country to join the protest.
Thunberg criticized Germany's Green Party on Saturday for supporting the demolition of the village of Lützerath.
German outlet dpa reported:
Making deals with fossil fuel corporations such as energy giant RWE – which has bought the site of Lützerath for mining – "show where their priorities are", Thunberg said of the Greens, who form part of Germany's coalition government, in an interview with dpa.
Leading Green politicians such as Economy Minister Robert Habeck have defended the demolition of Lützerath, arguing that the coal below is needed to maintain energy security in the current crisis.
"The coal that is in the ground here will not lower prices immediately. Anyone who thinks like that is simply out of touch with reality," Thunberg said.
The Greens are also in power in the state of North-Rhine Westphalia, where the village of Lützerath has become the latest flashpoint for activists opposed to the government's continued use of coal.
During a visit to Lützerath Friday afternoon, 20-year-old Thunberg said it was "horrible to see what's happening here."
"We expect to show what people power looks like, what democracy looks like. When governments and corporations are acting like this, destroying the environment, putting countless people at risk, the people step up," she said.
The climate activist also referred to "outrageous ... police violence" occurring at the site.
Thunberg held up a sign that read, "Keep it in the ground."
Sara Ayech, Global Campaign Lead for Climate at Greenpeace International said Saturday: "We're in 2023, in the middle of a climate crisis, and while destroying a village to expand one of the biggest carbon bombs in Europe should be considered criminal, it is still legal. Fossil fuel companies' influence is so powerful that the ones considered criminals now are the ones fighting for climate justice. It is time to hold fossil fuel companies accountable."
Environmentalists say bulldozing the village to expand the Garzweiler mine would result in huge amounts of greenhouse gas emissions.
The local and national governments, both of which include the Green party, made a deal with fossil fuel giant RWE last year allowing it to destroy the village in return for a promise to end coal use by 2030, rather than 2038.



News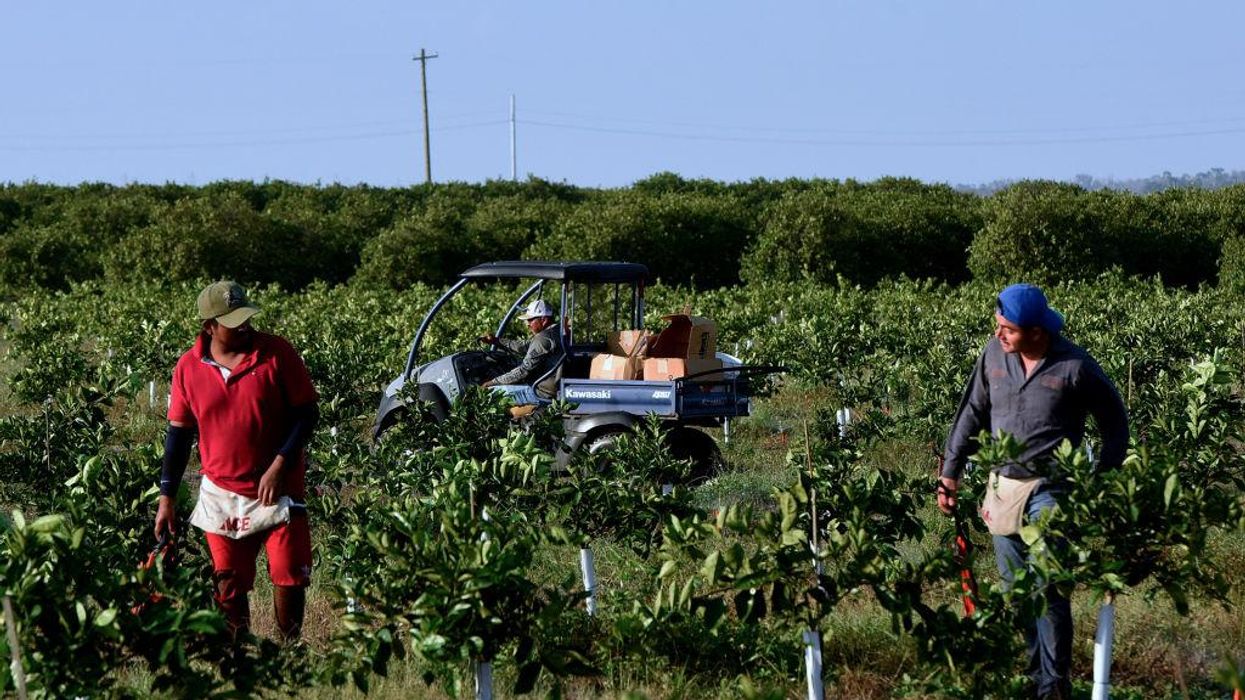 "This is a huge victory for undocumented workers and the labor movement," said one organizer.
Migrant workers and advocates on Friday applauded a Biden administration policy to help protect noncitizen employees who are victims or witnesses of labor rights violations "from threats of immigration-related retaliation from the exploitive employers."
The U.S. Department of Homeland Security (DHS) announced that noncitizens will be able to submit requests for temporary relief from deportation or other immigration actions to U.S. Citizenship and Immigration Services (USCIS) "through a central intake point established specifically to support labor agency investigative and enforcement efforts."
"This policy will change lives, but only if our local and national leaders stand with workers loud and clear, to make this policy a reality."

DHS said that "for deferred action requests from noncitizens who are in removal proceedings or have a final order of removal, upon reviewing the submission for completeness, USCIS will forward such requests to U.S. Immigration and Customs Enforcement (ICE) to make a final determination on a case-by-case basis."
As Daniel Costa, director of immigration law and policy research at the Economic Policy Institute, explained Friday in a blog post welcoming the announcement:
Given the current budget constraints of federal labor standards enforcement agencies—which are funded at just one-twelfth the rate of immigration enforcement agencies—the use of deferred action in this manner will encourage workers and whistleblowers to speak out without fear and will act as a force multiplier for underfunded and understaffed labor enforcement agencies, thereby assisting them in their mission to protect worker rights and hold lawbreaking employers accountable. This will make workplaces safer for all workers.
Organizations from the Blue Ribbon Commission on Immigrant Work praised the policy, with Haydi Torres, an organizer with Unidad Latina en Acción NJ, declaring that "this is a huge victory for undocumented workers and the labor movement."
"Our fight goes beyond our immigration status, it is a fight for all the workers who sustain the economy of this country," Torres said. "Without our hands there is no work."
Yale Law School professor James Bhandary-Alexander, an attorney with Unidad Latina en Acción CT, said that "the threat of deportation is like a gun in the boss's hand, pointed at workers and their rights."
Workers' rights leaders such as Victor Agreda agreed, saying that "the bosses always act like they have more power than the workers."
While "my co-workers and I overcame our fear to denounce labor abuses," Agreda said, "deferred action is labor justice for all workers who remain silent in the face of abuse."
\u201cHUGE win for immigrant workers! This is a historic step for victims of workplace mistreatment and wage theft. This is only the start - we won\u2019t stop until there\u2019s #citizenshipforall! \u270a\ud83c\udffd\n\nMigrant workers can now be protected from deportation while disputing workplace abuse.\u201d

— NICE: New Immigrant Community Empowerment (@NICE: New Immigrant Community Empowerment) 1673630263
Homeland Security Secretary Alejandro Mayorkas asserted Friday that "unscrupulous employers who prey on the vulnerability of noncitizen workers harm all workers and disadvantage businesses who play by the rules."
"We will hold these predatory actors accountable by encouraging all workers to assert their rights, report violations they have suffered or observed, and cooperate in labor standards investigations," he pledged. "Through these efforts, and with our labor agency partners, we will effectively protect the American labor market, the conditions of the American worksite, and the dignity of the workers who power our economy."
Stuart Appelbaum, president of the Retail, Wholesale, and Department Store Union (RWDSU), said that "today's announcement by Secretary Mayorkas is welcome news. Immigrant workers are critical to the success of our economy, yet they are among those who suffer the most exploitation and abuse at work, and then suffer further from intimidation and retaliation when they stand up for their rights."
\u201cFor far too long, immigrant workers have had no one in their corner as they faced employers who threatened them with deportation and unlivable wages. This new guidance will help create fairer and safer working conditions for #OurComunidad and all workers.\u201d

— Hispanic Federation (@Hispanic Federation) 1673647227
Since then-President-elect Joe Biden announced Marty Walsh as his nominee to lead the U.S. Department of Labor in October 2021, migrant worker advocates have pressured the administration to ensure that its immigration and labor policies are aligned and to protect whistleblowers by removing the threat of deportation.
"From Las Vegas to Washington D.C., to Mississippi to New York, we have fought tirelessly to reach this moment," Rosario Ortiz of the Arriba Las Vegas Worker Center noted Friday. "My coworkers and I have been fighting our case for more than three years, facing threats and intimidation on top of wage theft and health and safety risks as workers of Unforgettable Coatings Inc."
"We've met personally with Secretary Walsh and Secretary Maryokas to call for these protections," Ortiz said. "Today I am proud of my coworkers and our brothers and sisters across the country who have helped open a pathway for others in our circumstances to seek the protections that we have won."
\u201c#BREAKING: #DHS announces new migrant workers whistleblower policy! It\u2019s a recognition of the many workers who launched the #DALE campaign demanding Biden protect rights of migrant workers confronting abuse + unsafe work - with work permits - not try to deport them!\u201d

— Justice Action Center (JAC) (@Justice Action Center (JAC)) 1673638469
While celebrating the administration's move, Unidad Latina en Acción CT director John Jairo Lugo stressed that "words without actions are not enough. This policy will change lives, but only if our local and national leaders stand with workers loud and clear, to make this policy a reality."
National Day Laborer Organizing Network (NDLON) co-executive director Nadia Marin-Molina vowed that "we are going to fight like hell in the days and weeks ahead to ensure that every single worker who qualifies can get the benefit of this new policy."
"We are going to fight like hell in the days and weeks ahead to ensure that every single worker who qualifies can get the benefit of this new policy."
Farmworker Justice, which also applauded the announcement, pointed out that the policy "will have a particularly powerful impact among farmworkers, more than half of whom are either undocumented or on precarious H-2A work visas, and their families."
"Farmworker Justice has supported advocate demands for these protections for many years, and we look forward to continued engagement with DHS as well as labor enforcement agencies to educate farmworkers and their advocates about the new guidance," the group said. "We will also continue to advocate for comprehensive solutions that improve the lives of farmworkers and their families, including legislation that provides immigrant workers with a path to citizenship, protections against workplace hazards like extreme heat and pesticides, and the elimination of unjust farmworker exclusions from federal labor protections."
News
SUPPORT OUR WORK.
We are independent, non-profit, advertising-free and 100%
reader supported.