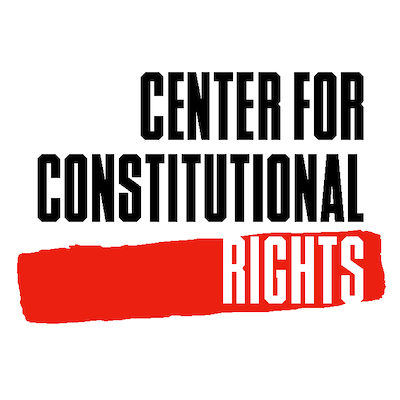 For Immediate Release
November, 13 2018, 11:00pm EDT
Contact:
Will Lambek, Migrant Justice, (802) 321-8393, will@migrantjustice.net
Lia Ernst, ACLU of Vermont (802) 223-6304 x112, lernst@acluvt.org
Jen Nessel, Center for Constitutional Rights, (212) 614-6449, jnessel@ccrjustice.org
Liz Valsamis, Gibson, Dunn & Crutcher LLP, (213) 229-7115, LValsamis@gibsondunn.com
Leah Lotto, National Center for Law and Economic Justice, (212) 633-6967, lotto@nclej.org
Juan Gastelum, National Immigration Law Center, (213) 375-3149, gastelum@nilc.org
Lawsuit Alleges ICE, DHS, and Vermont DMV Targeting Immigrant Leaders in Retaliation for Activis
Migrant Justice Leaders at Risk of Deportation for Engaging in Protected First Amendment Activity
WASHINGTON
Today, Vermont-based Migrant Justice filed a lawsuit in federal court alleging U.S. Immigration and Customs Enforcement (ICE) and the Department of Homeland Security (DHS)--with the assistance of the Vermont Department of Motor Vehicles (DMV)--conducted an unlawful, multi-year operation to surveil, harass, arrest, and detain the organization's members and leaders. Those activities were undertaken in retaliation for plaintiffs' First Amendment speech and assembly and in order to destabilize Migrant Justice and its successful organizing of Vermont's immigrant farmworkers.
The lawsuit claims federal immigration authorities targeted Migrant Justice leaders and members since at least 2014, as the organization was engaged in high profile human rights organizing across Vermont and nationally. As part of a larger pattern of suppressing immigrant activism nationwide, federal immigration authorities infiltrated the meetings and private associations of Migrant Justice through the use of a civilian informant, invasively surveilled its members and mined their social media pages for information, and targeted, arrested, and detained no fewer than nine Migrant Justice members in direct retaliation for their activism.
"We come to the U.S. from countries with histories of political repression and we thought that here our freedom of speech would be protected as we stood up to defend our rights," said Enrique Balcazar, a Migrant Justice leader and plaintiff in the case, "It is clear that ICE is trying to silence the voices of immigrants in Vermont."
The lawsuit alleges that the Vermont DMV assisted ICE and DHS in targeting Migrant Justice leaders after the organization worked to pass Vermont's Driver Privilege Card (DPC) law in 2013, allowing state residents to obtain driving privileges regardless of immigration status. Documents obtained through public record requests show that when the plaintiffs submitted their DPC applications, the DMV sent their personal information directly to ICE, which compiled dossiers on Migrant Justice leaders, including their social media pages and media appearances. The records show DMV workers shared the plaintiffs' information with ICE for discriminatory purposes, out of racial and anti-immigrant animus.
"Time and again, we've seen that when Vermont officials get entangled in federal immigration matters, civil rights violations are the inevitable result," said ACLU of Vermont staff attorney Lia Ernst. "The fact is, DMV and other local officials have no legal authority to do immigration enforcement or to discriminate against Vermont residents--but clearly that message still hasn't gotten through."
A 2016 investigation by the Vermont Human Rights Commission found that the DMV misused the DPC program to engage in a number of discriminatory practices, including falsifying information on applications. Even after the DMV implemented policy reforms, however, officials continued to share extensive information about DPC applicants of color with ICE. DMV officials repeatedly sent what they referred to as "South of the Border" names to ICE for potential investigation, while referring to immigrants in racist and derogatory terms, and scheduled appointments to facilitate immigration arrests.
"Migrant Justice leaders have worked for years to thwart discriminatory policing by local and federal officials," said Trudy Rebert, a staff attorney at the National Immigration Law Center. "ICE and willing enablers with a history of anti-Latinx bias at the local DMV have resorted to weaponizing systems essential to community safety to target and suppress our plaintiffs."
ICE has detained four prominent Migrant Justice leaders who are named plaintiffs in the lawsuit. During the course of the arrests, ICE agents harassed and intimidated plaintiffs, referring to one as a "famous person" because of his activism, and named an additional member who would be "next." In detention, plaintiffs were forbidden from contacting a lawyer or anyone associated with Migrant Justice. Two plaintiffs were detained soon after leaving the Migrant Justice office. As part of its campaign to undermine Migrant Justice, ICE spread false information about the organization, including that staff were collaborating with the agency to locate and detain immigrant community members.
The lawsuit alleges that the arrests and detention are part of an alarming national trend of retaliation against immigrant rights activists. Since 2016, ICE has arrested no fewer than twenty high-profile leaders around the country.
"The federal government crackdown on political speech in Vermont is part of a national campaign to silence immigrants who criticize government officials and their policies." said National Center for Law and Economic Justice Senior Attorney Leah Lotto. "Using their power to physically arrest and detain outspoken leaders is a shocking violation of our constitution."
Plaintiffs are seeking an injunction to prevent Defendants from targeting, surveilling, infiltrating, spreading disinformation, arresting, and detaining Migrant Justice members, and to prohibit DMV employees from racially motivated sharing of information with federal immigration enforcement agencies.
"The federal government targeted Migrant Justice because of its historic and unrelenting advocacy on behalf of a vulnerable immigrant community," said Center for Constitutional Rights Staff Attorney Angelo Guisado. "In so doing, ICE has weaved its way into the tortured counterpane of U.S. policy used to suffocate grassroots activism and to exert control over communities of color."
On Wednesday, Migrant Justice members and supporters marched from the organization's Burlington office to the federal courthouse, hand-delivering the lawsuit while rallying outside. Migrant Justice leaders and attorneys addressed the crowd. In recent years, the federal building has been a frequent site of such rallies; at times, hundreds have filled the streets to denounce immigration arrests and call for the release of detained community members.
"The rule of law applies to everyone, regardless of one's particular political position," said Joel Cohen, a partner at Gibson, Dunn & Crutcher LLP. "An arm of the government should never be used to stifle the rights of speech and assembly or to discriminate against individuals based on their race or perceived immigration status."
Plaintiffs are represented by the ACLU of Vermont, the Center for Constitutional Rights, the National Center for Law and Economic Justice, the National Immigration Law Center, and Gibson, Dunn & Crutcher LLP.
The Center for Constitutional Rights is dedicated to advancing and protecting the rights guaranteed by the United States Constitution and the Universal Declaration of Human Rights. CCR is committed to the creative use of law as a positive force for social change.
(212) 614-6464
LATEST NEWS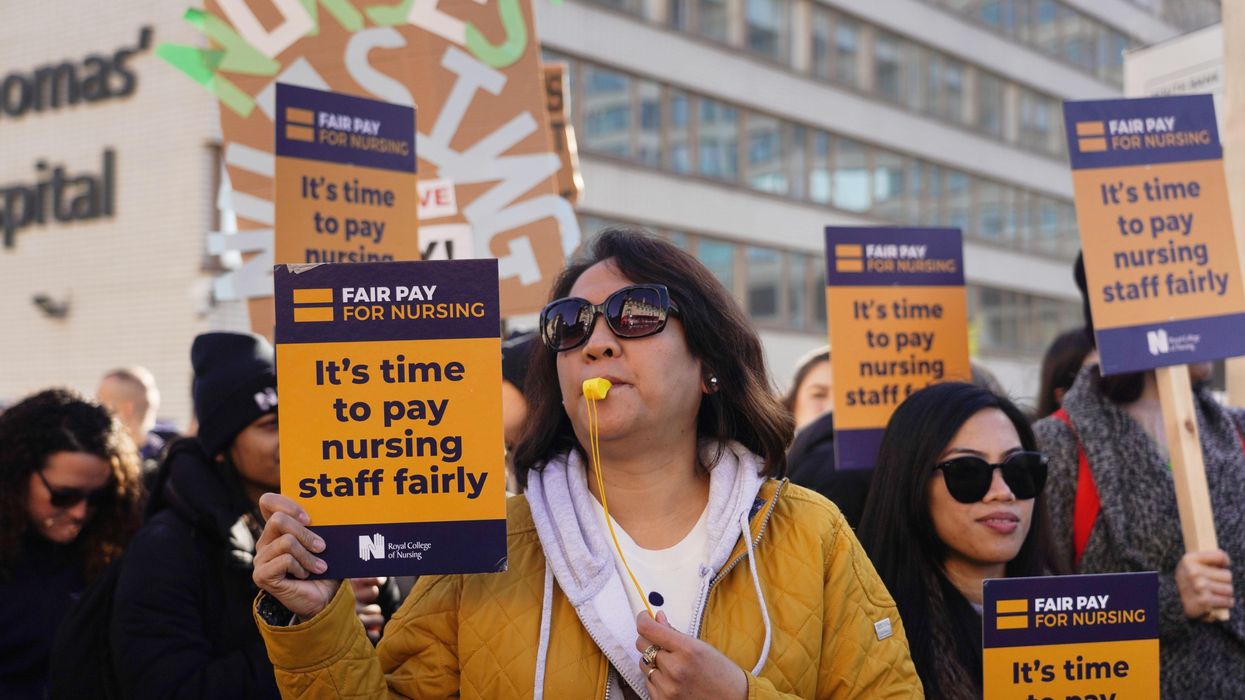 "They aren't just fighting for themselves—they're fighting for the NHS," said the Enough Is Enough campaign.
Condemning the United Kingdom's Conservative-controlled government for putting "patients at risk" by refusing to pay nurses fairly and forcing healthcare providers out of the profession, tens of thousands of nurses and ambulance workers joined forces on Monday to stage the largest work stoppage in the history of the venerated National Health Service.
The workers, who along with teachers and other public and private sector employees have gone on several strikes separately over the past several months, are calling on Prime Minister Rishi Sunak's government to return to the bargaining table with unions including the Royal College of Nursing (RCN), Unite, and GMB and negotiate higher wages and better working conditions.
The unions initially called for a pay raise of 5% above inflation, which stood at 9.2% in December, but were offered a raise of just 4.75% on average. The nation's 14 health unions have rejected the Tories' calls for them to accept the offer.
Hospital executives have also called on the government to reopen negotiations for their workers, who earn less than £30,000 ($36,000) per year in the case of newly qualified nurses. Paramedics take home salaries in the low £30,000 range, while specialist nurses earn roughly £45,000.
Ahead of Monday's strike, 100,000 members of the RCN signed an open letter warning that years of low pay have driven tens of thousands of nurses to leave the profession, including 25,000 over the last year—contributing to long waits for care and harming patient safety.

"The NHS is the bedrock of modern Britain," said the nurses. "And it is crumbling. Nursing staff make up more than half of the NHS workforce, and they are pushed beyond their limits. Care is not safe and the public pays the price. On behalf of the nursing profession, I implore you to see sense. Protect nursing to protect the public."
A number of signs on picket lines across Britain on Monday alluded to patient safety.

\u201cUp the striking ambulance workers! \ud83d\ude91\n\n\ud83d\udcf8 @GMBCampaigns picket line in Gateshead today\u201d

— Enough is Enough (@Enough is Enough) 1675689572
Officials in Sunak's government have focused on the disruption to healthcare the strikes could cause, with Health Minister Steve Barclay saying, "Strikes by ambulance and nursing unions this week will inevitably cause further delays for patients who already face longer waits due to the Covid backlogs."
One striking worker on a picket line in London held a sign reading, "Strikes are meant to be disruptive."
Not all ambulance workers are going on strike at the same time and emergency calls are still being answered, France24 reported, and about a third of nurses in the U.K. will not be on strike this week.
RCN nurses will continue their strike on Tuesday, while ambulance workers will stage a second work stoppage on Friday and physiotherapists plan to walk out on Thursday.

"They aren't just fighting for themselves—they're fighting for the NHS," said the Enough Is Enough campaign, a grassroots movement in the U.K. that has been leading the call for the government to address the cost-of-living crisis in the country and demanding Sunak's government "tax the rich" to ensure fair wages for workers.
\u201cSupport your local nurses! \ud83d\udc4a\n\nThousands of nurses are on strike across England today.\n\nThey aren\u2019t just fighting for themselves \u2013 they\u2019re fighting for the NHS.\n\nFind a picket line near you: https://t.co/wm7nkfgPyP\u201d

— Enough is Enough (@Enough is Enough) 1675671085
About 500,000 U.K. workers, largely in the public sector, have held walkouts since last summer. Last week about 300,000 educators went on strike with the support of 59% of Britons despite the fact that the walkout forced an estimated 85% of schools to close.
Last month, a poll by The Observer found that about 57% of people supported the planned strike by nurses and 52% were in favor of ambulance workers walking out to demand fair pay.

News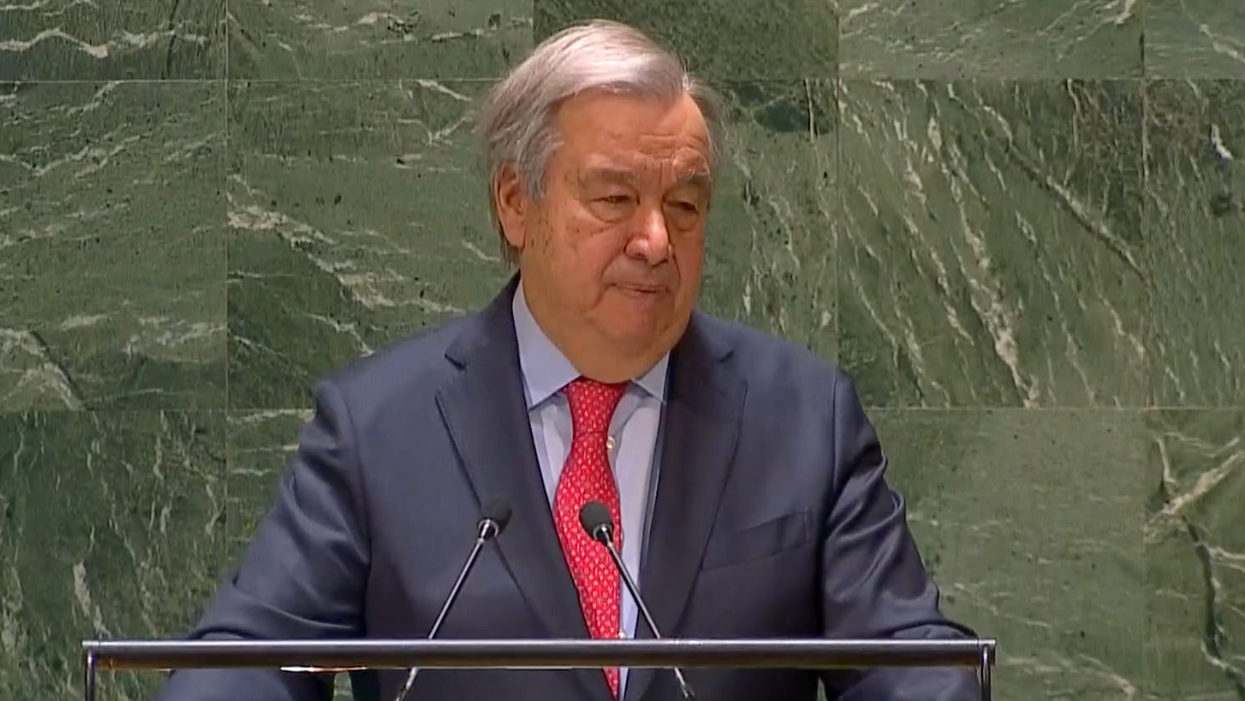 "No more baby steps. No more excuses. No more greenwashing," said U.N. Secretary-General António Guterres. "No more bottomless greed of the fossil fuel industry and its enablers."
United Nations Secretary-General António Guterres made clear Monday that securing a livable planet depends on stopping the "bottomless greed of the fossil fuel industry and its enablers."
In a speech to the General Assembly, Guterres called for an end to "the merciless, relentless, senseless war on nature" that "is putting our world at immediate risk of hurtling past the 1.5°C temperature increase limit and now still moving towards a deadly 2.8°C."
2023 must be "a year of reckoning," the U.N. chief said as he outlined his priorities for the months ahead. "It must be a year of game-changing climate action. We need disruption to end the destruction. No more baby steps. No more excuses. No more greenwashing."
Scientists have warned repeatedly that scaling up the extraction and burning of coal, oil, and gas is incompatible with averting the most catastrophic consequences of the climate emergency. Nevertheless, hundreds of corporations—bolstered by trillions of dollars in annual public subsidies—are still planning to ramp up planet-heating pollution in the years ahead, prioritizing profits over the lives of those who will be harmed by the ensuing chaos.
"I have a special message for fossil fuel producers and their enablers scrambling to expand production and raking in monster profits: If you cannot set a credible course for net-zero, with 2025 and 2030 targets covering all your operations, you should not be in business," said Guterres. "Your core product is our core problem."
"We need a renewables revolution, not a self-destructive fossil fuel resurgence," he added.
In order to halve global greenhouse gas emissions this decade, the U.N. chief said, the world needs "far more ambitious action to cut carbon pollution by speeding up the shift from fossil fuels to renewable energy—especially in G20 countries—and de-carbonizing highest emitting industrial sectors—steel, cement, shipping, and aviation.
In addition, he continued, the world needs "a Climate Solidarity Pact in which all big emitters make an extra effort to cut emissions, and wealthier countries mobilize financial and technical resources to support emerging economies in a common effort to keep 1.5°C alive."
"We need a renewables revolution, not a self-destructive fossil fuel resurgence."
"Climate action is impossible without adequate finance," Guterres noted. "Developed countries know what they must do: At minimum, deliver on commitments made at the latest COP. Make good on the $100 billion promise to developing countries. Finish the job and deliver on the Loss and Damage Fund agreed in Sharm El-Sheikh. Double adaptation funding. Replenish the Green Climate Fund by COP28. Advance plans for early warning systems to protect every person on earth within five years. And stop subsidizing fossil fuels and pivot investments to renewables."
Like the 26 annual U.N. climate meetings that preceded it, COP27 ended last November with no commitment to a swift and just global phase-out of coal, oil, and gas.
In an effort to avoid a repeat performance at COP28 in the United Arab Emirates this December, Guterres intends to convene a "Climate Ambition Summit" in September.
"The invitation is open to any leader—in government, business, or civil society," Guterres said Monday. "But it comes with a condition: Show us accelerated action in this decade and renewed ambitious net-zero plans—or please don't show up."
"COP28 in December will set the stage for the first-ever Global Stocktake—a collective moment of truth—to assess where we are, and where we need to go in the next five years to reach the Paris goals," he continued.
Guterres added that "humanity is taking a sledgehammer to our world's rich biodiversity—with brutal and even irreversible consequences for people and planet. Our ocean is choked by pollution, plastics, and chemicals. And vampiric overconsumption is draining the lifeblood of our planet—water."
In 2023, the world "must also bring the Global Biodiversity Framework to life and establish a clear pathway to mobilize sufficient resources," said the U.N. chief. "And governments must develop concrete plans to repurpose subsidies that are harming nature into incentives for conservation and sustainability."
"Climate action is the 21st century's greatest opportunity to drive forward all the Sustainable Development Goals," Guterres stressed. "A clean, healthy, and sustainable environment is a right we must make real for all."
Guterres' speech was not limited to the climate and biodiversity crises. He also emphasized the need for a "course correction" on devastating wars and raging inequality, calling for a new global economic architecture that foregrounds the needs of the poor instead of allowing the richest 1% to capture nearly half of all newly created wealth.
"This is not a time for tinkering," said the U.N. chief. "It is a time for transformation."
News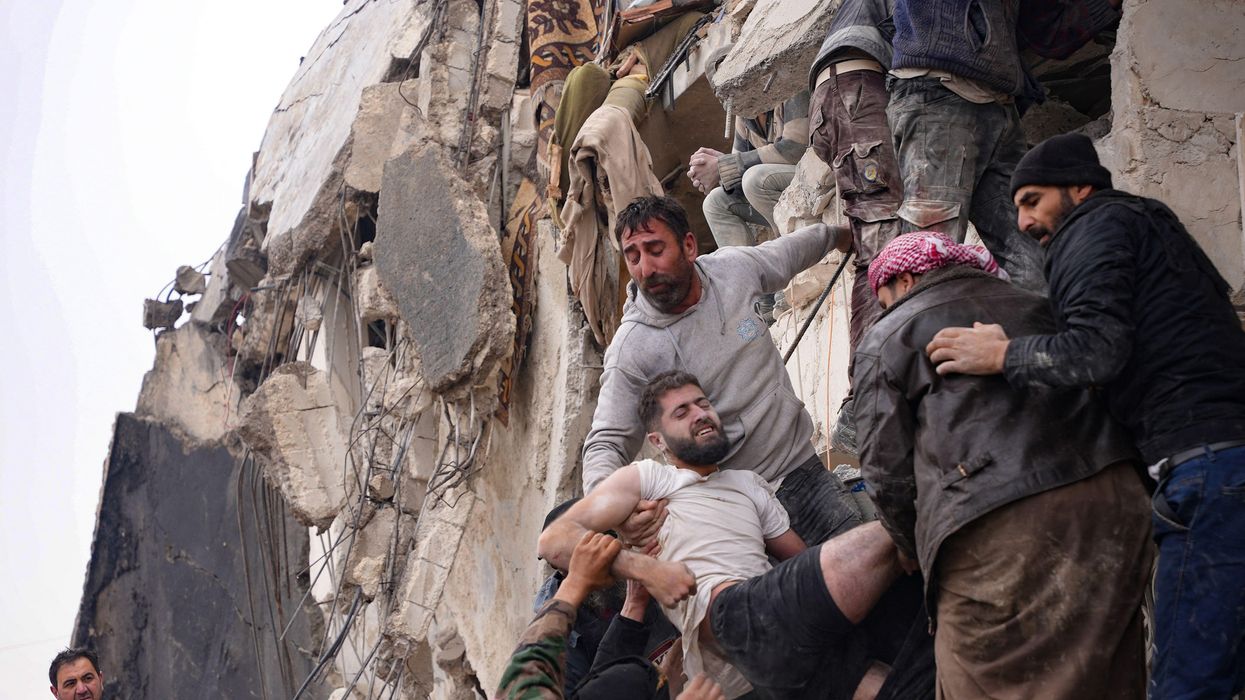 Thousands of buildings flattened with the death toll certain to rise as rescue crews attempt to reach those trapped in the rubble.
Thousands of collapsed buildings, widespread destruction, and deep anguish were reported alongside over 2,300 dead and thousands more injured after a pair of earthquakes—an initial 7.8 tremor on the Richter scale in the early morning and another that measured 7.5—devastated Syria and Turkey on Monday.
Amid dozens of aftershocks—and the quakes being also felt in Cyprus, Israel, Lebanon, Egypt, and the Occupied Palestinian Territories—the full scale of the destruction and the ultimate death toll remains unknown, though early estimates of the dead and wounded were rising by the hour.
According to Turkey's Hurriyet Daily, President Recep Tayyip Erdoğan described the quakes as the most severe in the nation since 1939.
The first quake occurred just after 4:00 am local time in Kahramanmaras province, north of Gaziantep, near the Syrian border, while the second took place in the southeastern Turkey.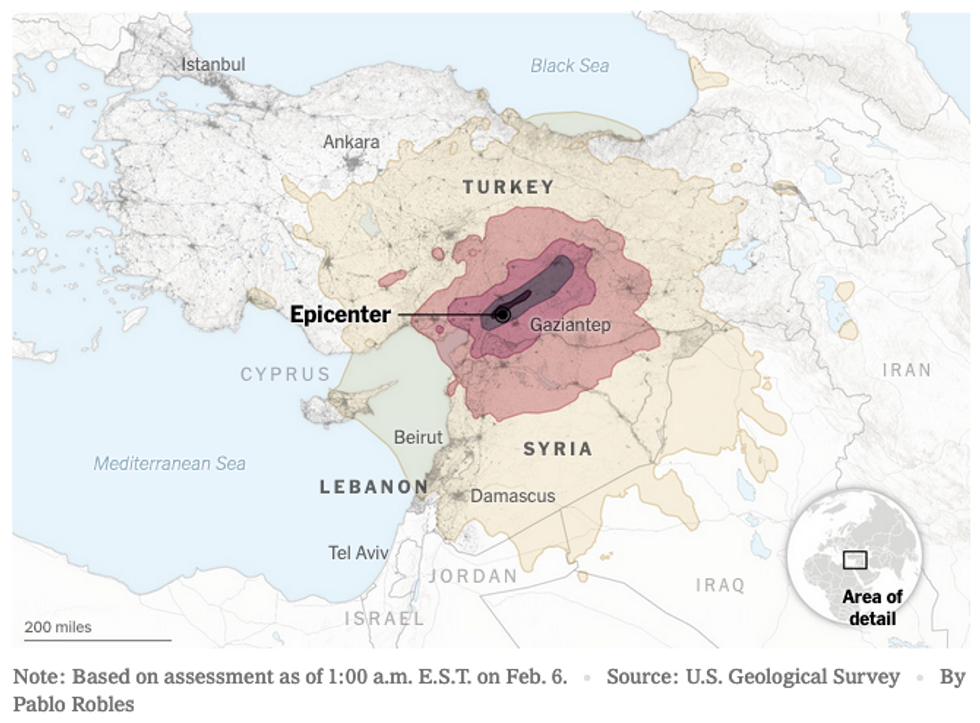 One television crew was reporting on the first quake in the city of Malatya, when the second one hit:
\u201cThis TV crew was broadcasting live when a second magnitude 7.5 earthquake hit Turkey \u2935\ufe0f\u201d

— Al Jazeera English (@Al Jazeera English) 1675678564
According to Al-Jazeera:
Rescuers were digging through the rubble of levelled buildings in the city of Kahramanmaras and neighbouring Gaziantep. Crumbled buildings were also reported in Adiyaman, Malatya and Diyarbakir.

The death toll in government-held areas of Syria climbed to 339, according to Syrian state media, with deaths reported in the cities of Aleppo, Hama, Latakia and Tartous.
Around the globe, human rights champions and political leaders offered sympathy to those impacted by the disaster and vowed emergency assistance to both Turkey and Syria.
\u201cThinking about all who will be impacted by this devastating earthquake.\u201d

— Rashida Tlaib (@Rashida Tlaib) 1675650440
Agnes Callamard, head of Amnesty International, said her organization was "in deep sorrow" following news of the disaster.
"We extend our deepest condolences to all those who have lost loved ones, and call for the Governments and international community to provide speedy search and relief," Callamard said.
Filippo Grandi, High Commissioner for Refugees at the United Nations, said, "We at UNHCR stand in solidarity with the people of Türkiye and Syria affected by today's devastating earthquake and are ready to help provide urgent relief to the survivors through our field teams wherever possible."

News
SUPPORT OUR WORK.
We are independent, non-profit, advertising-free and 100%
reader supported.