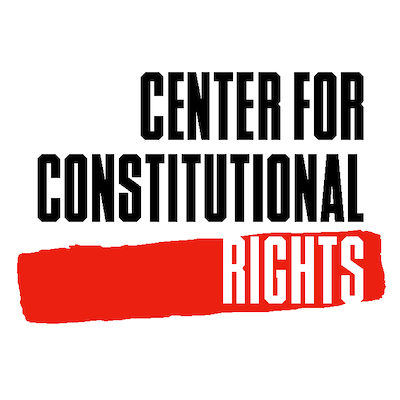 For Immediate Release
Contact:
Will Lambek, Migrant Justice, (802) 321-8393, will@migrantjustice.net
Lia Ernst, ACLU of Vermont (802) 223-6304 x112, lernst@acluvt.org
Jen Nessel, Center for Constitutional Rights, (212) 614-6449, jnessel@ccrjustice.org
Liz Valsamis, Gibson, Dunn & Crutcher LLP, (213) 229-7115, LValsamis@gibsondunn.com
Leah Lotto, National Center for Law and Economic Justice, (212) 633-6967, lotto@nclej.org
Juan Gastelum, National Immigration Law Center, (213) 375-3149, gastelum@nilc.org
Lawsuit Alleges ICE, DHS, and Vermont DMV Targeting Immigrant Leaders in Retaliation for Activis
Migrant Justice Leaders at Risk of Deportation for Engaging in Protected First Amendment Activity
WASHINGTON
Today, Vermont-based Migrant Justice filed a lawsuit in federal court alleging U.S. Immigration and Customs Enforcement (ICE) and the Department of Homeland Security (DHS)--with the assistance of the Vermont Department of Motor Vehicles (DMV)--conducted an unlawful, multi-year operation to surveil, harass, arrest, and detain the organization's members and leaders. Those activities were undertaken in retaliation for plaintiffs' First Amendment speech and assembly and in order to destabilize Migrant Justice and its successful organizing of Vermont's immigrant farmworkers.
The lawsuit claims federal immigration authorities targeted Migrant Justice leaders and members since at least 2014, as the organization was engaged in high profile human rights organizing across Vermont and nationally. As part of a larger pattern of suppressing immigrant activism nationwide, federal immigration authorities infiltrated the meetings and private associations of Migrant Justice through the use of a civilian informant, invasively surveilled its members and mined their social media pages for information, and targeted, arrested, and detained no fewer than nine Migrant Justice members in direct retaliation for their activism.
"We come to the U.S. from countries with histories of political repression and we thought that here our freedom of speech would be protected as we stood up to defend our rights," said Enrique Balcazar, a Migrant Justice leader and plaintiff in the case, "It is clear that ICE is trying to silence the voices of immigrants in Vermont."
The lawsuit alleges that the Vermont DMV assisted ICE and DHS in targeting Migrant Justice leaders after the organization worked to pass Vermont's Driver Privilege Card (DPC) law in 2013, allowing state residents to obtain driving privileges regardless of immigration status. Documents obtained through public record requests show that when the plaintiffs submitted their DPC applications, the DMV sent their personal information directly to ICE, which compiled dossiers on Migrant Justice leaders, including their social media pages and media appearances. The records show DMV workers shared the plaintiffs' information with ICE for discriminatory purposes, out of racial and anti-immigrant animus.
"Time and again, we've seen that when Vermont officials get entangled in federal immigration matters, civil rights violations are the inevitable result," said ACLU of Vermont staff attorney Lia Ernst. "The fact is, DMV and other local officials have no legal authority to do immigration enforcement or to discriminate against Vermont residents--but clearly that message still hasn't gotten through."
A 2016 investigation by the Vermont Human Rights Commission found that the DMV misused the DPC program to engage in a number of discriminatory practices, including falsifying information on applications. Even after the DMV implemented policy reforms, however, officials continued to share extensive information about DPC applicants of color with ICE. DMV officials repeatedly sent what they referred to as "South of the Border" names to ICE for potential investigation, while referring to immigrants in racist and derogatory terms, and scheduled appointments to facilitate immigration arrests.
"Migrant Justice leaders have worked for years to thwart discriminatory policing by local and federal officials," said Trudy Rebert, a staff attorney at the National Immigration Law Center. "ICE and willing enablers with a history of anti-Latinx bias at the local DMV have resorted to weaponizing systems essential to community safety to target and suppress our plaintiffs."
ICE has detained four prominent Migrant Justice leaders who are named plaintiffs in the lawsuit. During the course of the arrests, ICE agents harassed and intimidated plaintiffs, referring to one as a "famous person" because of his activism, and named an additional member who would be "next." In detention, plaintiffs were forbidden from contacting a lawyer or anyone associated with Migrant Justice. Two plaintiffs were detained soon after leaving the Migrant Justice office. As part of its campaign to undermine Migrant Justice, ICE spread false information about the organization, including that staff were collaborating with the agency to locate and detain immigrant community members.
The lawsuit alleges that the arrests and detention are part of an alarming national trend of retaliation against immigrant rights activists. Since 2016, ICE has arrested no fewer than twenty high-profile leaders around the country.
"The federal government crackdown on political speech in Vermont is part of a national campaign to silence immigrants who criticize government officials and their policies." said National Center for Law and Economic Justice Senior Attorney Leah Lotto. "Using their power to physically arrest and detain outspoken leaders is a shocking violation of our constitution."
Plaintiffs are seeking an injunction to prevent Defendants from targeting, surveilling, infiltrating, spreading disinformation, arresting, and detaining Migrant Justice members, and to prohibit DMV employees from racially motivated sharing of information with federal immigration enforcement agencies.
"The federal government targeted Migrant Justice because of its historic and unrelenting advocacy on behalf of a vulnerable immigrant community," said Center for Constitutional Rights Staff Attorney Angelo Guisado. "In so doing, ICE has weaved its way into the tortured counterpane of U.S. policy used to suffocate grassroots activism and to exert control over communities of color."
On Wednesday, Migrant Justice members and supporters marched from the organization's Burlington office to the federal courthouse, hand-delivering the lawsuit while rallying outside. Migrant Justice leaders and attorneys addressed the crowd. In recent years, the federal building has been a frequent site of such rallies; at times, hundreds have filled the streets to denounce immigration arrests and call for the release of detained community members.
"The rule of law applies to everyone, regardless of one's particular political position," said Joel Cohen, a partner at Gibson, Dunn & Crutcher LLP. "An arm of the government should never be used to stifle the rights of speech and assembly or to discriminate against individuals based on their race or perceived immigration status."
Plaintiffs are represented by the ACLU of Vermont, the Center for Constitutional Rights, the National Center for Law and Economic Justice, the National Immigration Law Center, and Gibson, Dunn & Crutcher LLP.
The Center for Constitutional Rights is dedicated to advancing and protecting the rights guaranteed by the United States Constitution and the Universal Declaration of Human Rights. CCR is committed to the creative use of law as a positive force for social change.
(212) 614-6464
LATEST NEWS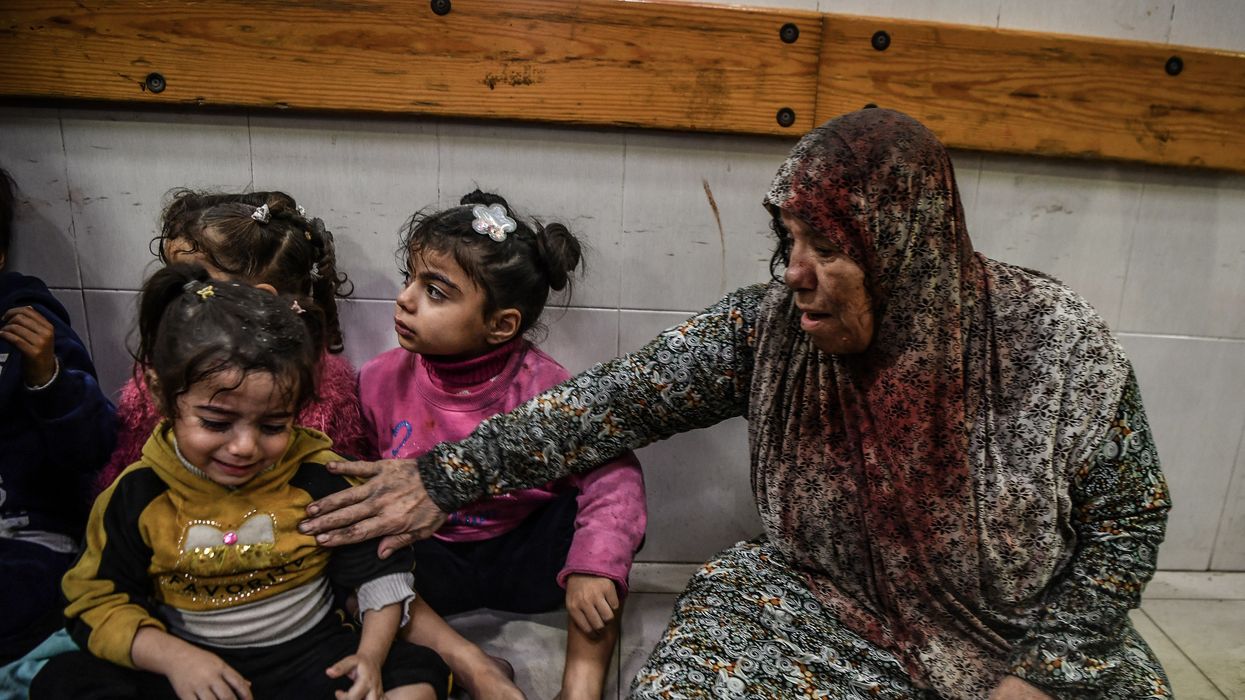 "How is it that these atrocities are beamed across the world for all to witness, and yet so little is done to stop them?"
Humanitarian groups and United Nations officials expressed horror Wednesday at the disaster unfolding in Gaza as Israeli forces stormed the largest city in the southern part of the strip, fueling concerns of a repeat of the appalling destruction that Israel inflicted in the north.
Volker Türk, the U.N.'s high commissioner for human rights, said at a press conference that the "catastrophic situation" in Gaza was "entirely foreseeable and preventable." He noted that his colleagues on the ground in the besieged strip "have described the situation as apocalyptic."
"Military operations, including bombardment, by Israeli forces continue in north, middle, and south Gaza, affecting people who have already been displaced multiple times—forced to flee—in search of safety," said Türk. "But no place is safe."
Many had fled to Khan Younis from the north in search of safety, only to be told to evacuate again weeks later as the Israeli military closed in.
The Israel Defense Forces (IDF) said earlier this week that its ground offensive now encompasses the entirety of the Gaza Strip, leaving the nearly 2 million people who have been displaced with no viable options to avoid near-constant Israeli bombing, shelling, and firefights that have prevented the delivery of critical aid, including medicine and food.

Virtually the entire population of Gaza is at imminent risk of starvation, the World Food Program has warned.
"The hunger war has started," one displaced person toldThe Associated Press, saying that Gazans are now fighting over dwindling food supplies. "This is the worst of all wars."

"Each day we see more dead children and new depths of suffering for the innocent people enduring this hell."
Jan Egeland, secretary-general of the Norwegian Refugee Council (NRC), said that tens of thousands of people are living on the streets of southern Gaza in makeshift and overcrowded shelters, heightening the risk of infectious disease. The United Nations Relief and Works Agency for Palestinian Refugees in the Near East reported an outbreak of Hepatitis A at one of its facilities last week.
Hospitals are also overwhelmed and out of basic supplies, forcing doctors to operate on wounded patients without anesthesia and proper sanitation.
"Many of my own NRC staff members now live on the streets. One of them does so with her two-month-old baby," said Egeland. "Our colleagues in Gaza ask themselves a simple question: How is it that these atrocities are beamed across the world for all to witness, and yet so little is done to stop them?"
Egeland called Israel's "pulverizing of Gaza" one of "the worst assaults on any civilian population in our time and age."
"Each day we see more dead children and new depths of suffering for the innocent people enduring this hell," he added, calling for an immediate cease-fire. "The situation in Gaza is a total failure of our shared humanity. The killing must stop."
Israel—whose assault has been backed politically and militarily by the U.S. and other Western nations—claims its intensifying attack on Khan Younis and other areas of southern Gaza is aimed at eliminating Hamas strongholds, an assertion it has used throughout the two-month war to justify the mass slaughter of civilians and the decimation of large swaths of the Palestinian territory.
The Euro-Mediterranean Human Rights Monitor, a Geneva-based nonprofit, estimated Tuesday that at least 90% of the Palestinians killed by Israeli forces since October 7 have been civilians, contradicting Israel's claim that two Gaza civilians have been killed for every Hamas combatant.
Including the number of people missing under rubble and presumed dead, the human rights group said at least 21,022 people have been killed by the Israeli military since early October, when the assault on Gaza began in the wake of a deadly Hamas-led attack. The U.N. has estimated that nearly 70% of those killed have been women and children.
"The only way for civilians to be protected and for humanitarian assistance to be provided at the necessary scale required is for the conflict to end," Bob Kitchen, vice president for emergencies at the International Rescue Committee, said in a statement Tuesday. "The need for a cease-fire becomes more urgent as each hour passes, with more than two million Palestinians facing humanitarian catastrophe."
News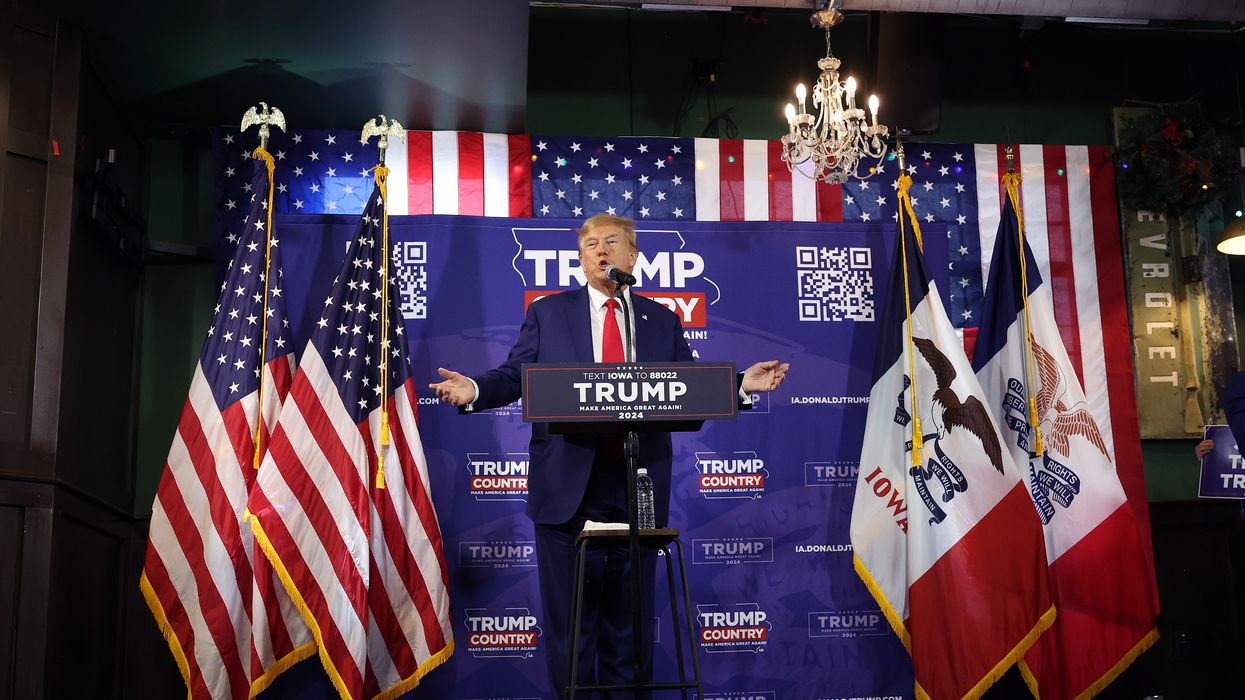 The former president's remarks came as his allies are reportedly preparing specific plans to wield the federal government to target political enemies, including journalists.

Amid mounting alarm over his authoritarian ambitions for a second term, former President Donald Trump said during a Fox News town hall on Tuesday that he would be a dictator only on "day one," pledging to unilaterally close the U.S.-Mexico border and accelerate fossil fuel drilling.
Trump's remarks came in response to a question from host Sean Hannity, who asked the former president if he would promise to never "abuse power as retribution against anybody."
"Except for day one," Trump replied. "I want to close the border and I want to drill, drill, drill... We're closing the border and we're drilling, drilling, drilling. After that, I'm not a dictator."
"The moment for resisting Trump is right now, not waiting until January 21, 2025."
President Joe Biden's 2024 campaign immediately highlighted Trump's comments, posting a clip on social media and saying in a statement that the former president "has been telling us exactly what he will do if he's reelected."
"Tonight he said he will be a dictator on day one," said Biden campaign manager Julie Chavez Rodriguez. "Americans should believe him."
Trump's remarks Tuesday were just the latest evidence that the former president is preparing to aggressively wield executive power and arms of the federal government to pursue a far-right agenda and target his political enemies if he wins another White House term next year.
The Washington Postreported last month that Trump and his allies "have begun mapping out specific plans for using the federal government to punish critics and opponents... with the former president naming individuals he wants to investigate or prosecute and his associates drafting plans to potentially invoke the Insurrection Act on his first day in office to allow him to deploy the military against civil demonstrations."
"Much of the planning for a second term has been unofficially outsourced to a partnership of right-wing think tanks in Washington," the Post noted. "Dubbed 'Project 2025,' the group is developing a plan, to include draft executive orders, that would deploy the military domestically under the Insurrection Act."
During a speech in New Hampshire last month, Trump promised to "root out" those he dubbed "radical left thugs that live like vermin within the confines of our country," a threat that critics likened to Nazi rhetoric.
The former president, who is currently facing more than 90 felony charges, also pledged that his administration would carry out "the largest domestic deportation operation in American history," revive the Muslim ban, slash taxes for the wealthiest even further, and accelerate pipeline approvals.
The New York Timesreported Tuesday that a Trump confidant who is "likely to serve in a senior national security role in any new Trump administration" threatened to "target journalists for prosecution if the former president regains the White House."
Kash Patel, who served as Trump's counterterrorism adviser on the National Security Council, said during an appearance on former Trump strategist Steve Bannon's podcast that "we will go out and find the conspirators, not just in government but in the media."
"Yes, we're going to come after the people in the media who lied about American citizens, who helped Joe Biden rig presidential elections—we're going to come after you. Whether it's criminally or civilly, we'll figure that out," Patel said. "We're actually going to use the Constitution to prosecute them for crimes they said we have always been guilty of but never have."
In a column published Tuesday, The Philadelphia Inquirer's Will Bunch expressed concern about what he described as the lack of mass mobilization against Trump's 2024 presidential campaign, given his openly fascistic threats and behind-the-scenes planning.
" Trump is back, and no one calls him a demagogue anymore—because that's too polite," Bunch wrote. "The 47th presidency he envisions is tyrannical, even dictatorial—siccing zealous MAGA prosecutors on his political enemies and the media, pardoning 2021's insurrectionists, mass detention camps for deporting migrants, and calling out troops to put down protests, perhaps as early as his Inauguration Day. And yet he is all but guaranteed the GOP nomination, and an even-money bet against President Joe Biden next fall."
"As I write this on Monday night, ' dictator' is a trending topic on X/Twitter. It could be trending nightly if the too-silent majority of Americans who believe in democracy don't take a more forceful stand," Bunch warned. "The moment for resisting Trump is right now, not waiting until January 21, 2025."

News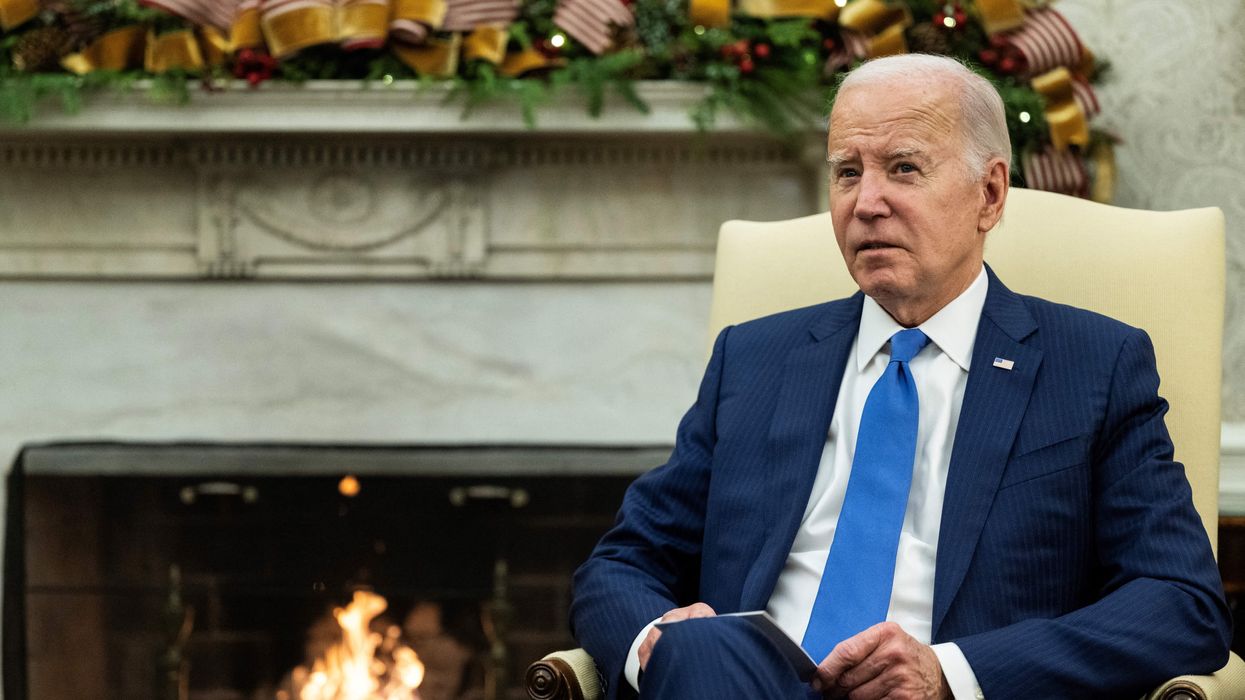 The interns sent a letter demanding that President Joe Biden support a permanent cease-fire.

Dozens of White House interns sent a letter late Tuesday urging President Joe Biden to demand a permanent cease-fire in Gaza, echoing the calls of a growing number of lawmakers, congressional staffers, administration officials, and ordinary Americans.
"We heed the voices of the American people and call on the administration to demand a permanent cease-fire," reads the letter, which is signed "40+ White House & [Executive Office of the President] Interns for Palestine."
"We are not the decision-makers of today, but we aspire to be the leaders of tomorrow, and we will never forget how the pleas of the American people have been heard and thus far, ignored," continues the letter, which was first reported by NBC News.
The interns' letter was made public hours after a Data for Progress survey showed that 61% of U.S. voters—including 76% of Democrats—want the Biden administration to call for a permanent cease-fire in the Gaza Strip, which is facing a devastating humanitarian crisis as Israel continues its bombardment of the territory and expands its ground offensive to the south after decimating much of the north.
"The pulverizing of Gaza now ranks amongst the worst assaults on any civilian population in our time and age."
While the Biden administration supported the temporary pause that ended last week, it has claimed that a permanent cease-fire would be a gift to Hamas, which carried out a deadly attack on southern Israel in early October.
Administration officials in recent days have pushed Israel to protect civilians in Gaza, but there's no evidence that the Israeli military has changed its indiscriminate approach. Early Tuesday, an Israeli airstrike reportedly hit a school housing displaced Gazans—killing at least 20 people—as Israeli forces invaded Khan Younis in southern Gaza.
"The pulverizing of Gaza now ranks amongst the worst assaults on any civilian population in our time and age," Jan Egeland, secretary-general of the Norwegian Refugee Council, said Tuesday. "Each day we see more dead children and new depths of suffering for the innocent people enduring this hell."
The White House interns, who did not sign their names to the letter likely out of fear of retaliation, expressed their horror at both the "brutal October 7th Hamas attack on Israeli civilians" and "the brutal and genocidal response by the Israeli government, funded by our tax dollars."
An Amnesty International investigation released earlier Tuesday found that the Israeli military used U.S.-made munitions to carry out airstrikes on two homes in Gaza in October, killing more than 40 members of two families—including 19 children.

"We urge the Biden-Harris administration to call for a permanent cease-fire now, a release of all hostages including Palestinian political prisoners, and to support a diplomatic solution that will put an end to the illegal occupation and the Israeli apartheid, in accordance with international law and for a free Palestine," the White House interns wrote.
News