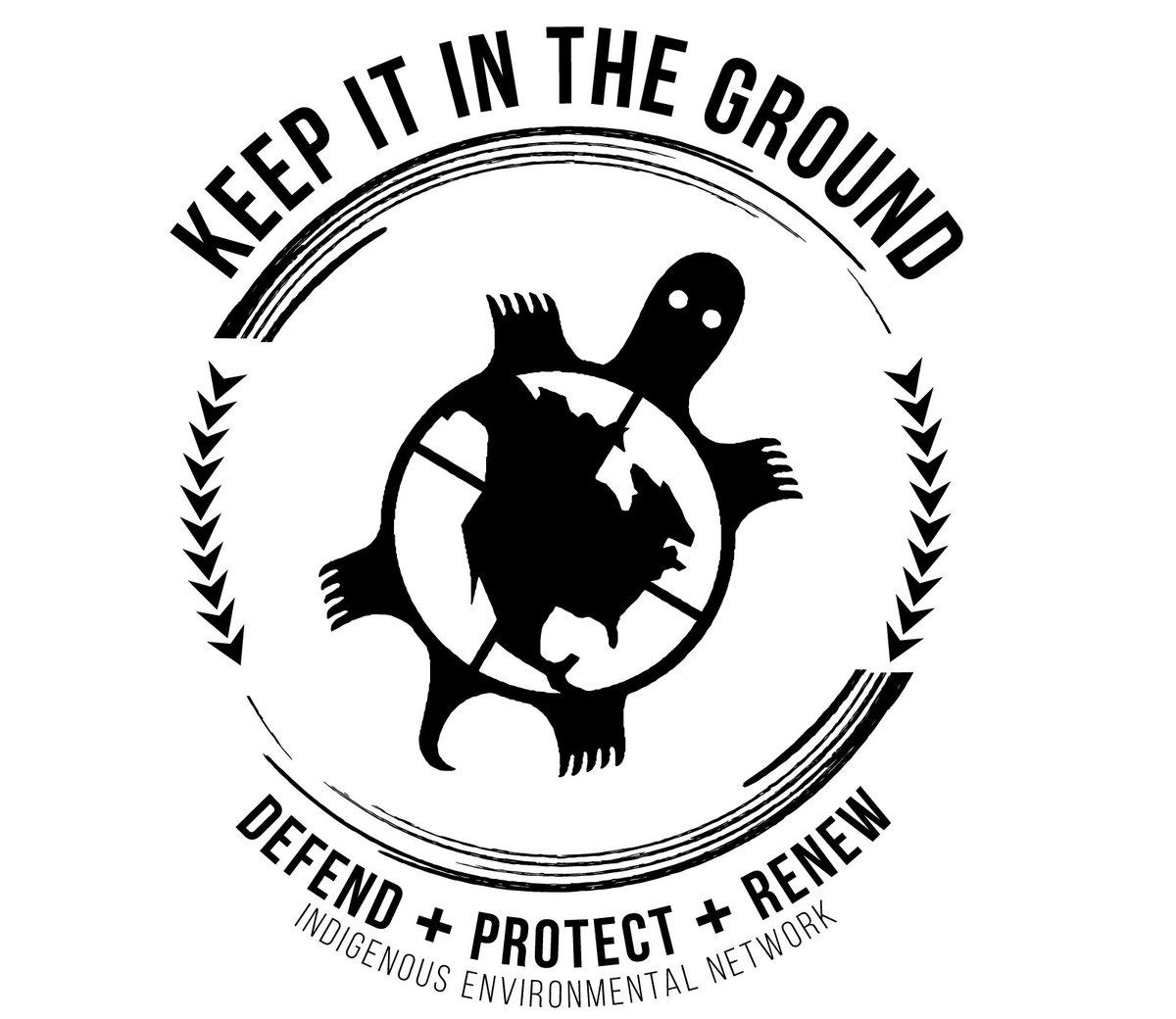 Chase AGM: Dozens of Indigenous and Frontline Community Representatives Call for an End to Bank Financing of Extreme Fossil Fuels
Delegates from Canada to Ecuador and across the U.S. travel to Texas to deliver open letter to Chase shareholders.
PLANO, TEXAS
The quickly growing international campaign pressuring JPMorgan Chase to end its massive funding of extreme fossil fuels continued to escalate today as a delegation representing Indigenous and nonindigenous communities from Canada to Ecuador and across the U.S. gathered at Chase's annual shareholder meeting in Plano, Texas. The delegation represents the broad range of people suffering harm from the environmental, Indigenous rights and climate impacts connected to the bank's financing of the most dangerous and polluting forms of fossil fuels.

Among major U.S. banks, JPMorgan Chase is the biggest funder of extreme fossil fuels: tar sands, Arctic oil; ultra-deepwater oil; liquefied natural gas export; and coal mining and power. It is also a major funder of oil drilling in the Amazon rainforest.

An open letter penned by the delegation to shareholders, spotlights JPMorgan Chase in particular because of the unique scale and seriousness of the consequences stemming from its funding choices. "Jamie Dimon opens his most recent shareholder letter by boasting that JPMorgan Chase has 'helped communities large and small.' He omits mention of the other side of the balance sheet - the harm that his bank has done to communities like ours through its fossil fuel financing," reads the delegation in the open letter.

Today's protest comes just one week after a nationwide day of action saw hundreds of people engage in demonstrations at Chase branches in cities across the country, including New York, Los Angeles, San Francisco, Portland and Minneapolis. In downtown Seattle, 14 arrests were made after demonstrators staged a dramatic action that shut down the streets outside while others occupied Chase's regional headquarters.

A briefing paper released recently by Rainforest Action Network (RAN) reveals that in spite of the urgent climate crisis and a public commitment to the Paris Agreement, JPMorgan Chase is doubling down on some of the most carbon-intensive, financially risky, and environmentally destructive fossil fuel sectors. According to the paper, which highlights data from Banking on Climate Change 2018, Chase is the biggest U.S. backslider, with extreme fossil fuel financing more than $4 billion higher in 2017 than 2016. For coal mining, the bank's financing in 2017 was a startling 21 times higher than the previous year -- this despite the bank's policy to reduce its credit exposure to coal mining companies. And in the Amazon, a report from Amazon Watch shows that the bank invests heavily in companies with licenses to explore and/or drill in the Amazon rainforest on or near the territories of Indigenous nations that oppose oil extraction on their lands.

Delegates attending the AGM include Joye Braun of Indigenous Environmental Network, Tara Houska of Honor the Earth, Cherri Foytlin of Louisiana Rise, Cedar George-Parker of the Indigenous Youth Council, Bryan Parras of Sierra Club and Deyadira Arellano of the Texas Environmental Justice Advocacy Services (TEJAS), Jessica Lorena Rangel of Eyes of a Dreamer, Paul Corbit Brown of the Keeper of the Mountains Foundation, Yolonda Bluehorse and Frankie Orona of the Society of Native Nations, Manari Ushigua of the Sapara Nation in the Ecuadorian Amazon, Juan Mancias of the Carrizo/Comecrudo Tribe of Texas and Patrick McCully of Rainforest Action Network (RAN), Diana Best of Greenpeace USA and others.

Bios and Statements from delegation members:

Joye Braun (Cheyenne River Sioux), of Indigenous Environmental Network says:
"I'm fighting Chase bank because they fund Keystone XL pipeline and they're the biggest US bank that funds tar sands. And should the Keystone XL pipeline break along the Cheyenne River, it will reach the water intake of my people on my reservation within 33 minutes. We can't afford this. The time is now to stand up against climate change. The time is now to stand up against JPMorgan Chase."

Joye Braun (Cheyenne River Sioux Tribe) with Indigenous Environmental Network (IEN). Joye lives in South Dakota and will be attending & organizing to speak on behalf of communities in the route of the KXL pipeline. Joye was an early representative at Standing Rock and part of the many prayers, actions and meetings that took place.

Tara Houska (Couchiching First Nation), of Honor the Earth says:
"JPMorgan Chase has dramatically increased its backing of tar sands, the dirtiest, most carbon-intensive fuel on the planet. The heart of my people's culture would be obliterated if and when Enbridge's Line 3 tar sands pipeline breaks in Minnesota's vast watersheds and rich wild rice beds -- Chase can play a major role in preventing this from happening by ending its credit relationships with Enbridge and all destructive fossil fuel actors."

Tara Houska (Couchiching First Nation) is an attorney and National Campaigns Director with Honor the Earth, and will be representing the Anishinaabe people and the Great Lakes region from the impending threat of Enbridge's Line 3 tar sands pipeline. Tara was Senator Bernie Sanders Native American Adviser during his Presidential Campaign. Tara was also a strong voice and presence at Standing Rock & has carried on divestment work internationally over the past two years.

Cherri Foytlin of Louisiana Rise says:
"These Big Banks just can't seem to get it right - they say one thing but do another. When they keep pumping money into dirty fossil fuel companies and projects, it makes us all sick. Sick from the pollution, sick from the injustice, sick from an addiction that is killing us and our planet. We are done being a sacrifice zone, and we are done with your corporate lies. The people of Louisiana are gathering now to right your wrong. We will stop Energy Transfer Partners, and end your bad investments, such as the Bayou Bridge Pipeline. We are rising above your lies, your pollution, and your greed."

Cherri Foytlin (Latinx, Black, Indigenous heritage) from Southern Louisiana. Cherri walked over 1,200 miles from Louisiana to Washington DC after the BP oil spill. Cherri has been a national movement leader to end offshore drilling and to stop the Bayou Bridge Pipeline.

Cedar George-Parker (T'sleil Waututh) says:
"The Trans Mountain Kinder Morgan pipeline will kill my land, salmon, and way of life. We will do whatever it takes to stop the pipeline-educationally, politically, and culturally."

Cedar George-Parker is a member of T'sleil Waututh Youth and has followed a family tradition of leadership in his community. He has been active in the Vancouver area and with the Coastal Salish Indigenous First Nations to stop Kinder Morgan's Trans Mountain tar sands pipeline expansion.

Deyadira Arellano of the Texas Environmental Justice Advocacy Services says:
"JPMorgan Chase prides itself on being a great community partner, but we know that our neighborhoods are affected by their investments in unregulated industries that either pollute or lock-up our families, and sometimes do both!"

Deyadira is a Texas Community Health Worker/Promotora for Texas Environmental Justice Advocacy Services. Her work as a community organizer includes the intersection of issues such as immigration, public education, environmental justice, healthcare, and workers' rights. Her Mexico/Tejas connection, grounded in family heritage and respect for nature, has given her the understanding to preserve and restore our land, resources, species, and humanity through collective decision-making, public pressure, and civic engagement. Following the effects of Hurricane Harvey in Houston and surrounding areas, Deyadira continues to support mutual-aid efforts and advocates for recovery justice.

Bryan Parras of the Sierra Club says:
"As a top funder of extreme fossil fuel development, JPMorgan Chase is directly contributing to the pollution of our air and water and climate disasters like Hurricane Harvey. It's time for Chase to stop funding fossil fuels, pipelines, and other destructive industries, like private prisons and gun manufacturers, that threaten the health and safety of our communities. It's time to start investing in a future that promotes prosperity for all our relations."

Bryan Parras is a Gulf Coast Organizer with the Sierra Club's Beyond Dirty Fuels campaign. He is also a co-founder of the Texas Environmental Justice Advocacy Services (t.e.j.a.s.) and has been organizing in the Houston area around environmental justice and public health issues for almost 20 years.

Jessica Lorena Rangel is the founder of Eyes of a Dreamer, an organization devoted to uprooting xenophobic stereotypes by telling the stories of immigrants through powerful images and words. She is also one of the five global moderators for the Immigration Subreddit. In her hometown of Pasadena, TX, she played a leading role in local organizing against SB4, a punitive law targeting sanctuary cities. In the wake of the devastating Hurricane Harvey, Jessica has been tirelessly working to get aid to undocumented families. Dismantling discrimination against all immigrants and empowering women of color, she is an emerging voice and leader for immigrant communities in Texas and beyond.

SPANISH: "Comunidades afectadas por las malas decisiones departe de el banco "JPMorgan Chase" son las mismas comunidades que son dejadas atras cuando estos proyectos quedan mal. La comunidad Latina, se solidariza con las demas comunidades afectadas. Nuestra gente, incluyendo las personas indocumentadas, merecen un futuro con cero fosiles en el que seamos tratados bien y podamos vivir sin miedo."

"Communities affected by bad decisions by the bank "JPMorgan Chase" are the same communities that are left behind when these projects go wrong. The Latino community, stands in solidarity with the other affected communities. Our people, including undocumented people, deserve a future with zero fossils in which we are treated well and we can live without fear."

Manari Ushigua of the Sapara Nation in the Ecuadorian Amazon, says:
"Our prophecies foretold that the day would come when foreigners would try to invade our territory and we would have to resist or be wiped out. If Andes Petroleum, whose parent companies are financed by JP Morgan Chase, begins to drill for oil in our territory, it would lead to the destruction of our homes and our ancestral knowledge. We must keep the oil in the ground, and help people learn how to heal Mother Earth. Our fight is not to slow the advancement of the rest of the world. Our fight is to defend life."

Manari Ushigua Santi is a traditional healer and leader-- an akameno (authority) -- of the Sapara Nation in the Ecuadorian Amazon. He is from the community of Llanchamacocha, along the Conambo River in the region's remote roadless rainforest. He was instrumental in achieving recognition for the Sapara as a distinct ethnicity from the Ecuadorian government, and winning recognition from UNESCO for the Sapara as an "Intangible Cultural Heritage of Humanity". Manari has helped defend his territory from resource extraction for decades. Manari also serves as an Environmental Ambassador for Ecuador's Education Ministry.

Juan Mancias (Carrizo/Comecrudo Tribe of Texas) says:
"When the Carrizo/Comecrudo ancestral lands continue to be desecrated by fossil fuel corporations without due diligence, historical research, and Texas tribal consultation by either recognize or unrecognized Tribal Nations. The lack of respect to these descendants who speak and live their ancestral lifeways is an evil crime toward human beings and adds to the ongoing genocide of the Native Original People of Texas."

Juan Mancias is tribal chair of the Carrizo/Comecrudo Nation of Texas, also known as the Esto'k Gna. Juan works to promote, maintain and preserve the Carrizo/Comecrudo culture, including by defending his people's sacred lands against fossil fuels and other threats.

Paul Corbit Brown of the Keeper of the Mountains Foundation says:
"Any investment is a gamble, and every company or individual has the right to gamble their own resources in the hopes of making a profit. However, no company, no individual has the right to gamble that which does not belong to them. Your money is far from the only asset that is at risk due to your investments in fossil fuels. Also on the table are the health of those living in the communities affected by the industries you support and profit from; the damage and devastation to the resources that WE ALL rely on such as clean water and clean air; and lastly, climate change. We are long past the time for taking climate change seriously. There is no debate among those who are thinking clearly and honestly."

Paul Corbit Brown (European American) is a long time resident of Fayette County, West Virginia. Paul is an avid photographer & educator using his skills to challenge mountaintop removal and coal mining. Paul is active with the Keeper of the Mountains Foundation, an organization dedicated to protecting the Mountains, water and People of West Virginia.

Frankie Orona (Tongva & Chumash) of the Society of Native Nations says:" Enough is "Enough, we must hold JPMorgan Chase accountable for being the largest funder of the destruction, contamination, and genocide of our Mother Earth and to our future generations. We must stand together now and demand change away from fossil fuels. By the time our children stand up for themselves, it might be too late, we need to stand together to wake up the world."

Co-Founder & Executive Director of Society of Native Nations (SNN)
Husband, Father, Entrepreneur and Activist, Co-Founder and Executive Director of Society of Native Nations (SNN). Frankie is Tongva and Chumash from California and Borrado from Texas. He is CEO of his IT company which delivers programming in the IT hardware and software sectors. He is a graduate of the University of La Verne and ITSP. He turned his lifelong passion of serving indigenous communities into the Society of Native Nations. A 501c3 that focuses on Native American rights, social justice, environmental justice and youth education. SNN works to help protect Native American spirituality, culture and traditional values. Frankie continues to work as an entrepreneur, allowing him the time needed to continue helping his community and people to preserve the spirituality and way of life of the indigenous communities of North and South America. His goal is to help create a better future for his children and all future generations. Frankie lives in San Antonio with his wife and children.

Yolonda Bluehorse (Lakota) of the Society of Native Nations says:
"Financial institutions like JPMorgan Chase, do not realize that by supporting big oil corporations, they are also supporting the poisoning of Mother Earth and her most precious resources we human beings need to survive."

Yolonda Bluehorse (Lakota) with Society of Native Nations have both been active in fighting Energy Transfer Partners (ETP) through opposition to the Trans Pecos Pipeline, divestment and at ETP Headquarters in Dallas.

David Hill (Choctaw Nation of Oklahoma)
"Let me tell you, our dignity is not for sale.... If someone doesn't speak up, no one will."

David worked as a union electrician; Director / Coordinator of Indian Center in Salt Lake City, Utah; Youth Alcohol and Drug Counselor at the Oklahoma City Indian Center and in Rapid City, South Dakota. He has been an advocate against alcohol and drug use as an activist his whole life and with the American Indian Movement since 1972. He has served with the Leonard Peltier Defense Committee as Director three times and National Advisor to the present time. He has organized national horse rides and demonstrations to bring awareness to the issue of unjust incarceration through violations of the U.S. Constitution against native people. David Hill continues to support events and demonstrations for indigenous rights, treaty rights, and human rights.

Patrick McCully of Rainforest Action Network says:
"It is sadly not surprising that JPMorgan Chase is the biggest Wall Street founder of extreme fossil fuels given that its CEO, Jamie Dimon, shows zero understanding of the climate crisis, and that its longest serving board member, Lee Raymond, is the former CEO of ExxonMobil. Under Raymond, ExxonMobil spread disinformation about climate change, and poured millions of dollars into the worst climate denying organizations. Mr Dimon needs to get an education on climate change, and JPMorgan Chase's shareholders need to replace Mr Raymond with someone from a clean energy background."

Patrick McCully is Climate and Energy Program Director for Rainforest Action Network.

Diana Best of Greenpeace USA says:
"Chase has a pipeline problem. While other banks around the world have recognized that funding extreme fossil fuel projects and the related companies is incompatible with any credible policy on human rights and climate change, Chase has doubled down. Chase continues to fund Energy Transfer Partners, the company behind the highly controversial Dakota Access oil pipeline, as well as other companies attempting to build devastating new tar sands pipelines. Chase is dragging its feet as the world is rapidly moving away from fossil fuels, threatening not only Indigenous rights, water, and the climate, but also its own reputation in the process."

Diana Best is a Senior Energy Campaigner for Greenpeace USA and Global Pipeline Finance Lead.
Established in 1990 within the United States, IEN was formed by grassroots Indigenous peoples and individuals to address environmental and economic justice issues (EJ). IEN's activities include building the capacity of Indigenous communities and tribal governments to develop mechanisms to protect our sacred sites, land, water, air, natural resources, health of both our people and all living things, and to build economically sustainable communities.
LATEST NEWS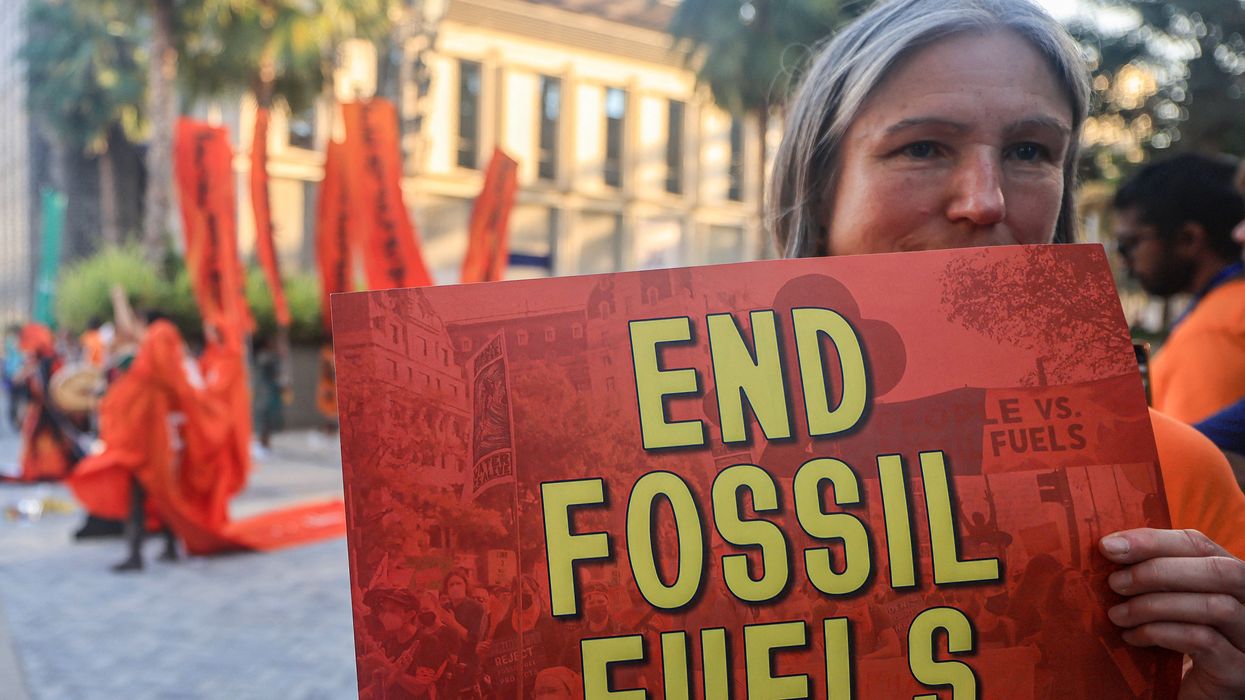 As the newest Global Stocktake draft was released, an OPEC letter showed oil-producing companies are fearful that the world is getting closer to phasing out fossil fuels.
Reviewing the latest draft of the Global Stocktake regarding the climate emergency out of the 28th United Nations Climate Change Conference, campaigners on Friday noted that negotiators left in numerous loopholes that would allow the fossil fuel industry to continue polluting, while eliminating one option for a clause that appeared to call for a just transition toward renewable energy.
The new draft is the result of three more days of negotiations since the last version of the Global Stocktake (GST) was released on Tuesday, when advocates warned policymakers appeared insistent on including a call for "abatement" of fossil fuel emissions—meaning further development of carbon capture and storage (CCS) technologies, which have so far failed to deliver the emissions-reduction results promised by proponents.

The latest version of the document includes four options for a paragraph that would address the future of fossil fuel use in the remaining years of this decade.
The options that remain in the draft are:
A phaseout of fossil fuels in line with best available science;
A phasing out of fossil fuels in line with best available science, the Intergovernmental Panel on Climate Change's 1.5°C pathways and the principles and provisions of the Paris agreement;
A phaseout of unabated fossil fuels recognizing the need for a peak in their consumption in this decade and underlining the importance for the energy sector to be predominantly free of fossil fuels well ahead of 2050; and
No text regarding changes to fossil fuel use.
Negotiators crossed out an option that would call for "an orderly and just phaseout of fossil fuels."
"There is some good stuff in there, but still too many dangerous distractions," said 350.org on social media. "We must agree [to] a fair and fast phaseout of fossil fuels and to triple renewable energies by 2030!"

The draft suggested that many policymakers remain committed to calling for a phaseout of "unabated" fossil fuel emissions—those that are not "captured" and stored underground or under the seabed before they hit they atmosphere.

As Common Dreamsreported Friday, more than 470 lobbyists representing carbon capture and storage interests and companies are in attendance at COP28—along with more than 2,400 lobbyists for the fossil fuel industry, which has openly supported CCS as a solution that would allow oil, gas, and coal giants to continue operating.

Rachel Cleetus, policy director and lead economist for the Union of Concerned Scientists' Climate and Energy Program, said world leaders must take their "historic opportunity to secure a global agreement to phase out fossil fuels in line with what the science shows is necessary to meet critical climate goals."

"It's crunch time at COP28," Cleetus told Common Dreams. "The latest draft of the Global Stocktake text includes several potential options, with varying degrees of ambition. Now, it's time to reach consensus on a final outcome that is true to the science, includes near- and long-term benchmarks, has no loopholes, and has an equitable provision of finance to drive a clean energy transition. Countries must take bold action and rise above narrow self-interest and zero-sum political games, as well as the influence of fossil fuel companies, to deliver what people around the world urgently need as climate impacts rapidly worsen."

"The time is now, and the place is Dubai, to finally address the root cause of this global crisis: fossil fuels," said Cleetus.

Oil Change International global policy manager Romain Ioualalen said the latest draft left him hopeful that the world has "never been closer to an agreement on a fossil fuel phaseout."

"What that transition will look like will be a fierce battle over the next few days," said Ioualalen. "We are alarmed about some of the options in this text that seem to carve out large loopholes for the fossil fuel industry. These will need to be opposed. The draft is also missing a clear recognition that developed countries will need to phase out faster and provide their fair share of finance, as well as a recognition that the decline of fossil fuel production must start immediately, not in the distant future."

Ghiwa Nakat, executive director of Greenpeace MENA, said the latest draft and "everything so far" at COP28 "has been just a prelude to what we really want to hear—commitment to a just and equitable phaseout of all fossil fuels by mid-century, coupled with key milestones for this critical decade."

While "alternative formulations on fossil fuel phaseout" have never "made it this far into a draft text," said Greenpeace International, "there are still no guarantees on a decision on fossil fuels, so all is in play."

Shortly after the draft was made public, letters from the Organization of the Petroleum Exporting Countries (OPEC) were leaked to multiple news outlets and made it even more clear that campaigners' fight for a strong final Global Stocktake is not over—but that major fossil fuel producers are growing concerned that COP28 could be a turning point for the industry.

The letters, dated December 6 and signed by OPEC secretary-general and Kuwaiti oil executive Haitham al-Ghais, were sent to members countries including Saudi Arabia, Iran, and Nigeria.

Al-Ghais urged the countries to "proactively reject any text or formula that targets energy, i.e. fossil fuels, rather than emissions."
"These letters show that fossil fuel interests are starting to realize that the writing is on the wall for dirty energy," Mohamed Adow, director of Power Shift Africa, toldThe Guardian. "Climate change is killing poor people around the globe and these petrostates don't want COP28 to phase out fossil fuels because it will hurt their short-term profits. It's shameful."
While the draft text "offers hope with several options for a phaseout of fossil fuels," said Cansın Leylim, associate director of global campaigns for 350.org, fossil fuel lobbyists are still "trying to block progress" at COP28.
"OPEC needs to get with the program or move out of the way of our just transition to a 100% renewable energy powered future," said Leylim. "The spotlight is now on the COP28's presidency and if they will broker a deal for a just transition or instead align themselves with the oil industry."

News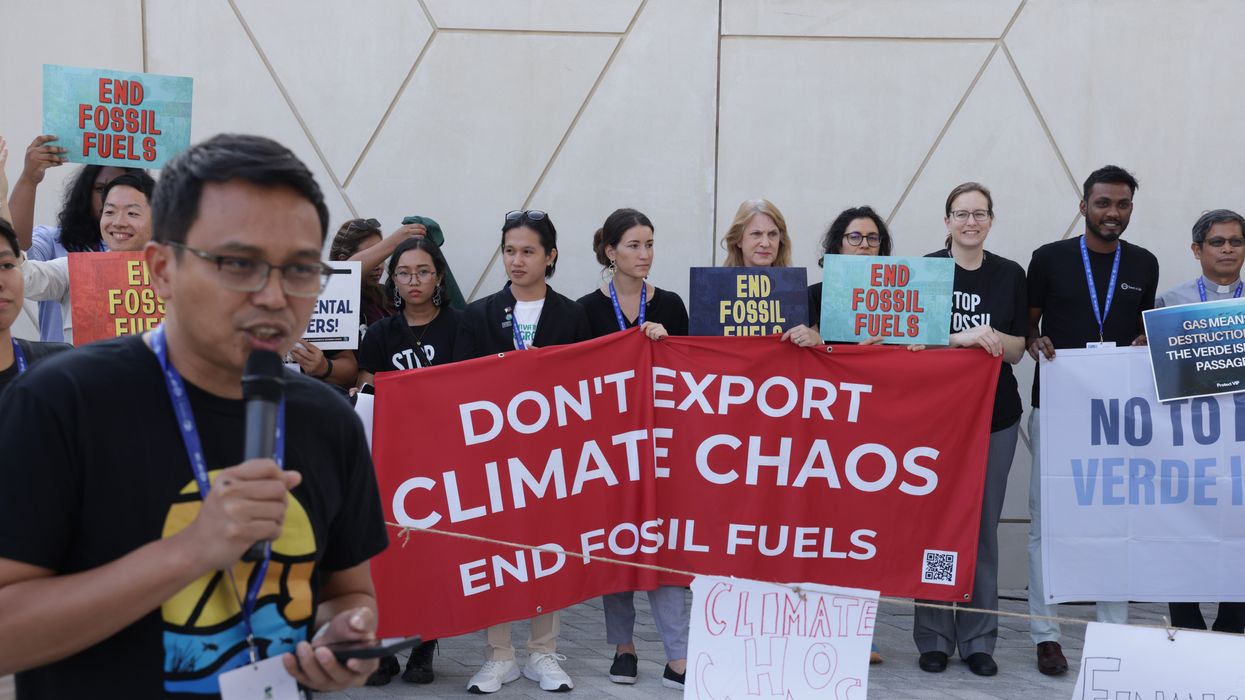 The coalition charged that "the explosion of LNG exports from the U.S." is "an especially egregious move considering that the United States has already used up far more than its fair share."
With less than a week left of the United Nations Climate Change Conference, more than 300 groups from over 40 countries on Friday urged the Biden administration to end the permitting of new liquefied natural gas terminals in the United States and cut off diplomatic and financial support for LNG projects abroad.
The coalition began its letter to U.S. President Joe Biden—who is already under fire for skipping the conference—by pointing out that "the United States arrives at the COP28 climate negotiations as both the world's largest exporter of liquefied natural gas terminals (LNG) and the largest historic greenhouse gas emitter."
"The global expansion of LNG infrastructure is locking in decades of emissions–endangering the health of people and the planet today and for generations to come, exacerbating environmental injustice in historically marginalized communities, and entrenching fossil fuel sacrifice zones," the organizations wrote, specifically highlighting the U.S. Gulf Coast.
"Why must we let LNG poison our waters, destroy biodiversity, and drive us further to climate chaos?"
"The danger is further magnified by the pipeline of proposed projects, such as the mammoth Calcasieu Pass 2 (CP2) LNG terminal in Cameron Parish, Louisiana," the coalition stressed, echoing a recent letter from groups representing over 70,000 healthcare workers. "These pending projects threaten to lock in an annual 1,400 million metric tons of carbon dioxide equivalent (CO2e) emissions—equivalent to 378 new coal plants."
The letter also emphasizes that "although leakage across the LNG supply chain helps make the fuel substantially worse for the climate than coal, reducing methane is not a silver bullet and risks justifying further industry expansion," and calls for pairing methane reduction pledges "with commitments to completely phase out fossil fuels."
Oil Change International global policy manager Romain Ioualalen—whose group is part of the coalition—noted in a statement Friday that the latest draft COP28 agreement "shows we have never been closer to an agreement on a fossil fuel phaseout. But, what that transition will look like will be a fierce battle over the next few days."
"We are alarmed about some of the options in this text that seem to carve out large loopholes for the fossil fuel industry," he added. "The draft is also missing a clear recognition that developed countries will need to phase out faster and provide their fair share of finance, as well as a recognition that the decline of fossil fuel production must start immediately, not in the distant future."
Other members of the coalition include the Center for Biological Diversity, Earthworks, Extinction Rebellion U.S., Food & Water Watch, Fridays for Future USA, Friends of the Earth International, Global Justice Now, Greenpeace USA, Indigenous Environmental Network, Physicians for Social Responsibility, Public Citizen, Sierra Club, and 350.org.
"The explosion of LNG exports from the U.S. represents an extreme grab of the limited carbon budget remaining to constrain global temperature rise to under 1.5°C, an especially egregious move considering that the United States has already used up far more than its fair share," the coalition charged, referring to the Paris agreement's bolder goal.
"Any push for a phaseout of all fossil fuels at COP28 risks falling flat if the world's leading LNG exporter shows no signs of changing course," the letter concludes. "We urge the Biden administration to publicly commit during the COP to no further regulatory, financial, or diplomatic support for LNG in the U.S. or anywhere in the world."
Coalition members echoed that call for action. Krishna Ariola of Youth for Climate Hope Philippines declared that "Southeast Asia is being shaped into an LNG import hub. Lies peddled by countries like Japan, the United States, South Korea, and countries in Europe paint gas as a transition fuel, but our people and environment have paid a steep price."
"In the Philippines, the biodiversity-rich Verde Island Passage hosts the biggest concentration of LNG projects in the country," she continued. "Why must we let LNG poison our waters, destroy biodiversity, and drive us further to climate chaos? The Philippines and Southeast Asia are more than capable of powering our region with renewables at a timeframe compatible to 1.5°C. The mad dash for gas is nothing but a blockade to a renewable energy future."
Roishetta Ozane, founder and director of the Vessel Project of Louisiana, said that "communities like mine in the Gulf South are dying from the Biden administration's failure to stop fossil fuel expansion."
Noting that the Calcasieu Pass 2 facility "would produce the largest volume of LNG ever approved in the United States for export," Ozane argued that "to be on the right side of history, Biden must reject CP2 and all other gas export projects, and support a fast, fair, and full fossil fuel phaseout here at COP28."
News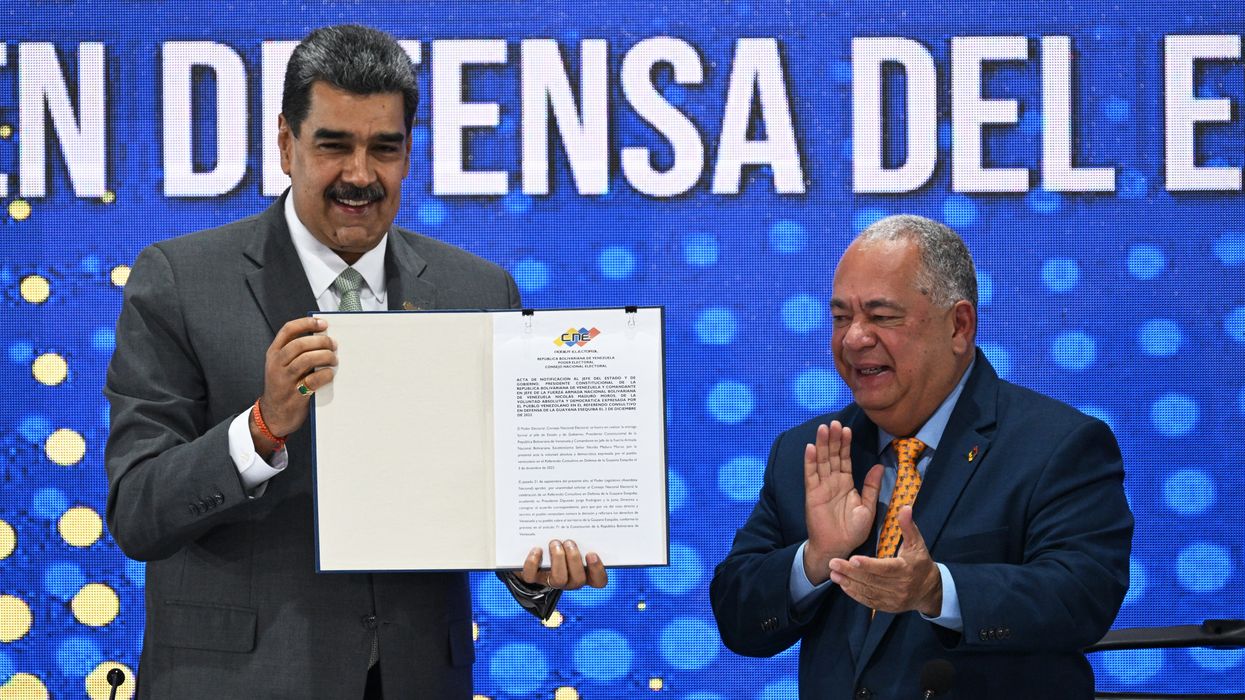 Brazilian President Luiz Inácio Lula da Silva offered to help forge a diplomatic solution, saying, "If there's one thing we don't want here in South America, it's war."
U.S. forces held joint military drills within Guyanese airspace on Thursday as a longstanding and intensifying territorial dispute between Venezuela and Guyana sparked fears of war in South America.
At the center of the dispute is Essequibo, an oil-rich region that Guyana has controlled for more than a century. Venezuela has claimed sovereignty over Essequibo for decades, and the two nations agreed in 1966 to resolve the controversy in a way that's "satisfactory" for both sides.
On Sunday, 95% of Venezuelan voters approved a referendum in support of declaring ownership over the disputed territory, and President Nicolás Maduro swiftly "ordered the state oil company to issue licenses for extracting crude in the region," AFPreported.
"The president also gave an ultimatum to oil companies working under concessions issued by Guyana to halt operations within three months," the outlet added.
Irfaan Ali, Guyana's president, called Maduro's moves a "direct threat" and said his country's military forces are on alert.
"Our first line of defense is diplomacy," Ali said in an interview with CBS News on Wednesday. "But we are also preparing for the worst-case scenario... We are preparing with our allies, with our friends, to ensure that we are in a position to defend what is ours."
The United Nations Security Council was scheduled to hold an emergency closed-door meeting on the dispute on Friday at Guyana's request.

"Washington does not have the appetite to deepen its conflict with Venezuela. But ExxonMobil does."
The primary target of Maduro's ultimatum to companies was ExxonMobil, a U.S.-based fossil fuel giant that has made major new oil discoveries in the disputed territory this year. Exxon announced its first oil discovery in Guyana in 2015, and the country's government gave the oil behemoth a green light to drill in disputed waters.
Citing an industry analyst, The Houston Chroniclereported earlier this week that "the roughly 380,000 barrels per day that Exxon produces in Guyana account for roughly 10% of its 4 million barrels per day globally."
"The company plans to expand its production there to more than 1 million barrels per day by the end of the decade," the Chronicle noted.
Escalating tensions over Essequibo have sparked warnings of a possible military conflict in the region. Brazilian President Luiz Inácio Lula da Silva said Thursday that "if there's one thing we don't want here in South America, it's war."
"We have been following the development of the Essequibo issue with growing concern," Lula said, expressing his nation's willingness to assist in negotiations for a diplomatic resolution. "We don't need conflict. We need to build peace."
Brazil shares a border with both Venezuela and Guyana. The BBCreported that Brazil deployed troops to its border with Venezuela following Sunday's referendum vote.

On the same day as Lula's remarks, American forces held joint military drills with Guyana that the U.S. Southern Command (SOUTHCOM) said were part of "routine engagement" aimed at enhancing the two nations' "security partnership."
"The U.S. will continue its commitment as Guyana's trusted security partner and promoting regional cooperation and interoperability," SOUTHCOM added.

Vladimir Padrino Lopez, Venezuela's defense minister, called the drills an "unfortunate provocation" aimed at protecting the interests of ExxonMobil.
"We warn that we will not be diverted from our future actions for the recovery of the Essequibo," Lopez wrote on social media.
Historian Vijay Prashad argued earlier this week that "war does not seem to be on the horizon," given that the U.S. has recently "withdrawn part of its blockade on Venezuela's oil industry, allowing Chevron to restart several oil projects in the Orinoco Belt and in Lake Maracaibo."
"Washington does not have the appetite to deepen its conflict with Venezuela. But ExxonMobil does," Prashad wrote. "Neither the Venezuelan nor the Guyanese people will benefit from ExxonMobil's political intervention in the region. That is why so many Venezuelans who came to cast their vote on December 3 saw this less as a conflict between Venezuela and Guyana and more as a conflict between ExxonMobil and the people of these two South American countries."
News