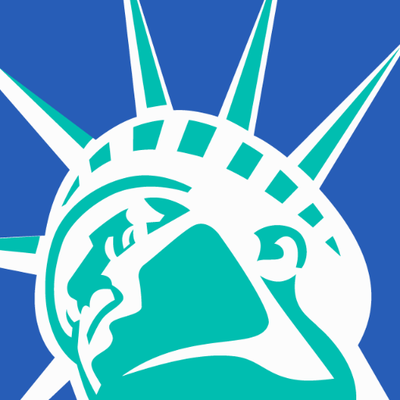 For Immediate Release
Contact:
Phone: (202) 588-1000
Public Citizen Decries Senate Committee Retreat From Safe Banking Consumer Protection Rules
Statement of Bartlett Naylor, Financial Policy Advocate, Public Citizen
WASHINGTON
Note: On Tuesday, Dec. 5, the U.S. Senate Banking Committee will begin voting on legislation (S. 2155) that would reduce consumer protections and bank safety rules. Public Citizen analyzed the bill's problems in this letter to the committee.
At a time when the likes of Wells Fargo and Equifax demonstrate that Wall Street needs stronger reforms, Senate banking leaders are proposing to grind holes in key existing safeguards. The legislation would remove protections related to appraisals, escrow and financing for manufactured housing. It would eliminate careful supervision for 25 large banks that collectively control $3.5 trillion in assets and received $48 billion in taxpayer bailouts. Bill sponsors claim this will promote economic growth, but ignore both current record profits at banks as well as the millions of Americans who lost their homes, jobs and savings when inadequate rules and supervision led to the 2008 crash.
Public Citizen is a nonprofit consumer advocacy organization that champions the public interest in the halls of power. We defend democracy, resist corporate power and work to ensure that government works for the people - not for big corporations. Founded in 1971, we now have 500,000 members and supporters throughout the country.
(202) 588-1000
LATEST NEWS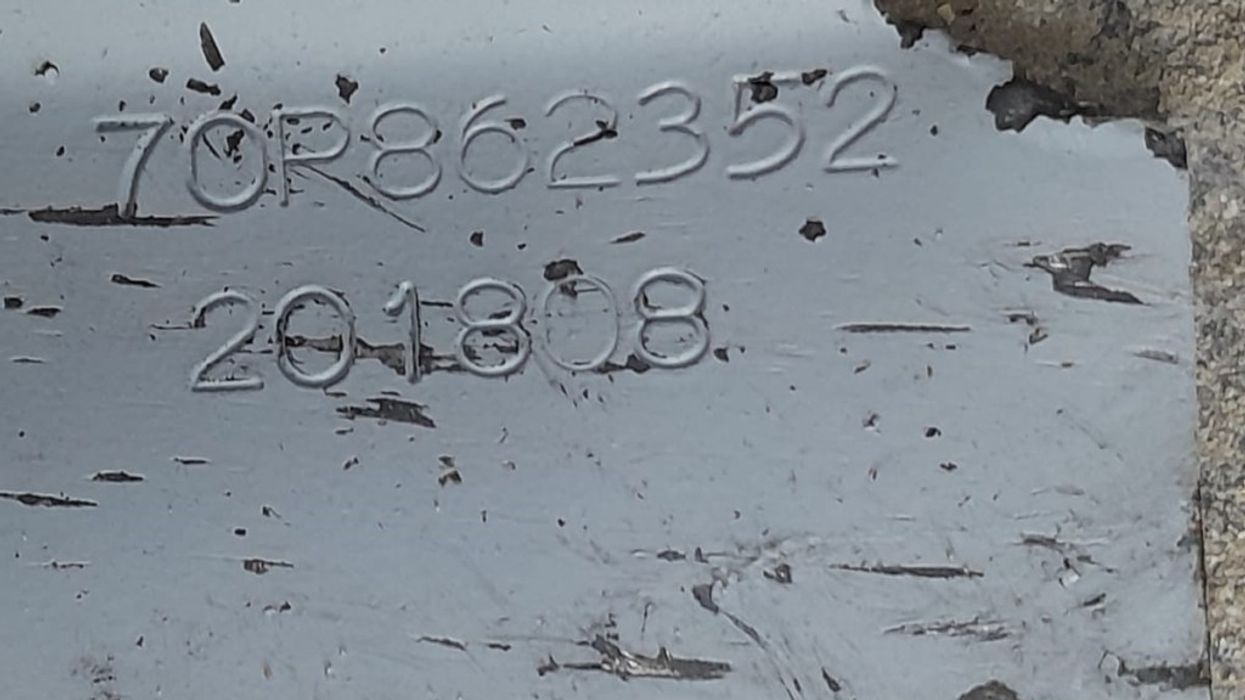 Amnesty International's findings "should be an urgent wake-up call to the Biden administration," said the group's secretary-general.
An Amnesty Internationalinvestigation published Tuesday found that the Israeli military used U.S.-made munitions in a pair of illegal airstrikes on homes in the occupied Gaza Strip in October, killing more than 43 people from two families—including 19 children.
Photographs taken by Amnesty fieldworkers show two fragments of what appear to be Joint Direct Attack Munitions (JDAM), the most common kind of weaponry that the U.S. has provided to Israel in recent years. The group noted that codes on the plates of the munition scraps "are associated with JDAMs and Boeing, the manufacturer."
The codes indicate that the munitions were manufactured in 2017 and 2018. JDAM kits are ostensibly designed to turn unguided bombs into GPS-guided weapons.
"The photos of the metal fragments from the weapons clearly show the distinctive rivets and harness system that indicate they served as a part of the frame that surrounds the body of the bomb of a JDAM," Amnesty said.
The two strikes that the organization examined, carried out on October 10 and October 22, killed 43 civilians—14 women, 10 men, and 19 kids. Survivors told Amnesty that they were not warned of an imminent strike.
"Both homes were south of Wadi Gaza, within the area where, on 13 October, the Israeli military had ordered residents of northern Gaza to relocate to," Amnesty said.
Agnès Callamard, the organization's secretary-general, said in a statement that the revelations "should be an urgent wake-up call to the Biden administration."
"The U.S.-made weapons facilitated the mass killings of extended families," said Callamard. "In the face of the unprecedented civilian death toll and scale of destruction in Gaza, the U.S. and other governments must immediately stop transferring arms to Israel that more likely than not will be used to commit or heighten risks of violations of international law."
"To knowingly assist in violations is contrary to the obligation to ensure respect for international humanitarian law," she added. "A state that continues to supply arms being used to commit violations may share responsibility for these violations."
The two airstrikes came in the early stages of an Israeli bombing campaign that has killed nearly 16,000 people in less than two months and displaced roughly 80% of Gaza's 2.3 million people.
The U.S.—Israel's primary arms supplier—has urged its ally in recent days to take steps to limit civilian deaths, but Israel's bombardment and ground assault have intensified since a seven-day pause ended last week, killing at least 900 people in just several days.
Even as Israel ignores its tepid calls to protect civilians, the Biden administration has continued to send weaponry to the Israeli military, deepening its complicity. Citing unnamed U.S. officials, The Wall Street Journalreported last week that the Biden administration has transferred more than 100 2,000-pound bunker-buster bombs to Israel as part of the flow of weapons that started soon after the October 7 Hamas-led attack.
According to the Journal, the U.S. has thus far provided Israel with roughly 15,000 bombs and 57,000 artillery shells. The Biden administration is currently pushing Congress to approve an additional $10 billion in military aid for Israel.
Based on the amount of damage inflicted, Amnesty estimates that the munition that hit the al-Najjar family home—killing 24 people—likely weighed 2,000 pounds, while the bomb that struck the Abu Mu'eileq home likely weighed at least 1,000 pounds.
"Our lives have been destroyed in a moment. Our family has been destroyed. Something that was unthinkable is now our reality."
Suleiman Salman al-Najjar told Amnesty that he was returning from the hospital after receiving treatment for kidney problems when he learned that his home had been bombed. The Israeli strike killed his wife, two daughters, and two sons as well as three neighbors.
"I rushed home and saw a scene of utter destruction. I could not believe my eyes. Everybody was under the rubble. The house was completely pulverized. The bodies were reduced to shreds," he said. "Our lives have been destroyed in a moment. Our family has been destroyed. Something that was unthinkable is now our reality."
Samaher Abu Mu'eileq, a survivor of Israel's October 22 strike, told Amnesty, "I had just left the house where my sisters-in-law and my nephews and nieces were sitting, a minute before the house was bombed."
"I walked downstairs and just as I was opening my front door, my brother's house next door was bombed," Abu Mu'eileq said. "I was thrown against the door by the force of the explosion and was injured in my face and neck. I can't understand why the house was bombed. My sisters-in-law and their children and my stepmother were killed, all of them women and children… Others were injured. What is the reason for such crime against civilians?"
Amnesty said the strikes should be investigated as war crimes and argued that the Biden administration "may share responsibility for serious violations of international humanitarian law committed by Israel with U.S.-supplied weapons, as all states have a duty not to knowingly contribute to internationally wrongful acts by other states."

News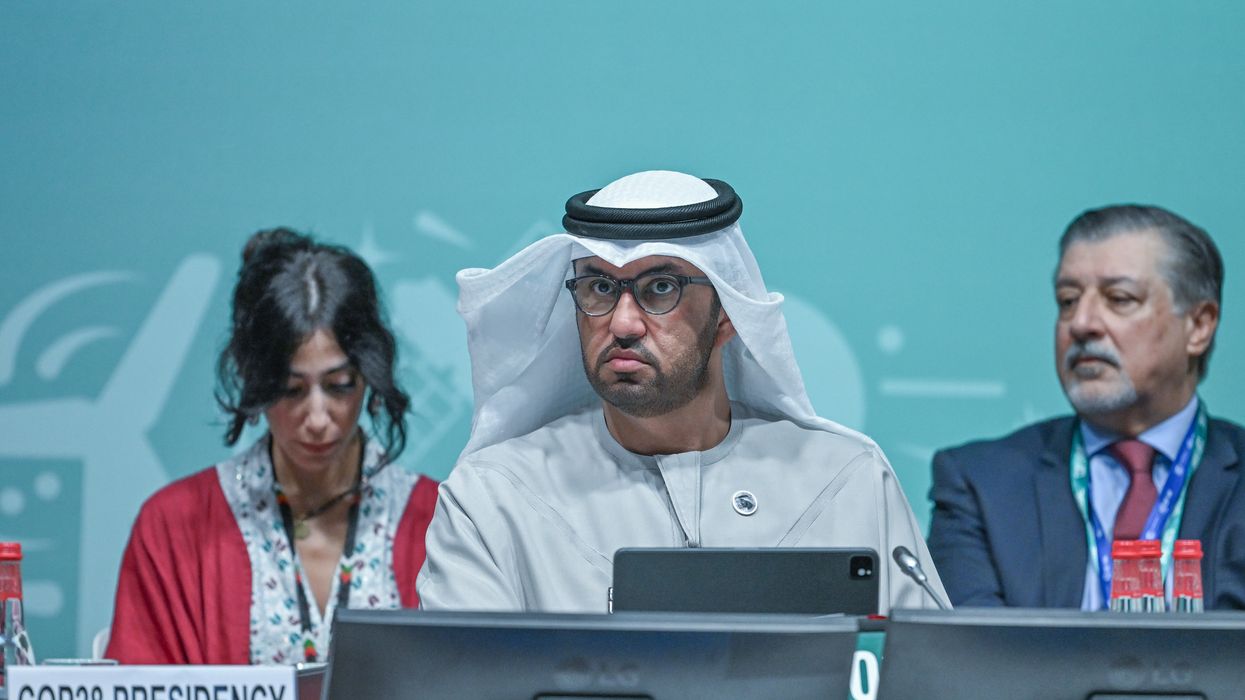 "The sheer number of fossil fuel lobbyists at climate talks that could determine our future is beyond justification," said one campaigner.
A record number of fossil fuel lobbyists have inundated the COP28 climate summit in the United Arab Emirates, with new research released Tuesday showing that more than 2,400 industry influence-peddlers were granted access to the critical U.N. talks—a 400% increase over last year.
The Kick Big Polluters Out (KBPO) coalition tallied 2,456 fossil fuel lobbyists on the provisional list of COP28 participants, a likely undercount as the estimate doesn't include those who are attending the talks under a different professional title. A new U.N. rule approved earlier this year requires lobbyists at COP28 to declare their affiliation.
Representatives from ExxonMobil, TotalEnergies, and other oil and gas firms outnumber the delegations of nearly every single country at the summit except Brazil and the UAE, according to the new analysis. KBPO said that more fossil fuel lobbyists received attendance passes than all of the delegates from the 10 most climate-vulnerable nations combined.
"You don't bring arsonists to a firefighting convention—or the climate talks, for that matter—but that's precisely what is happening here at COP28."
"The sheer number of fossil fuel lobbyists at climate talks that could determine our future is beyond justification," said Joseph Sikulu, pacific managing director at 350.org. "Their increasing presence at COP undermines the integrity of the process as a whole. We come here to fight for our survival and what chance do we have if our voices are suffocated by the influence of Big Polluters? This poisoning of the process needs to end, we will not let oil and gas influence the future of the Pacific this heavily."
Climate Action Network International added that "you don't bring arsonists to a firefighting convention—or the climate talks, for that matter—but that's precisely what is happening here at COP28."
"Big Polluter interference in climate negotiations is costing millions of people their homes, livelihoods, and lives," the group wrote on social media.
Many of the lobbyists were granted access to #COP28 via fossil fuel trade groups.

👎 Nine out of 10 the largest hail from the Global North; notably the Geneva-based @IETA, which brought 116 people, including representatives from Shell and TotalEnergies. #KickBigPollutersOut
— Climate Action Network International (CAN) (@CANIntl) December 5, 2023
Ahead of COP28, KBPO estimated that fossil fuel lobbyists from some of the world's top oil and gas firms attended past U.N. climate summits more than 7,000 times.

Advocates said the sharp increase in lobbyist attendance at COP28 underscores the industry's commitment to preventing substantive climate action as greenhouse gas emissions continue to rise, imperiling hopes of preventing catastrophic warming.
"Their agenda is crystal clear: safeguarding their profits at the expense of a livable future for all of us," Kathy Mulvey, accountability campaign director at the Union of Concerned Scientists, said in a statement. "The urgency of phasing out fossil fuels demands a unified, unwavering commitment from global leaders, unencumbered by the fossil fuel industry's self-serving agenda."
Industry influence could help explain the inadequacy of climate commitments that have emerged from the summit this far. The Oil and Gas Decarbonization Charter, spearheaded by the UAE and Saudi Arabia—two leading petrostates—has been called a "dangerous distraction" from efforts to phase out fossil fuels, and a new agreement on a global loss and damage fund has been criticized as badly inadequate to meet the needs of frontline nations.
COP28 president Sultan Ahmed Al Jaber—who is also CEO of the Abu Dhabi National Oil Company—has dismissed calls to phase out fossil fuels as his company plots a massive expansion that could make it the second-largest oil producer on the planet. Al Jaber has also used his role as the head of the summit to pursue new oil and gas deals.
"Oil and gas companies and their enablers—the climate arsonists fueling climate chaos—cannot be trusted to help put out the fire or deliver what we need: a full, fast, fair, and funded fossil fuel phaseout," said David Tong, global industry campaign manager at Oil Change International.
KBPO noted in its new analysis that lobbying at COP28 is hardly limited to the fossil fuel industry, pointing to the presence of finance, agribusiness, and transportation representatives.
"To share seats with the Big Polluters in climate change conversations is to dine with the devil," Ogunlade Olamide Martins, program manager at Corporate Accountability and Public Participation Africa, said in a statement. "This unholy matrimony will only endorse 'conflict of interest' and further facilitate the silence of honest agitation. COP's conclusions must be independent of industries' parasitic influences and must only address the concerns of the vulnerable masses."

News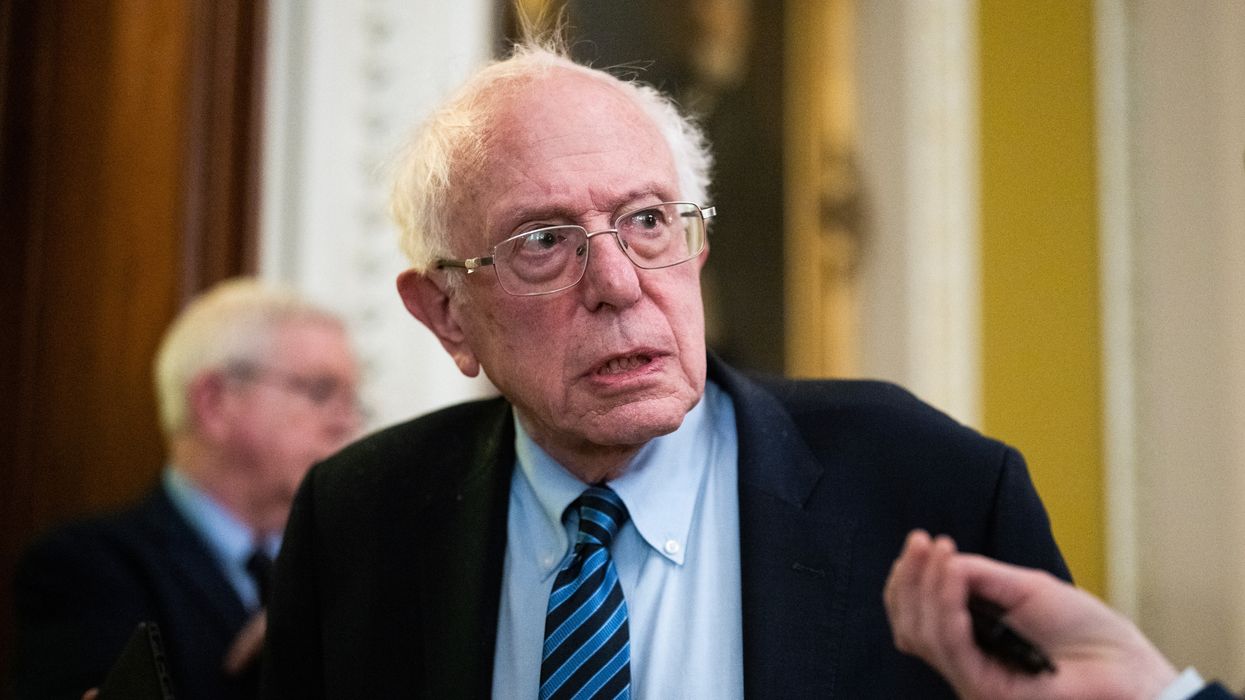 "Israel's indiscriminate approach is, in my view, offensive to most Americans, it is in violation of U.S. and international law, and it undermines the prospects for lasting peace and security."
U.S. Sen. Bernie Sanders said Monday that he opposes sending billions of dollars in additional military assistance to the Israeli government as it continues to wage a catastrophic war on the Gaza Strip, an assault that the Vermont senator described as unlawful and "immoral."

"I do not believe we should be appropriating over $10 billion for the right-wing, extremist Netanyahu government to continue its current military approach," Sanders, who has faced backlash from progressives and some of his former campaign staffers for refusing to support a permanent cease-fire, said in remarks on the Senate floor.
Sanders' speech came as Senate Majority Leader Chuck Schumer (D-N.Y.) set the stage for a procedural vote on a $106 billion supplemental package that includes military assistance for Israel and Ukraine. The vote is expected to fail as Republicans push for the inclusion of asylum restrictions that progressive Democrats have condemned as draconian.

The Vermont senator, for his part, decried the lack of attention to domestic emergencies in the bill, from childcare to primary healthcare to housing.
"I am deeply concerned that this legislation has no investments to address the needs of working families in the United States—60% of whom are living paycheck to paycheck," Sanders said, noting that the supplemental bill includes "tens of billions" in military spending that should be dedicated to "some of the enormous domestic crises we face."
Sanders went on to slam the proposed $10.1 billion in no-strings-attached military aid that would "allow the Netanyahu government to continue its current offensive military approach" in which the U.S. is complicit, having supplied the Israeli military with around 15,000 bombs and tens of thousands of artillery shells.
The senator said he would support "defense systems" to protect Israeli citizens from rocket attacks fired by the groups involved in the deadly October 7 attack. But "Israel's indiscriminate approach is, in my view, offensive to most Americans, it is in violation of U.S. and international law, and it undermines the prospects for lasting peace and security," said Sanders.
"Israel must dramatically change its approach to minimize civilian harm and lay out a wider political process that can secure lasting peace," he added.
That process, Sanders said, must include "a guarantee that displaced Palestinians will have the absolute right to return to their homes as Gaza rebuilds; it will include no long-term occupation or blockade of Gaza; an end to the killings of Palestinians in the West Bank and a freeze on new settlements there; and, perhaps most importantly, a commitment to broad peace talks to advance a new two-state solution in the wake of this war."

Sanders delivered his speech as Israel expanded its ground offensive to southern Gaza, threatening to worsen the territory's horrific humanitarian crisis by attacking the region to which many fled as Israel assailed the northern part of the strip. Around 80% of Gaza's population has been displaced in less than two months.
Doctors Without Borders warned Monday that hospitals in the south are "at a breaking point" due to Israel's bombardment and ongoing siege, which have prevented the delivery of critical supplies including fuel and anesthetics.

In an open letter on Monday, Doctors Without Borders executive director Avril Benoît implored U.S. President Joe Biden to "call for an immediate and sustained cease-fire in Gaza," saying his group has rarely "encountered such a catastrophic combination of escalating humanitarian and medical needs, ravaged infrastructure, and intentionally limited humanitarian access."
"Our teams throughout Gaza recount scenes of horror in the hospitals: dead bodies everywhere, people with crushed limbs rescued from collapsed buildings, and orphaned children with severe burns covering most of their tiny bodies. They describe patients screaming in pain because there's not enough anesthesia," Benoît wrote. "And every day, they go to work for their patients."
"They can't go on like this," she added. "No one in Gaza can go on like this. We need a sustained cease-fire now."
News