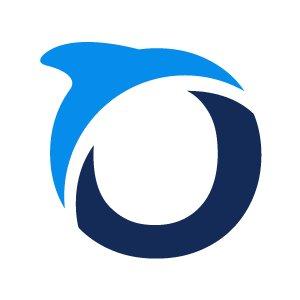 Congress Considers Industry Giveaways for Offshore Drilling
New Bill Proposes Sidestepping Public Input and Reversing Ocean Protections.
WASHINGTON
Today, the House Natural Resources Subcommittee on Energy and Mineral Resources will hold a hearing on new legislation to amend the Outer Continental Shelf Lands Act (OCSLA), which would provide industry giveaways for offshore drilling. If passed, the Accessing Strategic Resources Offshore Act (ASTRO Act) would help expedite the oil and gas industry's efforts to expand dirty and dangerous offshore drilling to new areas in the Atlantic, Pacific and Arctic oceans as well as the eastern Gulf of Mexico.
Specifically, the legislation seeks to:
Eliminate the long-standing Presidential authority under the Antiquities Act to establish marine national monuments;
Authorize the Secretary of the Interior to conduct and expedite lease sales outside of the OCSLA leasing program context and without consideration of the environmental, social and fiscal safeguards in that law;
Eliminate the long-standing Presidential authority under OCSLA Section 12(a) to withdraw certain areas of the OCS from oil and gas leasing, except for those areas within national marine sanctuaries, and revoke all prior existing withdrawals that are not in existing sanctuaries or monuments;
Revoke common-sense Arctic exploratory drilling safety protections; and
Require preparation of a report

within 180 days

that could lead to a rollback of the post-Deepwater Horizon re-organization of the Department of Interior, which was put in place to eliminate mission conflicts and to increase safety and environmental protections for oil and gas leasing and permitting requirements.
In response to the hearing, Oceana released the following statement from campaign director, Diane Hoskins:
"This bill is an aggressive attack on our oceans. It's the industry's wish list, with everything but the kitchen sink thrown in. To call this bill extreme is an understatement. This is a clear attempt by a few in Congress to provide massive giveaways to special interests in the oil and gas industry. With an oil surplus and gasoline prices near recent historic lows, it makes absolutely no sense to put our coastal communities and state economies at risk from more drilling.
If this bill were enacted, almost any area off our coasts could be eligible for offshore drilling. Worse, these public resources could be exploited without regard to public input.
Offshore drilling is a dirty and dangerous business, as our country saw after the Deepwater Horizon spill. More drilling means more spills. It's time for Washington to listen to those that have the most to lose from expanding offshore drilling versus advancing proposals that attempt to side step and silence the public."
As of today, opposition and concern over offshore drilling activities includes:
Bipartisan opposition from Governors of New Jersey, Delaware, Maryland, Virginia, North Carolina, South Carolina, Washington, Oregon and California.
More than 130 East Coast and Pacific Coast municipalities
Bipartisan opposition from nearly 1,200 local, state and federal elected officials
An alliance representing over 41,000 businesses and 500,000 fishing families from Florida to Maine
The New England, Mid-Atlantic and South Atlantic fishery management councils
Commercial and recreational fishing interests such as the Southeastern Fisheries Association, Fisheries Survival Fund, Southern Shrimp Alliance, The Billfish Foundation and the International Game Fish Association
NASA, DOD and the Florida Defense Support Task Force
Please use the following link to share this release: https://bit.ly/2ydl1Ow
To learn more about Oceana's campaign to stop the expansion of offshore drilling activities, please click here.
Oceana is the largest international ocean conservation and advocacy organization. Oceana works to protect and restore the world's oceans through targeted policy campaigns.
LATEST NEWS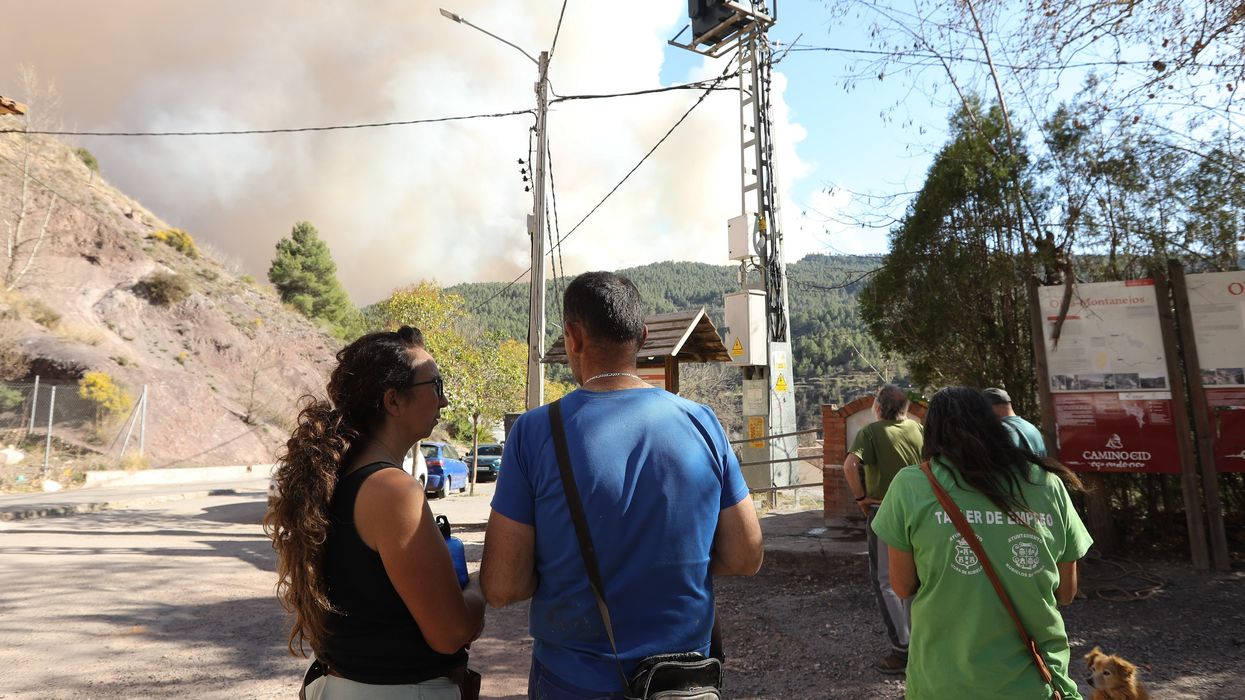 "These fires we're seeing, especially this early in the year, are once again proof of the climate emergency that humanity is living through, which particularly affects and ravages countries such as ours," said Spanish Prime Minister Pedro Sánchez.
A large wildfire raging in Spain's eastern Valencia region forced more than 1,500 people to flee their homes on Friday, providing further evidence of life-threatening consequences of the fossil fuel-driven climate crisis and bolstering the case for meaningful mitigation efforts.
Since it broke out in the municipality of Villanueva de Viver on Thursday, Spain's first major wildfire of the year has destroyed more than 7,400 acres of forest, prompting evacuation orders in eight communities across the Castellón province.
As residents sought refuge in shelters run by the Red Cross and other charities, more than 500 firefighters—supported by 18 planes and helicopters—were still attempting to contain the blaze on Friday afternoon.
"While firefighters believed they were managing to control the spread of the flames, strong winds and 'practically summertime temperatures' could reactivate it," Reuters reported, citing a local official.
"Summer is getting longer, it is arriving earlier, and the availability of water and humidity in the soil is unfortunately being reduced, making us much more vulnerable."
Ximo Puig, president of the Valencia region, told reporters the fire came "very early in the spring" and was "very voracious from the beginning."
It's not yet clear what sparked the blaze, but after months of arid conditions in the region, there's no shortage of dry fuel that can act as kindling. Climate scientists have long warned that as unmitigated greenhouse gas pollution causes temperatures to rise and droughts to worsen, wildfire seasons will grow longer and the number and severity of conflagrations will increase.
Speaking to reporters in Brussels, Spanish Prime Minister Pedro Sánchez said, "These fires we're seeing, especially this early in the year, are once again proof of the climate emergency that humanity is living through, which particularly affects and ravages countries such as ours."
According to Reuters, "An unusually dry winter across parts of the south of the European continent has reduced moisture in the soil and raised fears of a repeat of 2022."

Last year, wildfires destroyed nearly two million acres of land throughout Europe—more than double the annual average over the past 16 years, according to the European Commission. In Spain alone, 493 blazes wiped out more than 750,000 acres.
People in Spain, already suffering from a long-term drought marked by three years of below-average rainfall, are bracing for drier and hotter weather than usual this spring along the country's northeastern Mediterranean coast.
Experts have already started sounding the alarm about the likelihood of another catastrophic year for wildfires, especially if the frequency, duration, and intensity of heatwaves are comparable to last year, which saw records toppled.
"There is every reason to fear that this year too there will be numerous and widespread events."
"Out-of-season fires" are becoming increasingly common, Spanish Environment Minister Teresa Ribera told reporters this week. "Summer is getting longer, it is arriving earlier, and the availability of water and humidity in the soil is unfortunately being reduced, making us much more vulnerable."
Spain is far from alone. "A European Commission report this month observed a lack of rain and warmer-than-normal temperatures during the winter, raising drought warnings for southern Spain, France, Ireland, Britain, northern Italy, Greece, and parts of eastern Europe," Reuters reported. The commission "warned that low levels of water could affect strategic sectors including agriculture, hydropower, and energy production."
Lorenzo Ciccarese from the Italian Institute for Environmental Protection and Research told the outlet that "there is every reason to fear that this year too there will be numerous and widespread events."
The United Nations warned last year that as a result of planet-heating emissions and land-use change, wildfires are projected to increase 30% by 2050 and 50% by the end of the century.
After the Intergovernmental Panel on Climate Change released its latest assessment report this week, U.N. Secretary-General António Guterres said that limiting global warming to 1.5°C is possible, "but it will take a quantum leap in climate action," including a prohibition on greenlighting and financing new coal, oil, and gas projects as well as a phaseout of existing fossil fuel production.
News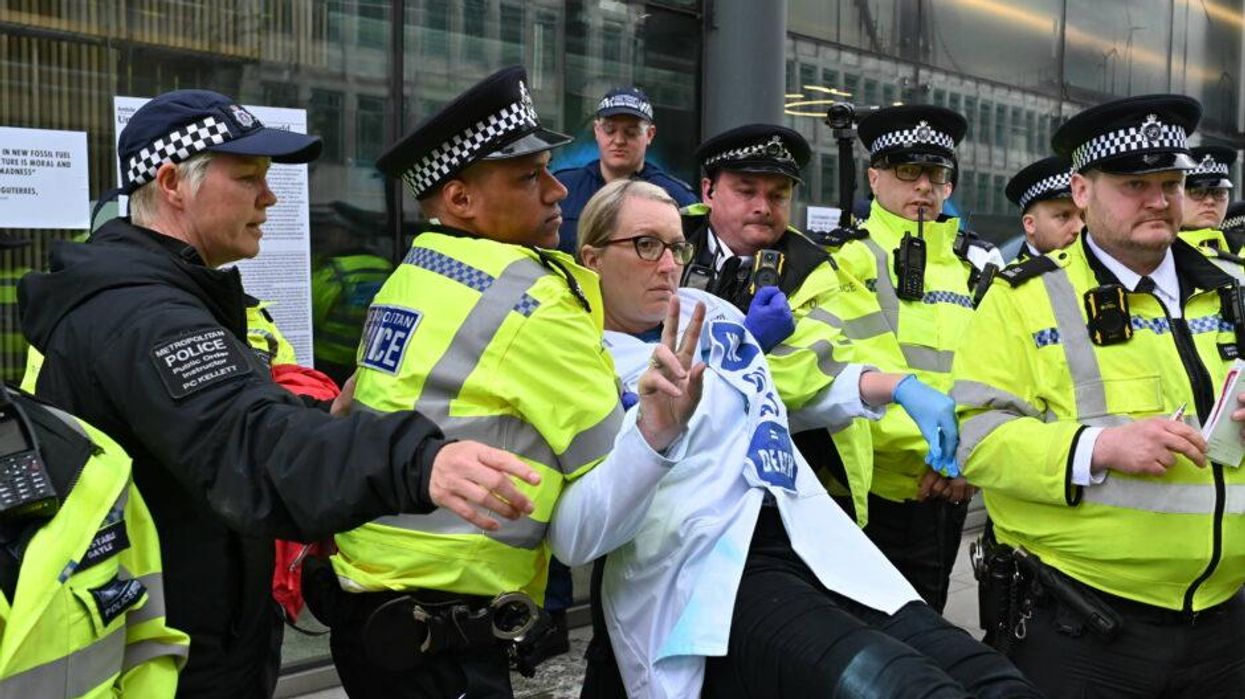 "It's the ordinary people of this country, taking a stand against this greed and destruction that the British legal system prosecutes and imprisons, jailing them just for talking about the climate crisis and fuel poverty."
More than 120 mostly English lawyers on Friday published a "declaration of conscience" pledging to withhold their services from "supporting new fossil fuel projects" and "action against climate protesters exercising their democratic right of peaceful protest."
The United Kingdom has in recent years faced protests from numerous climate groups, including those with more pronounced direct actions like Just Stop Oil, Insulate Britain, and Extinction Rebellion. As part of those protests, participants have filled the streets, blocked fossil fuel facilities, glued scientific papers and themselves to a government building, called out major law firms for "defending climate criminals," and even, controversially, tossed tomato soup on one of Vincent van Gogh's glass-protected paintings.
Released on the heels of the latest Intergovernmental Panel on Climate Change (IPCC) report, the lawyers' statement notes the U.K. Parliament's 2019 climate emergency declaration, the International Energy Agency's warning against future oil and gas development, and United Nations Secretary-General António Guterres' proclamation that "investing in new fossil fuels infrastructure is moral and economic madness."
The attorneys' declaration also recognizes that the world is on track to breach the 2015 Paris climate agreement's 1.5°C goal and the "dire consequences" of doing so, pointing out that "in the U.K. alone, we are already seeing unprecedented heatwaves, wildfires, flooding, and coastal erosion. In other parts of the globe the effects are already far worse."
Along with vowing to restrict their services, the lawyers:
Called upon the U.K. government and other attorneys to take action;
Advocated for law and litigation reform related to mitigating and adapting to global warming;
Expressed support for the democratic right to peaceful protest, which is under attack in the United Kingdom; and
Committed to donating their time and money to climate causes.
The attorneys, collectively calling themselves Lawyers Are Responsible, are supported by the groups Good Law Project and Plan B.Earth—whose director, Tim Crosland, highlighted that "the U.N. has said we're on a 'highway to climate hell' and that to get off it, we need to stop new fossil fuel developments now. But behind every new oil and gas deal sits a lawyer getting rich."
"Meanwhile, it's the ordinary people of this country, taking a stand against this greed and destruction that the British legal system prosecutes and imprisons, jailing them just for talking about the climate crisis and fuel poverty," Crosland said. "The rule of law has been turned on its head. Lawyers are responsible. It's time to take a stand."
Taking a stand is not without risk. In the United Kingdom, generally, solicitors advise clients on specific issues and barristers argue in court—and the former are able to choose their cases and clients while the latter are subject to the "cab rank rule," obligating them to provide services as long as they are qualified, even if the case or client is objectionable.
As Lawyers Are Responsible's website details in response to some right-wing outrage over the declaration:
The classic example of the cab rank rule in action is of a criminal barrister who accepts a brief to represent a person accused of murder, against whom there is strong evidence of guilt. In that situation, there is no conflict between the cab rank rule and the interests of justice. The barrister is agreeing to perform his or her role within a system of justice that produces, on the whole, just outcomes. By representing the accused, the barrister is merely helping to ensure that there is a fair trial and is serving the greater good.

The signatories to the declaration are convinced that at the present time offering their services in support of new fossil fuel projects or action against peaceful climate protesters would not serve the greater good.
Good Law Project director and declaration signatory Jolyon Maugham wrote in a Friday opinion piece for The Guardian that "like Big Tobacco, the fossil fuel industry has known for decades what its activities mean. They mean the loss of human life and property, which the civil law should prevent but does not."
"The scientific evidence is that global heating, the natural and inevitable consequence of its actions, will cause the deaths of huge numbers of people. The criminal law should punish this but it does not," Maugham continued. "Nor does the law recognize a crime of ecocide to deter the destruction of the planet. The law works for the fossil fuel industry—but it does not work for us."
"Today's history books speak with horror about what the law of yesterday did, of how it permitted racism, rape, and murder," he added. "And tomorrow's history books will say the same about the law as it stands today, of how it enabled the destruction of our planet and the displacement of billions of people."
The Guardianreported that "18 barristers, including six king's counsel, have signed the declaration" and "will now self-refer to the Bar Standards Board." The newspaper noted that while barristers can face fines for rule-breaking, "the consequences can be more far-reaching for junior members of the profession, who can find themselves blocked from receiving the 'silk' awarded to king's counsel, or from promotion to the judiciary."
In a statement from Plan B, one junior lawyer who wished to remain anonymous said that "young lawyers are being placed in an impossible position. We're being told by our firms and regulators it's a professional obligation to act for fossil fuel projects, knowing that doing so will poison our own future and all of life on Earth."
"That's wrong on every level. It's indefensible," the lawyer added. "If the profession doesn't look out for my generation, how does it expect to survive?"
News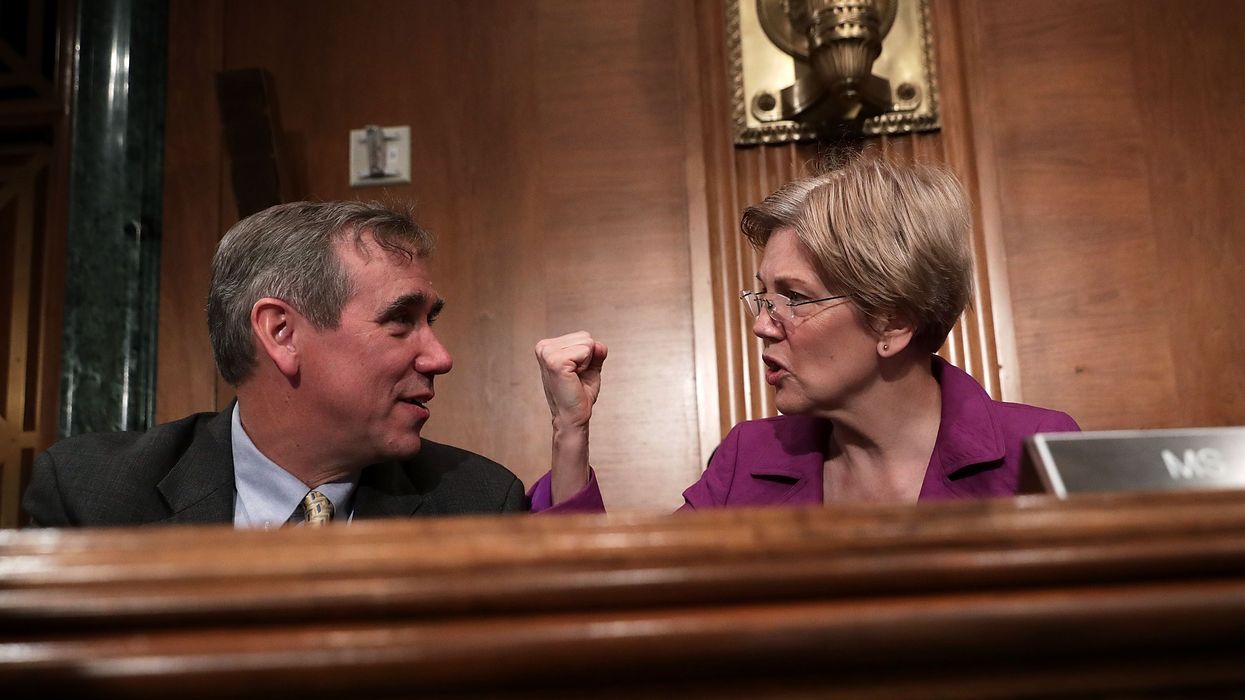 "It is outrageous that industry groups, on your behalf, are putting your plan's enormous profits over care for seniors," wrote Sens. Elizabeth Warren and Jeff Merkley.
Sens. Elizabeth Warren and Jeff Merkley are calling attention to the massive profits and "exorbitant" executive salaries of top Medicare Advantage insurers such as UnitedHealthcare and Humana, which are leading a lobbying blitz against efforts to combat widespread fraud in the privately run healthcare program.
"In 2022, the seven major Medicare Advantage health care insurers—UnitedHealthcare, CVS/Aetna, Cigna, Elevance Health, Humana, Centene, and Molina—brought in revenues of $1.25 trillion and reported total profits of $69.3 billion, a 287% increase in profits since 2012," the Democratic senators wrote in recent letters to the companies' CEOs, citing an analysis by Wendell Potter of the Center for Health and Democracy.
"But rather than investing in benefits for patients," they added, "these seven health insurers instead spent $26.2 billion on stock buybacks."
Warren (D-Mass.) and Merkley (D-Ore.) also highlighted the "extraordinary salaries" of the insurance giants' CEOs and other top executives. Brian Thompson, who became UnitedHealthcare's CEO in 2021, brought home nearly $10 million in total compensation that year, according to SEC filings.
Humana chief executive Bruce Broussard raked in more than $17 million in 2021.
The letters were sent Wednesday as the insurance industry continues to ramp up its attacks on Biden administration proposals aimed at reining in upcoding and other tactics that Medicare Advantage plans use to reap larger payments from the federal government, which funds the program.
Critics of Medicare Advantage argue that such overpayments—which topped $15 billion in fiscal year 2021 alone—are "depleting the Medicare Trust Fund" at the expense of patients, who are frequently denied medically necessary care.
"MA plans are consistently paid more for seniors' care," Warren and Merkley noted, "and MedPAC projects that total Medicare payments to MA plans in 2023 will be $27 billion higher than if MA beneficiaries were enrolled in traditional Medicare."
"Rather than investing in benefits for patients, these seven health insurers instead spent $26.2 billion on stock buybacks."
Even though the Biden administration's proposed reforms would still leave Medicare Advantage plans with payments that are around 1% higher per enrollee in 2024 compared to this year, the insurance industry has characterized the changes as a cut and warned that their implementation would lead to higher premiums and worse care for beneficiaries.
In their letters, Warren and Merkley accused the for-profit insurance industry of attempting "to scare seniors and people with disabilities into opposing changes that will reduce waste, fraud, and abuse" in Medicare Advantage.
As The New York Timesreported earlier this week, "Medicare officials have been inundated with more than 15,000 comment letters for and against the policies, and roughly two-thirds included identical phrases from form letters."
"Insurers used television commercials and other strategies to urge Medicare Advantage customers to contact their lawmakers," the Times added. "The effort generated about 142,000 calls or letters to protest the changes, according to the Better Medicare Alliance, one of the lobbying groups involved."
That group—which counts Aetna, Humana, and other insurance giants as "ally organizations"—purchased a Super Bowl ad urging the White House not to "cut" Medicare Advantage:
Warren and Merkley voiced outrage that Medicare Advantage insurers would respond to the Biden administration's proposed policy changes by threatening "actions that hurt seniors"—such as premium hikes—"instead of reducing exorbitant salaries or the massive payouts to your shareholders and executives."
"It is outrageous that industry groups, on your behalf, are putting your plan's enormous profits over care for seniors," the senators wrote to the insurance company CEOs.
News
SUPPORT OUR WORK.
We are independent, non-profit, advertising-free and 100%
reader supported.