For Immediate Release
March, 31 2016, 05:00pm EDT
Activists Call on USG for Action Against Big Pharma Drug Prices
As part of a Global Day of Action against Pharma Greed
WASHINGTON
On April Fool's Day, global and domestic health activists will demand that the pharmaceutical industry stop charging unethical prices for medications during a protest at the Pharmaceutical Research and Manufacturers of America (PhRMA). Activists will protest as a "PhRMA executive" operates a life-sized Uncle Sam puppet to defend PhRMA's prices. The activists will cut the puppet strings between the U.S. government (USG) and PhRMA, symbolically freeing our country to adopt pharmaceutical development strategies that serve the public interest and to oppose trade deals designed to line the pharmaceutical industry's pockets.
Activists will call on the U.S. government to pledge to reform drug development policies, support a global R&D agreement for more affordable medicines in the developing world, and oppose trade deals like the Trans-Pacific Partnership (TPP), which would extend drug company monopolies at the expense of patients' lives. "The U.S. Government can put a stop to the unethical practices that allow pharmaceutical companies to profit enormously on the backs of taxpayers and patients, pricing life-saving medications, already paid for via university research, out of reach," said Merith Basey, Executive Director of Universities Allied for Essential Medicines.
PhRMA is a lobbying organization representing most major American pharmaceutical companies, as well as a significant number of foreign corporations, and has worked to obscure recent scandals in drug pricing, arguing simply that pricing is complex. The biomedical research and development system that PhRMA defends has failed the sick, bankrupted public programs, and left millions of poor people to die worldwide.
The activists involved in Friday's protest are calling on the US. government and the pharmaceutical industry to adopt a patient-centered solution to this crisis. This solution must recognize that high drug prices disproportionately affect minorities, the poor, and the otherwise marginalized and vulnerable. "New drugs that cure Hepatitis C cost upwards of $84,000. Black men and women in the US account for 22% of Hepatitis C and die from the disease in middle age at twice the rate of whites. Systemic inequality means that Hepatitis C deaths continue to rise in the U.S. for many, despite the advent of highly effective interferon-free therapy. Hepatitis C now kills more Americans than HIV, but Gilead's price gouging bleeds public health programs dry, and brutally leaves patients without the medicine they need to survive," said Karyn Pomerantz from the Metro Washington Public Health Association.
With the support of the U.S. government, the pharmaceutical industry is pushing for longer-term monopolies in trade agreements like the TPP and the Transatlantic Trade and Investment Partnership (TTIP). These monopolies would delay the production and availability of lifesaving, affordable generic medicines. Despite this, the U.S. government has led the charge for the TPP and the TTIP, apparently blind to the inherent conflict of interest of allowing the pharmaceutical industry to help craft these trade agreements.
Novel and effective medications are here, or in the pipeline for cancer, heart disease, diabetes, clotting disorders, HIV and hepatitis C and yet they are not reaching those who need them most. "Patient lives are on the line now, we can't wait," said UAEM's Ali Greenberg. "We demand affordable prices and a stop to practices that block access to care, especially those promoted by the deadly terms included in the TPP." Ms. Greenberg continued, "We need the U.S. government to take the lead and to start proposing real solutions to the current global crisis in access to medicines."
Friday's action in front of PhRMA is part of a larger Global Day of Action against pharmaceutical industry greed, with actions taking place on April Fool's Day in Sydney, Rio de Janeiro, Tokyo, Delhi, Ahmedabad, New York City, Boston, San Francisco, and three other international cities that cannot yet be named due to the nature of the events. All of the actions will highlight scandals in drug development and price gouging that robs U.S. taxpayers, while leaving patients in developing countries without the medicine they need to survive. The USG must reject the provisions in the TPP that will negatively impact access to medicines, and support discussions around the creation and adoption of a global research and development agreement at the World Health Organization which would set standards for affordable pricing of medicines worldwide. As Jacob Levi from ACT UP put it, "It's time to stop letting the U.S. government play PhRMA's fool."
LATEST NEWS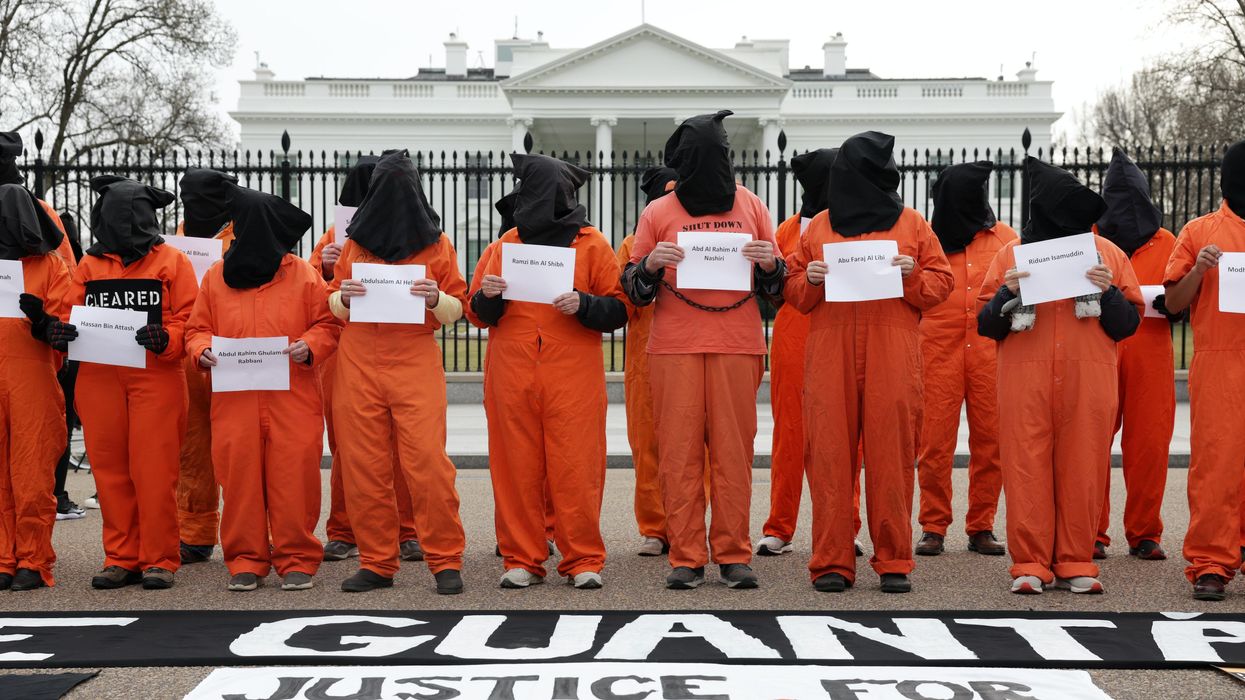 "We should not be marking another year in the life of this ignominious product of U.S. imperialism and racism as we have every January since the first anniversary of its opening in 2002," said one of the letter's signers. "Yet we will succeed in shutting it down."
Twenty-one years after the George W. Bush administration opened the U.S. military prison at Guantánamo Bay, Cuba—and 13 years after then-President Barack Obama signed an executive order for its closure—more than 150 groups on Wednesday implored the Biden administration to "act without delay" to close the notorious lockup.
"Among a broad range of human rights violations perpetrated against predominantly Muslim communities over the last two decades, the Guantánamo detention facility—built on the same military base where the United States unconstitutionally detained Haitian refugees in deplorable conditions in the early 1990s—is the iconic example of the abandonment of the rule of law," the groups said in a letter to President Joe Biden. "The Guantánamo detention facility was designed specifically to evade legal constraints, and Bush administration officials incubated torture there."
\u201cWe\u2019re proud to join 150+ organizations globally demanding Biden #CloseGuantanamo. \n\n21 years is 21 too many. As long as the US continues to cage and dehumanize people there, we\u2019ll keep fighting to shut it down.\u201d

— CODEPINK (@CODEPINK) 1673450992
Since 2002, 779 men and boys have been held at Guantanamo, many of them tortured, and nearly all without ever being charged or tried. According to retired U.S. Army Col. Lawrence Wilkerson—who served as chief of staff to Bush-era Secretary of State Colin Powell—Bush, along with his vice president and defense secretary, Dick Cheney and Donald Rumsfeld, knew that most of the Gitmo prisoners were innocent, but kept them locked up for political reasons.
Obama—whose vice president was Biden—issued executive orders after entering the White House in 2009 that were meant to end torture and close Gitmo. However, Obama—who was blocked by Congress from implementing the prison's closure—broke a campaign promise and the law by actively shielding Bush-era officials from accountability while torture continued at Gitmo.
"Thirty-five remain there today, at the astronomical cost of $540 million per year, making Guantánamo the most expensive detention facility in the world," the groups' new letter states. "Guantánamo embodies the fact that the United States government has long viewed communities of color—citizens and noncitizens alike—as a security threat, to devastating consequences."
"This is not a problem of the past," the signers stressed. "Guantánamo continues to cause escalating and profound damage to the aging and increasingly ill men still detained indefinitely there, most without charge and none having received a fair trial. It has also devastated their families and communities. The approach Guantánamo exemplifies continues to fuel and justify bigotry, stereotyping, and stigma. Guantánamo entrenches racial divisions and racism more broadly, and risks facilitating additional rights violations."
\u201cAs we mark 21 years since the Guant\u00e1namo Bay prison was opened as part of the so-called global \u201cWar on Terror,\u201d we remember the 35 men who remain detained. \n\nRead the statement we released at: \nhttps://t.co/OJ9248zdDR\u201d

— The CCR (@The CCR) 1673453843
The New York-based Center for Constitutional Rights, which represents three of the 21 Guantánamo prisoners who have been cleared for release and which signed the letter, said in a statement:
We should not be marking another year in the life of this ignominious product of U.S. imperialism and racism as we have every January since the first anniversary of its opening in 2002. Yet we will succeed in shutting it down. Despite the lack of will of presidents who have claimed to support closure and the express desire of some political leaders to keep the prison open forever, the prison population has shrunk by 95% from its peak—the result of pressure from a broad coalition from around the globe, including the imprisoned men themselves, their families, and Guantánamo survivors who have been released.
Asked shortly after taking office whether the Biden administration will move to close Gitmo, then-White House Press Secretary Jen Psaki said "that certainly is our goal and our intention."
However, the Biden administration has taken few steps toward that goal, while spending millions of dollars on a new secret courtroom at the prison.
\u201cIt's now 21 years since the Guantanamo Bay detention camp opened. A centerpiece of a war @POTUS declared over, it looms as a symbol of racial injustice and human rights abuses, while violating the U.S. Constitution and international law. #CloseGuantanamo https://t.co/i8fxDRozbW\u201d

— FCNL (Quakers) (@FCNL (Quakers)) 1673467282
Last year, the administration released four Guantánamo prisoners, including 75-year-old Saifullah Abdullah Paracha, the oldest person ever imprisoned there.

"It is long past time for both a sea change in the United States' approach to national and human security and a meaningful reckoning with the full scope of damage that the post-9/11 approach has caused," the groups' letter argues. "Closing the Guantánamo detention facility, ending indefinite military detention of those held there, and never again using the military base for unlawful mass detention of any group of people are necessary steps towards those ends."
News
"Access to good nutrition should not depend on where a child lives or their family finances!" said one group.
Congress initially responded to the Covid-19 pandemic by enabling U.S. public schools to provide free breakfast and lunch to all 50 million children, but Republicans blocked a continuation of the program last summer—and now, districts and kids are suffering.
Halfway through the academic year, the nonprofit School Nutrition Association (SNA) on Wednesday released the results of a November survey that shows school meal programs are struggling with increasing costs, staff and menu item shortages, and unpaid charges.
"Congress has an opportunity to protect this critical lifeline."
Last June, Congress passed the Keep Kids Fed Act, bipartisan compromise legislation that increased the federal reimbursement rates for the National School Lunch Program (NSLP) by 40 cents and the School Breakfast Program (SBP) by 15 cents for the 2022-23 school year.
However, only around a quarter of the 1,230 districts that responded to SNA's survey said those levels are sufficient, and 99.2% of them have moderate or serious concern about the raised rates expiring.

Additionally, a majority of districts that charge for meals said that the loss of the federal pandemic waiver enabling them to feed all students led to a rise in unpaid meal debt (96.3%), complaints and concerns from families (86.8%), administrative burden (86.5%), and stigma for low-income students (66.8%).
Over two-thirds of the districts reported unpaid meal debt collectively totaling $19.2 million. By district, debt ranged from just $15 to $1.7 million, but the median was $5,164.
\u201c.@SchoolLunch's 2023 survey shows that school nutrition programs are at a dangerous tipping point, facing rising costs, supply chain issues & labor shortages.\nAll schools should be able to offer free #HealthySchoolMeals to ensure all students are able to thrive. @urbanschoolfood\u201d

— Devon Klatell (@Devon Klatell) 1673458391
A new position paper outlines SNA's primary recommendations:
Make permanent the Keep Kids Fed Act reimbursement rates;
Expand NSLP/SBP to offer healthy school meals for all students at no charge;
Ensure the U.S. Department of Agriculture maintains current nutrition standards; and
Reduce administrative and regulatory burdens.
"School meal programs are at a tipping point as rising costs, persistent supply chain issues, and labor shortages jeopardize their long-term sustainability," said SNA president Lori Adkins. "Congress has an opportunity to protect this critical lifeline by making reimbursement increases permanent and allowing us to offer free meals to ensure all students are nourished during the school day."
SNA is far from alone in demanding congressional action—though the dynamic on Capitol Hill is even more complicated now than it was last summer, since a divided Republican Party took narrow control of the U.S. House of Representatives last week.
\u201cRemember when we jumped up and down about universal school meals expiring and then the GOP blocked the extension because they wanted to nickel-and-dime a few mil & they were worried about those rich kids living large off the gov't Sloppy Joes? Yeah, well:\n\nhttps://t.co/Ldy3a9zjBy\u201d

— Elliot Haspel (@Elliot Haspel) 1673444415
"We are experiencing cost increases in food, supplies, and labor like we have never seen before, and the meal reimbursement rate is not sufficient to cover the costs," Katie Wilson, executive director of the Urban School Food Alliance, a nonprofit created by school food service professionals, told The Washington Post, which reported on the SNA survey.
"We are witnessing large negative balances in schools since free meals have been discontinued," Wilson added, noting that some districts have started giving children with certain levels of debt alternate, lesser meals.
Highlighting that school meal policies vary by state and district, Wilson's organization tweeted Wednesday that "access to good nutrition should not depend on where a child lives or their family finances!"

As USA Today—which also reported on SNA's survey Wednesday—detailed:
After pandemic-era waivers granting universal schools meal expired at the start of the school year, some states effectively extended them this school year, including Massachusetts, Nevada, Vermont, and Pennsylvania.

California, Maine, and now Colorado are the only states with laws ensuring permanent universal meal programs for all children, regardless of parents' income.

A few districts, including Chicago and New York City, also offer free meals to kids.
However, Donna Martin, nutrition director for the Burke County school district in Georgia, warned the Post that "doing universal school meals state by state is way too piecemeal and will ultimately leave needy students out."
"School districts are incurring hundreds of thousands of dollars in school meal debt that the school districts' budgets—not school nutrition—will eventually have to cover," Martin stressed. "This takes dollars away from teaching and learning."
Elliot Haspel, author of Crawling Behind: America's Child Care Crisis and How to Fix It, said in a series of tweets Wednesday that "I, too, dislike the state-by-state approach. HOWEVER, given the political makeup of Congress, I think every state that can needs to be passing universal school meals (at solid reimbursement rates) during the '23 legislative session."
News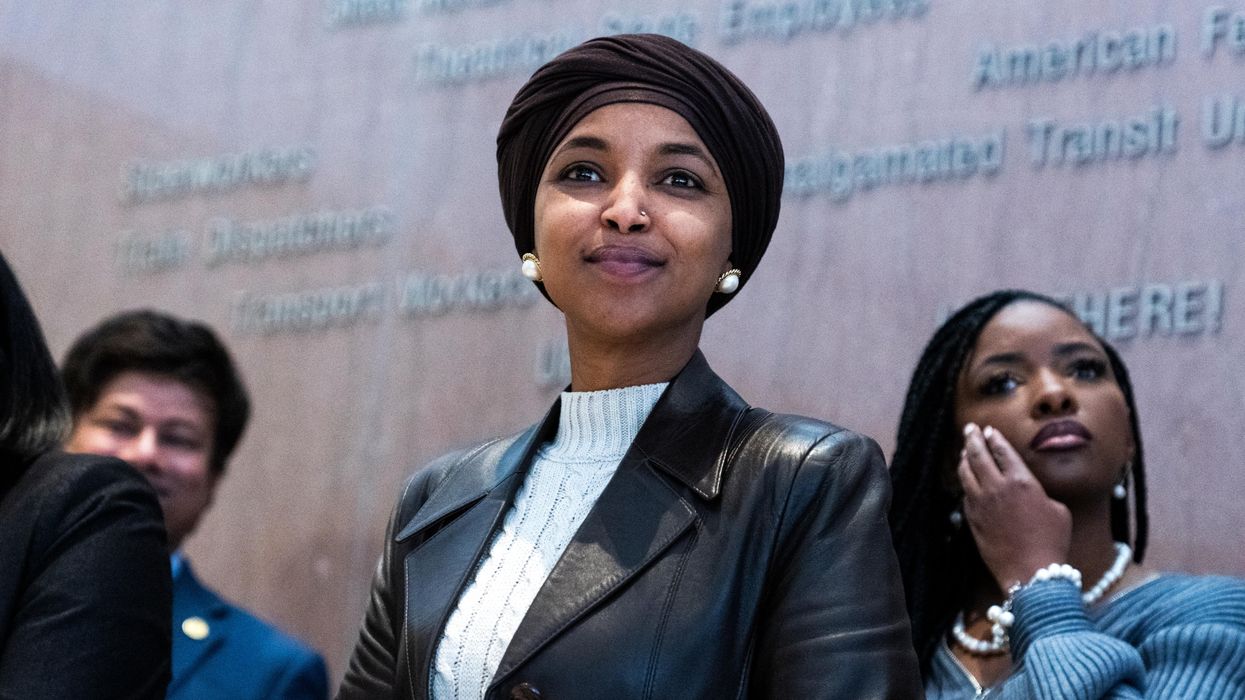 "I do not actually think that he has a reason outside of me being Muslim and thinking I should not be," the congresswoman said. "If you look at the comments from Republicans, it's precisely for only that reason."
Progressive U.S. Rep. Ilhan Omar said Wednesday that the only reason why Republican House Speaker Kevin McCarthy is moving to ban her from her House committees is because she is Muslim.
McCarthy (R-Calif.) confirmed Tuesday that Omar (D-Minn.), as well as Reps. Adam Schiff (D-Calif.) and Eric Swalwell (D-Calif.) would be blocked from serving on House committees. The speaker first threatened to strip the trio of their assignments last year, a move that supporters and critics alike viewed as retaliation for Democrats removing GOP Reps. Marjorie Taylor Greene of Georgia and Arizona's Paul Gosar from their committee seats after Greene's numerous white supremacist remarks and conspiracy theories. Gosar was removed after he shared social media posts depicting the animated assassinations of President Joe Biden and Rep. Alexandria Ocasio-Cortez (D-N.Y.).
"As crude and as cynical as it is for the nativist factions in our government, targeting Muslims is reliably good politics."
Interviewed by HuffPost for an article published Wednesday, Omar—who was a member of the House Foreign Affairs and Labor and Education committees in the 117th Congress—accused McCarthy of being motivated by bigotry.

"I do not actually think that he has a reason outside of me being Muslim and thinking I should not be," she said. "If you look at the comments from Republicans, it's precisely for only that reason."
\u201c\u201cBy stripping @Ilhan of her committees, McCarthy kills two birds with one stone: He attempts to silence an effective, principled voice\u2026 stokes the ugly culture of anti-Muslim hate for cheap political points.\u201d\n\n@MuslimAdvocates\u2019s Sumayyah Waheed is right.\n\nhttps://t.co/FkDCJZrvOm\u201d

— Win Without War (@Win Without War) 1673466691
Republicans, including former President Donald Trump, have repeatedly made racist and Islamophobic attacks against Omar, the first Somali-American woman elected to Congress, including calling her a terrorist who might try to blow up Congress.

Omar has consistently condemned Israeli crimes in the illegally occupied Palestinian West Bank and East Jerusalem and in the besieged Gaza Strip. These include the occupation, the ethnic cleansing of Palestinians in Sheikh Jarrah and desert Bedouins, the internationally recognized crime of apartheid, the killing of Palestinian civilians in Gaza invasions, the unlawful colonization of the West Bank by Jewish settlers, and extrajudicial killings such as that of Palestinian-American journalist Shireen Abu Akleh. Omar has also been a vocal critic of the $3 billion in mostly unconditional annual U.S. military aid to Israel.
For these criticisms, Omar has been branded by both Republicans and Democrats as an "antisemite," a tactic often used by Israeli officials and supporters of Israel in a bid to delegitimize condemnation of the country's human rights crimes.
\u201cSpeaker McCarthy\u2019s promise to remove @IlhanMN from the Foreign Affairs Committee is a continuation of the racist attacks targeting her since her election. GOP efforts to equate her w/@RepMTG are shameful. Omar is a smart thoughtful legislator. MTG is a provocateur & buffoon\u201d

— James J. Zogby (@James J. Zogby) 1673443143
Eight U.S. Jewish groups last month released a statement opposing McCarthy's pledge to keep Omar off any committees.
"As Jewish-American organizations, we oppose Republican Leader Kevin McCarthy's pledge to strip Rep. Ilhan Omar of her House Foreign Affairs Committee seat based on false accusations that she is antisemitic or anti-Israel. We may not agree with some of Congresswoman Omar's opinions, but we categorically reject the suggestion that any of her policy positions or statements merit disqualification from her role on the committee," the groups said.
The statement continued:

Leader McCarthy's pledge seems especially exploitative in light of the rampant promotion of antisemitic tropes and conspiracy theories by him and his top deputies amid a surge in dangerous right-wing antisemitism. He posted (and later deleted) a tweet charging that George Soros and two other billionaires of Jewish descent were seeking to "buy" an election. His newly elected [House Majority Whip Tom Emmer (R-Minn.)] said the same people "essentially bought control of Congress." Meanwhile, Republican Conference Chair Elise Stefanik [R-N.Y.] has promoted the deadly antisemitic "Great Replacement" conspiracy theory.
Responding to McCarthy's threat, Rep. Jamaal Bowman (D-N.Y.) tweeted that the speaker "wants to remove [Omar] from her committee while aligning with fascist MAGA extremists."
"This is about Islamophobia, anti-Blackness, and xenophobia," Bowman added. "Ilhan represents everything the Republicans cannot be: leadership, compassion, and integrity."

Sumayyah Waheed, senior policy counsel at Washington, D.C.-based Muslim Advocates, toldHuffPost that "as crude and as cynical as it is for the nativist factions in our government, targeting Muslims is reliably good politics."
"By stripping Rep. Omar of her committees, McCarthy kills two birds with one stone: He attempts to silence an effective, principled voice on the Foreign Affairs Committee, and he stokes the ugly culture of anti-Muslim hate for cheap political points," she added.
News
SUPPORT OUR WORK.
We are independent, non-profit, advertising-free and 100%
reader supported.