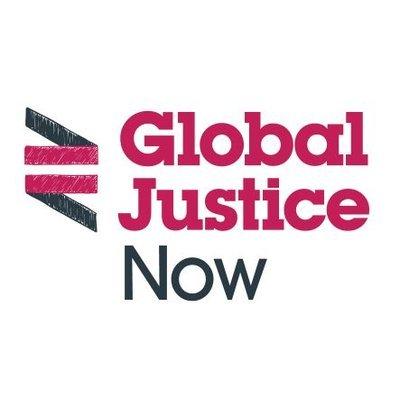 For Immediate Release
Contact:
Joe Karp-Sawey, media manager,Tel: +44 (0)7711 875 345,Email:,joe.karpsawey@globaljustice.org.uk
How TTIP Threatens UK's Ability to Enforce Fair Taxes on Corporations
LONDON
Corporations are regularly using secretive corporate courts to undermine the ability of countries to pass effective tax legislation, according to a new report, Taxes on trial: How trade deals threaten tax justice. The report warns that if the free trade deal being proposed between the EU and the USA were to come into force, it would massively increase the ability of corporations to sue member states of the EU over measures such as windfall taxes on exceptional profits, or use of taxation as a policy instrument such as a possible 'sugar tax'.
The report, published by Global Justice Now and the Transnational Institute, shows that corporations have used the 'investor protection' provisions of a variety of different trade deals to sue at least 24 countries from India to Romania over 40 tax-related disputes, and in some cases been able to successfully challenge and lower their tax bills. This investor protection is controversially an integral part of current free trade deals being negotiated between the EU and the USA (TTIP) and the EU and Canada (CETA) and is formally known as investor- state dispute settlement (ISDS).
Corporate tax evasion has become a growing public concern with media revelations of the tiny payments made by multinational giants such as Facebook and Google. Tax breaks cost developing countries as much as $138bn a year, money needed for healthcare and other critical public services. The report argues that under TTIP, if the UK or other member states of the EU, tried to introduce tax practices with social or environmental benefits that meant that companies had to pay more, they could be subjected to a law suit in a closed door 'corporate court' that could result in damages of billions of pounds being awarded to the company.
The report examines a number of case studies in more detail:
Vodafone, which has been involved in various tax scandals in the UK, has launched an arbitration claim against India that is still ongoing, after it was ordered to pay tax on an $11bn deal when it acquired a controlling interest in a major Indian phone company. Vodaphone had paid no capital gains tax on the deal because the transaction used a number of offshore companies.
Food and drink corporate investors sued Romania successfully, winning a $250m award, over early termination of tax breaks, which had been specifically demanded by the European Commission for Romania to join the EU.
US agribusiness giants Cargill and Archer Daniels Midland have successfully sued Mexico for introducing a 'sugar tax' on the sales of soft drinks containing high-fructose corn syrup.
The report also shows that supposed tax 'carve-outs', written into a trade or investment treaties, have not succeeded in stopping taxes being challenged and defeated.
The report is being released just before the next round of TTIP negotiations are due to begin in Brussels (22 - 26 February) when the negotiations on the investment chapter are officially due to resume. ISDS continues to be the most controversial aspect of the trade deal, to the point where the European Commission have been forced to propose an alternative system, which has been met with disdain from the US negotiators and business lobby. The biggest professional body of German judges recently said that there was "no need, nor legal basis" for the Commission's proposal.
A number of civil society groups have written to prime minister David Cameron expressing similar concerns to those raised in the report and asking him to halt the TTIP negotiations.
Nick Dearden, the director of Global Justice Now said:
"Despite the enormous public outcry over companies like Google and Amazon paying ridiculously small amounts of tax in the UK, the government is trying to sign us up to a trade deal that could effectively prevent us from bringing about laws that could address tax injustice. The ability to enact effective and fair tax systems to finance vital public services is one of the defining features of sovereignty. The fact that multinational companies would be able to challenge and undermine that under TTIP is testament to the terrifying extent of the corporate grab embedded in this toxic trade deal."
Cecilia Olivet from the Transnational Institute said:
"The evidence of the dangers of these investment deals continues to mount. Not only do they affect health and the environment and cost taxpayers millions in legal fees, this report shows they also affect the ability of governments to tax corporations effectively. This is yet more money lining the pockets of corporate executives stolen from the public taxpayer. New trade deals such as TTIP and CETA have to be stopped and the public interest defended."
The troubled history of ISDS
Global Justice Now is a democratic social justice organisation working as part of a global movement to challenge the powerful and create a more just and equal world. We mobilise people in the UK for change, and act in solidarity with those fighting injustice, particularly in the global south.
020 7820 4900
LATEST NEWS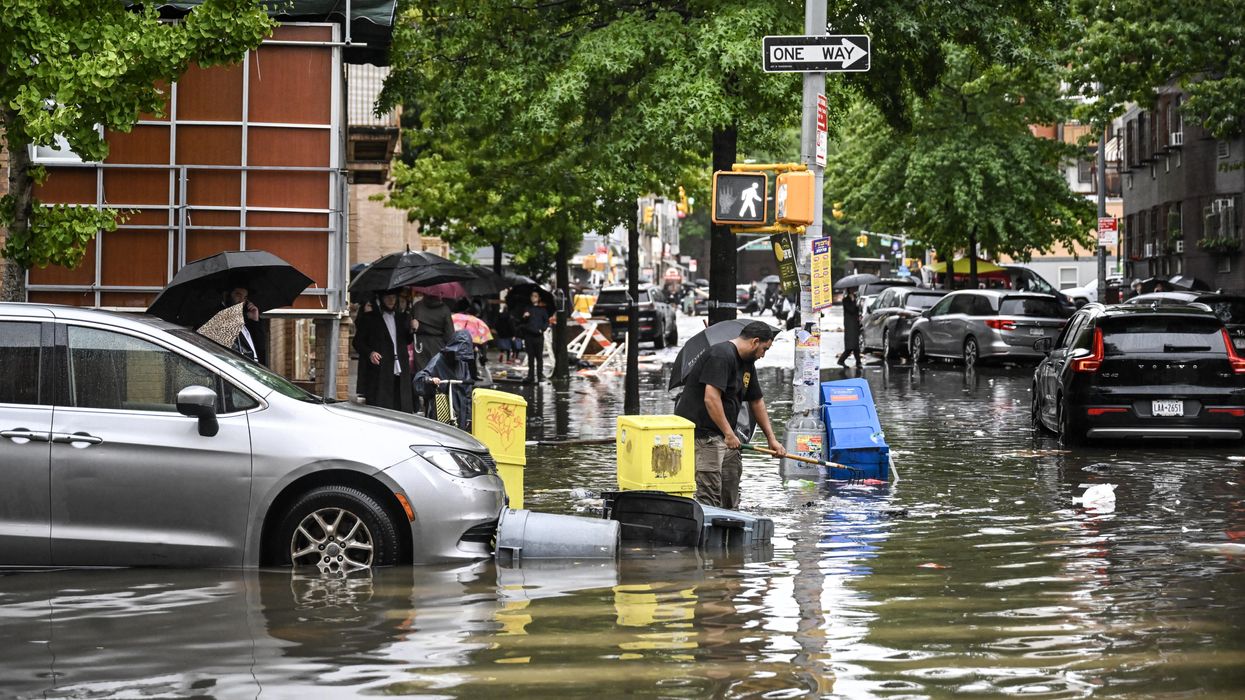 "One week ago, 75,000 people inundated New York City streets to demand the president end fossil fuels," said one campaigner. "Now, climate-fueled rains are submerging those same streets."
"This is the climate crisis," said youth-led grassroots organization Sunrise Movement on Friday as photos and videos of flooded streets and subway stations in the largest city in the United States went viral across social media.

The group shared a video of cars struggling to drive through water that was up to pedestrians' knees in Brooklyn, saying the image starkly illustrated the need to both prepare U.S. cities and infrastructure for fossil-fueled extreme weather events and to rapidly draw down planet-heating greenhouse gas emissions that have been linked to stronger hurricanes, rising sea levels, and other destructive changes.
"We need an all-out mobilization of our government and society to stop [the climate crisis] right now," said the group.
New York Gov. Kathy Hochul called the rainstorm that caused the flash flooding a "life-threatening rainfall event" and noted that there have been reports of some school buildings flooding, prompting administrators to move children to higher floors or close the buildings.

"No children are in danger as far as we know," said Hochul, adding that many New York City children use public transportation to get home from school. "We want to make sure we get the subways, the trains, our communication system, our transportation system working."
According to Richard Davis, president of Local 100 of the Transport Workers Union, some bus passengers on Friday were forced to stand on their seats as drivers navigated through high flood waters that seeped into buses.

Maintenance workers were using pumps to remove water from subway stations, and the Metropolitan Transportation Authority announced "extremely limited subway service," with many lines suspended or rerouted.
New York City Councilmember Chi Ossé criticized Mayor Eric Adams for failing to address the public until the crisis was well underway and said the flooding shows the city is "severely underprepared for the climate crisis."

Earlier this month Adams announced a new initiative aimed at mobilizing business owners to comply with Local Law 97, which will take effect in 2024 and would reduce carbon emissions from buildings.
According toGothamist, "environmental experts say the new plan will weaken the law's enforcement powers by giving qualified building owners an extra three years to meet carbon reduction deadlines."
Jean Su, energy justice director at the Center for Biological Diversity, took aim at the offshore drilling plan proposed by President Joe Biden on Friday over the objections of scientists and climate advocates. The five-year plan includes three new offshore gas leases in the Gulf of Mexico despite Biden's campaign promise to end offshore gas and oil drilling.
"We are in the climate emergency," said Su. "Yet the president is continuing to drill for oil and gas. He has to stop to give us a chance at a livable planet."

Earlier this month, noted Su, some of the same streets that were inundated with rainwater on Friday had been filled with tens of thousands of people demanding that Biden declare a climate emergency and take decisive action to speed the transition toward renewable energy.
"A week ago, we were hitting the streets of New York for Climate Week NYC," said grassroots group Rising Tide North America. "We shut down Citibank's headquarters and blockaded the New York Federal Reserve."
"[The New York Police Department] arrested lots of our friends," the group added. "Maybe they should have been arresting those bankers and bureaucrats who are responsible for this disaster."
News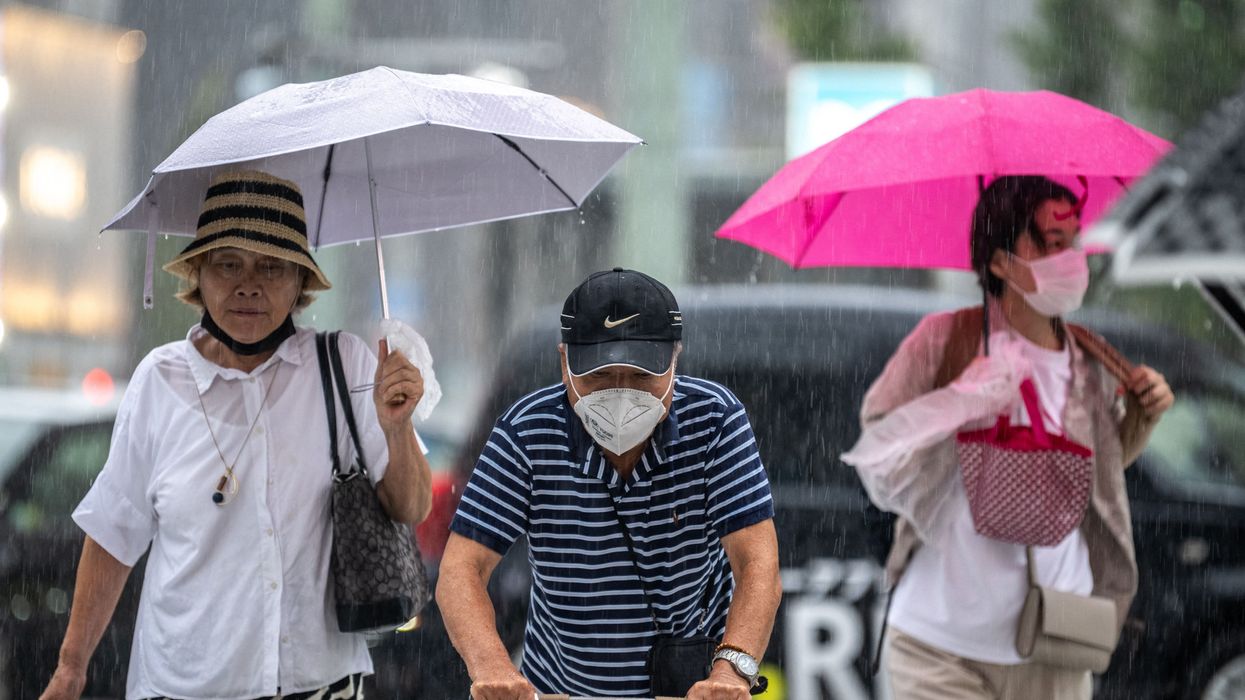 "If the issue of 'plastic air pollution' is not addressed proactively, climate change and ecological risks may become a reality, causing irreversible and serious environmental damage in the future," the study's lead author warned.

They're in the world's water, air, food, and even in our blood—and now researchers in Japan have discovered microplastics in clouds, raising the specter of super-contaminating "plastic rainfall" and possibly affecting the Earth's climate.
Analyzing cloud water samples from high-altitude mountains in Japan including Mt. Fuji, researchers from Waseda University in Tokyo found nine different types of polymers and one type of rubber in the airborne microplastics (AMPs) they detected.
"Research shows that large amounts of microplastics are ingested or inhaled by humans and animals alike and have been detected in multiple organs such as lung, heart, blood, placenta, and feces," notes a summary of the study, which was originally published in the journal Environmental Chemistry Letters.
"Ten million tons of these plastic bits end up in the ocean, released with the ocean spray, and find their way into the atmosphere," the summary continues. "This implies that microplastics may have become an essential component of clouds, contaminating nearly everything we eat and drink via 'plastic rainfall.'"
Earlier this year, researchers from the Indian Institute of Technology, Patna discovered AMPs in the city of Patna's rainwater, with polyethylene, terephthalate, and polypropylene being the most common polymers found.
In the Japanese study, the researchers found that "the presence of hydrophilic (water-loving) polymers in the cloud water was abundant, suggesting that they were removed as 'cloud condensation nuclei.'"
"These findings confirm that AMPs play a key role in rapid cloud formation, which may eventually affect the overall climate," they added.
Accumulation of AMPs in the atmosphere—especially around the Earth's poles—could also upset the planet's ecological balance, with devastating effects on biodiversity.
"AMPs are degraded much faster in the upper atmosphere than on the ground due to strong ultraviolet radiation, and this degradation releases greenhouse gases and contributes to global warming," Waseda University professor Hiroshi Okochi, who led the study, said in a statement. "As a result, the findings of this study can be used to account for the effects of AMPs in future global warming projections."
"If the issue of 'plastic air pollution' is not addressed proactively, climate change and ecological risks may become a reality, causing irreversible and serious environmental damage in the future," Okochi added.
News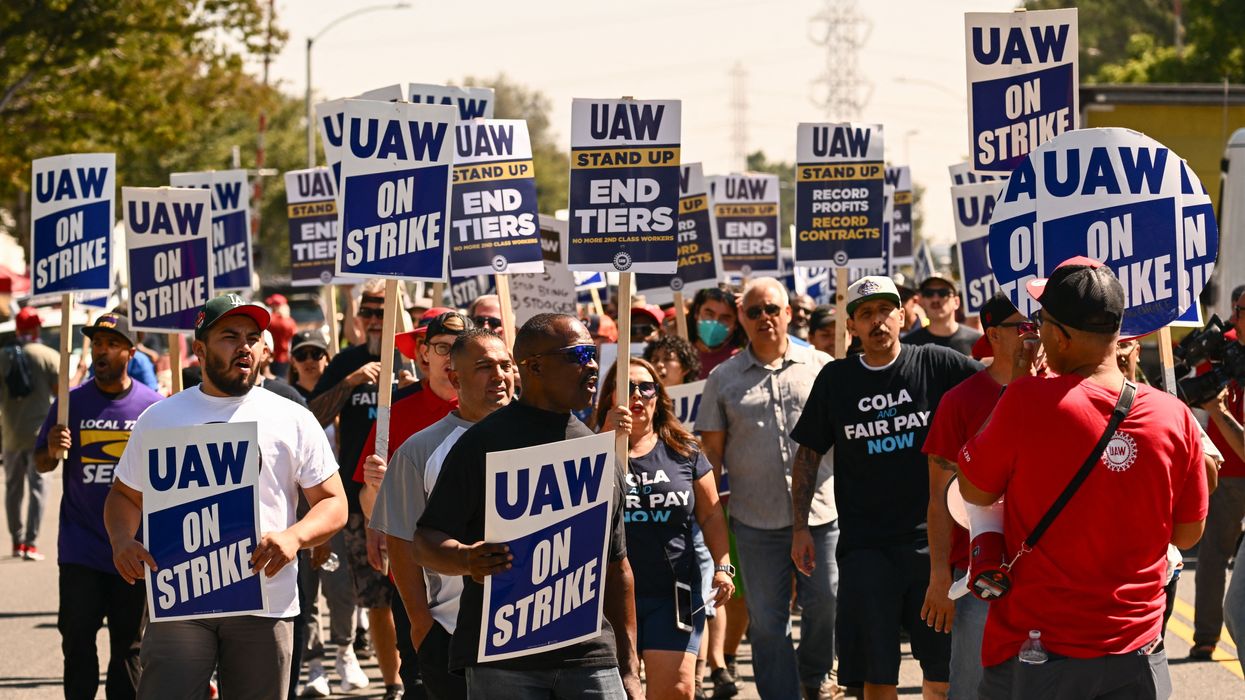 "What we win at the bargaining table depends on the power we build on the job," said United Auto Workers president Shawn Fain. "It's time to use that power."
The United Auto Workers expanded its strikes against Ford and General Motors on Friday, calling on nearly 7,000 additional members in Michigan and Illinois to walk off the job as the union looks to ramp up pressure on the companies to deliver stronger wage and benefit proposals.
The union opted not to expand its walkouts against Chrysler parent company Stellantis, citing progress in recent bargaining sessions on cost-of-living adjustments, the right to strike over plant closures, and other issues.
"Sadly, despite our willingness to bargain, Ford and GM have refused to make meaningful progress at the table," UAW president Shawn Fain said in a video update posted to social media on Friday. "To be clear, negotiations haven't broke down. We're still talking with all three companies, and I'm still very hopeful that we can reach a deal that reflects the incredible sacrifices and contributions our members have made over the last decade."
"But I also know that what we win at the bargaining table depends on the power we build on the job," said Fain. "It's time to use that power."
Friday's walkouts brought the total number of UAW members on strike at the Big Three U.S. car manufacturers to roughly 25,000—nearly double the number of workers who walked off the job on the first day of the strikes two weeks ago.
Survey data released earlier this week showed public support for the strikes has grown since their launch earlier this month. Last week, UAW members walked out at every General Motors and Stellantis parts distribution facility in the U.S.

As part of its "stand-up strike" strategy, the UAW is expected to continue steadily expanding its walkouts at strategic locations throughout the country in an effort to give negotiators more leverage to pursue the union's demands at the bargaining table.
"We will not be intimidated into backing down by the companies or scabs," Fain said Friday. "Our cause is just. Striking for a better future, to protect our communities, and to defeat corporate greed is not just our right, it's our duty."
"We will win. Our strategy is working," said Fain. "Our solidarity is the most powerful force in the world. When we stand together, united in the cause of social and economic justice, there's nothing we can't do."

News
Independent, nonprofit journalism needs your help.
Please Pitch In
Today!