For Immediate Release
Contact:
Blair FitzGibbon, (202) 503-6141
Ruth Breech, Rainforest Action Network, 415-238-1766 (cell), 415-659-0538 (desk)
New Report Exposes the Top Energy Companies Involved in the Federal Public Lands Giveaway
Report names the largest leaseholders of U.S. public lands and documents their dangerous corporate culture
SAN FRANCISCO, Calif.
A week after a broad coalition of environmental, labor and human rights organizations met with White House advisors to call on President Obama to end the federal leasing of publicly owned carbon reserves to corporations, a new report issued today by Rainforest Action Network (RAN) calls out the top dirty energy companies involved in fossil fuel extraction on America's public lands.
The report compiles the top federal leaseholders in each of three fossil fuel arenas: coal mining, onshore oil and gas drilling, and offshore oil and gas drilling. These fossil fuel companies generate millions in profit each year from exploiting these shared national resources, while causing widespread and expensive environmental damage which becomes the responsibility of the American public.
The report details the environmental destruction, corporate giveaway and contributions to climate change from companies like Shell, ExxonMobil and Peabody Energy. This report comes on the heels of the national Public Lands Day, Saturday, September 26. Nationally, over 175,000 people volunteered across the country to care for and maintain these irreplaceable lands.
Ending the federal leasing program would keep our public lands accessible for generations and take 450 billion tons of carbon emissions out of the air. Over 400 groups united to deliver the letter last week, urging President Obama to use Executive Authority to end the program.
The federal leasing program has been under scrutiny through Congressional investigations and scathing reports by the Government Accountability Office. The program provides loopholes that support the mining of coal in the Powder River Basin and maximizing profits for exports to Asia. Offshore drilling in the Arctic, Gulf of Mexico and Atlantic fall under the jurisdiction of this program and come against a raging public outcry to end new leases.
Many of these "Filthy 15" companies are flying under the radar of government regulation and enforcement. The federal leasing program has produced highly questionable business relationships with Cloud Peak Energy, Cobalt and Angolan based Sonangol, and even the Mormon Church.
"We are seeing energy companies making millions off the public land giveaway. These companies have well documented track records of environmental destruction, violations of Indigenous sacred sites, systematic evasions of royalty payments, and passing on the massive clean up costs associated with their operations to the public. This is the worst of the worst," said RAN campaigner and report co-author, Ruth Breech.
"It's time for these companies to take responsibility. While the costs of coal and oil are low, energy companies could stop drilling and mining on public lands and use this as an opportunity to transition to sustainable and more lucrative energy sources," Breech continued.
When President Obama issues an Executive Order to end the federal fossil fuel leasing program, this would end new leases for coal, oil and gas on public lands and offshore waters.
Rainforest Action Network (RAN) is headquartered in San Francisco, California with offices staff in Tokyo, Japan, and Edmonton, Canada, plus thousands of volunteer scientists, teachers, parents, students and other concerned citizens around the world. We believe that a sustainable world can be created in our lifetime and that aggressive action must be taken immediately to leave a safe and secure world for our children.
LATEST NEWS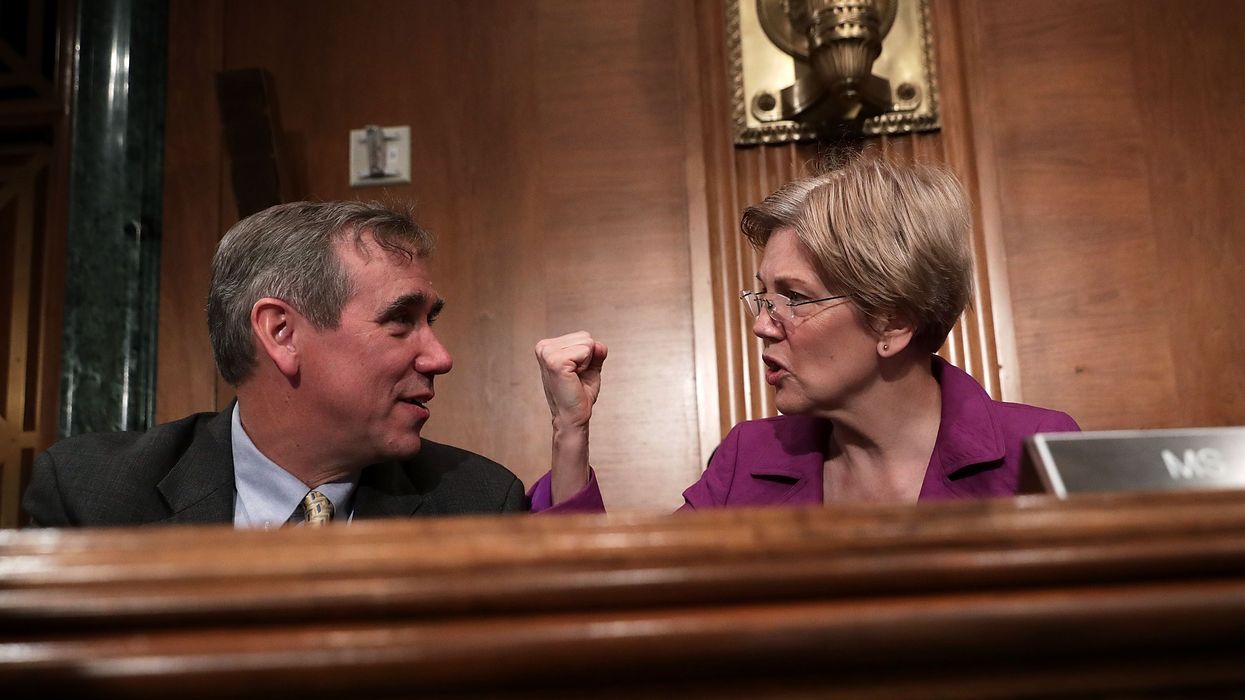 "It is outrageous that industry groups, on your behalf, are putting your plan's enormous profits over care for seniors," wrote Sens. Elizabeth Warren and Jeff Merkley.
Sens. Elizabeth Warren and Jeff Merkley are calling attention to the massive profits and "exorbitant" executive salaries of top Medicare Advantage insurers such as UnitedHealthcare and Humana, which are leading a lobbying blitz against efforts to combat widespread fraud in the privately run healthcare program.
"In 2022, the seven major Medicare Advantage health care insurers—UnitedHealthcare, CVS/Aetna, Cigna, Elevance Health, Humana, Centene, and Molina—brought in revenues of $1.25 trillion and reported total profits of $69.3 billion, a 287% increase in profits since 2012," the Democratic senators wrote in recent letters to the companies' CEOs, citing an analysis by Wendell Potter of the Center for Health and Democracy.
"But rather than investing in benefits for patients," they added, "these seven health insurers instead spent $26.2 billion on stock buybacks."
Warren (D-Mass.) and Merkley (D-Ore.) also highlighted the "extraordinary salaries" of the insurance giants' CEOs and other top executives. Brian Thompson, who became UnitedHealthcare's CEO in 2021, brought home nearly $10 million in total compensation that year, according to SEC filings.
Humana chief executive Bruce Broussard raked in more than $17 million in 2021.
The letters were sent Wednesday as the insurance industry continues to ramp up its attacks on Biden administration proposals aimed at reining in upcoding and other tactics that Medicare Advantage plans use to reap larger payments from the federal government, which funds the program.
Critics of Medicare Advantage argue that such overpayments—which topped $15 billion in fiscal year 2021 alone—are "depleting the Medicare Trust Fund" at the expense of patients, who are frequently denied medically necessary care.
"MA plans are consistently paid more for seniors' care," Warren and Merkley noted, "and MedPAC projects that total Medicare payments to MA plans in 2023 will be $27 billion higher than if MA beneficiaries were enrolled in traditional Medicare."
"Rather than investing in benefits for patients, these seven health insurers instead spent $26.2 billion on stock buybacks."
Even though the Biden administration's proposed reforms would still leave Medicare Advantage plans with payments that are around 1% higher per enrollee in 2024 compared to this year, the insurance industry has characterized the changes as a cut and warned that their implementation would lead to higher premiums and worse care for beneficiaries.
In their letters, Warren and Merkley accused the for-profit insurance industry of attempting "to scare seniors and people with disabilities into opposing changes that will reduce waste, fraud, and abuse" in Medicare Advantage.
As The New York Timesreported earlier this week, "Medicare officials have been inundated with more than 15,000 comment letters for and against the policies, and roughly two-thirds included identical phrases from form letters."
"Insurers used television commercials and other strategies to urge Medicare Advantage customers to contact their lawmakers," the Times added. "The effort generated about 142,000 calls or letters to protest the changes, according to the Better Medicare Alliance, one of the lobbying groups involved."
That group—which counts Aetna, Humana, and other insurance giants as "ally organizations"—purchased a Super Bowl ad urging the White House not to "cut" Medicare Advantage:
Warren and Merkley voiced outrage that Medicare Advantage insurers would respond to the Biden administration's proposed policy changes by threatening "actions that hurt seniors"—such as premium hikes—"instead of reducing exorbitant salaries or the massive payouts to your shareholders and executives."
"It is outrageous that industry groups, on your behalf, are putting your plan's enormous profits over care for seniors," the senators wrote to the insurance company CEOs.
News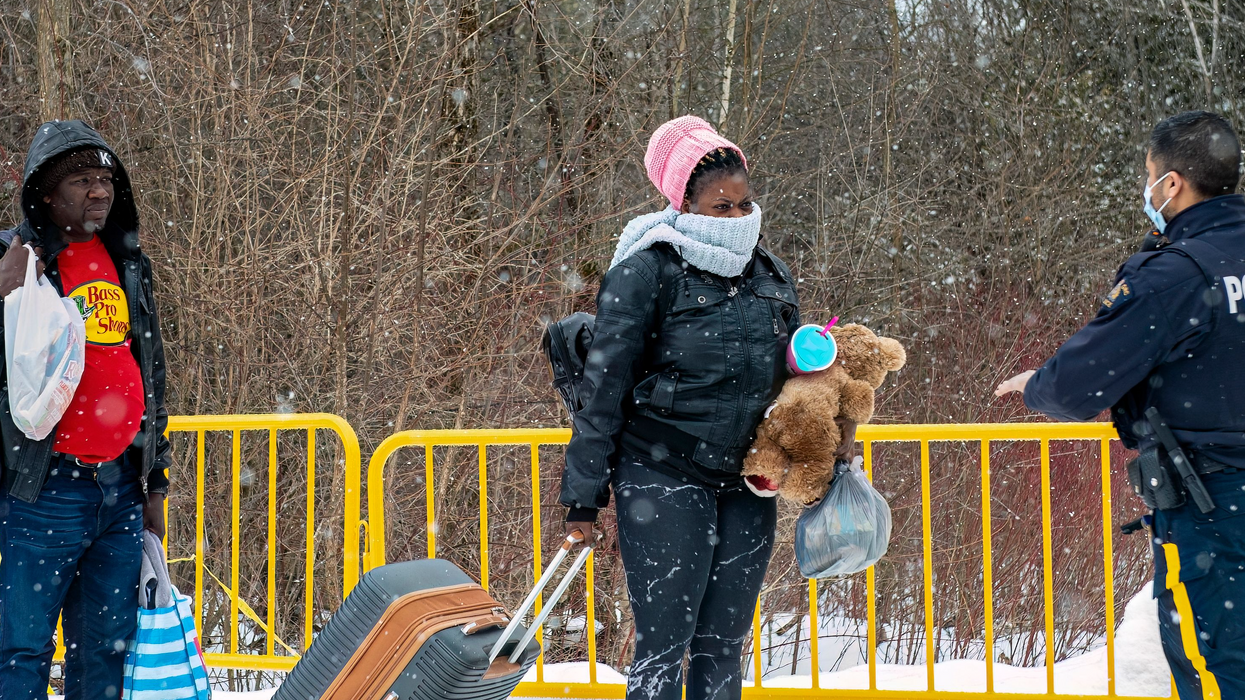 "We're simply creating the worst scenario possible" for migrants, said one activist.
In a move that critics say will push people to attempt more dangerous border crossings, the United States and Canada on Friday are expected to announce an agreement allowing both countries to block migrants from seeking asylum at unofficial points of entry.
Canadian Prime Minister Justin Trudeau is hosting U.S. President Joe Biden Friday in Ottawa, where the leaders are expected to announce the deal. The agreement will allow Canada to turn back migrants at Roxham Road, a popular unofficial crossing between Clinton County, New York and Saint-Bernard-de-Lacolle, Quebec. Canada will also establish a new legal refugee program for 15,000 Latin American and Caribbean migrants.
Trudeau toldCNN Thursday that while Canada is "welcoming people from around the world," the country must "make sure we are doing it in responsible proper ways to continue to have our citizens positive towards immigration as Canadians always are."
"Everyone has the right to seek and to enjoy in other countries asylum from persecution."
However, Stéphanie Valois, president of the Quebec Association of Immigration Lawyers (AQAADI), asserted that refugees "should not be returned to a country where they face serious threats to their life or freedom."
"It seems completely counterproductive to me," she toldCBC.

The new deal is an amendment to the 2004 Safe Third Country Agreement (STCA), which compels migrants to claim asylum in the first "safe" country they reach, unless they qualify for certain exceptions. The STCA allows U.S. and Canadian authorities to turn away asylum-seekers at official border crossings—but not unofficial ones like Roxham Road.
François Legault, Quebec's center-right premier, has demanded that Trudeau's Liberal government resettle refugees in other Canadian provinces. Both Legault and Conservative Party Leader Pierre Poilievre have urged the closure of the Roxham Road crossing, which was used by 40,000 asylum-seekers to enter Canada last year.
"The intention behind the sudden announcement of this deal, which was negotiated in secret, is clear: To limit the ability of some of the world's most vulnerable people to find lifesaving protection in North America," Danilo Zak, associate director for policy and advocacy at Church World Service, an interdenominational Christian humanitarian group based in New York City, said in a statement.
"Time and time again, the Biden administration has taken steps to block the movement of people fleeing violence and persecution," he continued.
Zak added:

We should not stand by while policy after policy tears apart our nation's commitment to welcome. Given the assault on access to legal protection for the most vulnerable migrants arriving at our borders, it's questionable whether the United States still qualifies as a "safe third country." We urge President Biden to strongly reconsider this deal and to work with Congress to restore access to asylum and support policies that recognize the dignity of all those arriving at our borders.

Frantz André of the Comité d'Action des Sans Statut (Action Committee of the People without Status, or CAPSS) toldCityNews Montreal that "I'm afraid there might be some kind of a stampede before the closure of Roxham Road."
In a separate CBC interview, André said that "we're simply creating the worst scenario possible" for migrants.
Robert Weissman, president of the consumer advocacy group Public Citizen, pointed to Article 14 of the Universal Declaration of Human Rights, to which both Canada and the United States are signatories: "Everyone has the right to seek and to enjoy in other countries asylum from persecution."
Many Latin American and Caribbean migrants are fleeing poverty and political or criminal violence and repression in their home countries, some of it caused by decades of U.S. imperial policies and actions in the region. Others come from as far afield as Asia and the Middle East, including countries like Afghanistan and Yemen that have suffered from years or even decades of war waged or backed by the United States.

News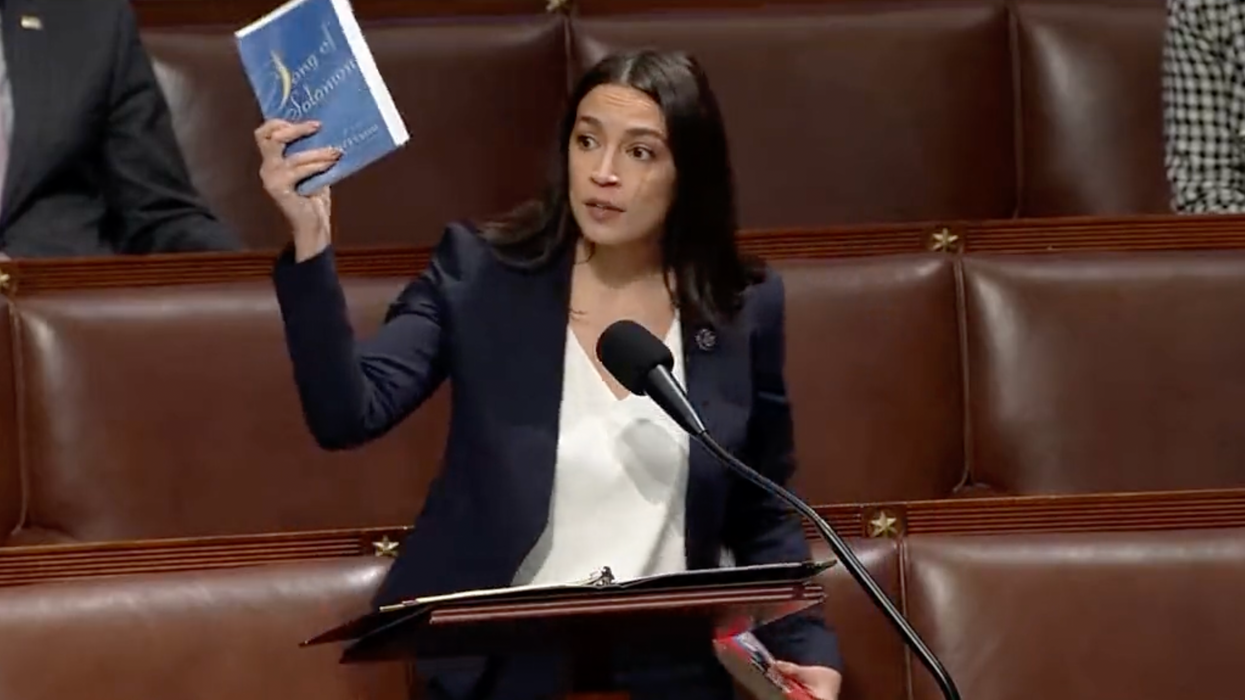 "Republicans say they oppose government overreach," said Rep. Alexandria Ocasio-Cortez. "But they're the ones passing bills that ban books in our libraries."
Progressive lawmakers and education advocates on Friday condemned federal Republican lawmakers' foray into the nationwide attack on people of color and the LGBTQ+ community as the GOP-led U.S. House passed the so-called Parents Bill of Rights Act—legislation that critics said is aimed at banning books and further ostracizing marginalized communities, while providing no improvements to children's safety at school.
Like legislation passed in at least six states and introduced in at least 26, the Parents Bill of Rights Act (H.R. 5) claims it will protect public school students by requiring schools to make classroom curricula publicly available and provide parents with a list of reading materials in school libraries.
School districts would also be required to inform parents about violent activity that takes place at schools, hold at least two parent-teacher conferences per student per year, and make budget information public.
The legislation was passed a day after the American Library Association (ALA) released a report showing that a record-breaking 2,571 book titles were the subject of "challenges," or demands that they be removed from schools or public libraries, in 2022—a 38% increase from the previous year.
"Conservatives have weaponized hate and fear to try to tear our schools apart, with students who just want to learn and thrive turned into pawns in their political games."
Ninety percent of the attempted book bans were part of challenges to multiple books, suggesting they are increasingly being driven by right-wing groups such as Moms for Liberty instead of individual parents who have concerns. The ALA said this trend began in 2021, as Florida Gov. Ron DeSantiswas pushing legislation to ban accurate classroom discussions about the history of racial injustice in the United States.
Schools in Florida have now removed dozens of book titles from shelves, including The Life of Rosa Parks and Who Is the Dalai Lama? as officials assess whether the material is appropriate for children.

"Forty percent of banned books are reported as significantly addressing LGBT issues," said Rep. Alexandria Ocasio-Cortez (D-N.Y.) on Thursday as the House debated the bill. "When we talk about progressive values, I can say what my progressive value is and that is freedom over fascism."

Speaking about marginalized people and children, Rep. Cori Bush (D-Mo.) said the legislation is the work of a political party that is "trying to 'write us out' of the curriculum."
Rep. Rashida Tlaib (D-Mich.) expressed outrage at the notion that Republicans are seeking to protect children by limiting their access to material dealing with LGBTQ+ issues and American history, considering that have blocked numerous pieces of gun control legislation even as gun violence has overtaken car accidents as the leading cause of death of children in the United States.

"Since Columbine over 20 years ago, more than 344,000 students in our country have experienced gun violence at school," said Tlaib. "Some of our children attend schools with unsafe drinking water. Others go to school in districts attempting to erase Black history from our classrooms by banning books like The Life of Rosa Parks. These are some of the real obstacles to our children thriving."
"When this bill was considered in committee, Democrats offered amendments that would keep firearms out of classrooms, remove lead pipes from our schools, and prevent censorship of Black history. But every single amendment aimed at the real threats to our children was voted down by these MAGA Republicans," she added. "It makes me angry to see how conservatives have weaponized hate and fear to try to tear our schools apart, with students who just want to learn and thrive turned into pawns in their political games."
The National Education Association noted that the legislation, which the Democratic-led Senate is not expected to take up, offers solutions to a number of problems that don't widely exist and promotes a "toxic vision of parental engagement" in schools.
The bill "contains a list of provisions already ensured by local and state law, including, but not limited to, a parent's right to view a school's budget or speak at a public school board meeting," wrote Tim Walker, a senior writer for the organization.
A survey released by Navigator this month showed that parents' top concerns about education are "making sure their children learn what they need to be successful, keeping them safe from gun violence, and protecting their mental health" and that having a "say in what their kids are learning" is not a high priority for a majority of parents.
A poll by National Public Radio last year also found that 76% of parents believe their children's schools keep them well-informed about the curriculum and classroom activities.
"At least in my experience, teachers have always been able to be accessible to parents, and I don't know what these parents' rights bills will do other than give more power and pathways to things like book banning and elimination of resources," York, Pennsylvania teacher Ben Hodge told Education Week recently.
American Federation of Teachers President Randi Weingarten said the bill is an example of "divisive performance politics" by the GOP.
"Every day in classrooms and communities around the country, parents and educators work tirelessly together to make the lives of our kids better and provide them with the knowledge they need to excel—with books, art, and music; tutoring programs and capstone projects; and counseling to help them navigate life, tackle challenges, and deal with trauma," said Weingarten. "The true work of partnering to support families and help our kids do well involves having meaningful discussions about the real things affecting our students and what we, as a country, must do to help."
News
SUPPORT OUR WORK.
We are independent, non-profit, advertising-free and 100%
reader supported.