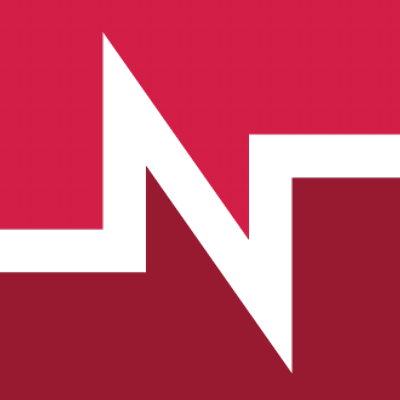 For Immediate Release
May, 18 2012, 09:15am EDT
Contact:
Charles Idelson, 415-559-8991, Donna Smith, 773-617-4493, or Carl Ginsburg, 917-405-1060
Nurses, Global, U.S. Activists Converge on Chicago in Call To G-8 Leaders for Tax on Wall Street to Heal Economy
Day of Action with Colorful Rally, Joined by Musician Tom Morello, with Plan to Heal U.S. and Global Economies, International Panel on the Fight Against Austerity
CHICAGO
The nation's largest organization of nurses, National Nurses United, is sponsoring a day of action May 18 on the eve of the G-8 and NATO summits to promote a plan to help heal the U.S. and global economies and highlight the fight against austerity measures harming families around the world.
Rally at Daley Plaza (Dearborn at Randolph) with Tom Morello - 12 noon
Highlighting the day will be a colorful and festive rally at Daley Plaza featuring a comedic skit, and a special performance by eminent musician Tom Morello, The Nightwatchman.
At the rally Robin Hood and the nurses will scour the trees for the AWOL G-8 world leaders, who decided to run off and hide in the woods of rural Maryland rather than face a disgruntled public in Chicago as originally announced, to determine what they are doing to help average families, not just the banks and Wall Street high rollers, in the midst of a continuing economic gloom.
Robin Hood is there to call attention to the main theme of the rally - the proposal for a Robin Hood tax on Wall Street stocks, bonds, derivatives and other financial instruments that can raise up to $350 billion every year to help mitigate the economic crisis created by the banks, with the revenue available for jobs, healthcare, education, and other basic needs and services.
Among the scheduled speakers is Tom Hayden and NNU Executive Director RoseAnn DeMoro.
More than 100 U.S. and international environmental, health, labor, faith, anti-poverty, and other organizations have endorsed the May 18 action in Chicago and its call for the Robin Hood tax.
The proposed tax, as little as 50 cents on every $100 of trades would operate like a sales tax most Americans pay on a wide variety of goods and services. The key difference is this tax targets the banks and financial institutions, not ordinary consumers, whose reckless gambling with people's homes and pensions are largely responsible for the recession that still affects people's lives every day.
"This is a tax for the people, not on the people," says NNU Co-president Karen Higgins, RN. "A better world is possible and now we know how to pay for it."
Further, sponsors say, the Wall Street trading tax, also known as a financial transaction tax, would help reduce some of the reckless speculation, most of which is automated with thousands of trades happening every second, which creates both market volatility and contributes to rising food and gas prices.
NNU's rally and other actions are part of a global week of action for the Robin Hood tax, with activists holding actions throughout Europe, on Mount Fuji in Japan, in several African nations, and other countries, as well as in Chicago. The week is timed to coincide with the G-8 summit, and a May 23 meeting of European leaders where a European FTT is on the agenda. More than 40 countries already have some form of FTT, which is already raising billions of dollars a year for those nations.
Panel from Seven Nations Highlight the Global Fight against Austerity - 8 a.m. - Sheraton Chicago Hotel, 301 East North Water Street, Ballroom (Level 4)
The day of action opens with an international panel of speakers of guests from seven nations speaking about the global challenge by workers and communities against bank-imposed austerity measures. The event, being held in the Sheraton Chicago Hotel and Towers Ballroom, 301 East North Water Street, Chicago, is open to the press at 8 a.m.
It will include speakers from the United Kingdom, Italy, Germany, South Korea, Guatemala, Canada and the U.S.
Panelists are Mi Jung Han, RN, Vice President, Korean Health and Medical Workers Union (South Korea), David Hillman, Coordinator, Stamp Out Poverty (UK), Jorn Kalinski, Director of Lobbying and Campaigns, Oxfam Germany (Germany), Rosa Pavanelli, President, Funzione Pubblica CGIL (Italy) [in English, Public Function] and Vice President, European Federation of Public Service Unions (EPSU), Linda Silas, RN, President, Canadian Federation of Nurses Unions (Canada), Brenda Cristina Morales, RN, Regional Coordinator, Sindicato Nacional de Trabajadores de Salud de Guatemala (SNTSG) [in English, National Health Workers Union of Guatemala] (Guatemala), and NNU Co-President Karen Higgins (U.S.)
Anna Deavere Smith--of Nurse Jackie-- to Perform in Chicago on Nation's Healthcare Crisis - - Sheraton Chicago Hotel, 301 East North Water Street, Ballroom (Level 4)
Capping the day's events, critically acclaimed actress and playwright Anna Deavere Smith, who portrays a nurse on the Emmy award winning Showtime dark comedy Nurse Jackie, will perform Tell Us Where It Hurts, America's Nurses are Listening, a theatrical piece written derived from real-life stories of nurses and their patients gathered by NNU.
The special performance begins at 7:30 p.m. for the nurses, with limited seating on advance reservations available for the media. It will also be held at the Sheraton Chicago Hotel and Towers Ballroom, 301 East North Water Street, Chicago.
"I'm not a real nurse, I play one on TV," Ms. Smith said. "But as fans of the program know, we deal with real-life issues facing many Americans--hospital closures and cuts due to a corporate healthcare system whose bottom line is profits, not quality care. This hurts families with no health insurance and illness brought on by a faltering economy. It's a welcome creative challenge to tap into these experiences from the lives of nurses."
National Nurses United, with close to 185,000 members in every state, is the largest union and professional association of registered nurses in US history.
(240) 235-2000
LATEST NEWS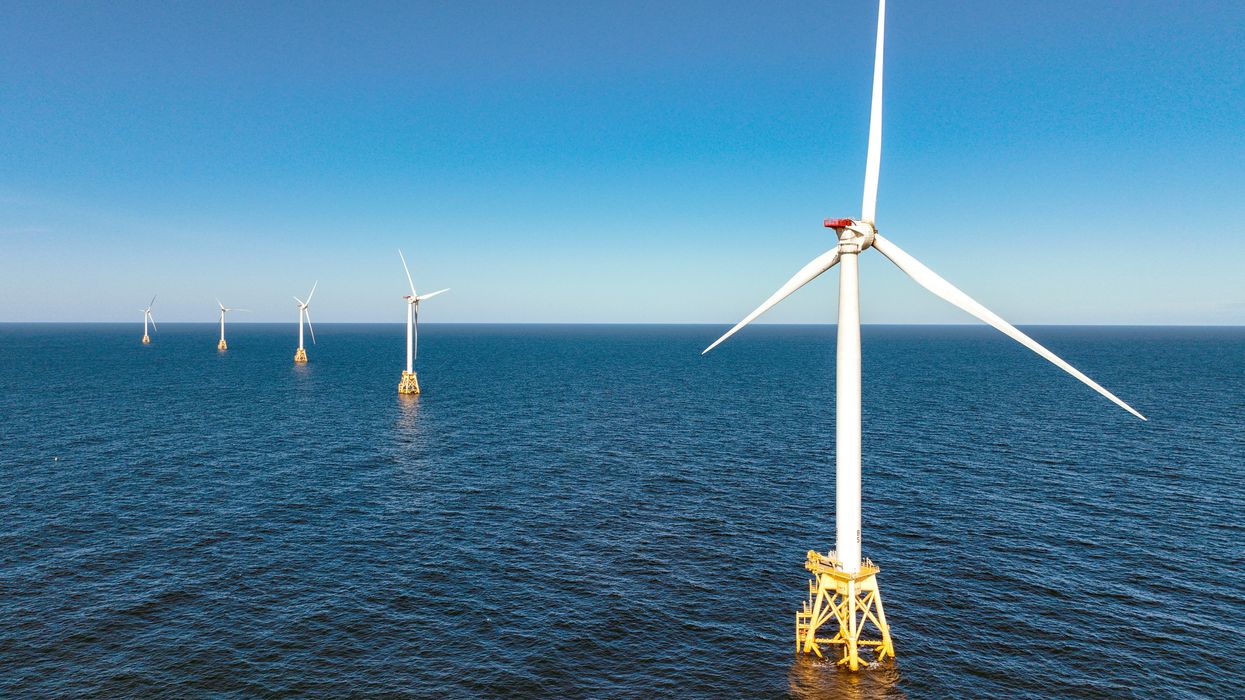 "There is no time to waste in making bold investments to address the climate crisis, and building a strong domestic offshore wind industry is key to meeting that challenge head on."
Clean energy advocates on Wednesday applauded an announcement from U.S. Interior Secretary Deb Haaland, who said her department is proposing the first-ever offshore lease sale for wind power in the Gulf of Mexico, long a center of oil and gas extraction.
Haaland said the proposed sale is part of the Biden administration's efforts to "jump-start our offshore wind industry and harness American innovation to deliver reliable, affordable power to homes and businesses."
"America's clean energy transition is happening right here and now," said the interior secretary. "There is no time to waste in making bold investments to address the climate crisis, and building a strong domestic offshore wind industry is key to meeting that challenge head on."
The Biden administration aims to open up more than 100,000 offshore acres near Lake Charles, Louisiana and nearly 200,000 acres near Galveston, Texas as part of President Joe Biden's plan to develop wind power along every U.S. coastline.
"These areas have the potential to power almost 1.3 million homes with clean energy," the Department of the Interior said.
The development of wind power in the Gulf of Mexico would be significant in the United States' shift toward renewable energy. The Gulf is the country's primary source of offshore oil and gas, generating about 97% of the country's supply from offshore sources.
The Gulf was the site of the largest marine oil spill in history in 2010, when an explosion on BP's Deepwater Horizon drilling rig killed 11 people and sent about 210 million gallons of oil into the water.
"This is huge," said Antonio Arellano, vice president of communications for NextGen America, of the news that Biden is planning to begin the region's shift away from fossil fuel energy.
\u201cBREAKING: Biden administration announces first-ever wind energy lease sale in Gulf of Mexico. \n\nThe White House and US Department of Interior said they are proposing to open up more than 300,000 acres of offshore waters for offshore wind development. This is huge.\u201d

— Antonio Arellano (@Antonio Arellano) 1677074837
Haaland's announcement came a year after a wind power lease sale off the coast of New York and New Jersey brought in $4.37 billion, an unprecedented amount for energy leases. In December, companies paid the federal government more than $757 million for wind leases in the Pacific Ocean.

Biden aims to deploy a total of 30 gigawatts of offshore wind power by 2030, which could power 10 million homes and create 44,000 jobs in the industry as well as an additional 33,000 jobs in communities supported by offshore wind, according to the administration.
A 60-day public comment period on the proposed sale will commence later this month after the proposal is published in the Federal Register. The Bureau of Ocean Energy Management (BOEM) is seeking feedback on lease stipulations including:

Bidding credits for bidders that commit to supporting workforce training programs for the offshore wind industry, developing a domestic supply chain for the offshore wind industry, or a combination of both;
Establishing and contributing to a fisheries compensatory mitigation fund or contributing to an existing fund to mitigate potential negative impacts to commercial fisheries caused by offshore wind development; and
Requiring that lessees provide a regular progress report summarizing engagement with tribes and ocean users potentially affected by proposed offshore wind activities.
"BOEM is committed to ensuring any offshore wind activities are done in a manner that avoids or minimizes potential impacts to the ocean and ocean users," said BOEM Director Elizabeth Klein. "Today's announcement comes after years of engagement with tribes, other government agencies, ocean users, and stakeholders."
The National Audubon Society applauded the proposal and said it plans to work with the Biden administration and wind energy producers to protect North America's migrating birds, half of which rely on the Gulf of Mexico.
\u201cThe Gulf Coast supports nearly half of North America\u2019s migrating birds\u2014including Piping Plovers & Red Knots. Offshore wind leasing must fully consider habitats & the wildlife that rely on them to avoid significant impacts on bird populations across the US. https://t.co/vIhiE44Z2o\u201d

— Audubon Society (@Audubon Society) 1677092474
"Clean energy is a critical part of reducing emissions and climate threats that affect both people and wildlife, and we are committed to working with energy producers to make sure projects are sited and operated responsibly," said Garry George, director of the Audubon Society's clean energy initiative.
American Clean Power (ACP), which represents the renewable energy industry, called the Interior Department's announcement "another significant milestone in the development of domestic offshore wind production."
"This proposed lease sale will continue the legacy of energy production in the Gulf of Mexico, providing Americans with an affordable clean energy supply. It will also help secure our nation's energy independence while reducing costs for consumers," said Josh Kaplowitz, vice president for offshore wind at ACP. "By harnessing our abundance of renewable natural resources, these projects will unleash economic growth here at home and create good paying jobs."
News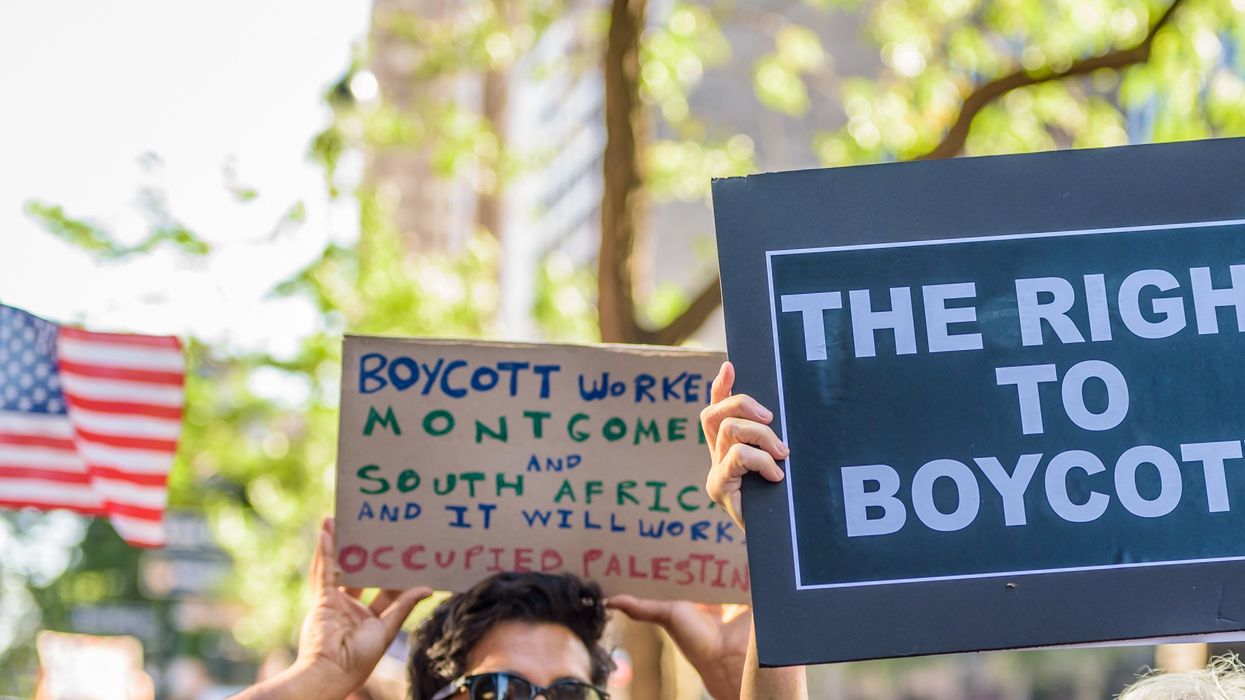 "The struggle for collective liberation requires global solidarity and economic pressure," said U.S. Rep. Rashida Tlaib. "Today's decision is a travesty, but the people will not be silenced."
In a move decried by one critic as a "significant loss for the First Amendment," the U.S. Supreme Court on Tuesday declined to hear a challenge to an Arkansas law requiring companies doing business with the state to sign a pledge vowing not to boycott Israel.
The justices will not hear an appeal to a June 2022 decision by the 8th U.S. Circuit Court of Appeals involving Act 710 of 2017, an Arkansas law imposing a 20% penalty on state contractors with contracts over $1,000 if they refuse an oath not to support the nonviolent international Boycott, Divestment, and Sanctions (BDS) movement against Israeli crimes in Palestine including occupation, settler colonization, ethnic cleansing, and apartheid.
The ACLU petitioned the Supreme Court to hear the case, Arkansas Times LP v. Mark Waldrip, on behalf of Arkansas Times editor Alan Leveritt, who was informed by officials at the University of Arkansas-Pulaski Technical College that the weekly alternative paper would have to sign the anti-BDS pledge if it wanted to keep its advertising contract with the state school. The publication does not boycott Israel, but refused to sign the oath.
"If states can suppress boycotts of Israel, then they can suppress boycotts of the National Rifle Association or Planned Parenthood."
In 2021, a three-judge panel of the 8th Circuit Court ruled that "supporting or promoting boycotts of Israel is constitutionally protected," however the court later reversed the ruling in a decision written by Judge Jonathan Kobes, an appointee of former President Donald Trump who the American Bar Association deemed "not qualified" to serve.

While pro-Israel groups and individuals hailed the high court's punt as a major blow to BDS, journalism, free speech, and Palestine advocates decried the move.
"We are obviously disappointed at the news today from the U.S. Supreme Court. Permitting state governments to withhold state contracts from citizens who voice opinions contrary to those held by a majority of their state legislators is abhorrent and a violation of the Bill of Rights," wrote Leveritt.
"In our case the Arkansas state Legislature required our magazine to sign a pledge not to boycott Israel if we wanted to receive state advertising," the editor continued. "We refused. We are not boycotting Israel but neither do we sign political pledges in return for advertising. Especially state advertising."
"Thanks to support from our readers, we will not be signing any pledges dictated by our Legislature," Leveritt added. "The Supreme Court can ignore our First Amendment rights but we will continue to vigorously exercise them."
U.S. Rep. Rashida Tlaib(D-Mich.)—the first Palestinian-American woman to serve in Congress—called the high court's decision not to hear the case a "travesty."
The Freedom of the Press Foundation tweeted that "SCOTUS should've stood up for the First Amendment. Instead, it let a ruling stand permitting the government to withhold ads from newspapers that won't pledge to not boycott Israel. Government should not financially pressure the press (or anyone) to echo its views."

Some critics warned that allowing anti-BDS laws to stand—effectively upholding them—will adversely affect Americans' right to voice dissent on a wide range of issues.
"From the Boston Tea Party to the Montgomery Bus Boycott to the boycott of apartheid South Africa, Americans have proudly exercised that right to make their voices heard," Brian Hauss—the senior staff attorney at the ACLU Speech, Privacy, and Technology Project—said in a statement.

"But if states can suppress boycotts of Israel, then they can suppress boycotts of the National Rifle Association or Planned Parenthood," he added. "While we are disappointed with the result in this case, the ACLU will continue to defend the right to boycott in courts and legislatures throughout the country."
Leveritt toldThe Guardian that "this is simply a template. It doesn't stop here. We now have in the Arkansas Legislature bills introduced to deny state contracts to financial and banking institutions that have [environmental, social, and corporate governance] policies that prohibit them from investing in fossil fuels or firearms companies."
"In other states, they've introduced laws to deny state contracts to any company that subsidizes their employees' transportation costs if they go out of state for an abortion," he added. "So this is just going to be used time after time after time, eventually, the Supreme Court is going to have to deal with it, or else it's going to be open season on the First Amendment."
While federal courts in Arizona, Georgia, Kansas, and Texas have ruled that laws banning or penalizing boycotts of Israel are unconstitutional under the First Amendment, each of those states subsequently amended their respective legislation to apply only to larger contractors and exclude individuals.
According to a database compiled by Lara Friedman at the Foundation for Middle East Peace, at least 34 U.S. states have passed laws targeting boycotts of Israel or its illegal Jewish-only settler colonies in the occupied West Bank and East Jerusalem.
Julie Bacha, director of the documentary film Boycott—which highlights efforts to fight anti-BDS laws including in Arkansas—toldMondoweiss that "it is unfortunate that the Supreme Court opted to stay on the sidelines for now, but let's be very clear—the fight to protect the right to boycott is far from over."
"The last—and only—time the Supreme Court reviewed the right to boycott in 1982, it ruled unanimously that the First Amendment protects the right of Americans to engage in boycotts to affect social and political change," she added. "Americans across the country will continue to exercise that right, and take their states to court when that right is violated."
News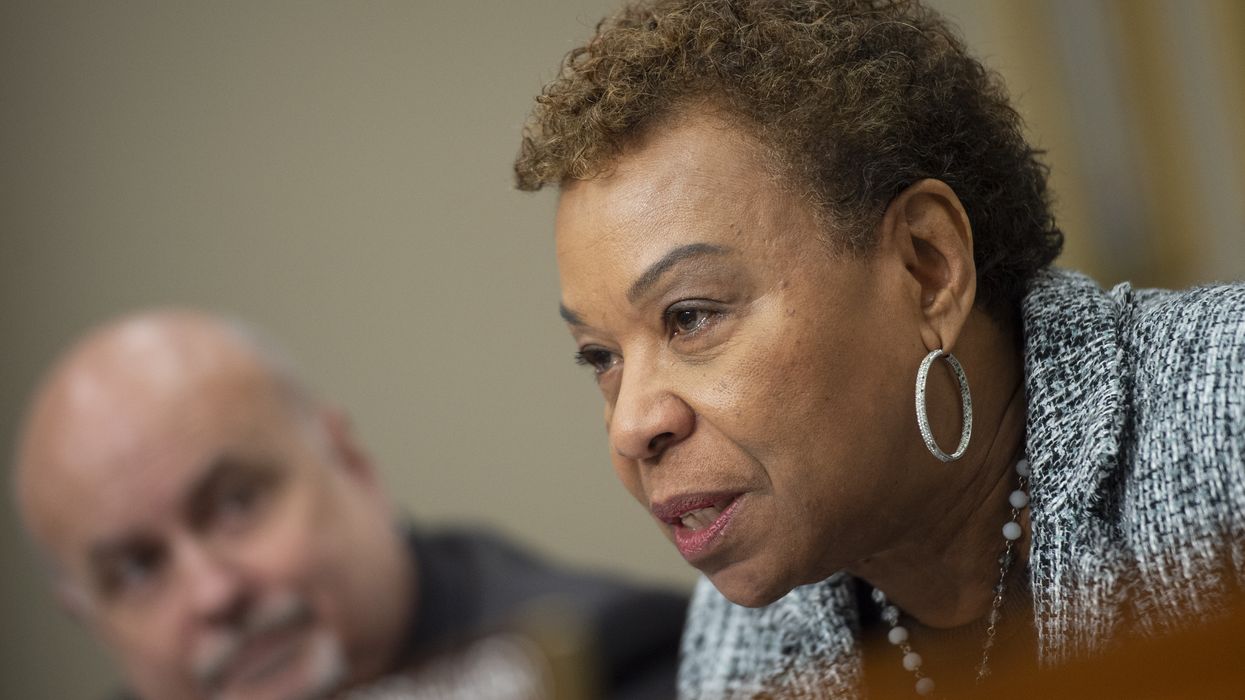 "It could power every household in the U.S. with solar energy; hire 1 million elementary school teachers amid a worsening teacher shortage; provide free tuition for 2 out of 3 public college students; or cover medical care for 7 million veterans."
U.S. Reps. Barbara Lee and Mark Pocan on Wednesday reintroduced their People Over Pentagon Act, which would slash $100 billion from the nation's military budget and reallocate that money to urgent needs, from investments in education and healthcare to combating the climate emergency.
Lee (D-Calif.) and Pocan (D-Wis.), who co-chair the Defense Spending Reduction Caucus, promoted the bill last year and unsuccessfully tried to attach it as an amendment to the National Defense Authorization Act (NDAA) for Fiscal Year 2023.
Lee—who on Tuesday confirmed her 2024 run for the seat that Sen. Dianne Feinstein (D-Calif.) plans to vacate—encouraged her congressional colleagues "on both sides of the aisle to ask themselves what would truly provide more benefit to the people of this country: another outdated weapons system, or greater access to basic needs in our communities."
"Year after year, this country pours billions into our already-astronomical defense budget without stopping to question whether the additional funding is actually making us safer," the congresswoman said. "We know that a large portion of these taxpayer dollars are used to pad the pockets of the military-industrial complex, fund outdated technology, or are simply mismanaged."
"A large portion of these taxpayer dollars are used to pad the pockets of the military-industrial complex, fund outdated technology, or are simply mismanaged."
"Our national priorities are reflected in our spending," she stressed. "Cutting just $100 billion could do so much good: It could power every household in the U.S. with solar energy; hire 1 million elementary school teachers amid a worsening teacher shortage; provide free tuition for 2 out of 3 public college students; or cover medical care for 7 million veterans."
As the National Priorities Project (NPP) at the Institute for Policy Studies pointed out Wednesday, that money could also be used to send every U.S. household a $700 check to help offset the effects of inflation; hire 890,000 registered nurses to address shortages; or triple current enrollment in the early childhood program Head Start from 1 million to 3 million children and families.
"We shouldn't be adding billions upon billions of tax dollars to enrich Pentagon contractors at a time when real people are struggling," argued NPP program director Lindsay Koshgarian. "We're so used to hearing that we can't afford programs that meet real human needs for basics like housing, food, education, and childcare. The truth is that we can definitely afford it, if we stop throwing money at Pentagon contractors."

\u201cIt's unacceptable that we continue to increase the bloated defense budget while millions of Americans are unhoused, living in poverty, or struggling to pay their bills.\n\nI support the #PeopleOverPentagon Act because the people's most basic needs MUST come first.\u201d

— Rep. Bonnie Watson Coleman (@Rep. Bonnie Watson Coleman) 1677078414
Pocan similarly took aim at those who stand to benefit most from the status quo that produced a $858 billion military budget for FY2023, declaring Wednesday that "more defense spending does not guarantee safety, but it does guarantee that the military-industrial complex will continue to get richer."
"We can no longer afford to put these corporate interests over the needs of the American people. It's time to invest in our communities and make meaningful change that reflects our nation's priorities," Pocan said.
The bill is also backed by advocacy groups such as Public Citizen—whose president, Robert Weissman, celebrated its revival.
"Pentagon spending is wildly out of control," and avoidable "spending waste—identified by the Pentagon itself!—vastly exceeds the entire budgets of the U.S. Environmental Protection Agency and the U.S. Food and Drug Administration combined," he noted.
Weissman also highlighted that in the latest NDAA, Congress approved a military budget that was tens of billions of dollars higher than what was requested, and that boost was "more than the annual cost to expand Medicare benefits to cover hearing, dental, and vision—a proposal abandoned on the grounds it cost too much."
"The People Over Pentagon Act rejects the immoral and illogical inertia of more, more, more for the Pentagon," he said, thanking Lee and Pocan "for introducing a dose of sanity and humanity to the Pentagon spending debate."
The anti-war group CodePink also backs the bill and displayed its support with a Wednesday banner drop on Capitol Hill.
\u201cWe call on Congress to support the People Over Pentagon Act, which is a great start to relocating funds away from endless war and to programs that actually meet people\u2019s needs! #CutThePentagon\u201d

— CODEPINK (@CODEPINK) 1677084872
CodePink organizer Olivia DiNucci said that "cutting $100 billion of the Pentagon budget is a start in reallocating funds that go to military contractors to further destroy people and the planet instead of prioritizing the needs of the people to address true national security that includes healthcare, housing, clean water, quality food, living wages, and climate justice."

News
SUPPORT OUR WORK.
We are independent, non-profit, advertising-free and 100%
reader supported.