For Immediate Release
Contact:
Mark Kastel, 608-625-2042
Largest Corporate Dairy, Biotech Firm and USDA Accused of Conspiring to Corrupt Rulemaking and Pollute Organics
Watchdog Requests Federal Investigation, Files Ethics Charges
WASHINGTON
The Cornucopia Institute, an organic industry research and watchdog organization, announced it has formally requested the USDA's Office of Inspector General (OIG) to investigate corruption at its National Organic Program resulting in the use of illegal synthetics in organic food and then allowing powerful corporations to "game the system" for approval "after the fact."
The controversy surrounds products developed by Martek Biosciences Corporation. Martek, part of a $12 billion Dutch-based conglomerate, recently petitioned for approval of its genetically modified soil fungus and algae as nutritional supplements in organic food.
Martek's formulated oils are processed with synthetic petrochemical solvents in a blend containing a myriad of other synthetic chemicals. Supplements derived from these oils, commonly marketed as DHA and ARA, are being added to milk, infant formula and other organic foods by such companies as Dean Foods (Horizon), Abbott Laboratories (Similac) and Nurture, Inc. (Happy Baby).
"This is a long-standing controversy that the USDA seems to think is just going to go away," said Mark A. Kastel, Codirector of the Wisconsin-based Cornucopia Institute.
After a formal legal complaint by Cornucopia, and an investigative story by the Washington Post, the USDA announced in April 2010 that it had "inappropriately" allowed Martek oils to be included in organic foods.
The scandal contributed to the removal of the previous director of the National Organic Program (NOP), who overruled her staff's decision finding Martek supplements were illegal in organics--after she met with a prominent Washington lobbyist, William J. Friedman.
The former NOP director's decision was reversed in April 2010. But instead of immediately ordering the removal of these unapproved synthetics from organic food, the Obama/Vilsack administration at the USDA delayed enforcement by 18 months in an apparent effort to permit corporate lobbyists to properly petition for review and possibly legal inclusion in organic food.
"It's unacceptable that these materials are still in organic food and that corporations think they can manipulate the system and get away with it," said Kastel. "It's even worse because, according to our research and reports at the FDA, some babies have become ill after consuming Martek supplements in infant formula."
In December, the National Organic Standards Board (NOSB), the expert panel set up by Congress to advise the USDA Secretary on organic matters, narrowly approved the Martek petitions for their patented versions of DHA and ARA. "All hell broke loose at the meeting in Savannah as the controversy grew extremely heated," Kastel noted.
In their complaint to the OIG, Cornucopia alleges that Martek misrepresented their novel, synthetic product and manipulated the vote by the NOSB.
"Martek oils, marketed under the Life'sDHA(tm) brand and included in organic infant formula, milk and baby food, are processed with petrochemical solvents like hexane or isopropyl alcohol, both of which are explicitly banned in organic production," stated Charlotte Vallaeys, Director of Farm and Food Policy at Cornucopia.
Although Martek told the board that they would discontinue the use of the controversial neurotoxic solvent n-hexane for DHA/ARA processing, they did not disclose what other synthetic solvents would be substituted. Federal organic standards prohibit the use of all synthetic/petrochemical solvents, including isopropyl alcohol, which is currently used to extract DHA algal oil for use in products such as Horizon milk.
Martek again brought in William "Jay" Friedman, with the powerful Washington law firm of Covington and Burling, to lead their approval process. Friedman appeared to deliberately mislead NOSB members into believing that the powdered form of Martek's DHA oil was not covered in the petition. This particular product formulation uses microencapsulation (banned in organics) and includes a number of additional synthetic materials that have never been reviewed or approved for use in organics.
When asked by NOSB Board chairperson, Tracy Miedema, "Are we approving dried powder or just oil?" Friedman stated on the record, "I can answer that. That's not the petitioned material."
Friedman's statement was inconsistent with Martek's formal petition to the NOSB, which states that "the petitioned material is unchanged from that which was authorized previously," referring to the USDA's earlier corrupted authorization of all Martek's products, including the powdered form.
"Mr. Friedman's statement thus appears patently false in an apparent attempt to intentionally mislead the NOSB. This apparent subterfuge led, in turn, to the NOSB's failure to review other aspects of these materials which would have disqualified them, under law, for inclusion in organic food," Cornucopia's Kastel said.
In addition to the letter to the OIG, Cornucopia has requested the D.C. Bar conduct a formal ethics investigation of Mr. Friedman's conduct.
"The dog and pony show put on by Martek and their largest customer, Dean Foods, was without precedent in the organic industry," said Alexis Baden-Mayer, Political Director of the Organic Consumers Association, who was present in Savannah.
The only scientists who testified at the meeting on the DHA issue were all on Martek's payroll, and focused on research showing benefits of consuming naturally occurring omega-3 fatty acids (such as those found in fish and breast milk), while ignoring the preponderance of published peer-reviewed research that shows that these health benefits are not gained from consuming Martek's novel, manufactured DHA additive.
The written statements of leading scientists in this field, who did not attend the meeting but whose findings were presented to the Board members, including assertions that this field of research is "driven to a large extent by enthusiasm and vested interest," were overpowered by the handful of corporate-sponsored scientists with a blatant financial interest in the outcome of the vote.
Dean Foods, Martek's largest customer, brought in a well-known web-pediatrician, Dr. Alan Greene, who has acted as a public relations agent endorsing Horizon brand organic milk with the added Martek DHA oils.
Although Dr. Greene represented himself as a "consultant," simply answering questions for Dean Foods, and stated he had previously worked for two other organic companies, but failed to disclose his multiple conflicts of interest in commenting on the benefits of Martek's manufactured DHA supplements.
Greene has also accepted compensation from Mead Johnson, the largest conventional infant formula manufacturer, to promote Martek's DHA oil in their products, and even has his own product line of nutritional supplements that include Martek DHA, marketed by Twinlabs with his name and photograph on the product package.
"It is unconscionable that a physician, who accepted money from a big drug company to promote synthetic DHA--which many believes promotes the use of baby formula at the expense of the nutrients in breast feeding--failed to disclose such a gross conflict of interest when he testified before the governmental body on certified 'organic' standards," said Lisa Graves, Executive Director of the Center for Media and Democracy/PRWatch, which helps expose corporate PR tactics.
Greene's role on behalf of Dean Foods and Martek was to directly dispute the preponderance of scientific literature, including two meta-analyses, that discredits Martek's claims that their supplements promote cognitive development in infants and children.
Cornucopia's complaint to the OIG also included evidence documenting that three corporate-backed members of the NOSB, who voted in favor of this petition, had undeclared conflicts of interest.
Two of the board members work for Earthbound Farms, a giant produce distributor that also compensated Dr. Greene during 2011. A third member of the NOSB board works for General Mills which partnered with Martek, starting in 2009, on the technology to microencapsulate their DHA and ARA oils.
Cornucopia said that these board members should have considered recusing themselves from voting on this issue because of the apparent conflicts of interest. One of the members was the prime champion of the Martek petition during board deliberations.
Adding fuel to the controversy, the Federal Trade Commission (FTC) just announced the end of its investigation into Dean Foods' advertising campaign for Horizon DHA supplemented milk, forcing the dairy giant to alter claims in its advertising concerning "brain development or function, cognitive development or function, intelligence, learning abilities in children over the age of two." This action resulted from a complaint filed by The Cornucopia Institute based on its research of the fraudulent and misleading health claims.
"While they did not fine Dean, or its WhiteWave division, for its misrepresentations in Horizon marketing, we are pleased that the FTC has taken this action to protect children and prevent the defrauding of their parents," said Vallaeys.
Although the FDA has dismissed complaints about the safety of Martek products in infant formula, reports persist from parents and healthcare providers of infants who experience serious gastrointestinal symptoms from consuming Martek's DHA and ARA oils in infant formula, raising serious public health questions about the marketing of these products.
The Cornucopia Institute has sent a formal briefing paper on these matters to all members of the National Organic Standards Board.
Cornucopia contends that the board did not fulfill its legal responsibilities of due diligence, and instead solely accepted unsubstantiated statements by Martek that their products were not genetically engineered and were not "synthetic."
"We are asking the NOSB to reopen their deliberations and consider rescinding their approval of Martek nutritional oils," Kastel added. "If the board fails to act now, protecting the integrity of organics, it risks changing the working definition of the organic seal and degrading its value in the eyes of consumers."
The Cornucopia Institute, a Wisconsin-based nonprofit farm policy research group, is dedicated to the fight for economic justice for the family-scale farming community. Their Organic Integrity Project acts as a corporate and governmental watchdog assuring that no compromises to the credibility of organic farming methods and the food it produces are made in the pursuit of profit.
LATEST NEWS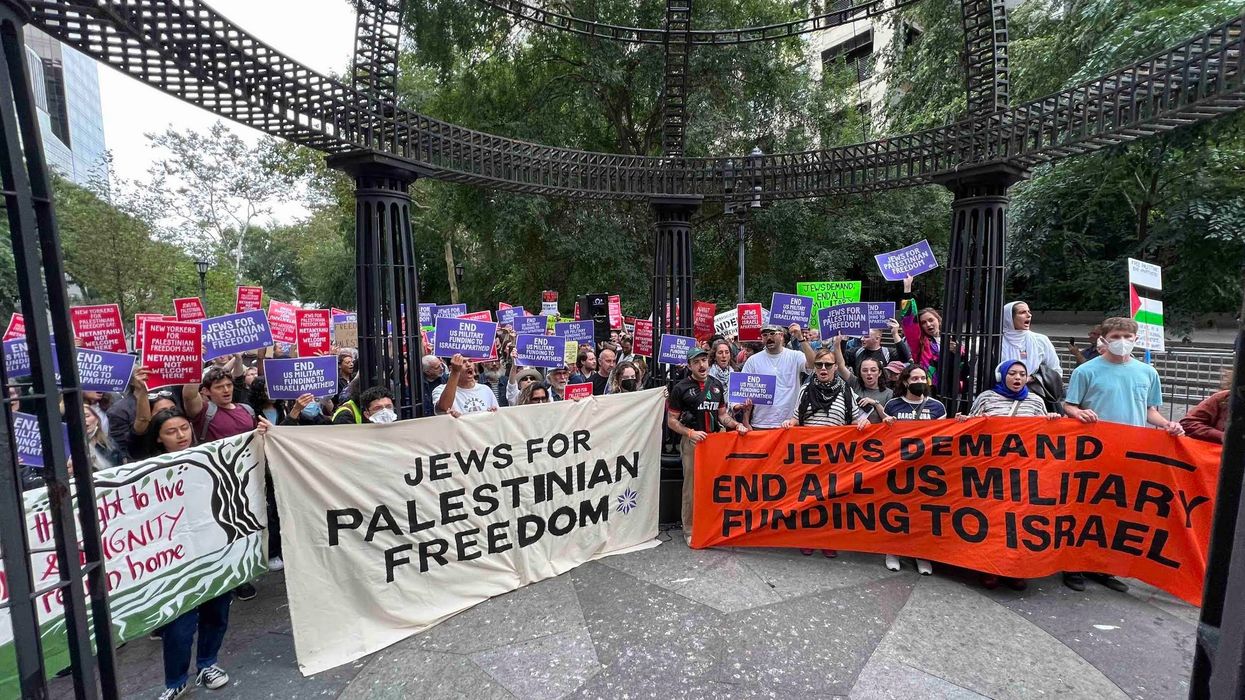 "As Jewish New Yorkers committed to racial justice, we believe apartheid is indefensible," said one protester. "Palestinians deserve to live with dignity and freedom."
A pair of democratic socialist New York state lawmakers joined more than 250 Jewish demonstrators and allies on Friday afternoon outside United Nations headquarters in Midtown Manhattan to protest Israeli Prime Minister Benjamin Netanyahu's General Assembly speech defending his far-right government's apartheid policies.
New York state Sen. Jabari Brisport (D-25) and state Assemblymember Zohran Mamdani (D-36) joined activists from Jewish Voice for Peace (JVP), Adalah Justice Project, and other human rights defenders as Netanyahu—whose government is widely considered the most extreme in Israeli history—addressed world leaders inside the U.N. building.
During his speech, Netanyahu displayed a map of the Middle East without Palestine, while claiming he has "long sought to make peace with the Palestinians."
The protesters said there can be no peace under apartheid.
"As Jewish New Yorkers committed to racial justice, we believe apartheid is indefensible," asserted JVP's Jay Saper. "Palestinians deserve to live with dignity and freedom."
Brisport—who in May introduced the Not On Our Dime! Act, which would prevent state-registered charities from funding violations of the Geneva Convention by Israeli settlers—said: "In Brooklyn we have a saying, 'Spread love, it's the Brooklyn way.' Netanyahu has spread hate and displacement. And that has no place in our city."
The senator has previously drawn attention to the more than 700,000 Israelis living in over 250 illegal settlements built on Palestinian land in the unlawfully occupied West Bank, with the backing of the Israel Defense Forces (IDF). Many of the illegal colonies are funded by New York-based organizations.

Last year, the Israeli government forcibly displaced more than 1,000 Palestinians from their homes in what many critics have called acts of ethnic cleansing. Hundreds more Palestinians have been displaced this year to make way for Jewish settler-colonists.
There have also been multiple deadly settler rampages through Palestinian towns this year, revenge attacks that a wide range of critics—from Palestinian-American Congresswoman Rashida Tlaib (D-Mich.) to conservative U.S. Jewish groups and an IDF general—called "pogroms."
"We should refuse to host a man who has openly lauded the ethnic cleansing of thousands of Palestinians from their homes, who gave the green light for bombing campaigns that left large parts of Gaza uninhabitable, a man who approved killing sprees that riddled streets with Palestinians wounded and killed," Adalah Justice Project communications and strategy director Sumaya Awad told the demonstrators.
According to the U.N.'s Office for the Coordination of Humanitarian Affairs, Israeli soldiers and settlers have killed at least 200 Palestinians this year, making it the deadliest year for Palestinians since the final year of the second intifada, or general uprising, in 2005. The advocacy group Defense for Children International Palestine says 45 Palestinian children have been killed by Israelis so far this year. At least 30 Israelis have been killed by Palestinian militant attacks in 2023.
Through it all, the U.S. continues to give Israel—the 13th-wealthiest nation in the world per capita, according to the International Monetary Fund—billions of dollars in nearly unconditional annual aid.
"Earlier today, someone asked me, 'Why should New Yorkers care about what's happening halfway across the world in Israel?'" said Mamdani, a co-sponsor of Brisport's bill. "There are 3.8 billion reasons for us to care: Same as the number of dollars that go from the U.S. to Israel in military aid every year."
"As Americans," he added, "this is a fight that recognizes our complicity in this apartheid regime in Israel."
News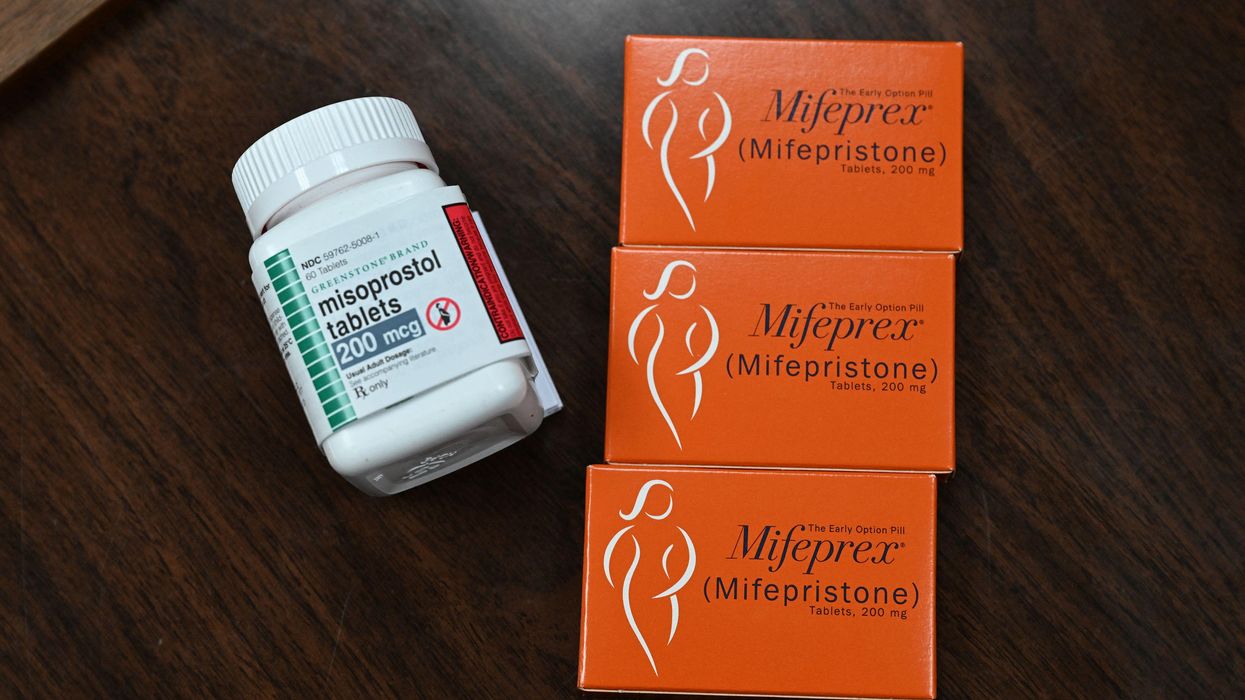 "In this particular case, here's the audacity: Self-managed abortion is not even a crime in fucking Nebraska," said one rights advocate.
Amid a wave of right-wing efforts to quash abortion rights across the United States, a Nebraska judge on Friday sentenced Jessica Burgess to two years in prison after helping her teenage daughter end her pregnancy and bury the remains in early 2022.
Police have said that over two years ago, then-17-year-old Celeste Burgess took abortion pills—provided by her mother—at approximately 29 weeks pregnant and gave birth to a stillborn fetus, which the pair burned and buried in Norfolk, Nebraska.
Celeste Burgess was sentenced to 90 days behind bars and released earlier this month. Tanner Barnhill, who pleaded no contest to attempting to conceal a death for helping with the burial, was sentenced to nine months of probation and 40 hours of community service.
Jessica Burgess, who took a plea deal, faced up to five years in prison. She pleaded guilty to providing an abortion after 20 weeks of gestation, tampering with human remains, and false reporting. As Jezebelnoted, the 42-year-old was charged even though the state's 20-week ban that was in effect at the time applied to "licensed abortion providers, not people self-managing their own terminations."
As Rafa Kidvai, director of If/When/How's Repro Legal Defense Fund—which is not representing Jessica Burgess—put it to Jezebel, "In this particular case, here's the audacity: Self-managed abortion is not even a crime in fucking Nebraska."
"None of this is about justice or safety or someone's health or society being better or kinder or safer—this is about control from the state," Kidvai argued. "Everything is a distraction, including conversations around gestational age... They're distracting you constantly by telling you that your individual choices are the problem, not the systems that keep you oppressed."
The Appeal reported Friday that "abortions after 21 weeks rarely occur within the United States, accounting for just 1% of all abortions. It is unclear when Celeste first knew she was pregnant. Police say Celeste, then 17, got an ultrasound showing she was 23 weeks pregnant on March 8, 2022."
"That same month, police say Jessica Burgess ordered abortion pills online. But the medication took about six weeks to arrive," the outlet added. "[Celeste] Burgess stated in court that she wanted to end her pregnancy because she was in an abusive relationship and did not want to share a child with the man who impregnated her."
While Celeste Burgess' stillbirth occurred a couple of months before the U.S. Supreme Court overturned Roe v. Wade, abortion rights advocates have connected the Nebraska mother and daughter's cases to a broader assault on reproductive freedom since the right-wing justices' Dobbs v. Jackson Women's Health Organizationdecision.
Nebraska is among several states that have tightened abortion restrictions since June 2022. In May, Republican Nebraska Gov. Jim Pillen signed a bill banning abortion at 12 weeks of pregnancy, with exceptions for rape, incest, and to save the life of the pregnant person—a measure which has taken effect but that rights group are fighting in state court.
The Burgesses' cases have also heightened concerns about digital communications, given that police obtained and Facebook parent company Meta complied with a search warrant for their private messages. Further, there are rising fears that U.S. law enforcement may eventually try to use new laboratory methods allegedly developed by researchers in Poland—which has outlawed most abortions—to detect medication commonly used to end pregnancies in biological specimens.
Across the United States from 2000 to 2020, "at least 61 people were criminally investigated or arrested for ending their own pregnancies or helping someone else do so," according to a report released this month by Pregnancy Justice and other groups. From 2006 to 2020, "more than 1,300 people were arrested in relation to their conduct during pregnancy," including people who experienced miscarriages and stillbirths but were suspected of self-managing abortions.
Emma Roth, senior staff attorney at Pregnancy Justice, told The Appeal that "even if the state's law does not criminalize abortion itself, prosecutors will still seek other creative ways to try to incarcerate, shame, or make a case out of that person."
"Prosecutors will charge anything that they can think of when what they're actually trying to criminalize is what they view as immoral conduct," Roth stressed. With the Burgesses, she said, "the prosecutor's whole case was about shaming somebody for being a young teenager and having an abortion later on in pregnancy. These prosecutions create a culture of fear."
Nebraska is one of multiple U.S. states where reproductive rights advocates are currently working to put a question on 2024 ballots regarding an amendment to the state constitution that would protect the right to abortion.

News
"This is unprecedented: a sitting president showing up on the picket lines with workers," said Congressional Progressive Caucus Chair Pramila Jayapal.
In a historic move, U.S. President Joe Biden vowed Friday to travel to Michigan next week and stand with striking United Auto Workers members, an announcement that came just hours after union autoworkers widened their strike to include all U.S. General Motors and Stellantis parts distribution centers.
"Tuesday, I'll go to Michigan to join the picket line and stand in solidarity with the men and women of UAW as they fight for a fair share of the value they helped create," Biden said on social media. "It's time for a win-win agreement that keeps American auto manufacturing thriving with well-paid UAW jobs."
Last Friday, Biden called on automakers to share more of their windfall with UAW workers, who are seeking better pay and benefits.
"Auto companies have seen record profits... They have not been shared fairly with workers," the president said. "I understand the workers' frustration. Over generations, autoworkers have sacrificed so much to keep the industry alive and strong, especially during the economic crisis and the pandemic."
"The companies have made some significant offers," Biden added. "But I believe they should go further to ensure that record corporate profits mean record contracts for the UAW."
Biden—who is seeking reelection next year—is a self-described "pro-labor president" but his response to the UAW is notably different from last year, when he came under fire for signing legislation to block a nationwide rail strike.
At noon Eastern time this Friday, workers at all 38 GM and Stellantis parts distribution facilities across the U.S. walked off the job as the UAW escalated its strike.
"We will shut down parts distribution until those two companies come to their senses and come to the table with a serious offer," UAW president Shawn Fain said in a video update. "The plants that are already on strike will remain on strike."
Fain said Ford was spared the escalation because UAW and company negotiators were making "real progress" at the bargaining table.
While some striking workers said they'd prefer the president didn't join them, others welcomed the solidarity.
"Me personally, I wouldn't mind if Biden stepped up and showed some support," 55-year-old Laura Zielinski of Toledo, Ohio, toldReuters earlier this week, recalling 2010, when he was vice president and visited her city's Stellantis assembly plant.
"Support like that would put a spotlight on the talks—kind of give a nudge to the companies," she added.
Congressional Progressive Caucus Chair Pramila Jayapal (D-Wash.) said Friday on social media that it was "unprecedented" for a sitting U.S. president to join striking workers on a picket line.
Jeremi Suri, a historian and presidential scholar at the University of Texas at Austin, toldReuters the last time it happened was probably in 1902, when then-President Theodore Roosevelt invited striking coal miners to the White House.
"This would be a major, major shift for Biden to identify the presidency with striking workers," said Suri, "rather than siding with industry or staying above the fray."
News
Independent, nonprofit journalism needs your help.
Please Pitch In
Today!