For Immediate Release
Contact:
Jessica Lass, NRDC, 310-434-2300, jlass@nrdc.org;
Kathleen Sullivan, SELC, 919-945-7106, ksullivan@selcnc.org;
Deirdre McDonnell, Center for Biological Diversity, (971) 279-5471, dmcdonnell@biologicaldiversity.org;
Caitlin Leutwiler, Defenders of Wildlife, 202-772-3226, cleutwiler@defenders.org
Government Approval of New Deepwater Oil Drilling Ignores Gulf Disaster
Groups File in Court after Regulators Claim No Potential for Significant Harm from Deepwater Drilling in Wake of Gulf Disaster
ATLANTA
The federal government illegally authorized new deepwater drilling by claiming that risky operations will cause no significant harm to the environment despite last year's BP Deepwater Horizon oil spill, said four environmental groups in a court filing today.
The coalition challenged government approval of Shell's plan to conduct new deepwater exploratory drilling off Alabama's coast in waters 2000 feet deeper than the BP Deepwater Horizon even though regulators acknowledge that the operations may result in an oil spill ten times bigger than last year's disaster in the Gulf of Mexico. Defenders of Wildlife, Center for Biological Diversity, Natural Resources Defense Council, and the Southern Environmental Law Center filed suit in the U.S. Court of Appeals for the Eleventh Circuit in Atlanta.
"We now know that numerous human errors occurred to cause the largest oil disaster in our country's history," said David Pettit, senior attorney with NRDC. "But we also know there were a number of premeditated actions industry and government regulators should have taken to protect against a disaster of this magnitude. Those steps still are not fully realized and 40-year-old containment methods cannot save us from another spill were one to happen tomorrow."
After a cursory 30-day review, the Bureau of Ocean Energy Management, Regulation and Enforcement determined that there would be no significant impact from new exploratory deepwater drilling by Shell Gulf of Mexico Inc. in about 7,200 feet of water. The worst case scenario oil spill detailed in the plan is as much as 405,000 barrels (17 million gallons) of oil a day for up to 128 days, which could result in a spill of 45 million barrels (1.89 billion gallons) of oil into the Gulf of Mexico. BOEMRE's decision comes about a year after the BP Deepwater Horizon oil disaster, which spilled more than 4.9 million barrels (200 million gallons) of oil.
According to the National Commission on the BP Deepwater Horizon Oil Spill, special risks emerge when drilling ultra-deepwater wells at depths greater than 5,000 feet including the risk of an uncontrolled blow-out as was the case with Deepwater Horizon. The approved Shell plan calls for drilling wells significantly deeper than the BP well.
"Finding that drilling in waters far deeper than the Deepwater Horizon site has no significant impact when we know how damaging last year's spill was defies common sense and echoes the irresponsible attitudes that preceded the disaster," said Catherine Wannamaker, a senior attorney at the Southern Environmental Law Center who represents the environmental groups in court. "The Deepwater Horizon oil spill that is still impacting the Gulf and many lives along the coast cannot and should not be swept under the rug for oil company convenience and profit."
The government's review and its conclusion of no significant impact relied on the same faulty Gulf-wide environmental impact statement under which it previously permitted the BP Deepwater Horizon. Since then, the presidential commission found systemic problems within the oil industry, a recent report documented the failure of the blowout preventer on the Deepwater Horizon, and two Inspector General reports documented a broken regulatory system.
"BOEMRE has admitted the old environmental analyses were rendered obsolete by the Deepwater Horizon disaster," said Mike Senatore, vice president of Conservation Law at Defenders of Wildlife. "But even after acknowledging that they need to take a new look at the risks of deepwater drilling, the agency is moving forward with blinders on."
"The approval of Shell's drilling is a test case for how the government will oversee risky drilling in the Gulf. As this lawsuit shows, so far we're unimpressed. The government says it's doing a thorough review, but we simply don't see how you can conclude that a potential spill of a billion gallons of oil is 'insignificant,'" said Deirdre McDonnell, a senior attorney at the Center for Biological Diversity.
More than a year after the BP Deepwater Horizon oil spill, effects are still clearly present: National Oceanic and Atmospheric Administration confirmed fishermen reports of Gulf finfish like red snapper with open and unhealed sores, University of Georgia scientists documented a seafloor still covered in oil and dead creatures, and University of Central Florida research recently linked the oil spill to more than 150 dead dolphins that washed up on Gulf coasts since January 2011, including 65 newborn, infants, stillborn or those born prematurely. Scientists are still examining the full impact of the spill, including impacts that may show up over time in the Gulf food chain and in future generations of aquatic life. Many communities and residents whose livelihoods and culture are tied to the Gulf through fisheries, seafood, and tourism are still recovering from the impact of the months-long BP Deepwater Horizon oil spill.
LATEST NEWS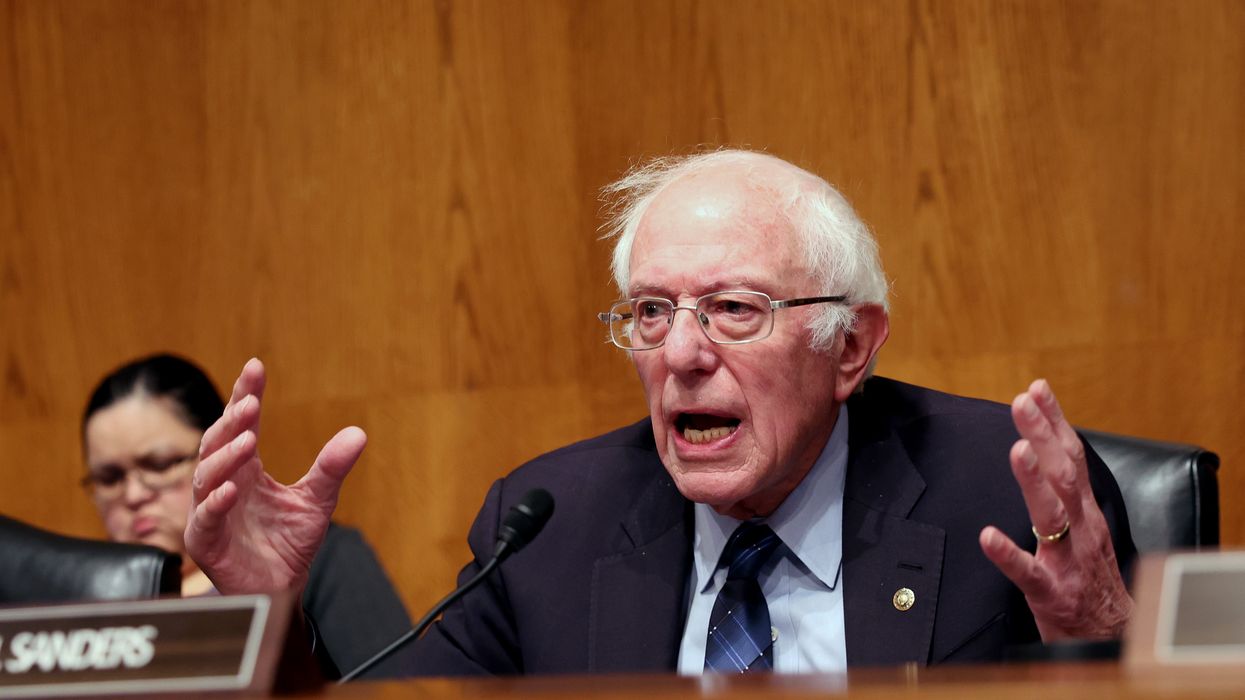 "The American people have a right to know why it is that they pay, by far, the highest prices in the world for prescription drugs," said the Vermont senator.
U.S. Sen. Bernie Sanders and every Democratic member of the committee he chairs sent letters on Tuesday inviting the CEOs of three major pharmaceutical companies to testify at an upcoming hearing on the nation's prescription drug costs, which are so high that millions of Americans are forced to ration their medications to save money.
"The American people have a right to know why it is that they pay, by far, the highest prices in the world for prescription drugs while the pharmaceutical industry in the U.S. makes hundreds of billions in profits and pays their CEOs tens of millions of dollars in compensation," Sanders (I-Vt.), chair of the Senate Health, Education, Labor, and Pensions (HELP) Committee, said in a statement.
In letters to the top executives of Johnson & Johnson, Merck, and Bristol Myers Squibb, Sanders and his Democratic colleagues asked, "How does it happen that one out of four Americans cannot afford to take the medicine their doctors prescribe while prescription drug companies make billions in profits and pay their executives exorbitant compensation packages?"
"How does it happen," the letters continue, "that the median price of new prescription drugs in the United States was over $220,000 last year, while the pharmaceutical industry spent billions on stock buybacks and dividends?"
Johnson & Johnson, Merck, and Bristol Myers Squibb are some of the U.S. pharmaceutical industry's biggest offenders when it comes to charging Americans exorbitant prices for medications that can be purchased at a fraction of the cost in other countries.
In a statement, Sanders' office pointed to Johnson & Johnson and AbbVie's Imbruvica, a blood cancer drug that carries a list price of roughly $204,000 for an annual supply in the U.S. The drug sells for $46,000 annually in the United Kingdom and $43,000 in Germany.
Imbruvica is one of the 10 drugs that the Biden administration selected for an initial round of price negotiations with Medicare, which was empowered to directly negotiate prescription medicine costs with pharmaceutical companies under the Inflation Reduction Act.
The three companies run by the invited executives have all sued the Biden administration over the Medicare price negotiations. In September, a federal judge in Ohio rejected an effort by the U.S. Chamber of Commerce to halt the negotiations.
Sanders said Tuesday that he looks forward to "hearing from the CEOs of large pharmaceutical companies directly on this critical issue."
"I also look forward to working with my colleagues in the Senate to lower the outrageously high price of prescription drugs," the senator added. "A lifesaving drug is not effective if the patient who needs that drug cannot afford it."
The hearing—titled "Why Does the United States Pay, By Far, the Highest Prices in the World for Prescription Drugs?"—is set to take place on January 25, 2024.
News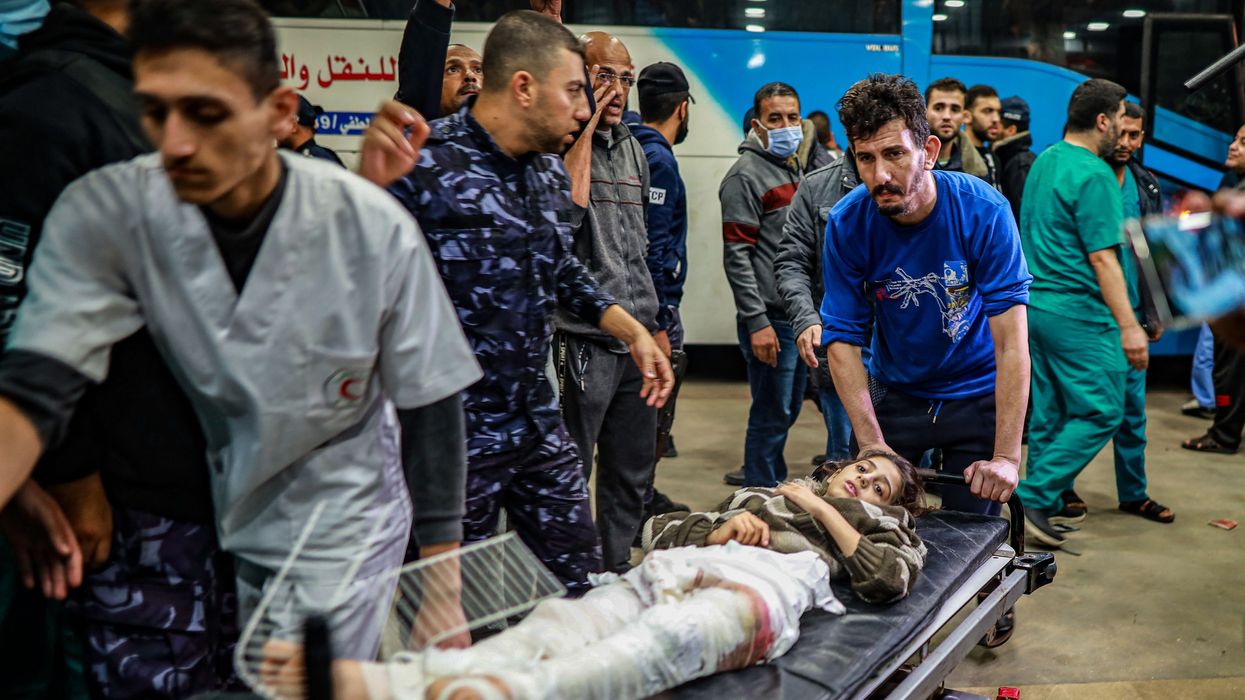 "You have destroyed the international rules of the game, insulted the authority of the U.N., torn apart the sense of justice... and tarnished the face of human civilization."
The director of the aid group that runs the Indonesian Hospital in Gaza—where Israeli attacks killed at least a dozen people on Monday—appealed directly to U.S. President Joe Biden, imploring him to push Israel to accept a cease-fire in a war that's killed or maimed more than 40,000 Palestinians.
"Gazans are facing death every day. Every five minutes, a Palestinian child is killed," Sarbini Abdul Murad, head of Medical Emergency Rescue Committee (MER-C) Indonesia, wrote in a letter to Biden.
Noting that Israeli forces have attacked "babies, children, women, the elderly, the disabled, hospitals, ambulances, medics, schools, teachers, residential complexes, worship places, and much more," Murad asserted that "this is completely genocide and ethnic cleansing."
"It is very unfortunate that your siding with Israel by facilitating weapons of mass destruction has actually made the conflict even wider," Murad continued. "Your action clearly contradicts various international treaties and agreements that apply to the existence of Palestine. You have destroyed the international rules of the game, insulted the authority of the [United Nations], torn apart the sense of justice, hurt human values, and tarnished the face of human civilization."
"Mr. President, we believe you still have a conscience," Murad wrote. "Your great country certainly wants to be seen as honorable for its humanitarian defenses. Moreover, your administration has determined to make the principles of multilateralism, justice, and human rights the foundation of United States foreign policy. So, actually, this is the right to prove it."
Urging Biden to "avoid double standards in dealing with the Palestinian-Israeli conflict," Murad added: "For the sake of peace and humanity, we demand that you immediately do [a] cease-fire. Restore the dignity of the United States as a country that upholds human rights. The cease-fire must be implemented now, so as not to increase the loss of life on both sides."
Murad's letter came as Israel Defense Forces tanks surrounded the Indonesian Hospital in northern Gaza after IDF artillery shelling killed 12 people in the facility's compound, including patients and their companions, according to the Gaza Health Ministry. The ministry also said many people were wounded in the attack, including patients in critical condition.
"The attack is a clear violation of international humanitarian laws. All countries, especially those that have close relations with Israel, must use all their influence and capabilities to urge Israel to stop its atrocities," Indonesian Foreign Minister Retno Marsudi said Monday.
According to Gaza officials, there are about 700 patients, staff, and other Palestinians trapped in the Indonesian Hospital. People trying to flee the compound have reportedly come under Israeli fire.
Marwan Abdallah, a medical worker at hospital, toldAl Jazeera that Israeli tanks could be seen maneuvering around the compound.
"You can see them moving around and firing," Abdallah said. "Women and children are terrified. There are constant sounds of explosions and gunfire."
The World Health Organization (WHO) said it is "appalled" by the attacks on Indonesian Hospital.
"Health workers and civilians should never have to be exposed to such horror, and especially while inside a hospital," the agency said in a statement.
"There have been multiple and ongoing attacks on health facilities in the last six weeks, that have resulted in forced mass evacuations from hospitals, and multiple fatalities and casualties among patients, their companions, and those who had sought refuge in hospitals," WHO continued.
"The Indonesian Hospital had already reportedly sustained damages due to at least five attacks since October 7," the organization added, referring to the date when Israel began bombarding Gaza by air, land, and sea following the Hamas-led attacks on southern Israel that killed around 1,200 people, with another 240 or so taken hostage.
"The world cannot stand silent while these hospitals, which should be safe havens, are transformed into scenes of death, devastation, and despair."
"WHO has recorded 335 attacks on healthcare in the occupied Palestinian territory since October 7, including 164 attacks in the Gaza Strip and 171 attacks in the West Bank," WHO noted. "There were also 33 attacks on healthcare in Israel during the violent events of October 7."
"The world cannot stand silent while these hospitals, which should be safe havens, are transformed into scenes of death, devastation, and despair," the agency added.
On Tuesday, Médecins Sans Frontières (MSF), or Doctors Without Borders, said two of its physicians—Drs. Mahmoud Abu Nujaila and Ahmad Al Sahar—were killed along with another doctor, Ziad Al-Tatari, in a strike on al-Awda Hospital in northern Gaza.
"We condemn this strike in the strongest terms, and call yet again for the respect and protection of medical facilities, staff, and patients," MSF said in a statement.
Israeli officials claim Hamas and other Palestinian militants are using hospitals as headquarters. However, Israel has provided no proof to support its allegations, which Palestinian and international medical professionals working in the facilities resoundingly refute.

According to Palestine's WAFANews Agency, at least 205 Palestinian medical workers have been killed by Israeli bombs and bullets during the war.

The WHO said Tuesday that one of its employees, Dima Alhaj, was killed in an Israeli attack on Gaza alongside her husband, their 6-month-old baby, and two of the woman's brothers.
Israel and Hamas appeared close to reaching a Qatar-brokered multiday cease-fire agreement on Tuesday, with hard-right holdouts in Israel's government—most notably, National Security Minister Itamar Ben-Gvir and Finance Minister Bezalel Smotrich—opposed to the deal, which would reportedly involve the release of around 50 civilian hostages held by Hamas and of Palestinian women and children imprisoned by Israel.
Gaza officials said Tuesday that the death toll from Israel's 46-day onslaught rose to at least 14,128, including over 3,900 women and 5,800 children. Tens of thousands more Palestinians have been wounded, nearly 1.7 million others have been forcibly displaced, and around half of all homes in the embattled strip have been damaged or destroyed.
News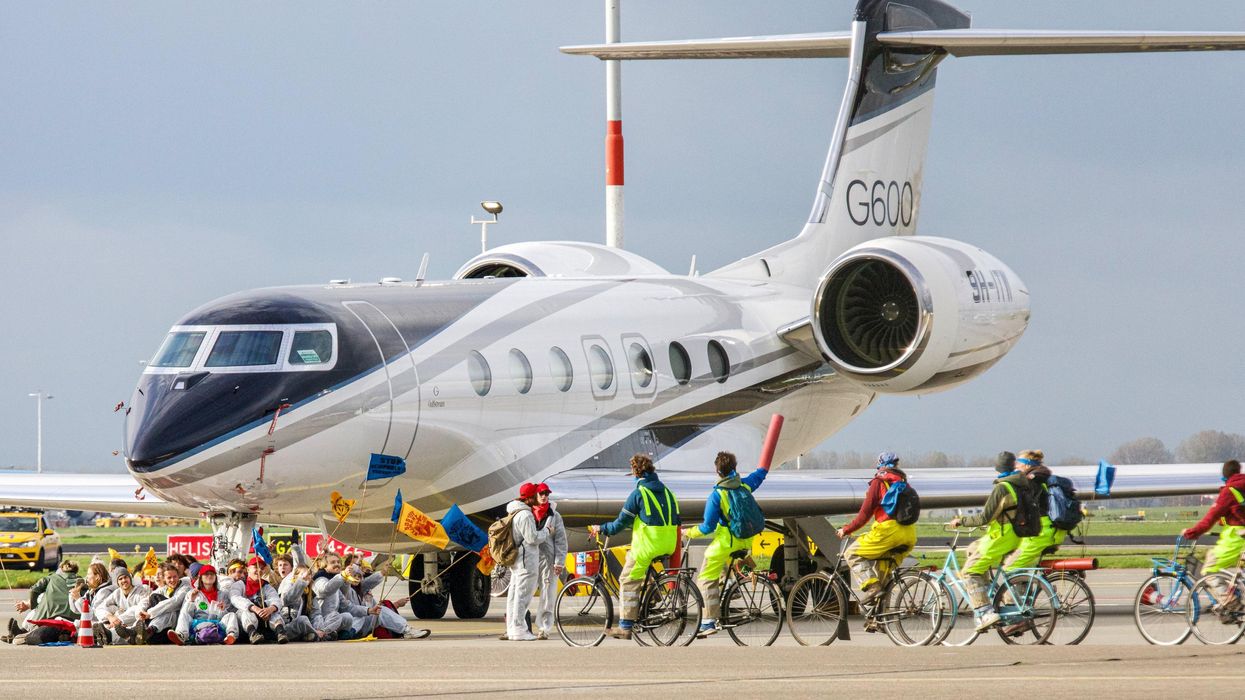 The planes tracked by a new Guardian report belong to celebrities, billionaires, CEOs, and their families, among them the Murdoch family, Taylor Swift, and the Rolling Stones.
The private jets of just 200 rich and famous individuals or groups released around 415,518 metric tons of climate-heating carbon dioxide between January 2022 and September 22, 2023, The Guardian revealed Tuesday.
That's equal to the emissions burned by nearly 40,000 British residents in all aspects of their lives, the newspaper calculated.
The planes tracked by the outlet belong to celebrities, billionaires, CEOs, and their families, among them the Murdoch family, Taylor Swift, and the Rolling Stones. All told, the high-flyers made a total of 44,739 trips during the study period for a combined 11 years in the air.
"Pollution for wasteful luxury has to be the first to go, we need a ban on private jets."
Notable emitters included the Blavatnik family, the Murdoch family, and Eric Schmidt, whose flights during the 21-month study period released more than 7,500 metric tons of carbon dioxide equivalent. The Sawiris family emitted around 7,500 metric tons, and Lorenzo Fertitta more than 5,000.
The Rolling Stones' Boeing 767 wide-body aircraft released around 5,046 metric tons of carbon dioxide, which is equal to 1,763 economy flights from London to New York. The 39 jets owned by 30 Russian oligarchs released 30,701 metric tons of carbon dioxide.
For comparison, average per capita emissions were 14.44 metric tons in the U.S. for 2022, 13.52 metric tons in Russia in 2021, and 5.2 metric tons in the U.K. the same year.
Taylor Swift was the only celebrity or billionaire in the report whose team responded to a request for comment.
"Before the tour kicked off in March of 2023, Taylor bought more than double the carbon credits needed to offset all tour travel," a spokesperson for the pop star told The Guardian.
Swift appears to have responded to public pressure to reduce private jet use. Her plane averaged 19 flights a month between January and August 2022, when she received criticism after sustainability firm Yard named her the celebrity who used her plane the most. After that point, the plane's average monthly flights dropped to two.
The Guardian's investigation was based on private aircraft registrations compiled by TheAirTraffic Database and flight records from OpenSky. Reporters calculated flight emissions based on model information found in the ADSBExchange Aircraft database and Planespotters.net and emissions per hour per model found in the Conklin & De Decker's CO2 calculator and the Eurocontrol emission calculator.
The report was released the day after an Oxfam study found that the world's richest 1% emitted the same amount as its poorest two-thirds. Given their high carbon footprint and luxury status, private jets have emerged as a rallying point for the climate justice movement.
"It's hugely unfair that rich people can wreck the climate this way, in just one flight polluting more than driving a car 23,000 kilometers," Greenpeace E.U. transport campaigner Thomas Gelin said in March. "Pollution for wasteful luxury has to be the first to go, we need a ban on private jets."
In the U.S., a group of climate campaigners is mobilizing to stop the expansion of Massachusetts' Hanscom Field, the largest private jet field in New England. An October report found that flights from that field between January 1, 2022, and July 15, 2023, released a total of 106,676 tons of carbon emissions.
"While plenty of business is no doubt discussed over golf at Aberdeen, Scotland, or at bird hunting reserves in Argentina (destinations we also documented), this is probably the least defensible form of luxury travel on a warming planet when a Zoom call would often do," Chuck Collins, who co-authored the Hanscom report, wrote for Fortune on November 14.
News