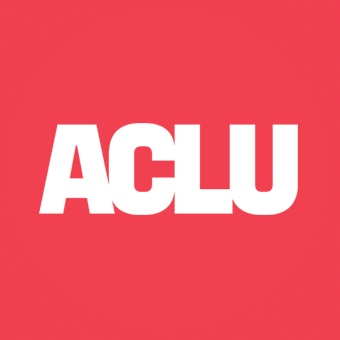 ACLU Appeals Dismissal of Lawsuit Against Wal-Mart for Firing Cancer Patient Who Legally Used Medical Marijuana
Michigan State Law Passed in 2008 Protects Employees Who Use Marijuana to Treat Debilitating Diseases
CINCINNATI
The American Civil Liberties Union today urged a federal appeals court to reinstate its lawsuit against Wal-Mart and the manager of its Battle Creek store for wrongfully firing an employee for using medical marijuana in accordance with state law. The patient, Joseph Casias, used marijuana to treat the painful symptoms of an inoperable brain tumor and cancer.
The Michigan Medical Marihuana Act, passed by the state's voters in 2008, protects medical marijuana patients from "disciplinary action by a business." But in a 20-page ruling issued in February, U.S. District Court Judge Robert J. Jonker dismissed the ACLU's lawsuit after deciding the law does not mandate that businesses like Wal-Mart make accommodations for employees like Casias who are medical marijuana patients. The ACLU and ACLU of Michigan, in partnership with the law firm Targowski & Grow PLLC, filed a lawsuit last year against Wal-Mart after Casias, the Battle Creek, Michigan Wal-Mart's 2008 Associate of the Year, was fired from his job at the store for testing positive for marijuana despite being legally registered to use the drug. In accordance with the law, Casias never ingested marijuana while at work and never worked while under the influence of marijuana.
"The lower court's ruling failed to uphold the will of Michigan voters, who clearly wanted to protect medical marijuana and facilitate its use by very sick people like Joseph Casias," said Scott Michelman, staff attorney with the ACLU Criminal Law Reform Project. "No one should ever have to choose between adequate pain relief and gainful employment, but Wal-Mart forced Joseph to pay a stiff and unfair price for using a medicine that has had a life-changing positive effect for him."
In its brief filed today with the U.S. Court of Appeals for the Sixth Circuit, the ACLU argued its case should be reinstated, both because the case belonged in Michigan state court where the ACLU originally filed it, and because the lower court ignored the text of the state's medical marijuana law prohibiting companies like Wal-Mart from firing patients like Casias who use marijuana in accordance with state law.
"It is imperative that the people of Michigan, through our own state court system, be allowed to interpret Michigan law," said Daniel Grow of Targowski and Grow PLLC. "A Michigan jury deserves the opportunity to hear Joseph's claim, so this case should be sent back to a state court where we filed it."
Casias has suffered for more than a decade from sinus cancer and a brain tumor in the back of his head and neck that was the size of a softball when it was first diagnosed. His condition has required extensive treatment and chemotherapy, interferes with his ability to speak and is a source of severe and constant pain. Nonetheless, he had been successfully employed for more than five years by Wal-Mart in Battle Creek, where he began as an entry-level grocery stocker in 2004 and worked his way up to inventory control manager.
The pain medication Casias' oncologist had prescribed for him prior to the passage of the state's medical marijuana law provided only minimal relief and as a side effect caused Casias to suffer from severe nausea. After the law was enacted, his oncologist recommended that Casias try marijuana as permitted by state law, and so Casias obtained the appropriate registry card from the Michigan Department of Community Health. The results were immediate and profound: his pain decreased dramatically, the new medicine did not induce nausea and Casias was able to gain back some of the weight he had lost during treatment.
"This appeal is an important development for patients who use marijuana as prescribed by a doctor in the 15 states and the District of Columbia where laws provide protections for them," said Kary L. Moss, Executive Director of the ACLU of Michigan. "Patients across the country who rely on this medication for pain relief are watching this case."
Additional information about the case, including a copy of today's brief, is available online at: www.aclu.org/drug-law-reform/casias-v-wal-mart
The American Civil Liberties Union was founded in 1920 and is our nation's guardian of liberty. The ACLU works in the courts, legislatures and communities to defend and preserve the individual rights and liberties guaranteed to all people in this country by the Constitution and laws of the United States.
(212) 549-2666
LATEST NEWS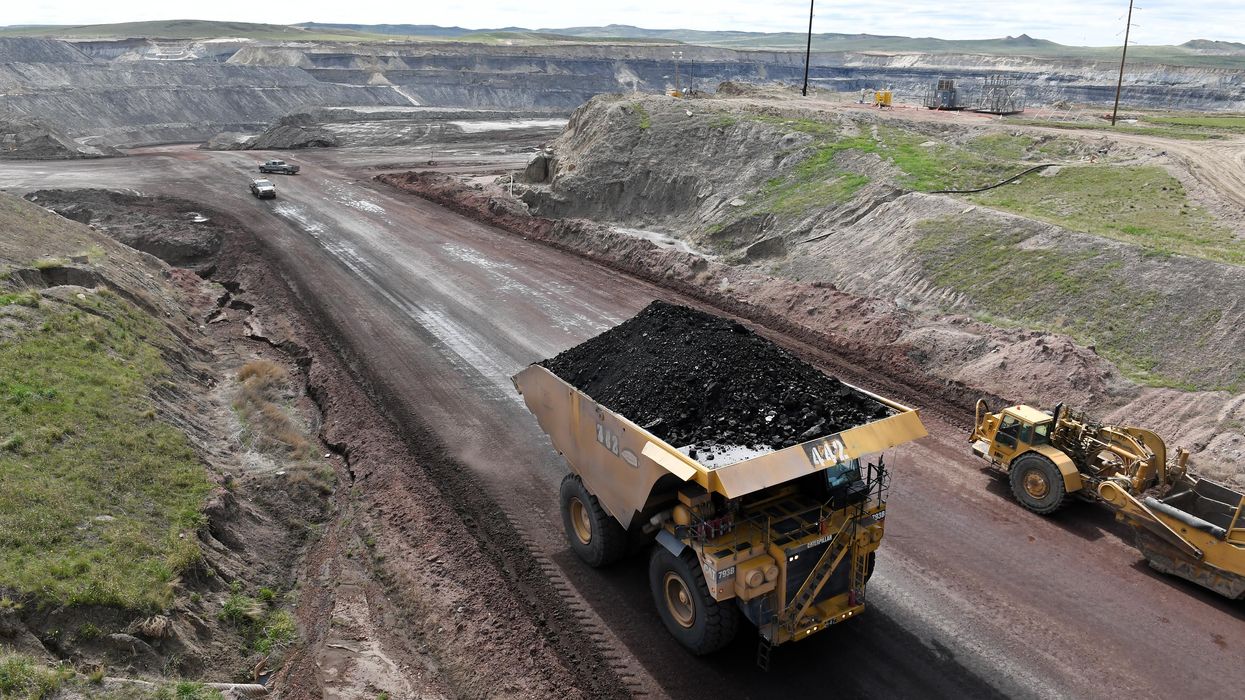 "The choices of these companies reflect a clear double standard in who is expected to pay the price for climate change," said one advocate.
Reports have mounted in recent months about U.S. insurers announcing plans to end new insurance policies for homeowners in certain parts of the country, including California, where residential areas are increasingly vulnerable to wildfires, and Florida, where residents face the threat of hurricane and flood damage.
But a new report by consumer watchdog Public Citizen and advocacy group Insure Our Future shows that insurance companies' newfound awareness of the climate emergency hasn't stopped them from continuing to underwrite the top source of the carbon dioxide emissions that are heating the planet, causing sea levels to rise, and fueling extreme weather events.

Insurance companies including Liberty Mutual, Swiss Re, American International Group (AIG), Lloyd's of London, and Zurich are among 16 firms that are still underwriting the top 25 coal mines in the United States.
The companies' support has allowed the pollution-causing industry to produce 60% of the country's current coal output, according to Public Citizen.
Last year, the top five insurers listed above issued coverage for the production of more than 245 million tons of coal, representing at least 41% of the coal produced.
AIG was the worst offender last year, underwriting at least 28% of coal production, and companies including Swiss Re and Liberty Mutual blatantly violated their own stated policies on coal.
"The hypocrisy is staggering," said Public Citizen.
The companies' continued support for coal—combined with their abandonment of homeowners—amounts to "greenwashing," said Carly Fabian, an insurance policy advocate for Public Citizen.
"While insurance companies claim to have seen the light on climate change when they abandon homeowners, that same concern appears to be nowhere in sight when they chose to insure coal mines," said Fabian. "Insurance providers seem to be greenwashing their images by claiming to restrict coal, while undermining their policyholders and their own stated policies to continue underwriting one of the dirtiest forms of energy."
Public Citizen's analysis found that Liberty Mutual has violated its own coal policy, which states that it will "no longer accept underwriting risk for companies where more than 25% of their exposure arises from the extraction and/or production of energy from thermal coal" and that it will phase out coverage for companies with such exposure by 2023.
Liberty Mutual underwrote Signal Peak Energy's Bull Mountain Mine No. 1 in 2022; while the company's policy does not define "exposure," the project likely violates the insurer's stated threshold because 90% of Signal Peak's revenue is derived from coal.
While it continues to underwrite coal production, Liberty Mutual announced in July that it would stop issuing business owners policies in California.
Swiss Re also violated its own policy, by underwriting a coal mine operated by Buckskin Mining Company, which generates 90% of its revenue from the coal business and produces nearly 10 million metric tons of coal each year.
The insurer has stated that it will phase out thermal coal production coverage by 2030 in Organization for Economic Cooperation and Development (OECD) countries and by 2040 worldwide, and that until then it will "exclude re/insurance support to companies or projects that have more than 30% of exposure to thermal coal."
Fabian said that "the choices of these companies reflect a clear double standard in who is expected to pay the price for climate change. The insurance industry needs to muster the courage to cut their coverage for fossil fuels before it becomes too risky to insure the rest of us."x

Zurich's coal policy contains a loophole, said Public Citizen, that has allowed the company to insure thermal coal mines even though in 2019 it said it would "no longer underwrite or invest in companies that generate more than 30% of their revenue from mining thermal coal or produce more than 20 million tons of thermal coal per year."

The group said open records requests for insurance certificates showed that:
From 2020 until November 2022, Zurich insured two subsidiaries of Alpha Metallurgical Resources—Alpha Coal West and the third-largest U.S. coal producer, Alpha Natural Resources—for operation of the Eagle Butte and Belle Ayr mines. While the mines are among the top producers of U.S. thermal coal, Zurich is not violating its coal policy because it applies only to companies involved in the thermal coal business and in this case, the companies involved appear to conduct most of their business in metallurgical coal, not thermal coal. This underscores the need for Zurich, and all insurers, to explicitly address metallurgical coal in underwriting restrictions, since metallurgical coal, which is currently the basis for making steel, is a significant source of carbon emissions and low-carbon alternatives exist.
"We expected some companies to be underwriting coal projects, but the data underscore the loopholes in their policies and disregard for public commitments across the insurance industry," said Fabian.
Meanwhile, Zurich's affiliate, Farmers Insurance Group, is among the companies that have pulled out of Florida due to climate risks.
Clara Vondrich, senior policy counsel at Public Citizen, said U.S. insurers are "double-dipping in the worst way."
The report called on all insurance firms to:
Immediately cease insuring new and expanded coal mines or coal power infrastructure projects;
Immediately stop insuring any new clients from the coal sector which are not aligned with a credible 1.5ºC pathway, and stop offering any insurance services which support the expansion of coal production with existing clients;
Phase out all insurance services for existing coal sector clients which are not aligned with a credible 1.5°C pathway by the end of 2024; and
Immediately divest all assets, including assets managed for third parties, from coal companies that are not aligned with a credible 1.5ºC pathway.
The report was released days before Insure Our Future and other groups are set to rally at the Insurance Leadership Forum in Colorado Springs, where advocates will demand companies "insure our communities instead of oil, gas, and coal."
"On October 1, insurance executives will be gathering in Colorado Springs to play golf, drink cocktails, and discuss 'insurance leadership,'" said Rainforest Action Network. "Join us as we rally to demand real climate leadership!"
News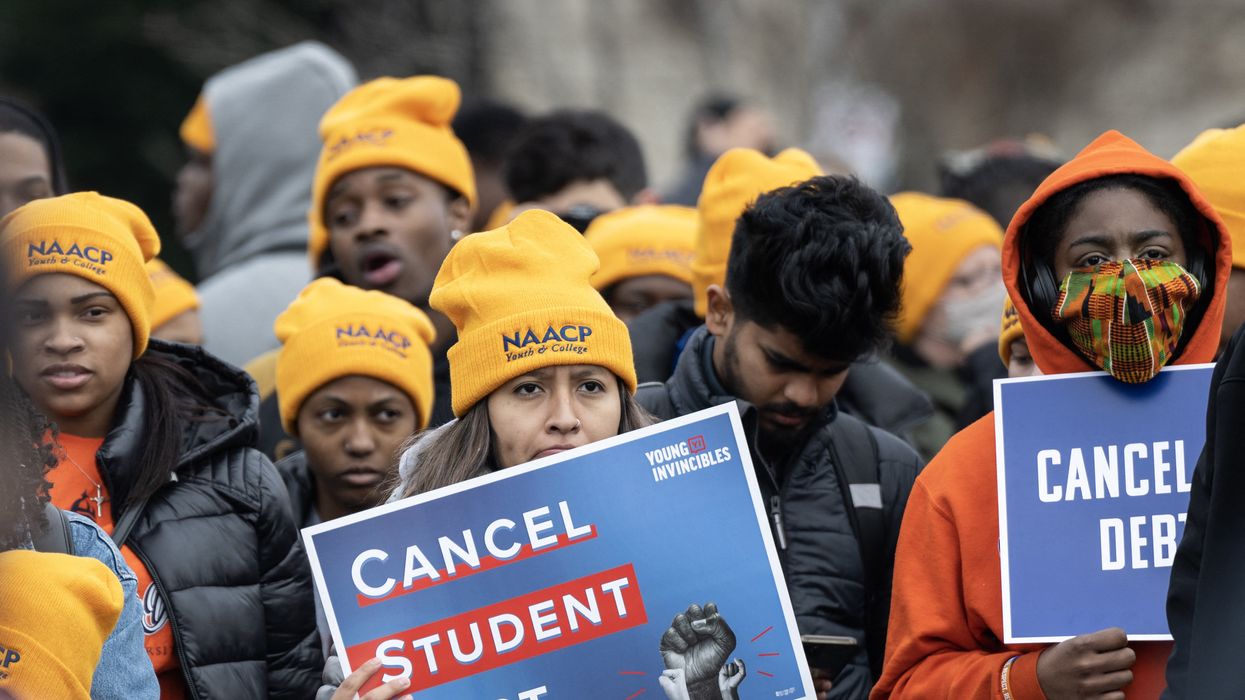 "Forty million people are being thrown to the wolves," warned one advocacy group.
Despite advocates' pleas for the Biden administration to slam on the brakes, the U.S. Education Department confirmed Thursday that student loan payments will resume for the first time in three-and-a-half years on October 1—even if the federal government shuts down.
An unnamed Education Department spokesperson toldPolitico that payments will be due starting in October "even if Republicans needlessly shut down the government." Student loan debt began accruing interest again earlier this month after the coronavirus pandemic-related pause.
The official's comment came hours after the Student Borrower Protection Center (SBPC) issued a statement imploring the Biden administration to halt the planned restart of student loan payments.
"If House Republicans shut down the federal government, the Biden administration must shut down the student loan system too," said SBPC executive director Mike Pierce. "As it stands, the administration plans to keep paying the student loan companies botching this effort to restart payments while furloughing the federal employees who are supposed to help borrowers when things don't go according to plan."
"This will result in more borrowers receiving inaccurate and incorrect information with less oversight and fewer resources to fix problems," Pierce added. "Forty million people are being thrown to the wolves. It will be a catastrophe."
"To throw borrowers back into repayment with bad-faith loan servicers and an understaffed Department of Education is a recipe for disaster."
Rep. Ayanna Pressley (D-Mass.), a longtime champion of student debt cancellation, also urged the Biden administration to keep the repayment pause in place if the government shuts down this coming Sunday.
"The student loan payment pause has been a lifeline for borrowers across the nation," said Pressley. "As we stare down an impending Republican government shutdown, it is abundantly clear that student loan payments should not resume October 1."
Pressley continued:

To throw borrowers back into repayment with bad-faith loan servicers and an understaffed Department of Education is a recipe for disaster and would deeply undermine the progress we have made to advance economic justice for student loan borrowers. While the administration works diligently to push back on the corrupt Supreme Court's obstruction of President [Joe] Biden's historic cancellation plan, we should take immediate steps to prevent borrowers from entering into repayment at a time when the infrastructure is not there and bad actors will seize on the lack of government capacity caused by Republican dysfunction.

This Republican government shutdown stands to harm families across the nation, many who were just regaining their financial footing for the first time since the Covid-19 crisis. The administration should absolutely pause student loan payments and interest accrual in light of these stark realities.

The Education Department said earlier this year that it would lift the student loan repayment pause shortly after the Supreme Court's ruling on Biden's debt cancellation plan. That timeline was cemented by a debt ceiling agreement that the White House negotiated with House Republicans.

Advocates have been warning for months that a resumption of payments without broad-based relief for borrowers would be both unjust and unwise. The Consumer Financial Protection Bureau estimated in June that millions of borrowers "have risk factors that suggest they could struggle when scheduled payments resume," including "pre-pandemic payment assistance on student loans" and "delinquencies on other credit products since the start of the pandemic."
Additionally, analysts believe resuming student loan payments will yank $70 billion out of the U.S. economy each year.

In an effort to mitigate some of the looming financial pain, the Education Department has implemented a three-month grace period for missed payments once the pause is lifted in October and launched a new income-driven repayment plan known as SAVE, which is aimed at lowering borrowers' monthly payments.
But advocates and borrowers have already reported significant chaos in the weeks leading up to the end of the freeze, a signal that the resumption of payments in the coming days is likely to be nightmarish.
The American Prospect's David Dayen reported in late August that the "transfers of millions of student loan accounts to new private loan servicers, which have slashed staff and need to ramp up quickly, have led to what some borrowers believe are miscalculations and mistakes."
"One borrower, Melanie Neff, a pediatric palliative care social worker, said her payment under SAVE more than tripled, from $300 to $1,000 a month, even though her income hasn't significantly increased since 2019," Dayen wrote. "Some servicers even sent borrowers statements saying their debts were paid off in full based on the Biden administration's debt cancellation program, only to have to revoke that when the Supreme Court struck it down. Since that program was stopped almost immediately by court injunction, there's no way that servicers should have sent out payoff statements, which just added to the confusion."
The Debt Collective noted in a social media post on Thursday that "the Biden administration is already attempting to do the administratively impossible—resume a 45 million person portfolio of student debt payments after a three-year pause with broken servicers."
"Doing it during a government shutdown will only exacerbate problems," the group wrote. "This is bad bad bad."
The Biden administration is currently pursuing an alternative student debt cancellation plan using the Higher Education Act of 1965, but it has chosen to undergo a time-consuming rulemaking process instead of wiping out debt immediately—which advocates and experts say he has the authority to do.

News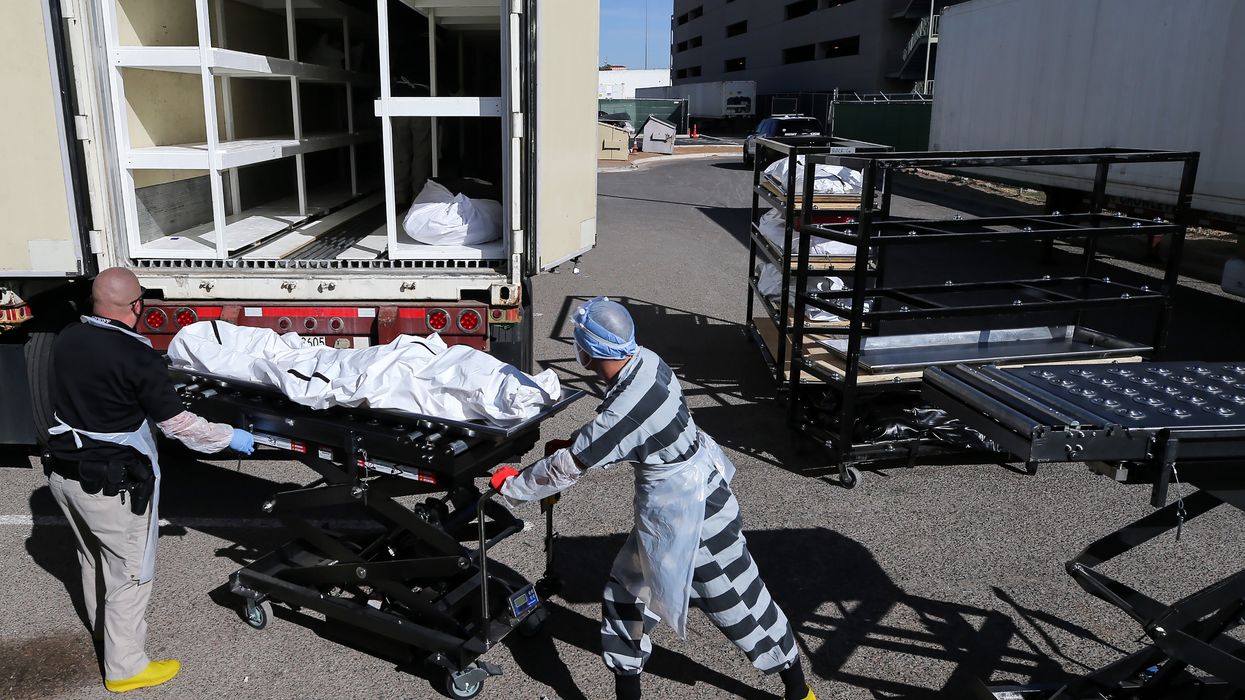 One of the U.N. experts who compiled the report after visiting the U.S. earlier this year said its findings "point to the critical need for comprehensive reform."

A report published Thursday by United Nations human rights experts condemns systemic racism in the U.S. criminal justice system and policing, while describing "appalling" prison conditions and decrying forced unpaid convict labor as a "contemporary form of slavery."
The U.N. International Independent Expert Mechanism to Advance Racial Justice and Equality in the Context of Law Enforcement report follows a visit to the U.S. earlier this year by a team of human rights experts. The U.N. officials collected testimonies from 133 affected people, visited five prisons and jails, and held meetings with advocacy groups and numerous government and police officials in Atlanta, Chicago, Los Angeles, Minneapolis, New York City, and Washington, D.C.
"In all the cities we went to, we heard dozens of heartbreaking testimonies on how victims do not get justice or redress. This is not new, and it's unacceptable," Tracie Keesee, an expert member of the mechanism, said in a statement. "This is a systemic issue that calls for a systemic response."
"Law enforcement and criminal justice institutions in the United States share and reproduce values, attitudes, and stereotypes of U.S. society and institutions. These must be reformed."
The experts found that "racism in the U.S.—a legacy of slavery, the slave trade, and 100 years of legalized apartheid that followed slavery's abolition—continues to exist today in the form of racial profiling, police killings, and many other human rights violations."
The report cites instances of prisoners locked away in solitary confinement—widely recognized as a form of psychological torture—for a decade or longer, children sentenced to life in prison, and pregnant inmates chained during childbirth, "who due to the chaining, lost their babies."
"All these practices—including shackling pregnant women before, during, and after labor—are an affront to human dignity and the best interest of the child," the report states. "Instruments of restraint shall never be used on women during labor, during childbirth, and immediately after childbirth, in accordance with the U.N. Standard Minimum Rules for the Treatment of Prisoners," also known as the Nelson Mandela Rules.
The experts were "astonished" that forced unpaid or poorly paid convict labor "exists to this day in the United States, constituting a contemporary form of slavery." The 13th Amendment to the U.S. Constitution outlawed slavery and involuntary servitude, "except as punishment for crime," and congressional efforts to close the loophole have been unsuccessful.
The report notes:
The delegation received shocking information over "plantation-style" prisons in Southern states, in which contemporary forms of slavery are reported. Commonly known as "Angola," the Louisiana State Penitentiary occupies an 18,000-acre former slave plantation, larger than the island of Manhattan. The plantation prison soil worked by incarcerated labor today is the same soil worked by slaves before the Civil War. Angola currently houses nearly 5,000 adult men, the majority of them Black men, forced to labor in the fields (even picking cotton) under the watch of white "freemen" on horseback, in conditions very similar to those of 150 years ago. The mechanism received direct testimonies from Angola victims and allegations of children being transferred to this prison, held in solitary confinement, and in general under appalling detention conditions.
Earlier this month, a federal judge ordered Louisiana officials to stop imprisoning children on Angola's former death row by September 15.

Addressing the more than 1,000 people killed annually by U.S. law enforcement officers—only 1% of which result in the killer being criminally charged—the report warns that such killings will continue unless police use of force regulations are aligned with international standards.
"We reject the 'bad apple' theory," There is strong evidence suggesting that the abusive behavior of some individual police officers is part of a broader and menacing pattern," said mechanism expert member Juan Méndez. "Law enforcement and criminal justice institutions in the United States share and reproduce values, attitudes, and stereotypes of U.S. society and institutions. These must be reformed."
To that end, the report contains a lengthy list of over 30 recommendations, including:
Fully implementing the United Nations High Commissioner for Human Rights' four-point agenda for transformative change for racial justice and equality;
Tackling poverty and lack of quality education, employment opportunities, healthcare, adequate housing, and other human rights violations as a way to combat systemic racism;
Adopting a human rights-based approach to policing and a national strategy—including legislation—to reduce killings by law enforcement;
Eliminating all racial profiling;
Creating an effective nationwide record system of individuals under investigation or found criminally or administrative guilty for police misconduct;
Removing police from schools in favor of alternatives, including counselors, social workers, nurses, and mental health professionals;
Adopting an immigration system with a human rights-based approach and addressing systemic racism within the ranks of immigration authorities;
Ending the "War on Drugs" and adopting a human rights-based approach to drug policies, in part by decriminalizing low-level drug offenses;
Reducing and strictly regulating militarized police and "no knock" entries;
Abolishing the death penalty, "death by incarceration" sentencing, and the charging of children as adults;
Exercising clemency powers in favor of condemned prisoners, people serving sentences beyond life expectancy, and those who were convicted for confessions under torture—especially children;
Strictly regulating solitary confinement and other forms of restrictions in detention in accordance with international standards;
Eliminating free or poorly paid prison labor; and
Reducing former felon disenfranchisement.
"Our findings," said Méndez, "point to the critical need for comprehensive reform."
News
Independent, nonprofit journalism needs your help.
Please Pitch In
Today!