Kucinich: U.S. Foreign Policy Should Be Consistent and Honest
WASHINGTON
Congressman Dennis Kucinich (D-OH) today released the following response to near back-to-back reports that the United States has played a much larger role in the so-called Arab Spring revolutions in the Middle East, including direct support for the opposition in Syria, than previously known.
"The United States has no right to interfere in the internal affairs of any other nation, just as no other nation has the right to interfere in the internal affairs of the United States," said Kucinich.
Today, we learned that the United States was financing the political opposition in Syria at the same time that the Administration was pursuing a policy of engagement with the Syrian government, sending an ambassador to Syria for the first time in six years.
"If we don't have integrity in our dealings with other countries, there is no reason for anyone to believe anything the U.S. government will say," said Kucinich. "Reforms in Syria and other countries may be necessary but must come from within. Outside interference runs the risk of precipitating violence, inviting retaliation and even more violence.
"We foment further instability when we selectively pursue democracy-building agendas. Our silence in the face of increasing state-sponsored violence by our allies in the region against peaceful protestors raises serious questions about our efforts in the Arab and Muslim world.
"Our destructive and inconsistent foreign policy is contributing to war of all against all. At a time when our nation continues to experience significant economic hardship, we continue to drive the Pentagon's budget through the roof and continue trillions in long-term spending for war.
"It seems that the United States has plenty of time to impose itself onto the business of other nations, but little time to take care of things here at home. We invest in war instead of investing in Americans by helping with job creation, universal health care, clean energy, and early childhood education.
"The United States will continue to be on the wrong side of history when it continues to support anti-democratic regimes in the Arab world and support democratic movements only when they further our own interests," said Kucinich. "It seems our only solution to this self-created debacle is more money for arms and more money for war."
Dennis Kucinich is an American politician. A U.S. Representative from Ohio from 1997 to 2013, he was also a candidate for the Democratic nomination for president of the United States in 2004 and 2008.
LATEST NEWS
The legislation will end "the failed experiment of gutting Michigan workers' rights," said one lawmaker.
Just over a decade after union members and labor advocates from across the United States rallied at the Michigan State Capitol to protest state Republicans' passage of a so-called "right-to-work" law, many of the same people were present in Lansing on Tuesday as the Democratic-led state Senate voted to end what one lawmaker
called
"the failed experiment of gutting Michigan workers' rights."
Lawmakers voted along party lines, 20-17, in favor of a package of bills that will repeal the right-to-work law—which barred unions from requiring that all workers in unionized jobs pay dues—and restore a "prevailing wage" requirement that construction contractors pay union wages and and benefits on state-funded projects.
Democratic Gov. Gretchen Whitmer indicated on Monday that she intends to sign the bills, which will make Michigan the first state to roll back right-to-work laws in nearly six decades.
Since Republicans pushed the passage of the right-to-work law in December 2012, union membership in Michigan has fallen by about 40,000, according to the U.S. Bureau of Labor Statistics.
State Sen. Darrin Camilleri (D-4), the lead sponsor of the bills to repeal the right-to-work law, said on the Senate floor Tuesday that the 2012 law "systematically made it harder for unions to do their job" and "created an environment where unions were put at a disadvantage when it came to negotiating for better pay and benefits across the board."
"People came to Michigan because of the promise of a union," Camilleri tweeted after the bills passed. "My family included. Unions fought for good pay and benefits so that all workers get ahead. Today we restored that promise and said to all workers that Michigan has their back."
Camilleri added that lawmakers could hear union members and supporters "loud and clear" as they cheered the passage of the bills.
"This is what happens when we elect union members to halls of power," said Liz Shuler, president of the AFL-CIO, the largest federation of unions in the U.S. "We fight and we WIN for working people. Right to work, hit the curb!"

According toThe Detroit News, two of the three bills passed on Tuesday will have to go back to the state House for approval before reaching Whitmer's desk. The bills include $1 million in appropriations to "inform employers, employees, and labor organizations about changes to their rights and responsibilities."
The appropriations made the legislation referendum-proof, and opponents would need to gather enough support to propose a constitutional amendment restoring right-to-work on the ballot in 2024. Under state law, they would need to collect more than 446,000 signatures to propose the amendment.
According to the National Conference of State Legislatures, 26 other states have right-to-work policies in place.

"Michigan is now on its way to becoming the first state to repeal 'right-to-work' legislation in nearly 60 years," said former Kentucky state Rep. Charles Booker. "Let's make sure they aren't the last."
News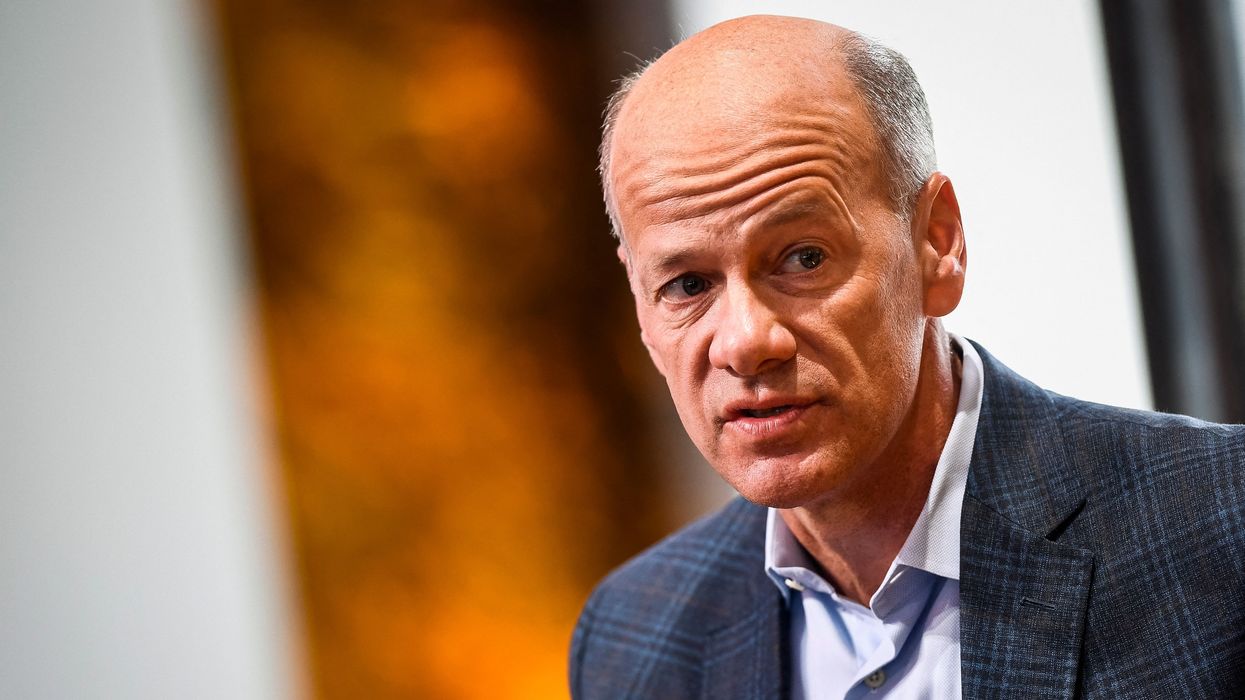 "SVB officials showed a pattern of risky and questionable decision-making that may have contributed to the bank's instability," wrote Sens. Elizabeth Warren and Richard Blumenthal.
Sens. Elizabeth Warren and Richard Blumenthal demanded Tuesday that the Biden Justice Department and Securities and Exchange Commission investigate whether Silicon Valley Bank executives "violated civil or criminal law" in the lead-up to the firm's collapse, which sent shockwaves through the entire U.S. financial system.
"This was a colossal failure in asset liability risk management," the Democratic senators in a letter to SEC Chairman Gary Gensler and Attorney General Merrick Garland. The letter was first reported by CNBC on Wednesday morning.
The lawmakers pointed to recent reporting detailing how "SVB officials showed a pattern of risky and questionable decision making that may have contributed to the bank's instability and collapse and the ripple effects being felt throughout the economy."
Warren and Blumenthal asked the Biden administration to launch a probe to determine "whether senior bank executives and other key officials involved in the collapse met their statutory and regulatory responsibilities or violated civil or criminal law."
"One of the enduring failures in the aftermath of the 2008 financial crisis was the inability or unwillingness of DOJ and bank regulators to hold bank executives accountable for behavior that destroyed millions of lives and cost trillions of dollars of wealth," they wrote. "The nation's bank regulators cannot make the same mistake twice."
The fallout from SVB's collapse has brought intense scrutiny to the venture capital lender's ill-considered investment moves as well as the conduct of its top executives, who sold tens of millions of dollars worth of stock in the two years leading up to the bank's failure last week—raising questions about possible insider trading.
Greg Becker, SVB's former CEO, sold millions of dollars of shares as recently as late last month.
The bank's leadership has also come under fire for dishing out bonuses hours before federal regulators took over on Friday.
"You have nobody to blame for the failure at your bank but yourself and your fellow executives."
In a letter to Becker earlier this week, Warren—a member of the Senate Banking Committee—slammed SVB for lobbying against bank regulations in recent years and argued that "you have nobody to blame for the failure at your bank but yourself and your fellow executives."
"SVB failed—while its chief risk officer position sat vacant for eight months as its financial standing deteriorated—because it failed to address two key risks: concentration in your client base, and rising interest rates," the Massachusetts Democrat wrote. "This is a failure of 'Banking 101'—what one analyst called 'sheer incompetence.' Had SVB been subject to Dodd-Frank rules undone by [a 2018 GOP law], the bank would have been required to maintain stronger liquidity and capital requirements and conduct regular stress tests that would have required SVB to shore up its business to weather the type of stress it experienced last week."
"You lobbied for weaker rules, got what you wanted, and used this opportunity to abdicate your basic responsibilities to your clients and the public—facilitating a near-economic disaster," Warren added.
The Wall Street Journalreported Tuesday that the DOJ and SEC have both opened investigations into the SVB failure, which was the second-largest bank collapse in U.S. history.
"The separate probes are in their preliminary phases and may not lead to charges or allegations of wrongdoing," the Journalnoted. "The investigations are... examining stock sales that SVB Financial's officers made days before the bank failed."
News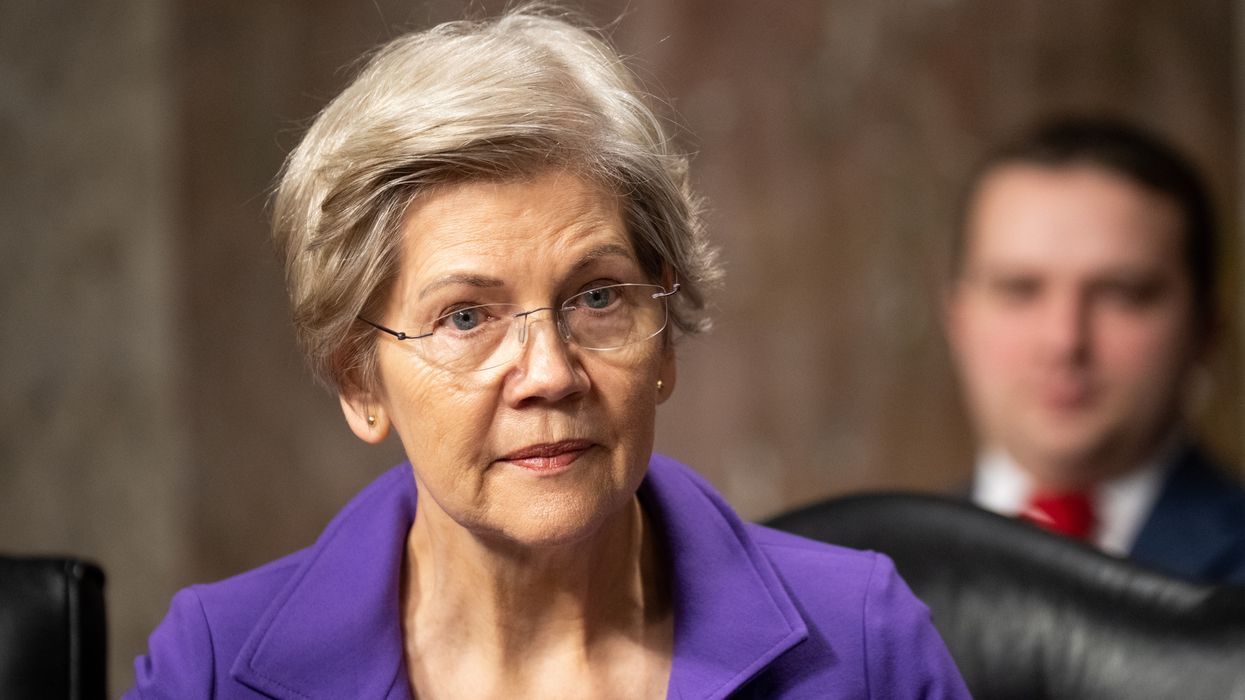 Sen. Elizabeth Warren said a 2018 law backed by Republicans and dozens of Democrats allowed banks to "load up on risk to boost their profits," endangering "our entire economy."
Sen. Elizabeth Warren and Rep. Katie Porter unveiled legislation Tuesday to repeal the section of a Trump-era law that weakened regulations for banks with between $50 billion to $250 billion in assets, a move that experts and lawmakers have blamed for the collapse of Silicon Valley Bank and the resulting turmoil.
"In 2018, I rang the alarm bell about what would happen if Congress rolled back critical Dodd-Frank protections: banks would load up on risk to boost their profits and collapse, threatening our entire economy—and that is precisely what happened," Warren (D-Mass.) said in a statement. "President Biden called on Congress to strengthen the rules for banks, and I'm proposing legislation to do just that by repealing the core of Trump's bank law."
That law, authored by Sen. Mike Crapo (R-Idaho) and backed by dozens of Democrats, raised the asset threshold for more stringent regulations to $250 billion or higher, exempting firms such as Silicon Valley Bank (SVB)—a major venture capital lender that controlled around $212 billion—from enhanced liquidity requirements and more frequent federal stress tests imposed on banks considered "systemically important."
SVB's leadership specifically lobbied for the higher threshold, insisting the tougher regulations were unnecessary even as experts and lawmakers raised concerns that gutting them would increase the risk of bank failures and cascading effects on the financial system.

"Americans deserve to know their money is safe when they deposit it in the bank," Porter (D-Calif.) said Tuesday. "In 2018, politicians rolled back critical regulations protecting Americans' deposits—ignoring warnings from financial experts in favor of Wall Street special interests. I'm calling on Congress to restore commonsense guardrails that keep corporate greed in check and restore confidence in our financial system."
Titled the Secure Viable Banking (SVB) Act, Warren and Porter's legislation would place more stringent regulations on institutions like Silicon Valley Bank by reviving safeguards for firms with between $50 billion and $250 billion in assets.
Facing backlash from Warren and others for glaring oversight failures, the Federal Reserve is considering stronger regulations for banks with between $100 billion and $250 billion in assets, Reutersreported late Tuesday.
Warren and Porter introduced their bill with the support of 31 Democrats in the House and 17 members of the Senate Democratic caucus, including Sens. Bernie Sanders(I-Vt.) and Ed Markey(D-Mass.).
"Taxpayers should not have to pay for the mistakes and mismanagement of big bank executives," Markey said in a statement. "The American people should have confidence in their financial institutions, and that starts with undoing Trump-era deregulation so that we can ensure a collapse like we saw last week never happens again."
Notably absent from the list of co-sponsors were the Democrats who helped Republicans usher the bill through Congress in 2018, often misleadingly arguing that the measure was chiefly about providing relief for "community banks."
In the Senate, 16 Democrats and Sen. Angus King (I-Maine) supported the bill, giving Republicans the votes they needed to overcome the chamber's legislative filibuster.
One of the Democratic supporters, Mark Warner of Virginia, defended the 2018 law over the weekend, tellingABC News that he believes it "put in place an appropriate level of regulation on mid-sized banks" and that "these mid-sized banks needed some regulatory relief."
The Leverreported last week that SVB chief Greg Becker held a fundraiser for Warner in 2016.
"The bank's political action committee also donated a total of $10,000 to Warner's campaigns in the 2016 and 2018 election cycles," the outlet noted.
Sen. Jon Tester (D-Mont.), another major backer of the 2018 law, held a fundraiser in Silicon Valley earlier this week, just days after SVB collapsed.

News
SUPPORT OUR WORK.
We are independent, non-profit, advertising-free and 100%
reader supported.