For Immediate Release
Contact:
Tel: +1-212-216-1832,Email:,hrwpress@hrw.org
Sudan: Protect Rights Ahead of Referendum
High-Level UN Meeting Should Promote Conditions for Free, Fair Vote
NEW YORK
States convening at the United Nations for a high-level meeting on
Sudan on September 24, 2010, should press Sudanese authorities to ensure
that the forthcoming referendum on southern independence is free of the
human rights violations that marred the April elections, Human Rights
Watch said today.
More than 30 nations and international organizations are expected to
attend the meeting, convened by the UN secretary-general to coincide
with the annual General Assembly meetings. Delegates are expected to
express their support for the January 2011 referendum, which will
determine whether Southern Sudan remains part of Sudan or secedes and
becomes an independent nation.
"The delegates at the Sudan meeting should do more than confirm that
the referendum will happen on time," said Rona Peligal, Africa director
at Human Rights Watch. "This is also a prime opportunity for them to
insist on better human rights conditions in Sudan."
The April elections and the upcoming referendum for southern
independence are milestones in the 2005 Comprehensive Peace Agreement,
which ended 22 years of civil war in which an estimated 2 million people
lost their lives.
Human Rights Watch remains concerned about impunity for human rights
violations by security forces across Sudan, restrictions on civil and
political rights, and the treatment of minority groups throughout Sudan.
The two parties to the peace agreement - the ruling National Congress
Party (NCP) and the southern ruling Sudan People's Liberation Movement
(SPLM) - should state publicly that they will not expel each other's
minorities in the event of secession, Human Rights Watch said.
The delegates to the September 24 UN meeting should also address the deteriorating situation in Darfur.
"Focus on the southern referendum should not shift attention away
from the ongoing crises in Darfur," Peligal said. "The nations concerned
about the situation in Sudan need to press Khartoum now to end impunity
for ongoing human rights violations in Darfur."
Election-Related Violations
As Human Rights Watch has extensively documented, the national elections in April 2010
were deeply flawed. They were marred by human rights violations,
including restrictions on free speech and assembly, particularly in
northern Sudan. The elections also occasioned widespread intimidation,
arbitrary arrests, and physical violence against election monitors and
opponents of the ruling parties by Sudanese security forces across the
country.
In the period following the elections, the human rights situation
deteriorated further as the ruling party, using the National
Intelligence and Security Services, cracked down on opponents,
activists, and journalists in Khartoum and northern states. Human Rights
Watch documented additional cases of arbitrary arrests of activists in
August and September.
Human Rights Watch has repeatedly called on the Sudanese national
government to enact key human rights reforms required under the peace
agreement, such as reforming the repressive national security apparatus.
In Southern Sudan, election-related disputes sparked clashes between
the southern government army, the SPLM, and aggrieved candidates and
other opponents of the southern ruling party. In Jonglei state, for
example, General George Athor, who unsuccessfully ran for governor,
clashed with the southern army on multiple occasions. As of September,
large numbers of the southern army's soldiers were still deployed in
northern Jonglei state where civilians continue to report rape and other
abuses. Soldiers have also conducted violent operations against armed
groups aligned to opponents of the southern ruling party in Upper Nile
state, resulting in human rights violations there.
Both national and Southern Sudanese authorities should hold their
security forces accountable for human rights violations that occurred
during and after the elections, Human Rights Watch said.
Civil and Political Rights Threatened
Although the head of the national security service in early August
lifted pre-print censorship, other restrictions on political expression
remain in place. During research in Sudan in August, Human Rights Watch
found that both in the northern states, where authorities support the
continued unity of Sudan, and in Southern Sudan, where authorities
support southern secession, journalists and civil society are not free
to speak openly about any opposition to the prevailing sentiment.
Human Rights Watch also found increased anxiety over the citizenship
rights of southerners living in Khartoum and elsewhere in northern
states. Southerners living throughout Sudan will be eligible to vote in
the referendum. The vast majority of them live in Southern Sudan, but an
estimated 1.5 million live in Khartoum and other northern towns, many
in settlements for displaced persons.
In recent months, officials in the northern ruling party have
publicly threatened that southerners may not be able to stay in the
north in the event of a secession vote. Both southerners in the north
and northerners living in Southern Sudan told Human Rights Watch that
they feared retaliation, even expulsion, if secession were approved.
International standards protect people from arbitrary or
discriminatory removal or deprivation of their nationality. The Sudanese
authorities should publicly pledge that no one will be at risk of
statelessness, or risk losing enjoyment of other basic rights, as a
result of the outcome of the referendum.
"The UN meeting provides a perfect opportunity for the parties to
declare there will be no expulsions of southerners from the north, or
northerners from the south," Peligal said.
Impasse at Abyei
Delegates at the UN meeting this week should also press the two parties
to the Comprehensive Peace Agreement to make it an urgent priority to
resolve the political impasse over Abyei, the oil-rich area along the
north-south border where northern and southern forces clashed in 2008. The issue remains a key flashpoint for further conflict and human rights abuses, Human Rights Watch said.
"The situation in Abyei could easily deteriorate and lead to more
conflict without a concerted effort to protect civilians and defuse
tensions on the ground," Peligal said.
Under the peace agreement, the area is to hold its own parallel
referendum in January 2011 to decide whether it will belong to the north
or south, but the parties have made no progress in agreeing on the
arrangements for this vote or in taking steps to resolve differences
between local populations and protect their rights, as Human Rights
Watch documented in August.
The United Nations Mission in Sudan (UNMIS), which has a mandate to
protect civilians, should increase its patrols throughout Abyei and
other key volatile areas along the north-south border, and Sudanese
authorities should ensure peacekeepers' access to these areas, Human
Rights Watch said.
Abuses by Soldiers in Southern Sudan
The Sudanese government and international supporters should not ignore
human rights violations by security forces in Southern Sudan, where
election-related grievances have provoked human rights violations by the
southern government's soldiers in the months following the April vote,
Human Rights Watch said.
In northern Jonglei and Upper Nile states, for example, Human Rights
Watch documented killings and rapes committed by these soldiers in June
and July. The soldiers targeted civilians whom they accused of
supporting "renegade" commanders and local militia groups who opposed
the southern ruling party.
In Upper Nile state, the governing party's troops conducted
particularly violent operations against a militia group allegedly linked
to SPLM-DC, a breakaway political party led by Lam Akol. In one
village, a 60-year-old woman told Human Rights Watch that soldiers had
rounded up her son and three friends, tied their hands behind their
backs, and shot them dead.
"These incidents underscore the urgent need for the southern
government to instruct soldiers on their human rights obligations and to
hold them accountable for all violations," Peligal said.
Human Rights Watch also urged human rights personnel for the UN
mission to monitor and report on these abuses and to press the southern
armed force to strengthen its accountability mechanisms before the
referendum. International donors engaged in reforming the security
sector in Southern Sudan should include accountability and human rights
in their programs.
The Government of Southern Sudan has, appropriately, put the southern
police forces in charge of referendum security, rather than soldiers
who have been responsible for abuses, Human Rights Watch said.
Protect Civilians and Insist on Justice for Crimes in Darfur
Human Rights Watch also urged the international delegates to ensure
stronger protection of civilians from ongoing violence and rights abuses
in Darfur, Human Rights Watch said.
The delegates should insist that those wanted by the International
Criminal Court (ICC) for war crimes, crimes against humanity, and
genocide allegedly committed in Darfur appear in The Hague to face the
charges against them. President Omar al-Bashir; Ahmed Haroun, the
country's former minister for humanitarian affairs and current governor
of Southern Kordofan state; and Ali Kosheib, a "Janjaweed" militia
leader whose real name is Ali Mohammed Ali, are all subject to arrest
warrants by the ICC.
The situation in Darfur has deteriorated in recent months, and the Sudanese government continues to carry out armed attacks on rebel factions and civilians.
In early September, for example, armed militias (some wearing
military uniforms) on camels and horses and in vehicles mounted with
guns killed 37 people in an attack on a market in North Darfur. The
UN-African Union peacekeeping mission in Darfur (UNAMID), which is
charged with protecting civilians and has a base 15 kilometers away at
Tawila, turned back in its first effort to reach the site on the advice
of a pro-government armed group and did not reach the market until
nearly a week after the attack.
The incident underscores the need for the peacekeeping operations to
interpret its protection mandate robustly and to insist on immediate
access to areas where violations occur, Human Rights Watch said.
Violence has also increased inside camps for people who have been
displaced by the conflict. At Kalma camp in South Darfur and at Hamadiya
camp in West Darfur, tensions in July between supporters and opponents
of peace talks, known as the Doha peace process, led to violence,
killing 11 people.
The impact of the fighting between armed groups in Darfur and of
government attacks on civilians has not been fully documented, in part
because the government and rebels have repeatedly denied peacekeepers
and humanitarian aid groups access to affected areas. Following violence
in Kalma camp, for example, the Sudanese government blocked
humanitarian organizations from the camp for several weeks.
Human Rights Watch has repeatedly urged leaders of the peacekeeping
operation to increase human rights monitoring and public reporting and,
where necessary, issue statements pressing Sudanese authorities to end
specific abuses.
In September, the Sudanese government endorsed a new security and
development strategy for Darfur, which the peacekeepers have publicly
supported. The plan envisions the return of displaced people to their
homes, but it does not contain clear measures to ensure their returns
are voluntary, or that militias are disarmed and soldiers held
accountable, Human Rights Watch said.
"Darfur cannot be developed unless there is real security," Peligal
said. "The international actors need to press the Sudanese government to
immediately end attacks on civilians, let humanitarian groups and
peacekeepers operate effectively, and send people home only when they
want. The government also needs to bring to justice those who have
committed abuses in Darfur, including by cooperating with the
International Criminal Court."
Human Rights Watch is one of the world's leading independent organizations dedicated to defending and protecting human rights. By focusing international attention where human rights are violated, we give voice to the oppressed and hold oppressors accountable for their crimes. Our rigorous, objective investigations and strategic, targeted advocacy build intense pressure for action and raise the cost of human rights abuse. For 30 years, Human Rights Watch has worked tenaciously to lay the legal and moral groundwork for deep-rooted change and has fought to bring greater justice and security to people around the world.
LATEST NEWS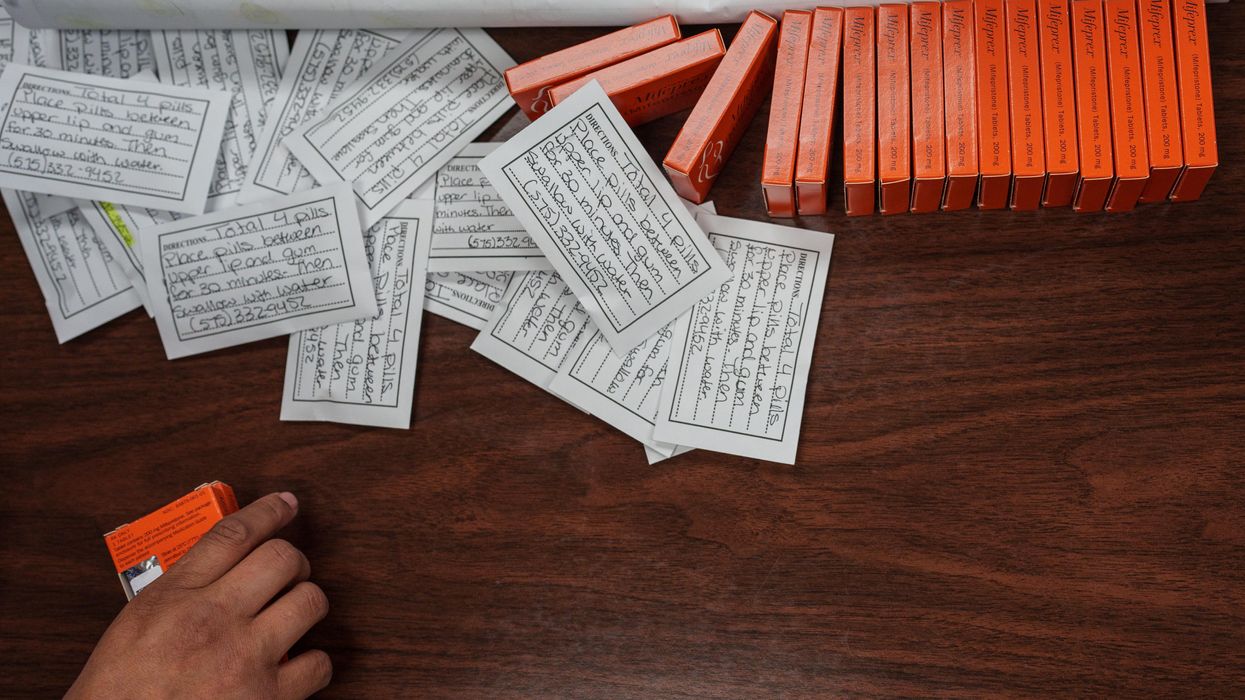 One attorney said Judge Matthew Kacsmaryk's actions ahead of a hearing planned for Wednesday were "bordering on judicial misconduct."

Ahead of a major hearing scheduled for Wednesday in a closely watched case which could further limit abortion access across the United States, reproductive rights advocates and journalists are decrying what one attorney called a right-wing judge's "informal gag order... bordering on judicial misconduct."
U.S. District Court Judge Matthew Kacsmaryk is scheduled to preside over the first hearing in a case brought by right-wing group Alliance Defending Freedom (ADF) in Amarillo, Texas on Wednesday, with lawyers for the organization arguing that the Food and Drug Administration (FDA) should never have approved mifespristone for medication abortion use in 2000, and the U.S. Justice Department opposing that claim. ADF aims to force the FDA to revoke its approval.
As The Washington Post reported Saturday, the right-wing judge scheduled the hearing last Friday in a call with lawyers on both sides, and in what one expert called a "very irregular" move, directed the attorneys to keep the hearing under wraps in order to minimize the possibility of protests.
Kacsmaryk also said he would delay putting the hearing on the public court docket, as judges usually do to keep the public and media informed about developments. He indicated he would make the hearing public knowledge only on Tuesday evening, making it difficult for Texans and members of the media to travel to Amarillo from other parts of the state and country. The city is a five-and-a-half hour drive from Dallas, the closest major Texas city; a nearly four-hour drive from Oklahoma City; and served by few daily direct flights.
At Law Dork, journalist Chris Geidner pointed out that Kacsmaryk violated the requirements he claims to uphold in his own courtroom. The "Judge Specific Requirements" on his page at the website for the U.S. District Court for the Northern District of Texas include that Kacsmaryk "heavily disfavor[s] sealing information placed in the judicial record."
"Going further, Kacsmaryk's requirements highlight the U.S. Court of Appeals for the 5th Circuit's rulings that recognize 'the public's right to know' about what's going on in our courts, requiring litigants to explain—with signed declarations—why 'the risks of disclosure' would 'outweigh' that right of the public to know what's happening in court," noted Geidner. "In order to even consider sealing anything on his docket, Kacsmaryk requires litigants to 'explain that no other viable alternative to sealing exists.'"

Kacsmaryk said Friday on his call with the attorneys that he was requesting they keep information about the hearing secret "as a courtesy," but Geidner said on Saturday that he "in effect, if not in actuality, put a gag order on the parties."
"This is a civil case with huge national implications challenging public, some long-standing, government actions," tweeted Geidner. "The affirmative decision to hide public notification of a hearing set on Friday until Tuesday night explicitly to decrease the chances of the public learning of the hearing in an attempt to decrease public participation is so unacceptable it is simply not judicial behavior."
Following the hearing, Kacsmaryk could hand down a ruling at any time. A decision in favor of ADF would immediately force abortion clinics across the U.S. to shift to providing only surgical abortions—which account for fewer than half of abortions in the U.S. each year—or medication abortions using only misoprostol.
ADF has argued that the U.S. government ignored evidence of harmful side effects of mifepristone when it approved the drug in 2000, but medical experts say misoprostol-only abortions carry greater risks of side effects like cramping and bleeding. Using misosprostol without mifepristone is also somewhat less effective at ending a pregnancy.
The FDA is arguing in the case that it has rigorously reviewed the safety and effectiveness of mifepristone as it has repeatedly reaffirmed its authorization of the drug in the past 23 years, and said in a court filing that revoking its approval would "cause significant harm, depriving patients of a safe and effective drug that has been on the market for more than two decades."

News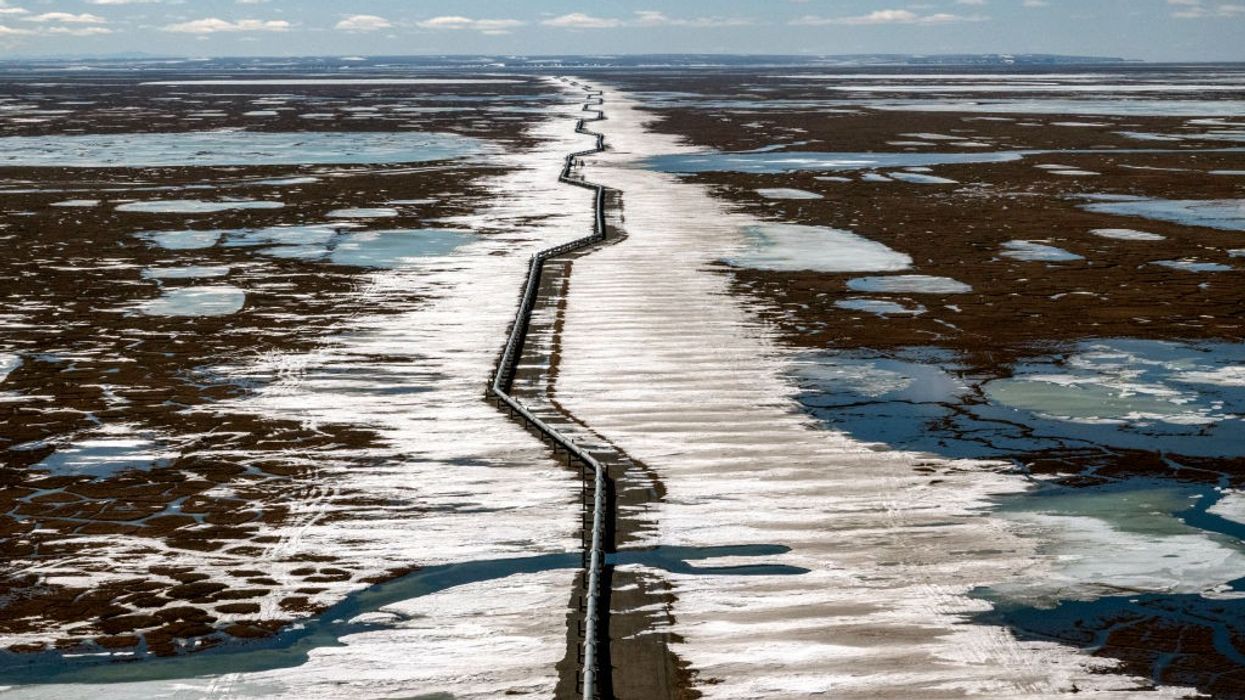 "There is simply no justification for President Biden's decision to approve a massive new oil drilling scheme that will lead to decades of air and climate pollution," said one critic.
U.S. President Joe Biden on Monday greenlighted a massive oil drilling project on federal land in Alaska, eliciting outrage from climate advocates who say the administration's accompanying restrictions on oil and gas leasing in the region cannot make up for the destruction set to be unleashed by the approved Willow project.
Progressives sought for months to dissuade Biden from approving ConocoPhillips' $8 billion Willow project, noting that it could enable the production of more than 600 million barrels of crude over 30 years. If all of that oil is burned, roughly 280 million metric tons of heat-trapping carbon dioxide emissions will be spewed into the atmosphere at a time when United Nations Secretary-General António Guterres warns that the planet is reaching a "point of no return."
"There is simply no justification for President Biden's decision to approve a massive new oil drilling scheme that will lead to decades of air and climate pollution," Food & Water Watch executive director Wenonah Hauter said in a statement.
"This decision is part of a disturbing and disappointing trend with this White House," Hauter continued. "President Biden refuses to take the necessary actions to rein in climate catastrophe while issuing rhetoric that professes concern for the existential threat that we all face. He cannot have it both ways. Promoting clean energy development is meaningless if we continue to allow corporations to plunder and pollute as they wish."
"President Biden refuses to take the necessary actions to rein in climate catastrophe while issuing rhetoric that professes concern for the existential threat that we all face."
In what The New York Timesdescribed as a bid "to temper criticism over the Willow decision and, as one administration official put it, to form a 'firewall' to limit future" fossil fuel development in the region, Biden announced restrictions on offshore oil lease sales in the Arctic Ocean and across Alaska's North Slope, while the U.S. Department of the Interior (DOI) "said it would issue new rules to block oil and gas leasing in more than 13 million of the 23 million acres that form the National Petroleum Reserve-Alaska," where the Willow project is located.
But given the overwhelming scientific evidence—and warnings from even the relatively conservative International Energy Agency—that new fossil fuel projects are incompatible with averting the worst consequences of the planetary emergency, climate justice campaigners rejected the president's attempt to soften the blow of his Willow approval by announcing new protections for areas surrounding the extraction site.
"It's insulting that Biden thinks this will change our minds about the Willow project," Kristen Monsell, a senior attorney at the Center for Biological Diversity, said in a statement. "Protecting one area of the Arctic so you can destroy another doesn't make sense, and it won't help the people and wildlife who will be upended by the Willow project. We need to protect the entire Arctic and stop building massive oil and gas developments that will contribute to greenhouse gas emissions for years to come."
"Biden approved Willow knowing full well that it'll cause massive and irreversible destruction, which is appalling," said Monsell. "People and wildlife will suffer, and extracting and burning more fossil fuel will warm the climate even faster. Biden has no excuse for letting this project go forward in any form. New Arctic drilling makes no sense, and we'll fight hard to keep ConocoPhillips from breaking ground."
As the Times reported, the Biden administration "said it would approve permits for three drilling sites and deny two others, including one that would have been closest to a coastal wetland known as Teshekpuk Lake. The administration also said it would deny permission to build a road that would have led to the fourth drilling site."
"In addition to rejecting two of the proposed drilling sites, the administration also announced that ConocoPhillips would return about 68,000 acres of existing leases to the government," the Times reported. "Officials said they believe that would prevent the company from trying to expand oil drilling in the region beyond the Willow project."
Although the DOI's "environmental analysis raised 'substantial concerns' about emissions, danger to freshwater sources, and threats to migratory birds, caribou, whales, and other animals that inhabit the region... the administration concluded that it doesn't have the legal authority to deny permits to ConocoPhillips, which has long held leases on the land in the petroleum reserve," the newspaper reported, citing two unnamed sources.
The Revolving Door Project's climate research director, Dorothy Slater, condemned the White House for "prematurely ma[king] the decision they thought courts might insist on," calling it a "weak-hearted capitulation to corporate interests" and a "historic abnegation of responsibility."
"The Interior Department does in fact have the legal authority to deny permits for a project that they have substantial concerns about," said Slater. "If the case did go to court, the administration could leverage the significant resources of the Justice Department to defend their decision stridently, using every tool in their arsenal to protect the Arctic wilderness and give us a fighting chance to avoid the worst of climate change."
"Simply what is executive power for, if not protecting the future of this planet?" she asked.
Monsell stressed that "even one new oil well in the Arctic is one well too many."
"If Biden wants to protect the Arctic, he needs to protect all of it," she added. "The president has left us in the cold and missed a major opportunity to live up to his climate commitments. This project is on weak legal ground, and we're gearing up for action."
Earthjustice president Abigail Dillen echoed that sentiment, telling the Times that the Biden administration's "tinkering at the margins... won't remedy legal failures to address this project's outside harms and we expect to see them in court."
News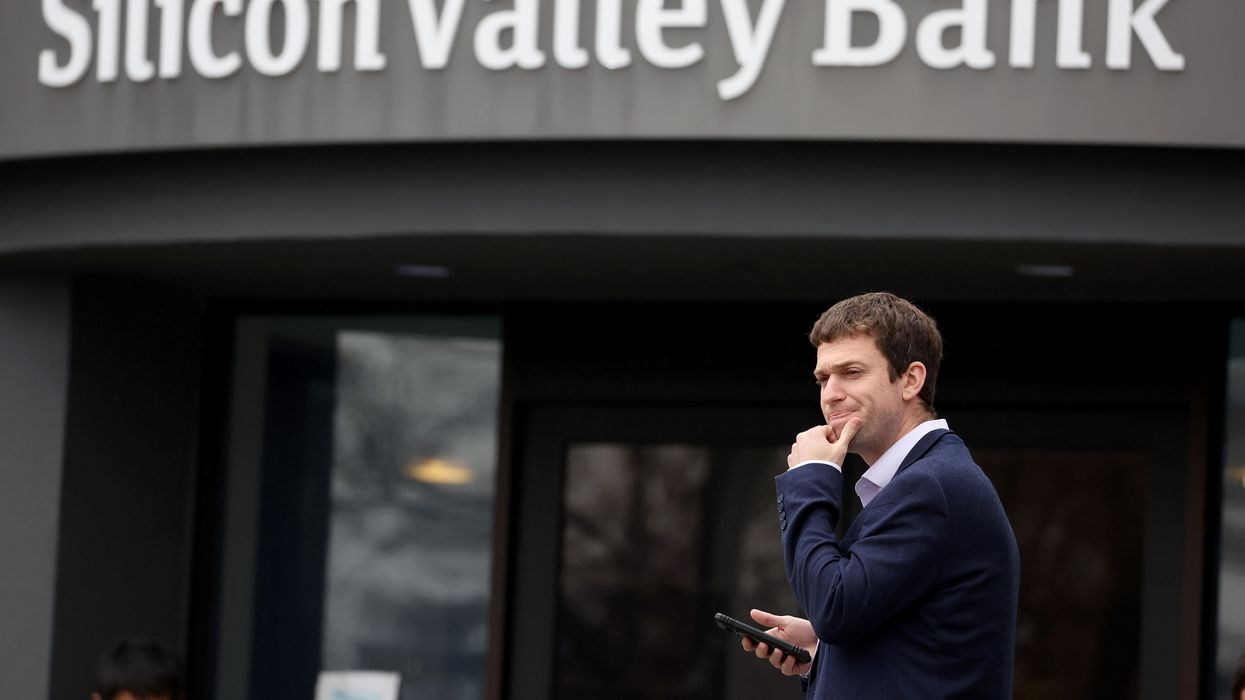 "We cannot continue down the road of more socialism for the rich and rugged individualism for everyone else," said the U.S. Senator from Vermont.
Sen. Bernie Sanders on Sunday night called for a full repeal of the 2018 banking deregulations signed into law by former President Donald Trump and declared that "now is not the time for taxpayers bail out Silicon Valley Bank"—the California bank that collapsed Friday.
On Sunday evening, the U.S. Treasury Department, Federal Reserve, and Federal Deposit Insurance Corporation (FDIC) issued a joint statement outlining a plan to make all deposits for Silicon Valley Bank as well as Signature Bank, which was shuttered by New York regulators earlier in the day, available to costumers Monday morning.
In his statement, Sanders said, "If there is a bailout of Silicon Valley Bank, it must be 100 percent financed by Wall Street and large financial institutions. We cannot continue down the road of more socialism for the rich and rugged individualism for everyone else. Let us have the courage to stand up to Wall Street, repeal the disastrous 2018 bank deregulation law, break up too big to fail banks and address the needs of working families, not the risky bets of vulture capitalists."
The statement the Fed, Treasury, and FDIC noted that "no losses" associated with the rescue plan "will be borne by the taxpayer," though the extraordinary intervention—the largest of its kind since the 2008 financial collapse—is still seen by many economists and financial experts, even if bank investors and debt holders are not protected, as a "bailout" for the financial industry only made possible by taxpayers.
"Let us have the courage to stand up to Wall Street, repeal the disastrous 2018 bank deregulation law, break up too big to fail banks and address the needs of working families, not the risky bets of vulture capitalists."
Warren Gunnels, longtime staffer and top advisor to Sanders, made the connection between venture capitalists clamoring for a speedy government intervention to save the banking sector from a wider shock and the same kind of people who have adamantly opposed financial relief for the struggling middle- and working-class Americans:
As the Washington Postreports, "The decision by Treasury to backstop all deposits at SVB and Signature — not just those up to $250,000 that are insured under federal law — rested on a judgment that it was necessary to avoid a wider 'systemic' meltdown. The move will likely ignite a political firestorm over the decision to protect the assets of tech firms, venture capitalists, and other rich people in California."
In 2018, as Sen. Mike Crapo's (R-Idaho) Economic Growth, Regulatory Relief, and Consumer Protection Act was making its way through Congress, Sanders took to the floor of the U.S. Senate to oppose the bill, warning of exactly this kind of economic disaster if the deregulation was approved:
"Let's be clear," Sanders said Sunday night in his statement. "The failure of Silicon Valley Bank is a direct result of an absurd 2018 bank deregulation bill signed by Donald Trump that I strongly opposed. Five years ago, the Republican Director of the Congressional Budget Office released a report finding that this legislation would 'increase the likelihood that a large financial firm with assets of between $100 billion and $250 billion would fail.'"
"Unfortunately," he added, "that is precisely what happened."
On Monday, Lindsey Owens, executive directive of the progressive economic watchdog Groundwork Collaborative, focused on the additional lending facility made available to the bank customers and said the latest actions expose a deep "rot" within the Federal Reserve—especially as the central bank squeezes workers with increasingly higher interest rates, hikes that played at least a part in the banks' failures.
"This weekend, the Federal Reserve moved mountains to protect wealthy venture capitalists from the fallout of its aggressive interest rate hikes," said Owens. " Today, the Fed will return to its core work of pushing hardworking Americans out on the street to meet its inflation goals."
Such a set of policies, said Owens, shows the Fed "is irreparably broken and can no longer be trusted to go it alone on monetary policy. As Congress works to re-regulate mid-size banks after the misguided 2018 rollbacks that set this weekend's crisis in motion, they should also address the rot at the Fed."

In a statement on Sunday ahead of the government's rescue plan announcement, Matt Stoller, research director for the American Economic Liberties Project, made the case against any taxpayer bailout for SVB.
"Silicon Valley Bank was a badly managed and corrupt institution that entangled itself with powerful actors in the technology industry," Stoller argued. "The operative question government regulators are now facing is whether to use taxpayer funds to bail out the depositors from the failures of SVB's management."
But a full bailout, Stoller warned, "will only encourage other large regional banks to take similar risks in the future, just as Silicon Valley Bank did."
While bank investors and executives will not be included in the emergency actions announced on Sunday, Rep. Ro Khanna, the California Democrat who represents Silicon Valley, applauded the actions taken by Treasury to keep depositors whole.
Among his constituents impacted by the bank's collapse, he said, were "non-profit leaders, small business owners, start-up founders, and impacted employees of small businesses."
While expressly arguing that government intervention "should not and need not ... cost taxpayers a dime" during a news interview Sunday morning, Khanna later applauded the government plan while echoing Sanders' call for a reversal of the deregulation that led to the current crisis.
"I am glad that the Department of Treasury listened and moved to protect workers, the innovation pipeline, and the economy at large," Khanna said. "But the work doesn't end here. We've known since 2008 that stronger regulations are needed to prevent exactly this type of crisis. Congress must come together to reverse the deregulation policies that were put in place under Trump to avert future instability."
News
SUPPORT OUR WORK.
We are independent, non-profit, advertising-free and 100%
reader supported.