For Immediate Release
September, 16 2010, 03:11pm EDT
Contact:
Mai Shiozaki, 202-628-8669, ext. 116; cell 202-641-1906
NOW Applauds Appointment of Elizabeth Warren as Special Advisor for Consumer Financial Protection Bureau
WASHINGTON
After weeks of speculation, President Obama is set to officially name
Elizabeth Warren as a special advisor overseeing the new Bureau of
Consumer Financial Protection that she herself envisioned.
"Elizabeth Warren is the best
advocate for consumers," said NOW President Terry O'Neill. "This agency
is designed to stop unfair and deceptive financial practices -- a
breath of fresh air for women, especially single mothers who were
targeted for abusive loans in the past. The good ole boys on Wall
Street have done all they could to hang a 'no girls allowed' sign on the
door of this new agency, but Warren is the right person for the job
because she isn't afraid to stand up to the banks and tell them what
needs to change."
The new consumer agency was
established by the financial overhaul law and will have autonomy to
write and enforce rules governing mortgage and credit card lending,
educate consumers on financial products, and collect and monitor
consumer complaints. Warren, a Harvard professor and bankruptcy expert,
instigated the creation of the consumer agency.
"It is only a shame that Warren is
being named 'special advisor' because President Obama fears the
Republicans will block her confirmation in the Senate," said O'Neill.
"Even Democratic Senator and Banking Committee Chair Chris Dodd, who is
leaving the Senate this year, has made public statements that all but
invite Republicans to block her nomination. How sad that he would sully
his otherwise strong pro-woman legacy in that way -- and even sadder
that the U.S. Senate would stand in the way of a fearless advocate who
is the most qualified person for the job."
NOW looks forward to the positive
change that Warren will effect in this critical role and the impact she
will have on the financial security of millions of women and their
families.
The National Organization for Women (NOW) is the largest organization of feminist activists in the United States. NOW has 500,000 contributing members and 550 chapters in all 50 states and the District of Columbia.
LATEST NEWS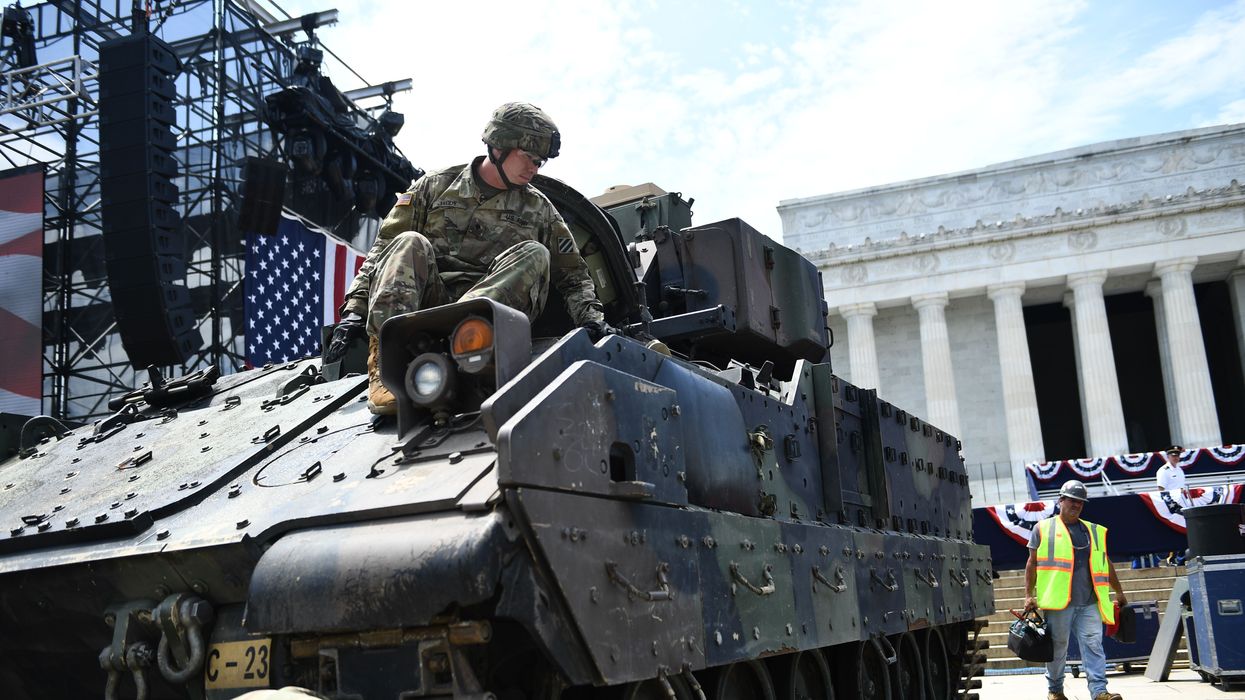 "While accountability is critical to democracy, a democratic system of government alone is insufficient to fend off impunity."
The United States' contributions to the climate crisis and its perpetuation of violence, particularly abroad, resulted in a score on a newly launched "Atlas of Impunity" that placed the country well below other wealthy nations in terms of the government's willingness to be accountable for its impact both on U.S. residents and the global community.
Spearheaded by former U.K. Foreign Secretary David Miliband, the inaugural Atlas of Impunity was released Friday, the result of a collaboration between the Eurasia Group and the Chicago Council on Foreign Relations.
The groups ranked 163 countries from across the globe, scoring their level of impunity based on five factors: conflict and violence, both within the countries and perpetrated against other nations; environmental degradation; unaccountable governance; economic exploitation; and abuse of human rights.

Miliband, now the president and CEO of the International Rescue Committee, called the ranking of the U.S. at 118 "one of the major takeaways" of the index.
\u201cThe lackluster performance of the US and other powerful nations is one of the major takeaways of the Atlas of Impunity - thanks to @Patrickwintour for spotlighting.\u00a0\nhttps://t.co/FYir12Vgfo\u201d

— David Miliband (@David Miliband) 1676642940
The countries were ranked on a scale of 0-5, with Afghanistan given the highest score for impunity at 5.00. Finland was ranked the most accountable nation, with a score of 0.29.
With a score of 1.91, the U.S. was ranked five places higher than Hungary, where President Viktor Orbán's far-right government has been denounced as autocratic.

The U.S. was found to act with the most impunity in the area of environmental degradation, scoring a 3.02 in that category. The U.S. is biggest historical emitter of greenhouse gases, but President Joe Biden's administration continues to approve fossil fuel extraction projects that are contributing to planetary heating and polluting communities.
"Impunity is the growing instinct of choice in the global order. It represents a dangerous world view that laws and norms are for suckers."
The country's "conflict and violence" score of 2.62 also contributed to its high cumulative score.
"The country's arms exports are an even bigger negative factor" than the economic inequality, racial injustice, and restrictions that Republican policymakers use to cut off democratic access, the report stated.
The U.S. is the world's largest arms exporter and has helped fuel the ongoing humanitarian crises in Yemen and the occupied Palestinian territories by supplying weapons to Saudi Arabia and Israel, respectively.
The country's impunity score was also driven up by "a small number of ratified human rights treaties" and "its history of racial discrimination, particularly against Black Americans." The authors noted that it performed well below other wealthy countries in terms of its efforts to ensure Americans are given equal economic opportunities:
While the U.S. performs well on most measures of economic exploitation, there is a higher degree of class inequality compared to similarly ranked countries. This likely stems from a long history of strike-breaking and union-busting that has undermined the power of organized labor. Individuals and corporate entities—both companies and labor unions—have a constitutionally protected right to petition the government, creating a robust lobbying landscape that allows the two major political parties to be very responsive to narrow interest group needs. This has contributed to low levels of taxation of capital income, a tax system with high levels of compliance but inconsistent enforcement, and a national minimum wage that has not risen with inflation.
"Impunity is the growing instinct of choice in the global order," said Miliband in a statement. "It represents a dangerous world view that laws and norms are for suckers."
Miliband noted in a New York Times op-ed on Friday that the Atlas illustrates how countries that are recognized as democracies are not immune from acting without accountability.
"While the fight for democracy is real, dividing the world into democracies and autocracies does not capture key aspects of the global power balance," he wrote. "While accountability is critical to democracy, a democratic system of government alone is insufficient to fend off impunity. Several democratic countries, including the United States, underperform against the highest standards to which they are committed on measures of human rights and conflict and violence."
"The most powerful countries in the international system are part of the problem," he added. "China and Russia both score among the 50 worst ranking countries on impunity. The United States performs much better, but still scores worse than economic and Global North peers. There is a quantitative evidence in our project for the adage that power corrupts and absolute power corrupts absolutely."
News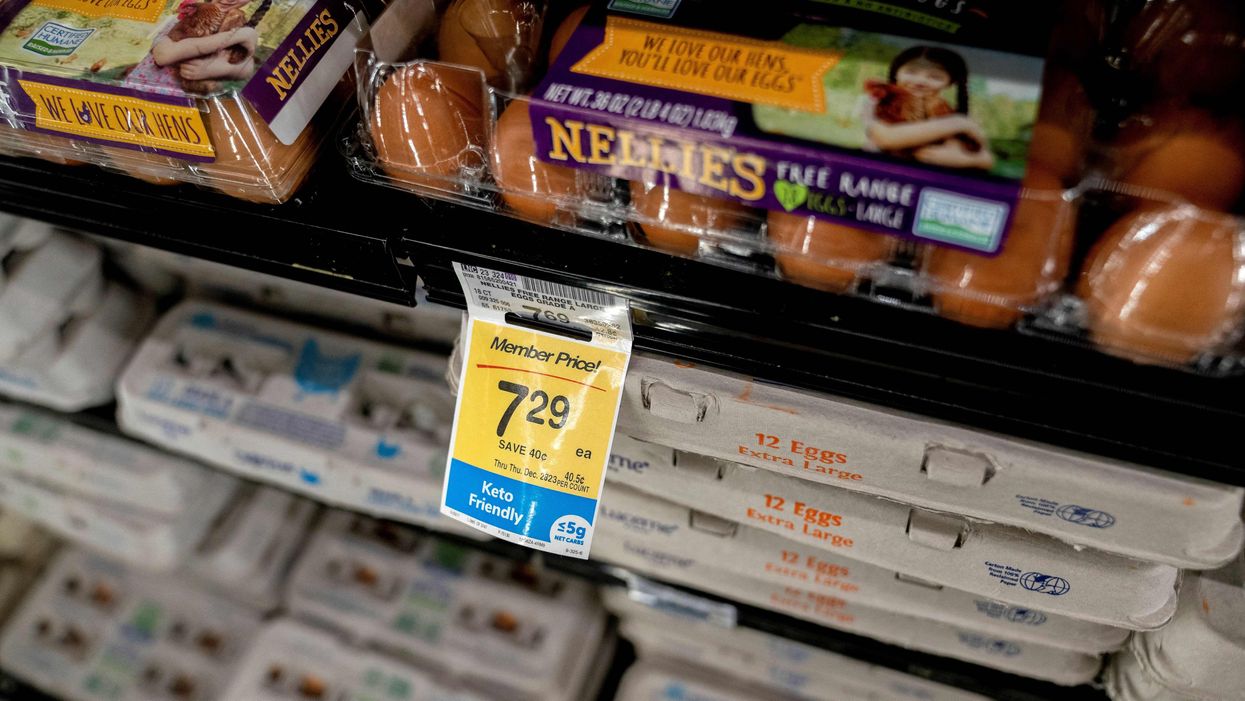 "American families working to put food on the table deserve to know whether the increased prices they are paying for eggs represent a legitimate response to reduced supply or out-of-control corporate greed."
Sen. Elizabeth Warren and Rep. Katie Porter on Thursday demanded answers from the five largest egg producers in the United States over recent price surges that companies have blamed on an avian flu outbreak—a narrative that advocates view as an effort to distract attention from rampant profiteering in the industry.
Warren (D-Mass.) and Porter (D-Calif.) invoked that criticism in letters to Rose Acre Farms, Cal-Maine Foods, Hillandale Farms, Versova Management, and Daybreak Foods, writing that they are concerned by the "massive spike" in prices and "the extent to which egg producers may be using fears about avian flu and supply shocks as a cover to pad their own profits at the expense of American families."
"American families working to put food on the table deserve to know whether the increased prices they are paying for eggs represent a legitimate response to reduced supply or out-of-control corporate greed," the lawmakers wrote. "Although wholesale prices have decreased, consumers are still waiting for relief at the grocery checkout, which could take several more weeks."
Bureau of Labor Statistics data shows that the average price for a carton of a dozen large Grade A eggs was $4.80 in January, up from $1.93 a year earlier. Consumers in some states have been paying more than $7 per carton in recent weeks.
To explain the price surge—which has been eyebrow-raising even amid elevated inflation throughout the U.S. economy—egg-producing companies have pointed to a large avian flu outbreak that has impacted an estimated 58 million birds, including around 43 million egg-laying chickens.
But the advocacy group Farm Action has argued that the industry's explanations "don't stand up to the facts."

"Cal-Maine's net average selling price for a dozen conventional eggs increased by 150.5% from a year ago," the group observed last month. "The average size of egg-laying flocks never dropped more than six to eight percent lower than it was a year prior. Moreover, the effect of the loss of egg-laying hens on production was itself blunted by 'record-high' lay rates throughout the year."
"And there's one other critical piece missing from this industry narrative—Cal-Maine, which controls 20% of the egg market, hasn't reported a single case of avian flu at any of its facilities," Farm Action added.
In a recent letter to Federal Trade Commission Chair Lina Khan, Farm Action demanded an investigation into the highly concentrated industry, noting that top companies such as Cal-Maine "have a history of engaging in 'cartelistic conspiracies' to limit production, split markets, and increase prices for consumers."
\u201cBREAKING: @SenWarren confronts Big Egg corporations in a series of direct letters, demanding an explanation on the record-breaking price of eggs.\u201d

— Farm Action (@Farm Action) 1676636806
Warren and Porter spotlighted Farm Action's work in their letter Thursday, decrying industry practices as "a pattern we've seen too often since the Covid-19 pandemic: companies jacking up their prices to pad their own profits, putting an additional burden on American families and the economy as a whole."
"Cal-Maine Foods, which controls approximately 20% of the retail egg market, was reporting record profit margins and no positive avian flu cases on any of its farms," the lawmakers wrote. "In December, Cal-Maine Foods reported a gross profits increase of more than 600% over the same quarter in 2021, which the company claimed was 'driven by record average conventional egg selling price."
The two progressive Democrats asked the egg giants to promptly answer a series of specific questions, including, "To what extent has your company met or exceeded quarterly profit margin goals during the 2022 avian flu outbreak?"
The lawmakers also asked whether the companies' "executives, officials, or any other affiliated individuals" had "any direct or indirect communication with other egg producers about production or prices for eggs?"
"Given corporations' rampant profiteering during the Covid-19 pandemic and the ensuing economic crisis, and the egg industry's history of anticompetitive practices," Warren and Porter wrote, "[we] ask that you provide transparency about the rationale for the
increase in egg prices and the financial impact on your company."
News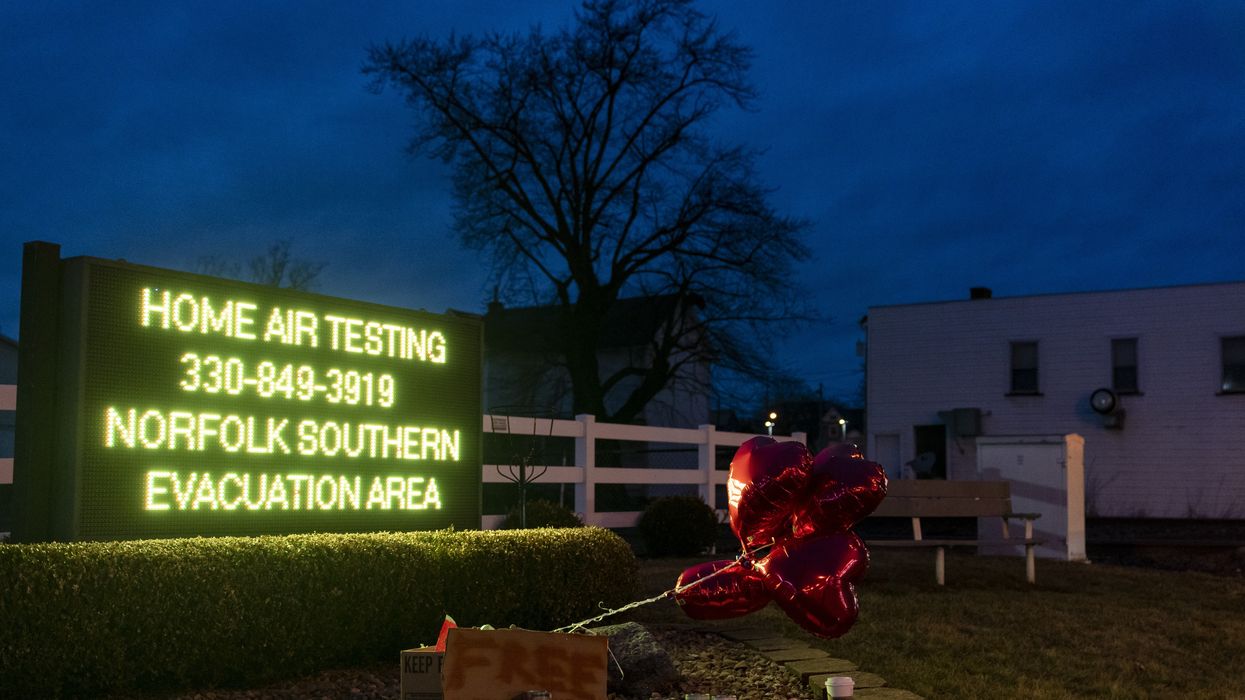 "When rail companies reduced their workforce by 30% under orders from Wall Street, bad things happen—like the dangerous derailments in Ohio and Michigan," said Sen. Bernie Sanders.
Sen. Bernie Sanders on Thursday connected the spate of recent train derailments in the United States to Wall Street-backed cost-cutting and other policy decisions that have decimated the rail industry's workforce and compromised safety for the sake of larger profits.
"When rail companies reduced their workforce by 30% under orders from Wall Street, bad things happen—like the dangerous derailments in Ohio and Michigan," Sanders (I-Vt.), the chair of the Senate Health, Education, Labor, and Pensions Committee, wrote on social media. "Rail companies not only must provide seven days of paid sick leave to workers, they must stop skimping on safety measures."
The toxic crash in East Palestine, Ohio has drawn greater scrutiny to a widely adopted model known as Precision Scheduled Railroading (PSR), which rail workers have said is at least partially to blame for the derailment and broader crises across the industry. Under PSR, The New York Timesexplains, rail companies focus on "running rigid, consistent schedules, streamlining processes and routes, and cutting back on equipment and employees."

According to the U.S. Surface Transportation Board, Class I railroads—including Norfolk Southern, the company at the center of the derailments in Ohio and Michigan—have collectively slashed their workforces by 29% over the past six years, terminating roughly 45,000 employees including safety personnel.

An analysis conducted by USA Today earlier this month found that while "catastrophic events involving trains and chemicals may be uncommon, [hazardous material] cargo violations caught during inspections of rail shippers and operators appear to be climbing."

"Over the last five years, federal inspectors have flagged 36% more hazmat violations compared with the five years prior—and fines for those are up 16%.," the outlet noted.
One Norfolk Southern employee toldMotherboard this week that train derailments and other rail disasters are "going to keep happening if regulators continue to allow this business model to ravage our nation's freight rail system in the pursuit of profit."

"My fear is that these corporations have so much money and political influence that nothing is going to change," the worker added.
"Secretary Pete Buttigieg must heed rail workers' calls and implement common-sense regulations to ensure this never happens again."
In addition to fighting to deny their increasingly exhausted workers paid sick leave, Norfolk Southern and other hugely profitable Class I rail carriers have lobbied aggressively against regulatory changes aimed at enhancing industry safety practices.
The Norfolk Southern train cars that derailed in East Palestine were not being regulated as hazardous, despite carrying a known carcinogen that was later released into the air.
"After rail industry donors delivered more than $6 million to GOP campaigns, the Trump administration—backed by rail lobbyists and Senate Republicans—rescinded part of [a] rule aimed at making better braking systems widespread on the nation's rails," The Leverreported earlier this month. "Specifically, regulators killed provisions requiring rail cars carrying hazardous flammable materials to be equipped with electronic braking systems to stop trains more quickly than conventional air brakes."
In the wake of the East Palestine derailment, progressive lawmakers have ramped up pressure on U.S. Transportation Secretary Pete Buttigieg to take steps to more strictly regulate railroads as he suggests—incorrectly—that federal law is preventing him from doing so.
"The train derailment in East Palestine is an ecological and humanitarian disaster caused by a predatory rail industry that constantly puts profit over people," Rep. Cori Bush (D-Mo.) said Thursday. "Secretary Pete Buttigieg must heed rail workers' calls and implement common-sense regulations to ensure this never happens again."
News
SUPPORT OUR WORK.
We are independent, non-profit, advertising-free and 100%
reader supported.