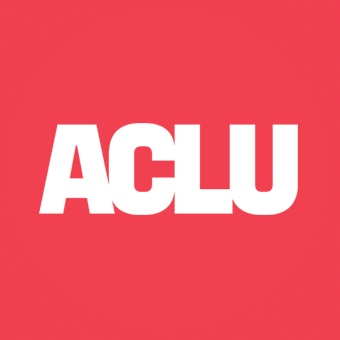 For Immediate Release
July, 07 2010, 10:25am EDT
ACLU Intervenes in Georgia Voting Rights Act Challenge
WASHINGTON
The American Civil Liberties Union, the
ACLU of Georgia and the Lawyers' Committee for Civil Rights Under Law
(Lawyers' Committee) filed a motion late yesterday in a Washington, D.C.
federal court to intervene in a challenge to the Voting Rights Act
brought by the state of Georgia. The civil rights coalition is defending
the constitutionality of Section 5 of the Act and challenging the
state's flawed and racially discriminatory voter-registration practices.
Section 5 has protected racial and
language minorities' access to voting across the South and the nation
since 1965 and requires some states with a history of discrimination in
voting procedures to submit new procedures for federal review before
they are implemented.
"The many U.S. citizen minority
voters in Georgia who were incorrectly flagged as non-citizens under the
state's voter-verification procedures can attest to the fact that
discrimination in voting continues and the need for Section 5 remains,"
said Laughlin McDonald of the ACLU Voting Rights Project.
The coalition filed the motion to
intervene in the case, Georgia v.
Holder, on behalf of the Georgia State Conference of the National
Association for the Advancement of Colored People (NAACP); Georgia
Association of Black Elected Officials; Coalition for the People's
Agenda; Georgia State Rep. Tyrone Brooks; Edward Dubose, President of
the Georgia State Conference of the NAACP; and Helen Butler, Executive
Director of the Coalition for the People's Agenda.

The state's questionable
voter-registration procedures rely on error-ridden government databases
for citizenship verification and require birth certificates and other
documents as proof of citizenship that many people, especially students,
minorities and the elderly cannot easily access.
Shortly before the last presidential
election, the procedures in place at the time resulted in thousands of
U.S. citizens being incorrectly flagged as non-citizens and subject to
being denied the right to vote. A federal court in Georgia blocked the
procedures in October 2008 pending Section 5 review after a coalition of
voting rights groups, including the ACLU and Lawyers' Committee,
challenged them in a lawsuit, Morales
v. Handel.
In May 2009, the Department of
Justice blocked the procedures that mandated the use of the flawed
voter-verification databases after review under Section 5, citing their
discriminatory impact on minority voters.
"Without Section 5's preclearance
protections, there is no doubt that racial and language minorities in
Georgia and other covered jurisdictions would be subject to new forms of
discrimination in voting," said Robert A. Kengle, an attorney with the
Voting Rights Project of the Lawyers' Committee.
"These flawed procedures would burden
or deny the right to vote to many thousands of eligible Georgia
voters," said Chara Fisher Jackson, Legal Director of the ACLU of
Georgia. "We are confident that the federal court in the District of
Columbia will block Georgia's discriminatory election procedures and
uphold the Voting Rights Act."
Attorneys on the case, Georgia v. Holder, include McDonald
and Meredith Bell-Platts of the ACLU Voting Rights Project, Fisher
Jackson of the ACLU of Georgia, Art Spitzer of the ACLU of the Nation's
Capital, and Kengle, Jon Greenbaum and Mark A. Posner of the Lawyers'
Committee.
The motion for intervention can be
found online at: www.aclu.org/voting-rights/georgia-v-holder-memo-support-motion-intervene
The DOJ letter blocking the state's
voter verification procedures can be found online at: www.aclu.org/voting-rights/morales-v-handel-letter-civil-rights-division-acting-assistant-attorney-general-georgi
The American Civil Liberties Union was founded in 1920 and is our nation's guardian of liberty. The ACLU works in the courts, legislatures and communities to defend and preserve the individual rights and liberties guaranteed to all people in this country by the Constitution and laws of the United States.
(212) 549-2666
LATEST NEWS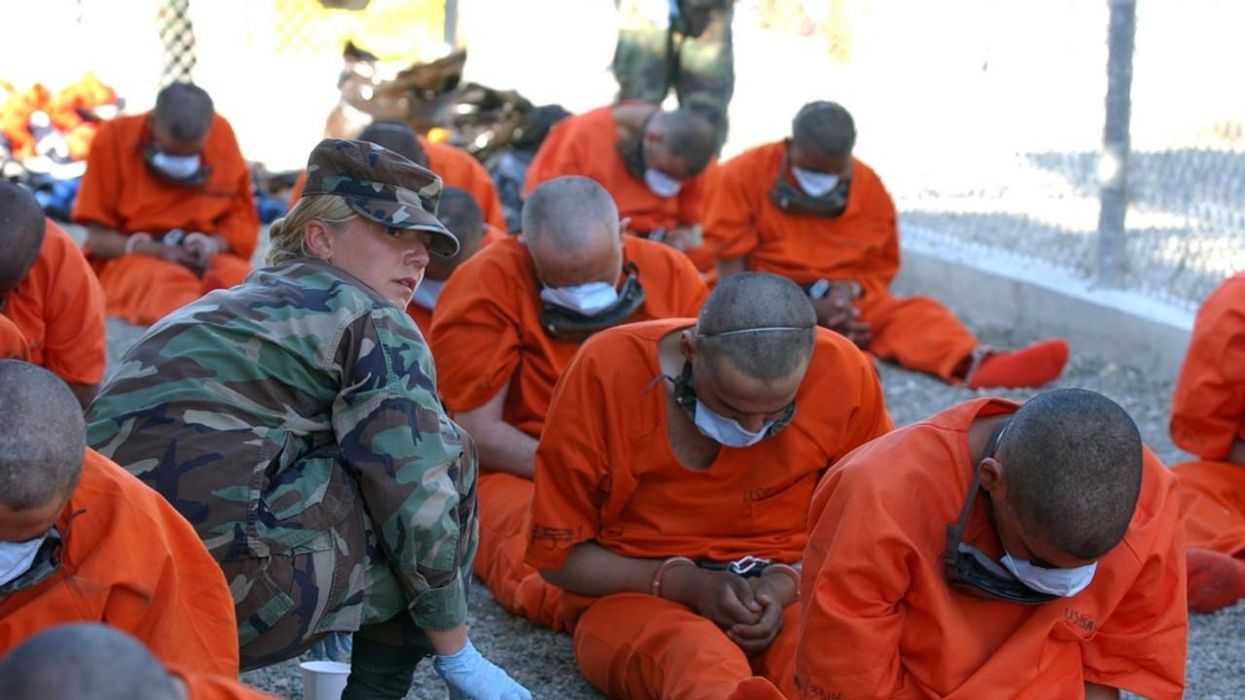 "Nothing will bring back the thousands whose lives were so cruelly taken that September day," writes Ted Olson, a former U.S. solicitor-general. "But we must face reality and bring this process to an end."
Ted Olson—the former U.S. solicitor-general in the George W. Bush administration who argued against basic legal rights for Guantánamo Bay prisoners and defended their indefinite detention and torture—made a stunning admission Thursday: The Gitmo military commissions don't work and should be shut down, and the government should strike plea deals with 9/11 defendants held at the prison.
In a Wall Street Journalopinion piece, Olson—perhaps best known for his consequential reversal on the issue of same-sex marriage equality—wrote that he "led a special team of lawyers tasked with overseeing all court challenges to the government's policy of detaining terrorism suspects" at Gitmo.
In that capacity, Olson—whose wife was a passenger on the plane that crashed into the Pentagon on 9/11—argued in the U.S. Supreme Court in Hamdan v. Rumsfeld that the "unlawful enemy combatants" who were imprisoned, and often tortured, at Guantánamo were not entitled to protections afforded by the Geneva Conventions. Nor were they subject to U.S. law or allowed a defense in American courts, Olson asserted, because the men (and children) were "stateless terrorists" and the prison is located on Cuban soil—even though Cuba has no jurisdiction over the military base.
"In retrospect, we made two mistakes in dealing with the detained individuals at Guantánamo," wrote Olson. "First, we created a new legal system out of whole cloth. I now understand that the commissions were doomed from the start. We used new rules of evidence and allowed evidence regardless of how it was obtained."
\u201cI can't understate the importance of this oped from Ted Olson, who was Bush's Solicitor General during 9/11.\n\nHe says he now understands the Gitmo military commissions were doomed from the start and calls for acceptance of 9/11 defendants' plea bargains. https://t.co/3NUVPSs2YM\u201d

— Allegra Harpootlian (@Allegra Harpootlian) 1675365637
Evidence obtained through torture led to cases being declined or more lenient sentences than prosecutors sought. Susan J. Crawford, the Bush official in charge of deciding which terrorism suspects to try before Gitmo military commissions, declined to prosecute Mohammed al-Qhatani, the alleged would-be 20th 9/11 hijacker because, as she admitted in 2009, "we tortured" the defendant.
Col. Stuart Crouch, a Guantánamo prosecutor whose Marine Corps buddy was a pilot on one of the planes that crashed into the World Trade Center on 9/11, refused to prosecute Mohamedou Ould Slahi—who allegedly helped organize the plane's hijacking—because Ould Slahi was tortured.
In another example, seven out of eight members of a military jury convened to hear the case against Guantánamo detainee and alleged terrorist plotter Majid Khan recommended total clemency after the defendant testified how he endured torture including rape, being hung from a ceiling beam, and being subjected to the interrupted drowning method known as waterboarding while he was held at a CIA "black site" in Afghanistan.
Olson wrote that the U.S. legal system would have been more than capable of handling the cases of terrorism defendants, "but we didn't trust America's tried-and-true courts."
"In the 20 years since this ordeal began, no trial has even begun. There have been years of argument in pretrial hearings, which have produced no legal justice for the victims of 9/11," he noted. "Instead of helping Americans learn more about who carried the attacks out and why, they have produced seemingly endless litigation largely concerned with the treatment of detainees by government agents and the government's attempts to suppress certain information."
\u201cThis is big.\n\nTheodore Olson, who was Solicitor General during 9/11 and lost his wife that day, has come out in support of plea deals for the 9/11 defendants at Guant\u00e1namo.\n\nThe US must conclude these legal proceedings as quickly and justly as possible.\nhttps://t.co/S7GIo31CyP\u201d

— ACLU (@ACLU) 1675363349
After Bush-era Pentagon General Counsel Jim Haynes allegedly told lead Guantánamo prosecutor Col. Morris Davis that acquittals were unacceptable, Morris resigned over concerns the process was "rigged." Other Gitmo prosecutors, including Lt. Col. Darrel Vandeveld, Maj. Robert Preston, Capt. John Carr, and Capt. Carrie Wolf, also requested transfers from the "rigged" military commissions.
"Our second mistake," Olson wrote in his Journal piece, "was pursuing the death penalty through the commissions. Death penalty cases are the most hotly contested legal proceedings, given their irreversible nature. We doomed these newly created commissions to collapse under their own weight."
Olson continued:
While prosecuting these individuals in federal civilian courts would have been the right decision 15 or 20 years ago, Congress foreclosed that option in 2010 by banning the transfer of detainees to the U.S. for any purpose. Even if Congress were to lift that ban—which seems extremely unlikely—the only guarantee that federal court prosecution brings is years of appeals resulting from the legal morass of the past two decades. This is no resolution.
"If the 9/11 defendants held at Guantánamo are willing to plead guilty, and accept a life sentence at the military prison instead of the death penalty, we should accept that deal," OIson argued.
"Nothing will bring back the thousands whose lives were so cruelly taken that September day," Olson stressed. "But we must face reality and bring this process to an end. The American legal system must move on by closing the book on the military commissions and securing guilty pleas."
"The U.S. must bring these legal proceedings to as rapid and just a conclusion as possible."
Last year, military prosecutors and Guantánamo defense attorneys began negotiating potential plea deals that could spare 9/11 suspects from being executed in exchange for guilty pleas that would result in life imprisonment—and the continued operation of Gitmo for the foreseeable future.

Olson's admission is remarkable because it stands alone among top Bush, CIA, and Pentagon lawyers like Haynes, Alberto Gonzalez, John Yoo, Jay Bybee, and John Rizzo who designed, deployed, and defended the administration's policies regarding indefinite detention, torture, extraordinary rendition, and denial of basic legal rights.
Nearly 800 men and boys have been imprisoned at Guantánamo since it opened in January 2002. According to Col. Lawrence Wilkerson, who served as chief of staff to then-Secretary of State Colin Powell, the majority of Gitmo detainees were innocent and then-President George W. Bush, Vice President Dick Cheney, and Defense Secretary Donald Rumsfeld knew it.
Although Bush's successor, President Barack Obama, took steps toward closing Guantánamo and ending torture, both endured, even as Gitmo's population decreased dramatically during the Bush and Obama administrations.
Five Guantánamo detainees have been released during the tenure of President Joe Biden, including Khan, who was transferred to Belize earlier this week. Biden—whose former press secretary said closing Guantánamo is "our goal and our intention"—has been criticized for failing to close the prison after 21 years in operation.
As Olson noted in his opinion piece, 20 of the 34 remaining Guantánamo prisoners have been cleared for release. NBC News reported Thursday that "two brothers from Pakistan, Abdul Rahim Ghulam Rabbani and Mohammed Ahmed Ghulam Rabbani, are also nearing transfer, according to two senior U.S. officials."
"Nine of the remaining men, including the 9/11 defendants, face charges in the military tribunals," Olson wrote. "To date, there have been a total of nine convictions, several of which have been overturned in whole or in part on appeal, mostly by U.S. federal courts. Today, there are no trial dates set for any of the still-pending cases."
Unlike Maj. Gen. Michael Lehnert, Gitmo's first commander, Olson does not go so far as to call for the prison's closure. However, Olson concludes that "the U.S. must bring these legal proceedings to as rapid and just a conclusion as possible."
"True justice seems unattainable," he wrote. "The best the U.S. government can do at this point is negotiate resolutions of the remaining Guantánamo cases."

News
The legal group argues that information about the surveillance program "is key as Congress considers reauthorizing Section 702—the law used to defend this unconstitutional spying."
The ACLU on Friday filed a federal lawsuit against top U.S. intelligence agencies that have failed to respond to public records requests for information about a "sweeping law that authorizes the warrantless surveillance of international communications," including those of Americans.
The suit, filed in the U.S. District Court for the Southern District of New York, targets the Central Intelligence Agency (CIA), Department of Justice (DOJ), National Security Agency (NSA), and Office of the Director of National Intelligence (DNI).
"Section 702 has morphed into a domestic surveillance tool for the FBI."
In December, the ACLU requested "recent Foreign Intelligence Surveillance Court (FISC) opinions concerning the government's surveillance activities, including those conducted pursuant to Section 702 of the Foreign Intelligence Surveillance Act (FISA)."
According to the ACLU's complaint, which was first reported on by Axios, "to date, none of these defendant agencies has released any responsive records," despite their legal obligation to respond to such requests within 20 working days.
"Though Section 702 is justified as a counterterrorism tool, in reality it permits surveillance far beyond what is needed to protect national security," the ACLU explains on its website. It continues:
It allows the government to target foreigners abroad if it believes they possess "foreign intelligence information"—a term so broadly defined that it can include ordinary information about foreign affairs that has nothing to do with national security. This means that targets of surveillance could include human rights defenders, journalists, whistleblowers, or business owners. The government collects the personal information of these individuals—including any communications they may have with people in the U.S.—and stores it in databases for years, and in some cases, indefinitely.
With Section 702 set to expire at the end of the year, the complaint explains, Congress in the coming months "will consider whether to reauthorize these surveillance powers and will newly examine the breadth and intrusiveness of the digital searches the government conducts under this authority."
"In 2021, the FISC took the unusual step of extending its review of the government's annual Section 702 application, in order to consider novel or significant issues raised by the proposed surveillance," the document notes. "But the government has not released the court opinions that resulted from that review, even though they bear directly on the public's understanding of the surveillance powers the government seeks to wield under Section 702."
"Timely disclosure of these FISC opinions is vitally necessary to an informed debate about whether these surveillance powers should be reauthorized or reformed," the filing argues.
\u201cBREAKING: We\u2019re suing the NSA, CIA, and DOJ to learn more about the mass surveillance of our texts, emails, and calls with friends and family abroad.\n\nThis information is key as Congress considers reauthorizing Section 702 \u2014 the law used to defend this unconstitutional spying.\u201d

— ACLU (@ACLU) 1675440982
Echoing that argument, Patrick Toomey, deputy project director for the ACLU's National Security Project, told Axios that "these opinions are essential to an informed public debate, and the government should release them immediately."
Toomey took aim at the Federal Bureau of Investigation, which falls under the DOJ. He said that "Section 702 has morphed into a domestic surveillance tool for the FBI."

Axios pointed out that the ODNI "disclosed in an annual report in April that the FBI conducted as many as 3.4 million searches of Americans' data in 2021 that was previously collected through 702."
Toomey asserted that "before Congress votes on reauthorizing this law, Americans should know how the government wants to use these sweeping spying powers."
News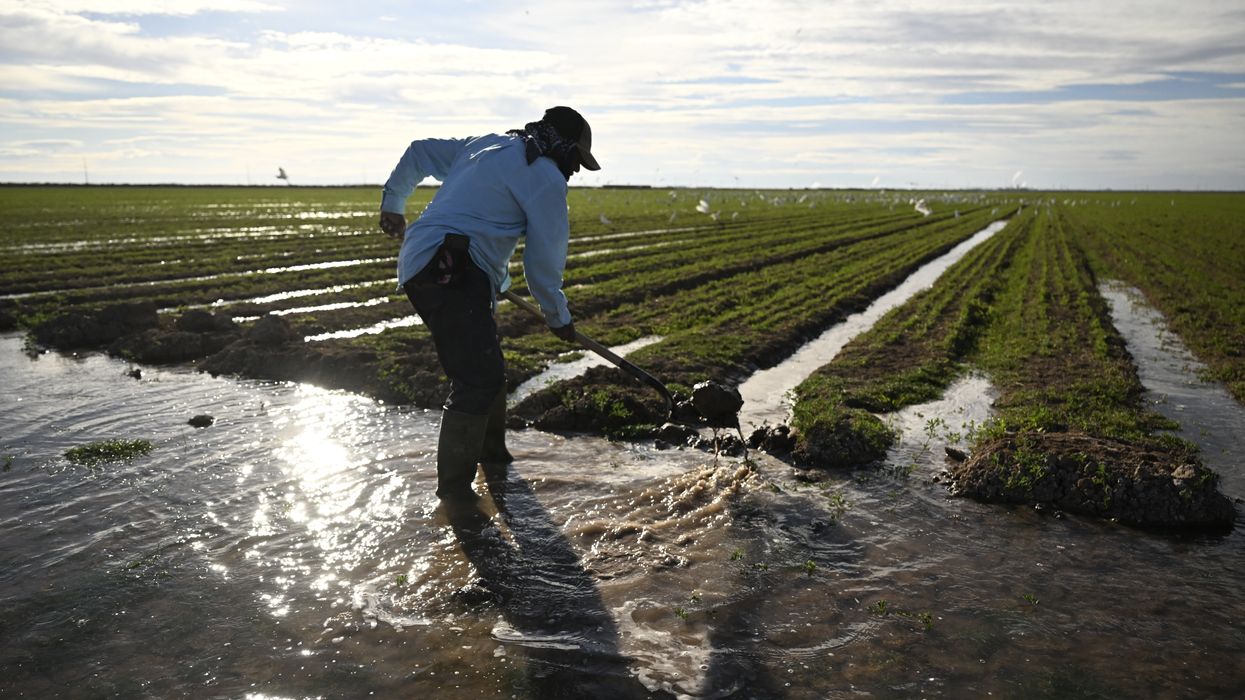 One campaigner implored governors and the Biden administration to "muster the political will to stop the expansion of water-intensive crops like tree nuts and alfalfa, factory farms, fracking, and fossil fuel extraction."
Since the seven Colorado River Basin states failed again this week to reach a consensus on a plan to conserve the region's dwindling water resources, environmental justice campaigners have implored officials to prioritize combating the "overuse and abuse" of water by agribusiness and fossil fuel corporations.
Arizona, Colorado, Nevada, New Mexico, Utah, and Wyoming agreed Monday on a proposed framework to collectively slash water use by roughly 15%. But California refused to approve the plan and submitted its own on Tuesday, causing the states to miss a federal deadline to finalize an interstate water conservation pact for the second time in six months. This sets the stage for what CNNdescribes as a "high-stakes legal battle" and increases the likelihood that the U.S. Department of Interior's Bureau of Reclamation will impose its own solution later this year.
Since the Colorado River Compact was first signed in 1922, the sprawling 1,450-mile river—a key water source for 40 million people in the western U.S. and northern Mexico—has been overallocated. Meanwhile, historic drought conditions intensified by the fossil fuel-driven climate emergency have exacerbated the situation, leading to worsening scarcity that threatens drinking water provision and power generation throughout the region, including in the metropolitan areas of Los Angeles, Phoenix, San Diego, Denver, Las Vegas, Albuquerque, and Salt Lake City.
The volume of water being withdrawn from the Colorado River has decreased since 2000 even as more people have moved to the region. But with less water flowing into the river amid the West's ongoing 23-year megadrought—more severe than anything seen in the preceding 1,200 years—recent reductions in per capita water consumption are inadequate. A 15% cut represents the bare minimum scientists say is needed to prevent water levels in dangerously depleted reservoirs from dropping even further.
"In this moment of crisis on the Colorado River, we must start from scratch and fundamentally rethink the allocation and use of these water resources," Mitch Jones, managing director for policy and litigation at Food & Water Watch, said Thursday in a statement. "This effort would be pointless without confronting head-on the key drivers of the crisis: the overuse and abuse of water by big agribusiness and fossil fuel corporations—the very same industries driving climate chaos in the first place."
As Wall Street investment firms look to capitalize on the pending catastrophe by buying and selling rights to the Colorado River's waning water supplies, Jones urged all levels of government to protect the vital waterway "as a public trust resource and prioritize the well-being of the public before corporate profits."
"The Biden administration and governors of the seven compact states must muster the political will to stop the expansion of water-intensive crops like tree nuts and alfalfa, factory farms, fracking, and fossil fuel extraction," said Jones. "They must halt these practices and chart a course to a more sustainable and resilient future, one that aligns with the reality of climate change and our precarious water future."
A whopping 80% of the Colorado River's water is currently "put towards agriculture, and 80% of that supply is used for crops like alfalfa, which is largely used as feedstock for cattle," according to Food & Water Watch. "The current framework to cut water uses, however, focuses on overall allocations and makes only a passing reference to the actual purpose that water is used."
"Each industrial, municipal, and agricultural user should be held to the highest industry standards in handling, using, and disposing of water," the progressive advocacy group added. "There is precious little water left to waste."
"Large agribusinesses and oil and gas operators use massive and unsustainable amounts of water, permitted by ineffective regulations that put profits over people."
In a Wednesday report titled Big Ag, Big Oil, and the California Water Crisis, Food & Water Watch researchers detailed "the toll that corporate agriculture and fossil fuel drilling is taking on the state's beleaguered water supplies." While more than one million Californians are denied access to clean water, powerful companies "have taken advantage of the state's water allocation system to benefit their own interests over public needs."
Despite ongoing drought conditions, California's "large agribusinesses and oil and gas operators use massive and unsustainable amounts of water, permitted by ineffective regulations that put profits over people," the group explained.
For instance, a massive expansion since 2010 in the number of acres devoted to growing almonds and pistachios required 523 billion additional gallons of water for irrigation in 2021 compared with 2017—an increase equivalent to the recommended indoor water use of 34.1 million people, or 87% of California's population. In addition, irrigation for the lucrative alfalfa industry guzzles nearly 1 trillion gallons of water per year, and corporate megadaries consume more than 142 million gallons of water every day.
Because vast quantities of California's nut crops, alfalfa, and dairy products are exported around the globe, it means that billions of gallons of the region's sorely needed water resources are being shipped overseas.
Furthermore, planet-heating oil and gas producers in California "devoured 3 billion gallons of freshwater between 2018 and 2021," the report points out.
California-based corporations are not alone in abusing the Colorado River's water resources. Food & Water Watch has also estimated that New Mexico's megadairies consume a combined 10 million gallons of water each day while producing significant amounts of pollution.
This is not the first time that Food & Water Watch has made the case for implementing just and sustainable water policies that don't allow the industries most responsible for the West's water crisis to call the shots.
Last August, when the seven states that depend on the Colorado River failed for the first time to produce an accord for achieving a 15% to 30% reduction in water use, the group's research director Amanda Starbuck called on policymakers to "eliminate rampant corporate water abuse before it's too late," decrying the "massive water use of Big Ag and Big Oil."
"By switching to renewable energy sources like solar and wind, California could save 98% of the water currently needed for its fossil fuel production," Starbuck said at the time. "And by transitioning away from industrial megadairies, thirsty crops like almonds and pistachios, and engaging in regenerative farming, California will gain enormous water savings that could serve small farmers and domestic households."
Food & Water Watch's new report urges Democratic California Gov. Gavin Newsom to "use executive and emergency powers to immediately stop egregious misuses" of water. "This includes preventing the planting of new almond and alfalfa acres on the salty, dry west side of the San Joaquin Valley, banning new megadairies, and ending new oil and gas drilling."
In addition, the report says that "the California Legislature should expressly define all water, including groundwater, as a public trust resource, and the government should protect and preserve this common resource for the public."
News
SUPPORT OUR WORK.
We are independent, non-profit, advertising-free and 100%
reader supported.