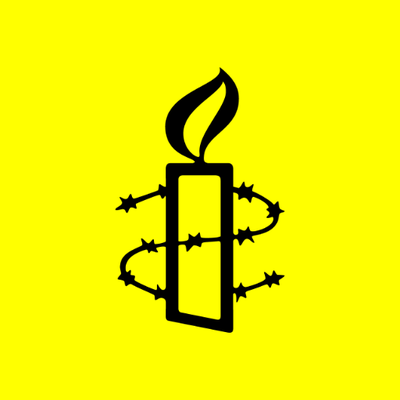 For Immediate Release
June, 11 2010, 02:36pm EDT
Contact:
AIUSA media office,Email:,media@aiusa.org,Phone: 202-544-0200 x302
Amnesty International Urges Egypt Government to Investigate Brutal Killing of Young Man
WASHINGTON
Amnesty International is
calling for an immediate, full and independent investigation into the brutal
killing of a 28-year-old Egyptian man, Khaled Mohammed Said, while in the
hands of Egyptian security forces in the city of Alexandria on Sunday,
June 6.
Shocking pictures of Khaled Mohammed Said's
body, whose face is almost unrecognizable from the beating he received,
at the hands of the Egyptian police and in public according to reports,
has been posted on the internet.
"The horrific photographs are shocking evidence
of the abuses taking place in Egypt which are in stark contrast to the
image of the country depicted today by Egyptian officials to members of
the UN Human Rights Council and their reluctant recognition of some minor
wrongdoings," said Amnesty International.
"These pictures are a rare, first-hand glimpse
of the routine use of brutal force by the Egyptian security forces, who
expect to operate in a climate of impunity, with no questions asked."
Although, the exact circumstances surrounding
the killing are still being pieced together, what is known is that Khaled
Mohammed Said was severely beaten by two plain-clothes police officers
in an internet cafe. He was reportedly dragged out of the cafe and the
beating continued until he died.
According to a lawyer from El-Nadim Center
for Rehabilitation of Victims of Violence,
Khaled Mohammed Said's relatives were
informed of his death, but were prevented from seeing his body immediately.
The police took them to Sidi Gaber police station, where they were told
that Khaled Mohammed Said had swallowed a bag of narcotics when the police
had approached him, and had died from an overdose.
The family filed a complaint with the prosecutor
on Monday, June 7, but was surprised to find that the police had already
filed a report claiming Khaled Mohammed Said had died from a drug overdose.
The prosecutor has since ordered an autopsy and the investigation is continuing.
Amnesty International calls for an investigation
to be carried out in line with international standards, including those
within the United Nations Principles on Effective Prevention and Investigation
of Extra-legal, Arbitrary and Summary Executions.
Under the umbrella of Egypt's 29-year-old
state of emergency, abuses by the security forces are routine and rarely
punished, and those responsible have only been brought to justice on a
very few occasions. The state of emergency was extended for another two
years earlier this month, despite repeated calls from states and international
human rights groups during the Universal Periodic Review (UPR) for it to
be lifted as soon as possible.
"The Egyptian authorities must respond immediately
to this brutal beating and killing in the most robust way. If they do not
take action, it will yet again send a clear signal that these abuses may
continue and guarantee the perpetrators get away with it," said Amnesty
International. "The Egyptian authorities must reign in their security
forces. The Egyptian authorities should know that the eyes of the world
are increasingly on them, and the pictures online mean that they cannot
avoid conducting a thorough investigation with another whitewash."
Amnesty International is a global movement of millions of people demanding human rights for all people - no matter who they are or where they are. We are the world's largest grassroots human rights organization.
(212) 807-8400
LATEST NEWS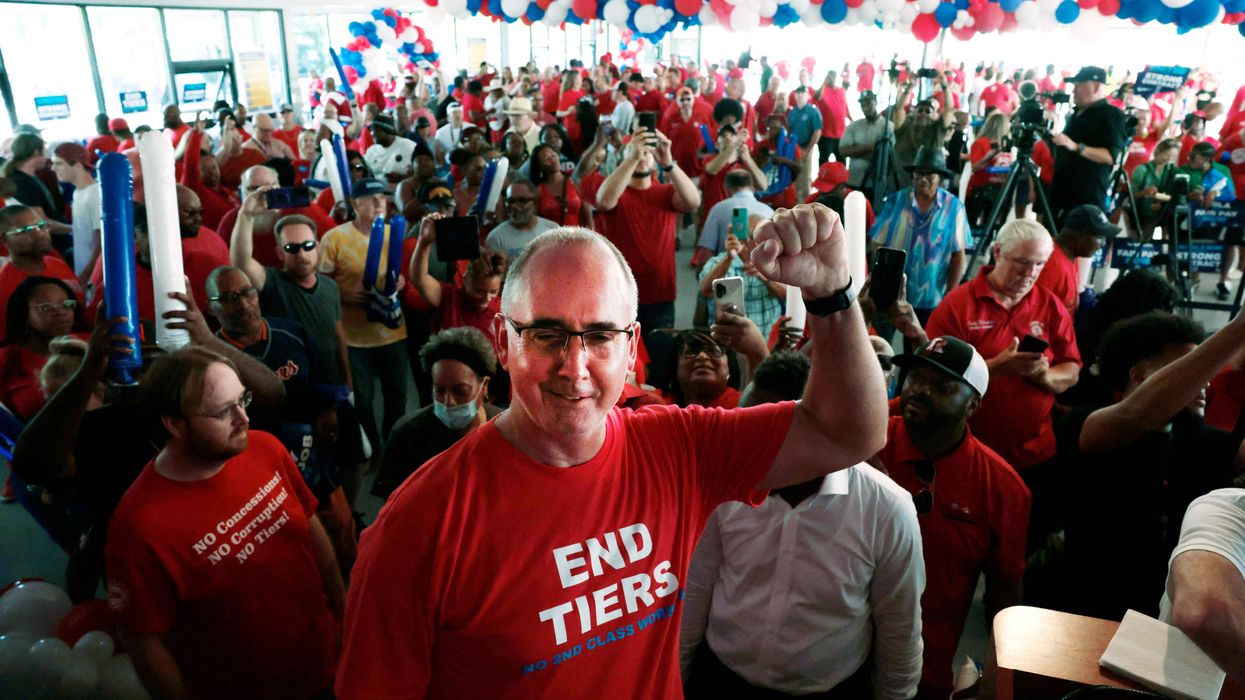 "Our goal is not to strike. Our goal is to bargain a fair contract," said UAW president Shawn Fain. "But if we have to strike to win economic and social justice, then we will."
The United Auto Workers filed unfair labor practice charges against General Motors and Stellantis on Thursday, accusing the major carmakers of illegally refusing to bargain in good faith as the union seeks substantial wage increases and benefit improvements.
UAW president Shawn Fain announced the charges during a livestream late Thursday, just two weeks before the union's contracts with GM, Stellantis, and Ford—the so-called "Big Three" automakers—are set to expire.
"I'm sad to report that the Big Three are either not listening, or they are not taking us seriously," said Fain, who noted that he directly warned the automakers' CEOs not to drag out contract talks with the goal of forcing the union to swallow a milquetoast contract at the last minute.
The UAW outlined its demands—which include a 46% wage increase over four years, more paid time off, and the elimination of tiers that leave newer workers with paltry pay and benefits—a month ago.

"Both General Motors and Stellantis have failed to give us any economic counters," Fain said Thursday. "GM and Stellantis' willful refusal to bargain in good faith is not only insulting and counterproductive, it's also illegal. That's why today our union filed unfair labor practice charges, or ULPs, against both GM and Stellantis with the National Labor Relations Board."
But Fain stressed that the union's "strongest line of defense" against the automakers' obstruction and union-busting is "our ability to take collective action."
"Our goal is not to strike. Our goal is to bargain a fair contract," said Fain, who was elected as UAW's president earlier this year. "But if we have to strike to win economic and social justice, then we will."
GM and Stellantis dismissed Fain's allegations of law-breaking as "frivolous" and without merit.
"You can't make $21 billion in profits in half a year and expect members to take a mediocre contract."
Fain's announcement of ULP charges against the two of the Big Three automakers came as Ford countered UAW's offer with a proposed 9% wage increase over four years as well as "a reduction of the time it takes workers to reach the top of the wage scale from eight to six years, elimination of wage tiers, a 20% starting wage increase for temporary workers to $20 per hour, $5,500 ratification bonuses, and $12,000 over four years in what the company calls a "cost-of-living adjustment bonus," The Detroit Newsreported.
One worker at Ford's Cleveland Engine Plant told the newspaper that the company's counter is "nothing short of a slap in the face."
"We have plenty of temps here making $16.70 an hour, and they're barely getting by—$20, that isn't much better," the worker said. "Ford has a long way to go if they want to get our members' support on a contract."
Last week, the UAW announced that 97% of participating members at General Motors, Ford, and Stellantis voted to authorize a strike if an adequate contract deal with management isn't reached by September 14. According to a Gallup poll released earlier this week, 75% of the U.S. public sides with UAW members over Big Three management in the contract negotiations.
"I know our demands are ambitious, but I've told the companies repeatedly, I'm not the reason that members' expectations are so high," Fain said Thursday. "What's driving members' expectations are the Big Three's profits. You can't make $21 billion in profits in half a year and expect members to take a mediocre contract."
News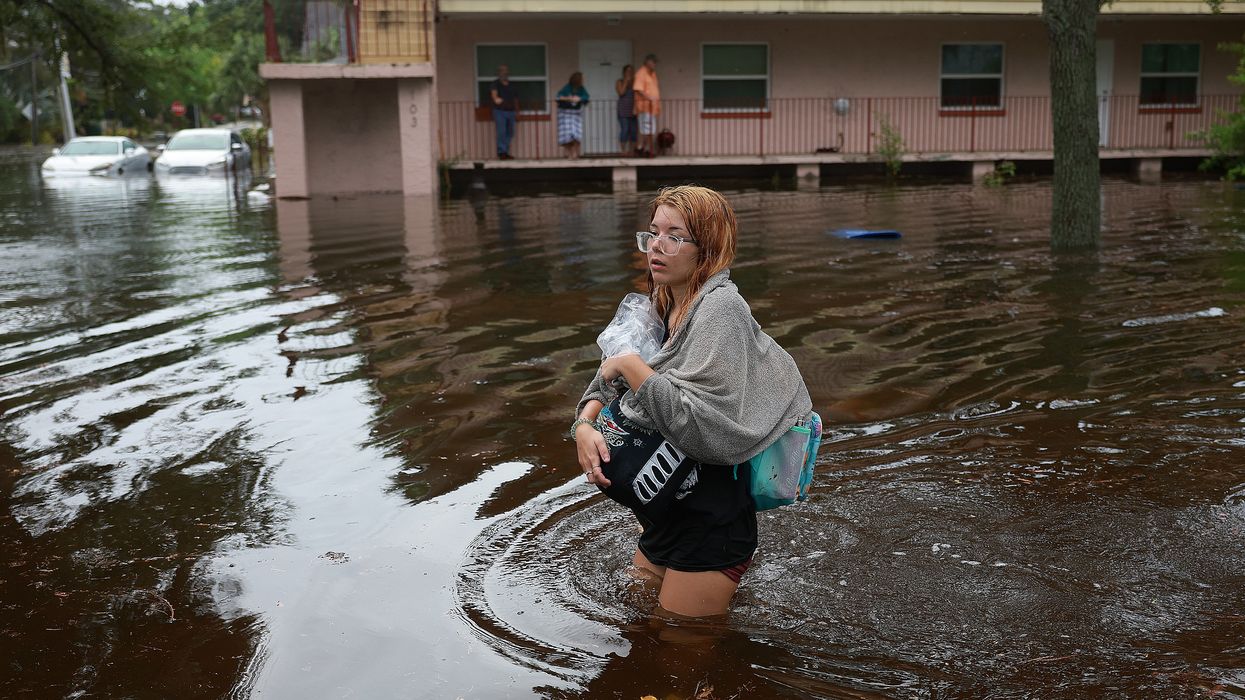 Campaigners also argue that "Big Oil CEOs and politicians like Ron DeSantis must be held accountable for knowingly fueling the climate crisis that heats our oceans and strengthens deadly storms."
As U.S. President Joe Biden plans to visit Florida on Saturday to tour the wreckage from Hurricane Idalia, climate campaigners this week have yet again renewed demands for the Democrat—who is seeking reelection next year—to declare a climate emergency.
"I don't think anybody can deny the impact of the climate crisis anymore," the president said in a Wednesday speech about the hurricane response and wildfire recovery efforts in Maui. "Just look around: historic floods—I mean historic floods; more intense droughts; extreme heat; significant wildfires have caused significant damage like we've never seen before."
Biden suggested during an interview earlier this month that he had "practically" declared a climate emergency—which campaigners forcefully refuted, stressing that actually doing so would unlock various powers to tackle the global crisis.
After the president on Thursday confirmed his upcoming trip to Florida, the youth-led Sunrise Movement wrote on social media that "Biden must declare a climate emergency and do everything he can to prevent future disasters now."
White House Homeland Security Adviser Liz Sherwood-Randall told reporters on Thursday that Biden will "visit the areas most impacted" by the storm and has been receiving regular updates from her and Federal Emergency Management Agency (FEMA) Administrator Deanne Criswell "on the latest developments with Hurricane Idalia, and also of course with the ongoing recovery operations in Hawaii on the island of Maui," according toCNN.
Since the Category 3 hurricane made landfall in Florida early Wednesday before moving on to Georgia and the Carolinas, multiple groups, including Greenpeace USA and the Center for Popular Democracy, have called for a climate emergency declaration.
Scientists have warned that continuing to heat the planet through human activities like fossil fuel use will lead to increasingly devastating hurricanes—particularly because the global ocean has absorbed most of the warming from greenhouse gases in recent decades.
"We can see climate change fueling hurricanes," Andra Garner, a hurricane expert at Rowan University in New Jersey, toldNPR on Wednesday, explaining how hotter ocean water is tied to more intense storms. "Think of it like getting a coffee in the morning and getting a couple extra shots of caffeine in there."
Along with calls for a climate emergency declaration, demands are also mounting for the fossil fuel industry—and the politicians who support it, like Florida Gov. Ron DeSantis, a 2024 GOP presidential candidate—to be held accountable for driving the disasters.
"As we Floridians face the devastation of yet another massive hurricane, we know exactly who is responsible for making these countless disasters exponentially worse: the Big Oil CEOs profiting off the climate crisis and their political allies," CLEO Institute executive director Yoca Arditi-Rocha said Thursday. "Big Oil CEOs and politicians like Ron Desantis must be held accountable for knowingly fueling the climate crisis that heats our oceans and strengthens deadly storms—then leading the fight to strip away resources our state could use to respond."
John Paul Mejia, a Miami native and national spokesperson for the Sunrise Movement, shared that "it's hard to see the people and places I love suffering after yet another climate disaster. But the truth is, Florida is standing out as an example of what a world ruled by fossil fuel executives and the politicians they employ looks like."
"By turning down millions of dollars in climate investments while people suffer, Gov. DeSantis has shown he's more willing to shield Big Oil executives from accountability than serve the people of Florida," the campaigner added. "My generation won't forget this and we will do anything in our power to defeat politicians like him."
"It's time to hold Big Oil accountable for the climate disasters they're fueling," declared Jamie Henn of Fossil Free Media, which recently bought billboards in U.S. communities blaming heatwaves on fossil fuel giants. "Big Oil executives are sitting in cushy corner offices making massive profits while people in Florida, Hawaii, and all over the world are losing their homes, businesses, and lives. Finally holding this industry accountable for the damage they're causing has become a major priority for the global climate movement."
As frontline communities and activists seek accountability, including through climate liability lawsuits against oil and gas companies, "the spate of summer disasters has highlighted another potentially looming crisis in the U.S." Inside Climate Newsreported Tuesday. "The federal Disaster Relief Fund, which allocates billions of dollars to help communities recover after a major disaster, is set to run out of money this fall if Congress can't come to an agreement on how to replenish it."
As the outlet detailed:
On Monday, the Biden administration announced nearly $3 billion in funding for hundreds of communities across the U.S. to reduce their vulnerability to climate-fueled extreme weather events. The money, which will come from the Bipartisan Infrastructure Law that Congress passed in 2021, will go toward building more weather-resilient infrastructure and flood mitigation efforts, among other projects.

But that money—though important—is geared toward preventative measures and is separate from FEMA's disaster relief fund, meaning it won't help communities recover from this summer's devastating weather. If the relief fund isn't replenished soon, the agency could be forced into a difficult position, having to choose which disaster recovery efforts to fund and which to postpone.
Climate scientist and activist Peter Kalmus said on Democracy Now! Thursday that "the public just doesn't understand, in my opinion, what a deep emergency we are in. This is the merest beginning of what we're going to see in coming years. And to me, it's absolutely horrifying."

"I don't think people really fully appreciate how irreversible these impacts are," he continued. "We can't just reverse this. It's not like cleaning up trash in a park. How hot we allow this planet to get is how hot it will stay for a very long time. And I feel like climate scientists, including myself, have been being ignored for decades by world leaders. They just don't seem to get this, either."
"I'm glad to hear President Biden finally using his bully pulpit a little bit to try to wake people up that this is real, but he continues to expand fossil fuels at breakneck pace," Kalmus added, pointing to drilling on public lands, the Willow project in Alaska, and the Mountain Valley Pipeline in Appalachia. "And that's the cause of all of this damage that we're seeing."
"I've got two sons, and it breaks my heart to see the Biden administration continue to expand fossil fuels and take us deeper into this catastrophe, instead of trying to bring us back from this," said the expert, who has called on the president to declare a climate emergency. "He's deeply on the wrong side of history."
News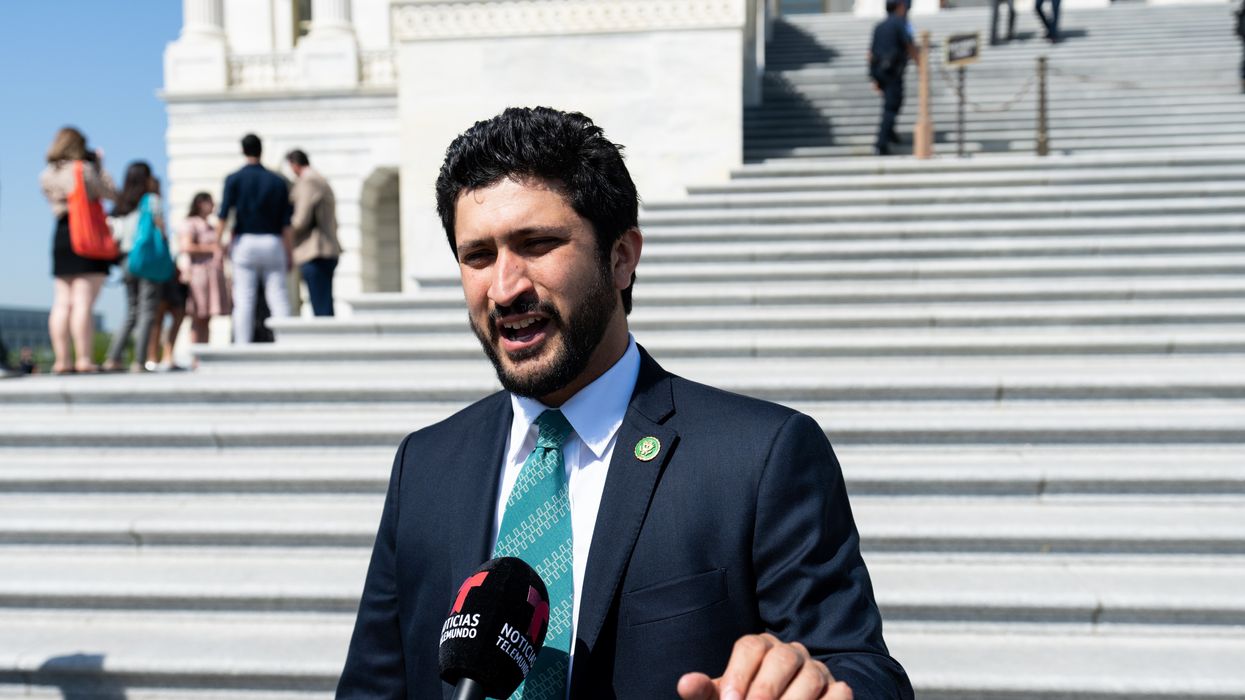 "Whether we're in the middle of a heatwave or a winter storm, Texas should be able to keep the lights on," said the congressman.
Motivated by this summer's extreme heat and a devastating winter storm a couple of years ago, Democratic Texas Congressman Greg Casar announced Thursday that he is working on federal legislation to connect the state to national electric grids.
About 90% of the Lone Star State is covered by a grid operated by the Electric Reliability Council of Texas (ERCOT) while the rest of the continental United States is served by the Eastern Interconnection and Western Interconnection, which are divided by the Rocky Mountains.
"The state has long refused to connect its grid in an attempt to avoid federal standards and consumer protections," Casar's office explained in a statement Thursday. "The U.S. Congress has the legal authority to require Texas to connect to the national grids to protect consumers, improve electric reliability nationwide, and safely regulate commerce."
Confirming his plans for a bill requiring the state to connect to national grids, Casar declared that "whether we're in the middle of a heatwave or a winter storm, Texas should be able to keep the lights on. This legislation will help consumers, improve the economy, generate more clean power, and save lives."
Texas' grid garnered national attention when it failed in February 2021, during Winter Storm Uri. The Texas Department of State Health Services put the official death toll at 246, but BuzzFeed Newsestimated the cold conditions and power outages may have killed 700 people.
In addition to leaving millions of people without electricity or water, the 2021 winter weather in the state potentially caused $100 billion in economic damages, according to research from a Texas-based team published in IOPscience earlier this year.
Casar's office pointed to a report that showed "each additional gigawatt of transmission tied between the Texas power grid and the Southeastern U.S. could have saved nearly $1 billion, while keeping the heat on for hundreds of thousands of Texans."
Winter Storm Uri and the hot summer that followed spurred conversations about whether Texas should connect to national grids.
Two years later, "the Texas power grid survived another close call" last week, barely avoiding rolling blackouts, according toTexas Public Radio. That came amid unprecedented extreme heat that scientists say is tied to humanity's continued use of climate-wrecking fossil fuels.
In addition to pushing for legislation to connect Texas to national grids, Casar has joined with Rep. Alexandria Ocasio-Cortez (D-N.Y.) and Sen. Ed Markey (D-Mass.) to fight for the Connecting Hard-to-Reach Areas With Renewably Generated Energy (CHARGE) Act, which would establish infrastructure needed to boost reliability, cut costs, and spark clean energy innovation.
"As the climate crisis worsens, we must do everything we can to increase grid reliability across the country. That's why we must pass the CHARGE Act," Casar said when they introduced the bill last month. "Every single family should be able to rely on their utilities."
News
We Still Must Raise $20,000 by Midnight Friday
Please Support Our
Summer Campaign Today!