Constitution Project Decries Obama Administration Decision to Indefinitely Detain Some Detainees Without Charge
"One Year and Counting", webcast available online today at noon, highlights recommendations in Beyond Guantánamo: A Bipartisan Declaration
WASHINGTON
In news accounts this morning, it was reported that,
on the anniversary marking President Obama's pledge to close the
Guantanamo Bay detention facility within one year, the administration
will pursue a policy of indefinite detention without charge for
approximately 50 detainees still held at Guantanamo. The administration
had previously acknowledged that it will miss the deadline to close the
facility, while continuing its pledge to see the detention facility
closed.
"Even if the Obama administration continues to work to
close Guantanamo, by pursuing a policy of indefinite detention without
charge, the damaging policies that embody the prison will continue, as
will the negative effects to American values, the rule of law, and our
nation's reputation abroad," said Virginia Sloan, president of the
Constitution Project. "The constitutional way to fulfill the
president's commitment to closing Guantanamo is to prosecute suspected
terrorists in federal court, and to oppose the use of military
commissions and indefinite detention without charge. There is
widespread bipartisan support for closing Guantanamo in a way that
returns our nation to its constitutional principles, as embodied in Beyond Guantanamo: A Bipartisan Declaration."
To
take note of the missed deadline, the Constitution Project joined with
the Rockefeller Brothers Fund and the Open Society Institute to
cosponsor a panel discussion examining what prevented the
administration from reaching its goal and what obstacles remain to
closing the detention facility. Titled "One Year and Counting: When and
How Will Guantanamo Close?," the program featured an array of voices,
including current and former government and military officials, a
sitting federal judge, a former federal prosecutor in New York City,
advocates, and litigators. A webcast of today's event will be available
online at noon; link is below.
Two participants are signatories to Beyond Guantanamo: A Bipartisan Declaration,
which calls on the Obama administration and Congress to support a
policy for closing Guantanamo that is consistent with our
constitutional principles and also ensures our country's security. An
effort coordinated by the Constitution Project and Human Rights First
and joined by nearly 140 prominent Americans, including former members
of Congress, diplomats, federal judges and prosecutors, high-level
military and government officials, as well as national security and
foreign policy experts, bar leaders, and family members of 9/11
victims, the Declaration supports prosecution of terrorism
suspects in traditional federal court, rather than by military
commission, and opposes indefinite detention without charge.
To view the live webcast of today's panel discussion, go to:
https://fora.tv/live/osi/when_will_guantanamo_close

To view a copy of Beyond Guantanamo: A Bipartisan Declaration, go to:
The Constitution Project is a politically independent think tank established in 1997 to promote and defend constitutional safeguards. More information about the Constitution Project is available at https://constitutionproject.org/.
LATEST NEWS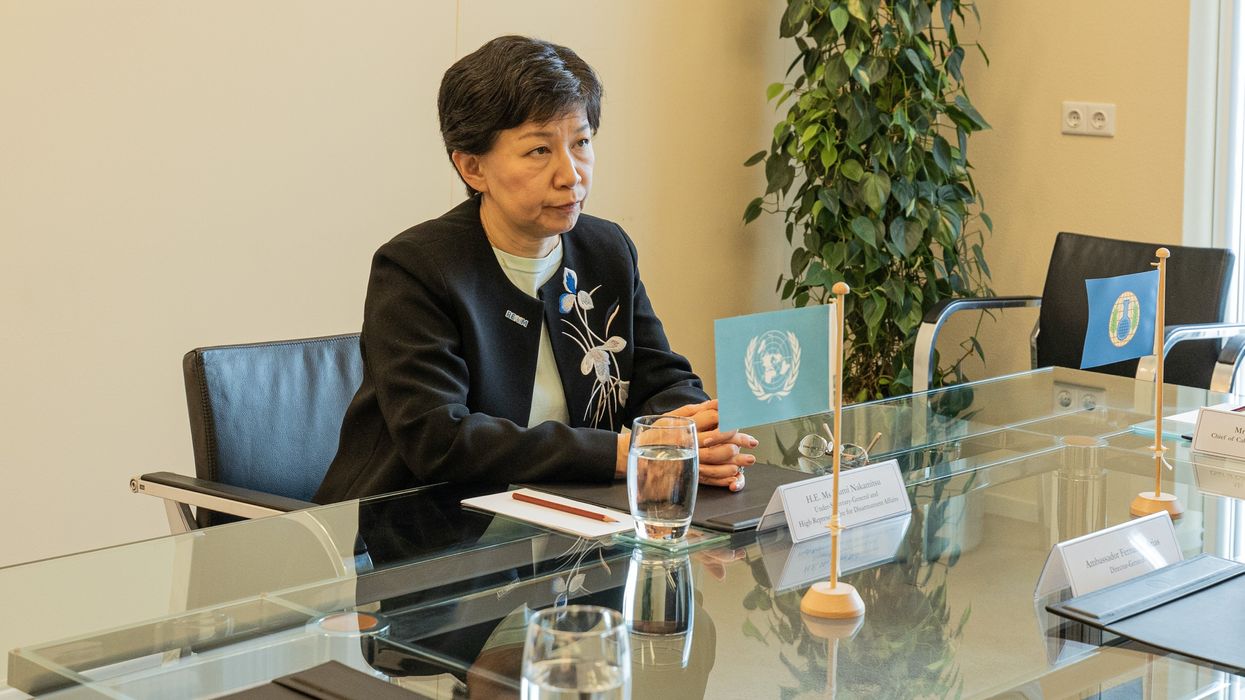 "Though we are living in a moment of increased confrontation and militarization, one fundamental truth remains unchanged: The only way to eliminate nuclear risk is to eliminate nuclear weapons."
The head of the United Nations disarmament division warned Thursday of the need for urgent global action to eliminate atomic weapons, especially during the current heightened tensions between the United States and Russia—the world's leading nuclear powers—over the latter's thermonuclear threats during its invasion of Ukraine.

Addressing attendees of the International Campaign to Abolish Nuclear Weapons' "ICAN Act On It" Forum in Oslo, Norway via a pre-recorded video message, United Nations High Representative for Disarmament Affairs Izumi Nakamitsu linked the concept of "humanitarian disarmament" with international agreements including the Convention on Cluster Munitions, the Anti-Personnel Landmine Ban Convention, and the Treaty for the Prohibition of Nuclear Weapons (TPNW).
"It is clear that a desire to avoid the unspeakable human suffering caused by the use of nuclear weapons is a driving force for nuclear disarmament efforts," Nakamitsu said. "Such efforts are needed now more than ever."
"Since the invasion of Ukraine by the Russian Federation just over one year ago, we have witnessed an increase in dangerous nuclear rhetoric," she noted. "There has been a further breakdown of trust among the two states with the world's largest nuclear arsenals. In the past weeks, we have seen the suspension of inspections under the last remaining treaty limiting the size of these arsenals."
"Nuclear risk is at the highest level since the depth of the Cold War," said Nakamitsu, who highlighted "five key measures that can be taken" to "reverse current dangerous trends":
State parties to the TPNW should make headway in implementing their treaty and continue to forcefully advocate for its principles;
States that have yet to sign or ratify the TPNW should make a serious study of the treaty that takes into account its articles, its normative value, and its operation to date;
States that choose to remain outside the TPNW should use the avenues available to them—including victim assistance, environmental remediation, nuclear disarmament verification, and further study of the humanitarian consequences of nuclear weapons—to make progress on nuclear disarmament;
States should condemn nuclear threats and blackmail and demand progress toward the total elimination of nuclear weapons—not in spite of, but precisely because of today's deteriorating security environment; and
Civil society must continue to hold states—and the United Nations—accountable for living up to their promises, and for making tangible progress toward our shared goal of a world free of nuclear weapons.
To date, 92 nations have signed the TPNW, while 68 countries are state parties to the agreement,
according to
the United Nations Office for Disarmament Affairs. None of the world's nine nuclear powers has signed the treaty.
"Though we are living in a moment of increased confrontation and militarization, one fundamental truth remains unchanged: The only way to eliminate nuclear risk is to eliminate nuclear weapons," Nakamitsu concluded. "This remains the highest disarmament priority of the United Nations and we will continue to work with all member states and all other stakeholders to that end."
News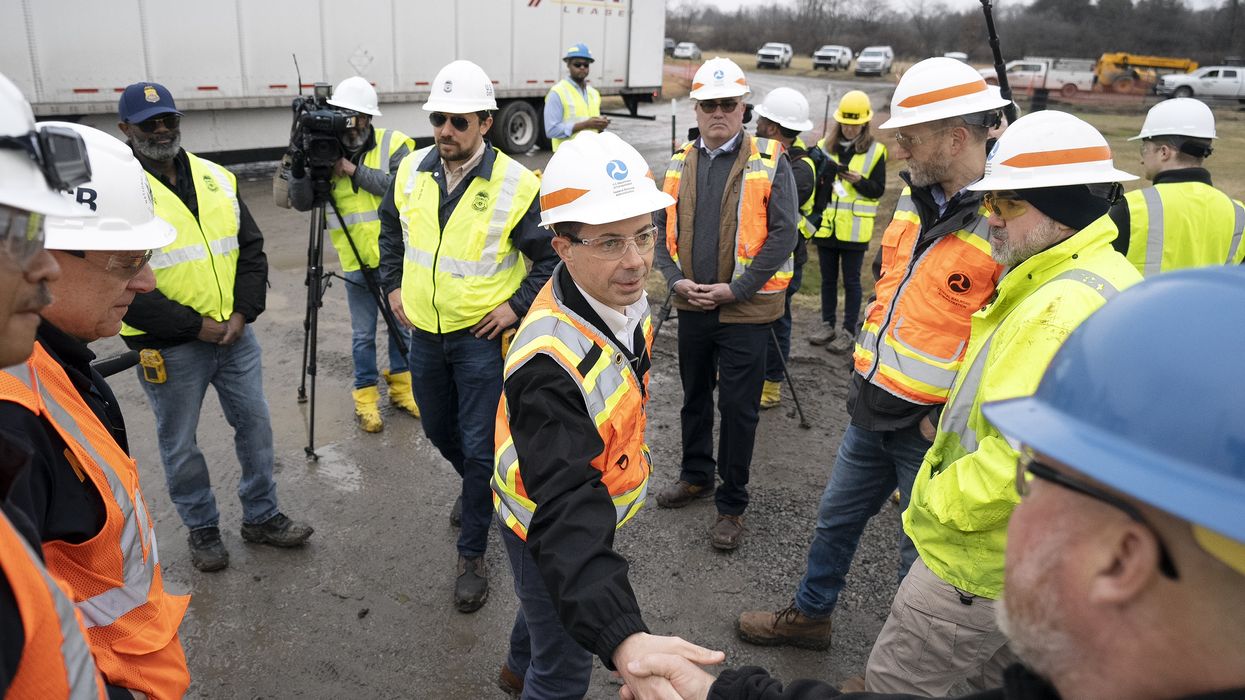 "While the serious health impacts of the derailment in East Palestine have only just begun to emerge, we know that toxic spills like these can be devastating to communities and families for decades," said one advocate.

As industry employees push for improvements to bipartisan railway safety legislation and reject efforts by rail companies to introduce new safety rules on their own, one public health advocacy group on Thursday called on the Biden administration to do everything in its power to make trains safer for workers and American communities.
Last month's train derailment in East Palestine, Ohio—which sent toxic chemicals into the environment as officials conducted a controlled release of the vinyl chloride that was carried by the train—was the result of successful lobbying by the rail industry against safety regulations, said Wenonah Hauter, executive director of Food & Water Watch.
U.S. Transportation Secretary Pete Buttigieg and President Joe Biden have the power to reinstate crucial Obama-era regulations that could prevent further accidents, said the group.
"Secretary Buttigieg and this administration must act immediately to reduce the risks of these horrific derailments by first reestablishing the commonsense rail freight safety standards implemented by [former President Barack] Obama and unconscionably rolled back by [former President Donald] Trump," said Hauter.
The Trump administration in 2018 rolled back regulations mandating the use of highly responsive electronic braking systems for trains carrying oil and other flammable materials.
A preliminary report by the National Transportation Safety Board (NTSB) found that an overheated wheel bearing rather than the brake system was likely behind the derailment of the Norfolk Southern train in East Palestine, but a number of other derailments in recent weeks have prompted calls for the regulations to be reinstated immediately.
On Thursday, just before the CEO of Norfolk Southern testified before the Senate Environment and Public Works Committee and apologized for the accident, another train owned by the company left the tracks in Alabama. CEO Alan Shaw was informed of the accident by Sen. Sheldon Whitehouse (D-R.I.), who said, "You may need to look into that."
On Wednesday, a train owned by freight company CSX derailed in Sandstone, West Virginia and released an "unknown" quantity of diesel fuel and oil into the New River.

"While the serious health impacts of the derailment in East Palestine have only just begun to emerge, we know that toxic spills like these can be devastating to communities and families for decades," said Hauter. "All trains carrying dangerous toxic chemicals should be classified as 'high-hazard flammable trains,' which would require more stringent safety requirements and notice to state and local officials of their contents."
"These are actions," she added, "that Secretary Buttigieg and the administration can and must make immediately."
News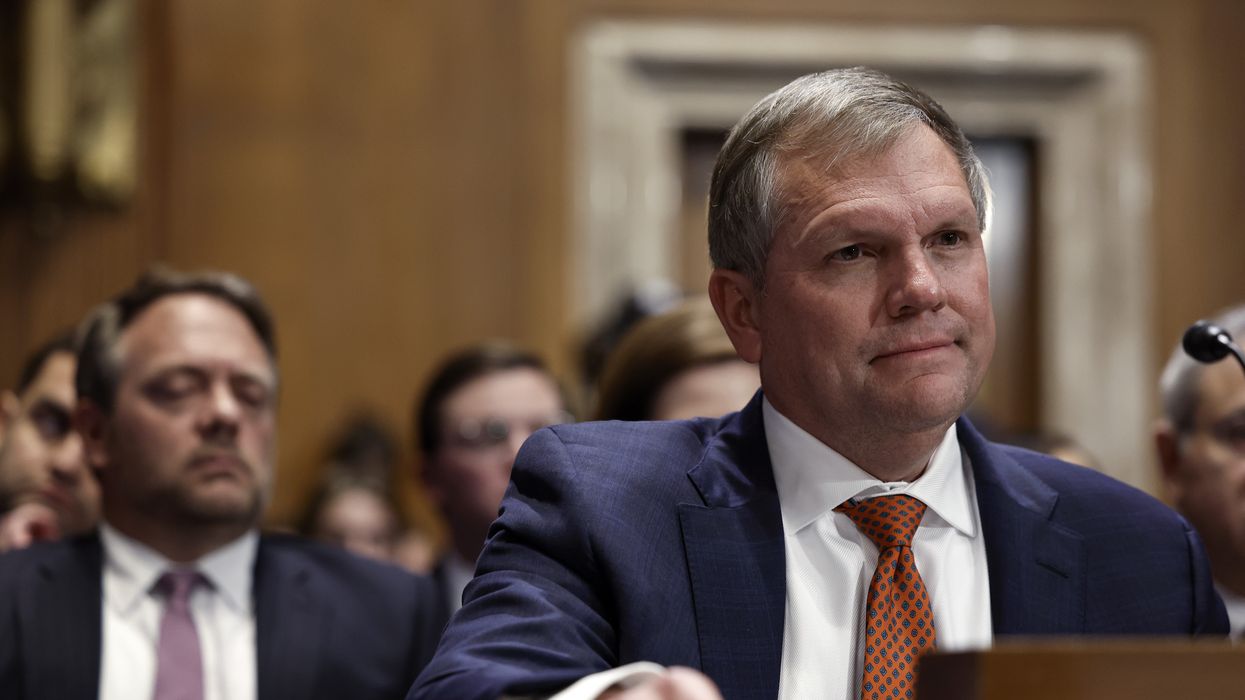 Questioned at a Senate hearing on the East Palestine disaster, Alan Shaw also wouldn't agree to end "precision-scheduled railroading," a Wall Street-led profit-maximizing approach that critics say endangers communities nationwide.
Thursday's U.S. Senate hearing about the ongoing environmental and public health disaster in East Palestine, Ohio "did not go well" for Norfolk Southern president and CEO Alan Shaw, the progressive media outlet More Perfect Union declared.
Shaw refused to commit to providing workers with seven days of paid sick leave, ceasing stock buybacks, and abandoning Wall Street-endorsed policies that critics say contribute to the 1,500-plus derailments seen each year in the U.S., including Norfolk Southern's toxic crash near the Ohio-Pennsylvania border last month as well as a derailment that happened in Alabama just before the multimillionaire executive testified.
In remarks prepared for the Senate Committee on Environment and Public Works, Shaw wrote, "I am deeply sorry for the impact this derailment has had on the people of East Palestine and surrounding communities, and I am determined to make it right."
But during the committee's hearing, Shaw refused to use the multiple opportunities he was given to publicly commit to enacting meaningful changes.
Noting that Norfolk Southern has recently rewarded wealthy investors with $10 billion in stock buybacks, Independent Sen. Bernie Sanders of Vermont asked Shaw if he could "tell the American people and your employees right now that... you will guarantee at least seven paid sick days to the 15,000 workers you employ."
Sanders acknowledged that Norfolk Southern recently agreed to provide up to a week of paid sick leave per year to roughly 3,000 track maintenance workers. However, he asked Shaw, "Will you make that commitment right now to your entire workforce?"
"I will commit to continuing to discuss with them important quality-of-life issues," Shaw responded.
Sanders told Shaw he sounds "like a politician" and reiterated his question, but the executive repeated his dodge.
Sanders, chair of the Senate Health, Education, Labor, and Pensions Committee, then told Shaw that he looks forward to discussing the matter further, hinting at a potential request to testify before the panel he leads.
Later during the hearing, Democratic Sen. Jeff Merkley of Oregon asked Shaw, "Will you pledge today that you will do no more stock buybacks until a raft of safety measures have been completed to reduce the risk of derailments and crashes in the future?"
Once again, Shaw refused to give a straight answer, saying that he will commit to "continuing to invest in safety." Merkley repeated his question, to no avail.
More Perfect Union has calculated that payouts to Norfolk Southern's shareholders surged by more than 4,500% over the past 20 years, from $101 million in stock repurchases and dividend bumps in 2002 to $4.7 billion in 2022.
In response to Merkely's inquiry, Shaw claimed that thanks to his company's safety investments, "the number of derailments, hazardous material releases, and personal injuries has declined" over time.
Not helping Shaw's case, a Norfolk Southern train careened off the tracks in Calhoun County, Alabama around 6:45 am ET on Thursday, about three hours before the hearing began. The rail giant was also responsible for other derailments last month in addition to the highly visible one in East Palestine. Moreover, a Norfolk Southern conductor was killed in a collision in Ohio early Tuesday.
More Perfect Union shared data showing that Norfolk Southern's accident rate grew faster than the industry average over the past decade and accused the CEO of lying about his company's safety record.
According to Railroad Workers United and others, industry-led deregulation and Wall Street-backed policies such as "precision-scheduled railroading" (PSR) have made the U.S. rail system more dangerous.
During Thursday's hearing, Sanders brought up PSR, which forces fewer workers to manage longer trains in less time.
The profit-maximizing practice championed by Wall Street has enabled Norfolk Southern to rake in billions of dollars while reducing the size of its workforce by nearly 40% over a recent six-year period, said Sanders, but that has come at the expense of safety.
"Will you make a commitment right now to the American people that you will lead the industry in ending this disastrous precision-scheduled railroading?"
Despite Sanders' request for a "yes or no" answer, Shaw danced around the question, saying that he has increased hiring since becoming CEO last May.
Sanders characterized the recent uptick in hiring as an attempt to recover from a preceding round of mass layoffs and asked once again if Shaw "will lead the industry in doing away with" the PSR model that was "imposed" by profit-hungry Wall Street actors.
Shaw, however, refused to commit to such a change.
Thursday's hearing comes two days after the National Transportation Safety Board—which is already probing the causes of the East Palestine disaster—announced a "special investigation" into Norfolk Southern's "organization and safety culture."
It also comes less than a month after Shaw angered East Palestine residents by skipping a town hall where people expressed their concerns over the long-term consequences of air pollution and groundwater contamination stemming from the release and burnoff of carcinogenic chemicals, a move that was made to avoid a catastrophic explosion.
Following the hearing on Capitol Hill, Food & Water Watch executive director Wenonah Hauter said in a statement that "Shaw's apology today rings hollow," coming as it did "after years spent pushing to roll back the very sorts of safety regulations that would have prevented an accident like this."
"If Norfolk Southern had real concern for the safety of the countless communities like East Palestine through which their trains run, they would be calling for more safety measures for the industry," said Hauter. "Instead they offer voluntary steps that can easily be undone, prioritizing profit margins over people."
News
SUPPORT OUR WORK.
We are independent, non-profit, advertising-free and 100%
reader supported.