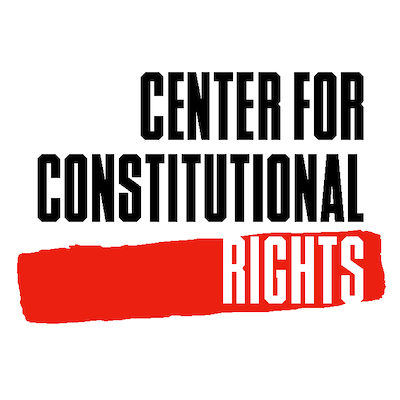 For Immediate Release
January, 11 2010, 02:36pm EDT
Contact:
press@ccrjustice.org
Former Detainees Boumediene and Deghayes Address President Obama on Guantanamo Anniversary
Human Rights Attorneys and Activists Hold Rally, March and Briefing to Demand Closure of Base and Oppose Preventive Detention in U.S.
WASHINGTON
To mark the beginning of the ninth year of detention without charge or
trial at Guantanamo today, activists and lawyers of detained men held a
rally, a march, and a public briefing to outline current issues related
to President Obama's Guantanamo, demand that the president make good on
his pledge to close the prison, and declare their opposition to any
plan for holding prisoners without charge or trial in the U.S. Formerly
detained men and detainee families addressed President Obama via a
combination of video, audio, and written letters.
Lakhdar Boumediene called in to the briefing at the National Press Club from his home in France, and Omar Deghayes
joined the briefing from his home in the United Kingdom. Mr. Boumediene
was the lead plaintiff in the landmark Supreme Court case of 2008,
Boumediene v. Bush, in which the Court affirmed that Guantanamo
detainees have the right to file writs of habeas corpus in U.S. federal
courts. He was released on May 15, 2009. As a child, Omar Deghayes
settled with his family in the U.K. as a refugee from Lybia. Picked up
in Pakistan and sent to Bagram and Guantanamo, he was blinded in one
eye at the base in 2004. Mr. Deghayes was released from Guantanamo to
the U.K. on December 19, 2007.
The Center for Constitutional Rights (CCR) briefing also featured a recorded statement from Mohammed Sulaymon Barre
from his home in Somaliland and other detainee voices addressing the
president. Said Mr. Barre, who was released on December 20, 2009,
"Hurry up and close this prison that has become a blot of shame upon
all of America. Do it fast. Do it quickly."
Detainee lawyers and human rights activists spoke on "Obama's
Guantanamo," addressing issues including the continued and worsening
lack of transparency, resettlement for men who cannot return to their
home countries, the threat of indefinite detention schemes in the U.S.,
the halt of transfers to Yemen and related responses to the recent
terrorism attempt, and more.
Vincent Warren, CCR Executive Director, Pardiss Kebriaei, CCR attorney for detainees, Frida Berrigan of Witness Against Torture, and Stacy Sullivan, Counterterrorism Advisor at Human Rights Watch spoke about the current situation and the challenges and dangers ahead.
Said CCR Executive Director Vincent Warren, "This is Obama's Guantanamo
now. He has failed in his pledge to close the island prison from a lack
of leadership, bowing to the pressures of partisan grandstanding, and
vigorous attempts to keep all cases out of the courts. The transparency
we were promised has been discarded. This is an anniversary that should
not have come."
"The Obama administration should commemorate Guantanamo's eighth
anniversary by renewing its pledge to close the detention center
swiftly and responsibly," said Stacy Sullivan, counterterrorism advisor
at Human Rights Watch. "Thus far, the Obama administration has been
very careful about not sending detainees back to countries where they
are likely to face torture, abuse, or further indefinite detention
without charge. That said, we are very concerned that several detainees
may be facing involuntary repatriation to countries such as Algeria and
Tajikistan. We urge the administration not to follow through with these
plans."
Said Frida Berrigan, a Brooklyn, NY, organizer with Witness Against
Torture, "I do not relish the idea of fasting. But President Obama's
promises of change have atrophied into empty rhetoric. And, now I watch
in horror as my country rises up in fear and vengeance once again. I
watch in horror as the debased torture policies of the Bush
administration are defended, described once more as necessary. Our Fast
and Vigil for Justice is a small attempt to answer the ultimate
question Guantanamo poses: how do we conquer fear and remain human?"
Earlier, members of Witness Against Torture (WAT) held a rally in front
of the White House to protest the lack of progress toward justice for
detainees since Obama took office and demanded true change from the
administration. Speakers announced a 12-Day Fast for Justice in
Washington D.C., ending on January 22 - the Obama administration's
self-declared, and now-voided, deadline for closing Guantanamo.

Following the demonstration, activists staged a Guantanamo prisoner
procession to the National Press Club where they joined the briefing.
To learn more and see a video of Mr. Barre's statement and other resources, visit https://ccrjustice.org/obamas-guantanamo.
CCR has led the legal battle over Guantanamo for the last eight years -
sending the first ever habeas attorney to the base and sending the
first attorney to meet with a former CIA "ghost detainee" there. CCR
has been responsible for organizing and coordinating more than 500 pro
bono lawyers across the country in order to represent the men at
Guantanamo, ensuring that nearly all have had the option of legal
representation. In addition, CCR has been working to resettle the
approximately 50 men who remain at Guantanamo because they cannot
return to their country of origin for fear of persecution and torture.
The Center for Constitutional Rights is dedicated to advancing and protecting the rights guaranteed by the United States Constitution and the Universal Declaration of Human Rights. CCR is committed to the creative use of law as a positive force for social change.
(212) 614-6464
LATEST NEWS
"If this were really about the national debt, then there are plenty of places we could go to stitch up loopholes, like no more of these tax havens abroad," said the senator. "But that is not where the Republicans want to go."
Sen. Elizabeth Warren on Monday took aim at the Republican Party for creating what she called a "manufactured crisis" as a potential fight over the debt ceiling looms, slamming the GOP's threats to public spending as the party works to make it even easier for the wealthy to avoid paying taxes.
On MSNBC's "Morning Joe," the Massachusetts Democrat said the Republicans are actively trying to "wreck the economy" to protect the wealthy.
"If the Republicans had not pushed just two things, the Republican tax cuts that went mostly to those at the very top and the biggest corporations and hollowing out the IRS specifically so they could not hold wealthy tax cheats accountable, wouldn't be able to audit them—if those two things had not happened, then we wouldn't even hit the debt ceiling at any time during the first Biden administration," said Warren.
\u201cSen. Elizabeth Warren (D-MA) says hitting the debt ceiling right now is a "manufactured crisis" by Republicans. \n\nWarren says without GOP tax cuts for wealthy and GOP's hollowing out of the IRS, "we wouldn't even hit the debt ceiling at any time during the first Biden admin."\u201d

— The Recount (@The Recount) 1674482996
The Republican Party has for years cut funding to the Internal Revenue Service (IRS) when it had the power to do so, diverting efforts away from auditing the wealthiest taxpayers and costing an estimated $125 billion in corporate taxes each year, and as Warren noted, House Speaker Kevin McCarthy (R-Calif.) began the new session of Congress earlier this month with a vote by the party to rescind billions in IRS funding that Democrats passed to crack down on tax evasion.
Far-right Republicans are also now proposing a nationwide sales tax to replace income taxes and other federal taxation—a regressive plan which, according to the Tax Policy Center, would leave households on the lower 80% of the income distribution paying nearly 35% of federal retail sales taxes, up from about 15%.
The sales tax would be "on everything from rent to groceries to diapers to car repairs," said Warren, and would "cut taxes for those at the very top."
The Republicans have pushed these proposals as U.S. Treasury Secretary Janet Yellen announced last week that the U.S. government had reached its debt limit of $31.4 trillion, which was set by Congress when it last raised the borrowing ceiling in December 2021.
The Treasury Department began implementing what it called "extraordinary measures" to avoid a debt default—selling investments and suspending reinvestments in the Civil Service Retirement and Disability Fund and the Postal Service Retiree Health Benefits Fund, which will not affect retirees or federal workers.
Yellen warned that those accounting maneuvers may only be possible until June and after that, "a failure to make payments that are due, whether it's the bondholders or to Social Security recipients or to our military, would undoubtedly cause a recession in the U.S. economy and could cause a global financial crisis."
In addition to further shifting tax burdens from the wealthy to lower-income households, Republicans have indicated they won't agree to raise the debt ceiling without cutting social spending on programs such as Medicare and Social Security, which they have long blamed for national deficits.
"If this were really about the national debt, then there are plenty of places we could go to stitch up loopholes, like no more of these tax havens abroad, that we could get that under control. But that is not where the Republicans want to go," Warren said on "Morning Joe."
Warren noted that the GOP voted to raise the debt ceiling multiple times when former Republican President Donald Trump was in office, as the party pushed tax cuts for the wealthy.

"Once we've got a Democrat in the White House, no, they don't want to raise the debt ceiling," said the senator. "They want to create as much economic chaos as they can and keep offering tax cuts to their rich buddies."

News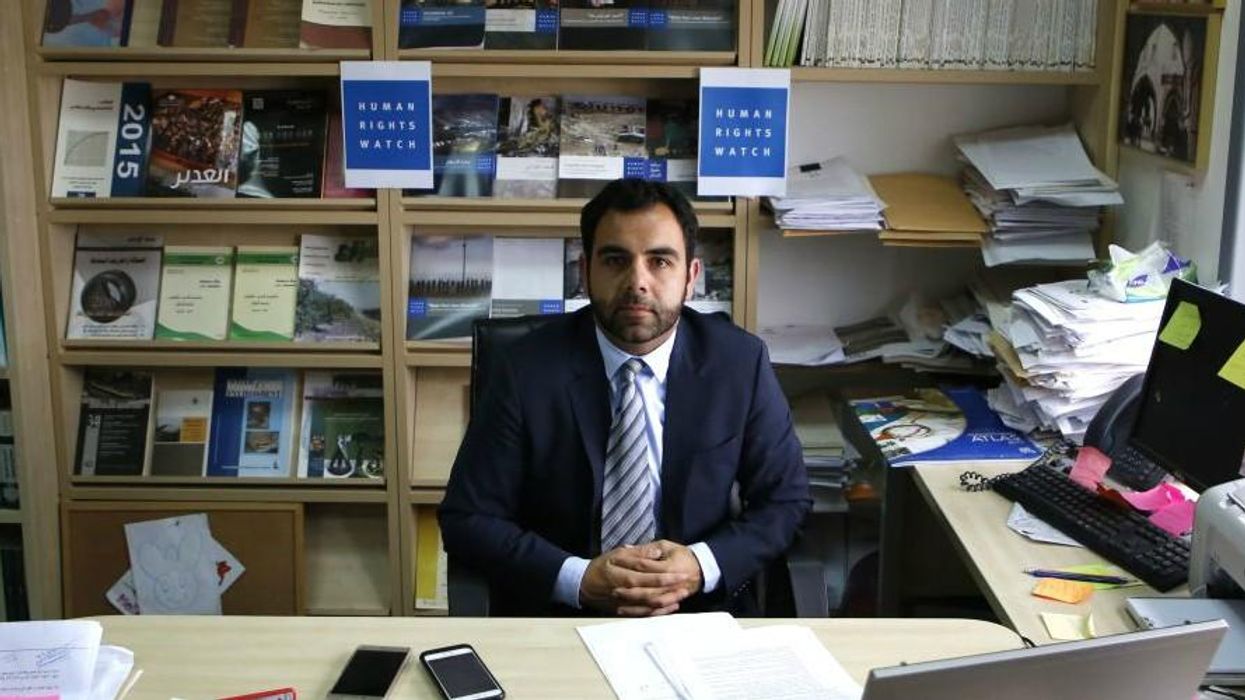 "By making it harder for people to spend time in the West Bank, Israel is taking yet another step toward turning the West Bank into another Gaza, where two million Palestinians have lived virtually sealed off from the outside world for over 15 years."
A top Human Rights Watch official warned Monday that restrictions recently placed by Israel's apartheid government on "foreigners"—including Palestinians—seeking entry into the West Bank could turn the illegally occupied territory into "another Gaza," which is often described as the "world's largest open-air prison."
Last year, a three-page document used by Israeli authorities to screen foreign nationals wishing to enter the West Bank was replaced by a 61-page guide detailing occupation forces' policies and procedures for foreigners seeking to visit only the West Bank, excluding East Jerusalem, or to extend a stay for specific purposes including studying, teaching, volunteering, or working there.
"The guidelines are distinct from those for entering Israel, which are normally applied at Ben Gurion Airport and other ports of entry," explained HRW—whose own Israel and Palestine director, Omar Shakir, was denied an entry permit under the new rules. "A West Bank permit holder without an Israeli entry visa has no legal authorization to enter Israel, nor occupied East Jerusalem."
HRW deputy Middle East director Eric Goldstein said in a statement that "by making it harder for people to spend time in the West Bank, Israel is taking yet another step toward turning the West Bank into another Gaza, where two million Palestinians have lived virtually sealed off from the outside world for over 15 years. This policy is designed to weaken the social, cultural, and intellectual ties that Palestinians have tried to maintain with the outside world."
\u201cNew Israeli restrictions on access to the West Bank for foreigners further isolate Palestinians from their loved ones & global civil society\u2014another step by Israel to turn the West Bank into Gaza, which it runs as open-air prison. New @hrw report out today https://t.co/LELHp4YAa1\u201d

— Omar Shakir (@Omar Shakir) 1674450399
HRW interviewed 13 people last year "who detailed difficulties they have faced for years entering or remaining in the West Bank and their concerns about how the new guidelines will affect them."
"Ayman," who was born in Europe in the mid-1990s to a Palestinian father from the West Bank and a European mother, has lived in the West Bank most of his life. However, because he has no Palestinian identification card, he has relied upon visas in his European passport to remain in the West Bank and fears the new regulations could endanger his ability to remain in Palestine.
"Palestine for me is home," as "my childhood, schools, classmates, friends, extended family, relatives, and all the memories I have are all here," he told HRW, and yet "I am in Palestine as a tourist, as a European citizen."
"Israel's duties as an occupying power require it to facilitate foreigners' entry to the West Bank in an orderly manner."
"I may lose the right to visit," Ayman added. "I won't be able to visit as a tourist either according to these regulations."
HRW asserted that "while countries have wide discretion over entry into their sovereign territory, international humanitarian law requires occupying powers to act in the best interest of the occupied population or to maintain security or public order."
"There are no apparent justifications based on security, public order, or the best interests of Palestinians for how significantly Israeli authorities restrict volunteers, academics, or students from entering the West Bank or Palestinians' loved ones from remaining on a long-term basis," the group argued.
\u201cDozens of Palestinian women and their children are demanding that Israeli authorities allow them to change the address on their ID cards from the Gaza Strip to the West Bank, which would allow them to reunite with their partners\nhttps://t.co/ELYyG98645\u201d

— Middle East Eye (@Middle East Eye) 1674450030
"By excessively restricting Palestinian families' ability to spend time together, and blocking the entry of academics, students, and nongovernmental workers who would contribute to social, cultural, political, and intellectual life in the West Bank, Israel's restrictions fall afoul of its duty, which increases in a prolonged occupation, to facilitate normal civil life for the occupied population," HRW continued.
"Israel's duties as an occupying power require it to facilitate foreigners' entry to the West Bank in an orderly manner," HRW added. "Subject to an individualized security assessment and absent compelling reason of law, Israeli authorities should at minimum grant permits of reasonable duration to foreigners who would contribute to life of the West Bank, including the family members of Palestinians and those working with Palestinian civil society, and residency to immediate relatives."
News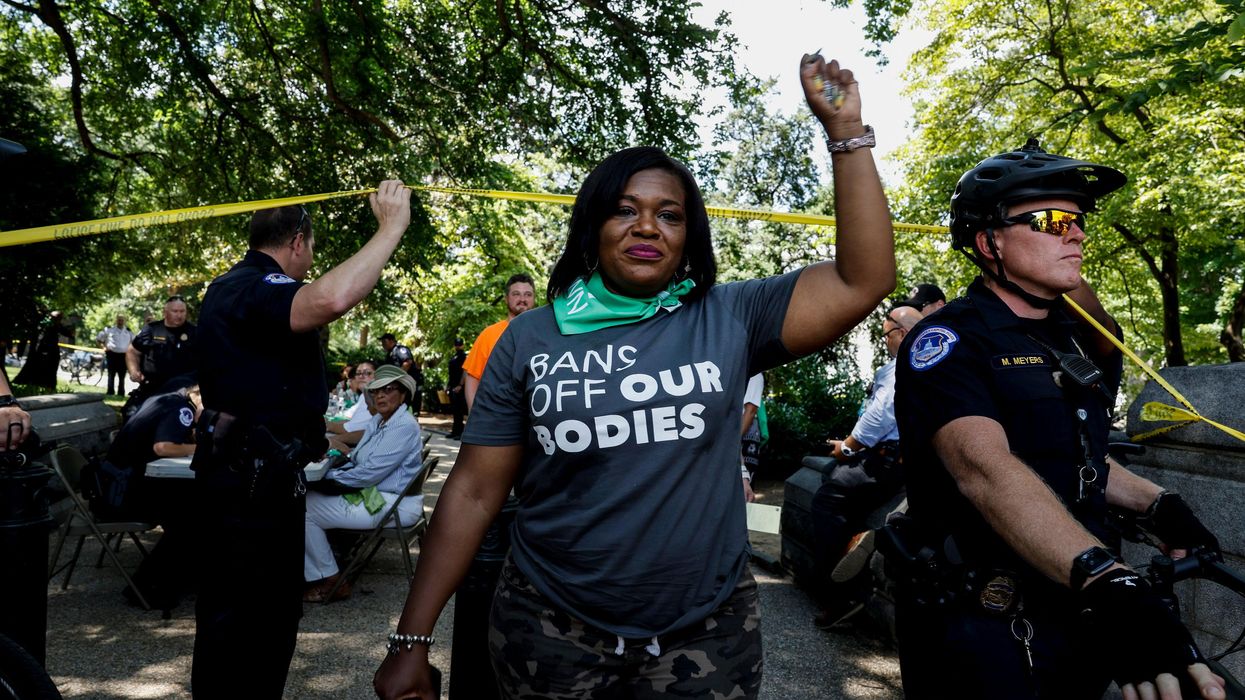 "I had been told without an immediate abortion, or dilation and evacuation, that my life was at risk," said Rep. Marie Gluesenkamp Pérez. "I got the care I needed, and now I'm the mother of my 17-month-old son."
As thousands of people gathered at pro-choice rallies across the United States, multiple congresswomen marked the 50th anniversary of Roe v. Wade on Sunday by sharing their own experiences with abortion care and renewing calls to protect reproductive rights in the wake of the U.S. Supreme Court reversing its landmark ruling.
"I'm one of the 1 in 4 women in America who has had an abortion. Terminating my pregnancy was not an easy choice, but more importantly, it was MY choice," tweeted Rep. Pramila Jayapal (D-Wash.), chair of the Congressional Progressive Caucus, who has previously shared her story in a New York Timesopinion piece and during a House hearing.
"Everyone's story is different, but I know this for certain: The choice to have an abortion belongs to pregnant people, not the government. We are not free if we cannot make these fundamental choices about our bodies," she continued. "MAGA Republicans' extreme abortion bans aren't about saving lives, they're about control. We must stand up and fight these bans. Together."
Fellow Washington state Democrat Rep. Marie Gluesenkamp Pérez, who was sworn in for her first term earlier this month, wrote on Twitter: "Three years ago I miscarried in the second trimester of a pregnancy. It's a painful memory but something many women have experienced. I traveled hours to the nearest clinic, and I encountered anti-choice protesters. Thankfully I got the care I needed that day."
"I had been told without an immediate abortion, or dilation and evacuation, that my life was at risk. That I could die, or not be able to have children in the future. I got the care I needed, and now I'm the mother of my 17-month-old son," she said. "On what would've been Roe v. Wade's 50th anniversary, I'm thinking of the millions of Americans with stories like mine who are forced to go without access to safe reproductive care. I won't stop fighting to restore this fundamental right and defend reproductive freedom for all."
Nearly seven months since the high court's right-wing majority overturned Roe with Dobbs v. Jackson Women's Health Organization, "abortion is currently unavailable in 14 states, and courts have temporarily blocked enforcement of bans in eight others," according to a December review by the pro-choice Guttmacher Institute, which tracks state laws.
Just after the Dobbs decision leaked last May, Ellepublished a roundtable discussion with the only five then-members of Congress who had publicly shared abortion stories: Jayapal; Sen. Gary Peters, whose ex-wife got a potentially lifesaving emergency abortion in the 1980s; and Reps. Cori Bush (D-Mo.), Barbara Lee (D-Calif.), and Jackie Speier (D-Calif.), who did not seek reelection last year.

In the weeks that followed, Reps. Gwen Moore (D-Wis.) and Marie Newman (D-Ill.)—who lost her June primary after redistricting—also detailed their abortions when they were each 19 years old. During a House hearing, Rep. Lucy McBath (D-Ga.) shared that "when my doctor finally induced me, I faced the pain of labor without hope for a living child."
"Would it have been after the first miscarriage, after doctors used what would be an illegal drug to abort the lost fetus?" McBath asked. "Would you have put me in jail after the second miscarriage?"
McBath took to Twitter Sunday to highlight that testimony and warn that "without Roe, all reproductive care is on the line."
Bush—who has spoken about seeking an abortion after becoming pregnant as a result of rape at 17—said in a statement Sunday that "the Roe v. Wade decision was not only historic in that it protected people accessing abortions; it also served as precedent for several more court cases and laws to follow that would further advance gender equality, reproductive rights, and our collective freedoms."
"Unfortunately, we all know what happened last June. Republicans spent decades stacking the federal judiciary with far-right anti-abortion judges and successfully stripped millions of people of their right to safe, legal, and accessible abortion care, particularly Black, Brown, LGBTQ+, and other marginalized communities," she said. "And, let's be clear, Republicans aren't stopping with Roe."
"In just their first couple of days in power, House Republicans passed two anti-abortion bills in a blatant attempt to lay the groundwork for a national abortion ban," added Bush, who was among the 17 federal lawmakers arrested in July while protesting Dobbs at the Supreme Court. "As a congresswoman, a mother, a pastor, and as a person who has had abortions, I will never stop fighting for a person's bodily autonomy, reproductive rights, and for a country that lives up to its proclamation of freedom."
Moore—who represents a state where abortion is now unavailable due to a contested 1849 ban—issued a similar warning in a series of tweets, declaring that "this Roe anniversary is a reminder of what we've lost, and we must fight for a future that creates more equitable healthcare access for all."
"The chaos we've seen over the past six months is the environment anti-abortion politicians have worked for decades to create, and they won't stop with Roe. While we work to protect and restore access to abortion, more attacks on sexual and reproductive health are happening now," she said. "The path ahead will be challenging. It will require us to think bolder than ever before to ensure our very basic rights and freedoms are permanently protected—not subject to whoever happens to be in power."

News
SUPPORT OUR WORK.
We are independent, non-profit, advertising-free and 100%
reader supported.