For Immediate Release
Contact:
Kristen
Kerecman (202/429-2608)
Wilderness Act Celebrates 45th Anniversary, Sept. 3, 2009
WASHINGTON
Thursday,
September 3, marks the 45th Anniversary of the Wilderness Act, landmark
conservation legislation that allows citizens to work with Congress to protect America's
public land as wilderness.
When the Wilderness Act was signed into
law on September 3, 1964, it immediately protected nine million acres,
including such wild icons as the Gila Wilderness in New
Mexico, the Bob Marshall in Montana,
and the John Muir Wilderness in California.
Since that time, more than a hundred million additional acres of protected land
have been added to the National Wilderness Preservation System. Still, just 2.5
percent of the land in the lower 48 states is formally preserved as wilderness,
and much of the rest of our public lands remain open to development and
extractive uses.
"The U.S. has lost much of its forests,
farmlands, deserts, and other special areas to development and extractive uses over
the past 45 years, but there remain wild and wonderful places that are
unspoiled and unprotected," said William H. Meadows, president of The
Wilderness Society. "Protecting these places as wilderness ensures that
we'll have healthy air, clean water, places to hunt and to fish, habitat
for wildlife, and great places to visit with our family and friends."
According
to The Wilderness Society, near-term priority areas for wilderness protection
include Idaho's Boulder White Clouds, New Mexico's El Rio Grande Del Norte, California's San Gabriel
Mountains, Colorado's San Juan Mountains, Washington's
Alpine Lakes and Maine's Coastal Islands.
"Last March, Congress protected
more than 2 million acres of wilderness," said Meadows. "Health
care and the economy might be dominating national headlines, but preserving
treasured natural places for our children and grandchildren can also stand as a
lasting legacy for this Congress. These places have long been a vital element
of our national character and their protection has become increasingly
important to local economies."
###
Note: To celebrate
the 45th anniversary of the Wilderness Act, the Wilderness Society held
a Wild45 photo contest. The 45 winning
photos can be seen later today at: www.wilderness.org.
Since 1935, The Wilderness Society has led the conservation movement in wilderness protection, writing and passing the landmark Wilderness Act and winning lasting protection for 107 million acres of Wilderness, including 56 million acres of spectacular lands in Alaska, eight million acres of fragile desert lands in California and millions more throughout the nation.
LATEST NEWS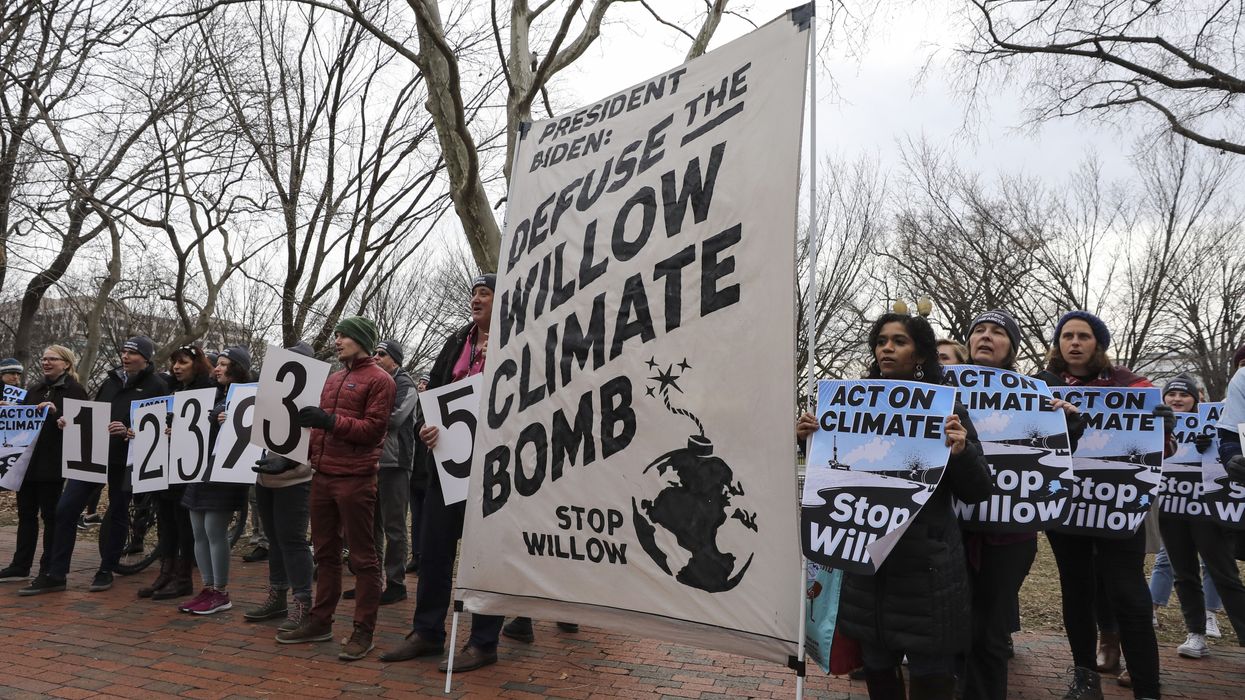 "Anyone who says there has been a final decision is wrong," said White House Press Secretary Karine Jean-Pierre, refuting media reports that the $8 billion "ticking carbon bomb" in Alaska would be imminently approved.

White House Press Secretary Karine Jean-Pierre on Friday denied reports that U.S. President Joe Biden would imminently approve the Willow Project, saying "no final decisions" have been made on the highly controversial $8 billion ConocoPhillips oil drilling endeavor in northern Alaska slammed by critics as a "climate catastrophe."
"Anyone who says there has been a final decision is wrong," Jean-Pierre told reporters Friday evening after outlets including Bloomberg, CNN, and The New York Timesreported that the Biden administration would green-light what would be the single-largest oil operation in the United States.
"President Biden is delivering on the most aggressive climate agenda of any U.S. president in history and spurring an unprecedented expansion of clean energy," the White House spokesperson added.
Republican U.S. Sen. Lisa Murkowski of Alaska—who supports the project—told the Times that she had not received notification of its approval.
"We are not celebrating yet, not with this White House," she said.
Climate campaigners, Indigenous groups, environmentalists, dozens of Democratic U.S. lawmakers, and others are vehemently opposed to what many have called a "ticking carbon bomb" and a "climate catastrophe."
The Biden administration's own assessment of the project acknowledges that it "would likely incur spills," and the Interior Department has expressed "substantial concerns" about the proposal.
According to the Sierra Club:
Willow is sited in a vast Arctic landscape that provides critical habitat for birds from all over the world as well as animals like the caribou that subsistence hunters rely on to feed their families and communities. Native communities, like Nuiquset, are already dealing with the consequences of oil development in the region, including deteriorating air quality and a spike in respiratory disorders. Last year, a well in Conoco's Alpine Field blew out, spewing methane into the air and endangering residents of Nuiquset. These risks are already here, and Willow only makes them worse.
On Friday, former U.S. Vice President Al Gore called the proposed project "recklessly irresponsible," adding that "we must end the expansion of oil, gas, and coal and embrace the abundant climate solutions at our fingertips."
Len Montgomery, public lands campaign director at Environment America, told Common Dreams via email that "we need our leaders to think long-term. Clean energy, not oil, is our future."
"Allowing a brand new Arctic oil project to break ground in one of our most sensitive ecosystems would be short-sighted," Montgomery argued. "This project will exacerbate climate change and will directly harm caribou and polar bears. We are inspired by the outpouring of opposition against this project from across the country and we will continue our efforts to prevent the chillers, the ice roads, and the well pads from ever encroaching on this pristine area."

Quannah Chasinghorse—a Han Gwich'In and Sicangu/Oglala Lakota land protector, climate justice activist, and fashion model from Eagle Village, Alaska and the tribes of South Dakota—wrote in a CNNopinion article Friday that "ConocoPhillips has claimed that the Willow Project could create thousands of construction jobs and hundreds of permanent ones, along with needed oil, but at what cost?"
"We must change the narrative that the land serves us and only exists so that we can extract resources from it."
"Make no mistake, it will not only be local communities, or even Alaskans, who will feel the negative climate impacts of this project," she continued. "According to an analysis from the Center for American Progress, developing and burning oil from the Willow Project would produce up to 287 million metric tons of carbon dioxide over the next 30 years. That's equal to the annual emissions of 76 coal power plants—a third of all coal plants in the United States."
"We must change the narrative that the land serves us and only exists so that we can extract resources from it," Chasinghorse asserted. "My elders tell me that if we take care of the land, the land will take care of us. We cannot live without healthy land. Not just us Gwich'in. All of us, everywhere"
"President Biden, stop the Willow Project," she added. "Stop climate chaos, before it's too late"
News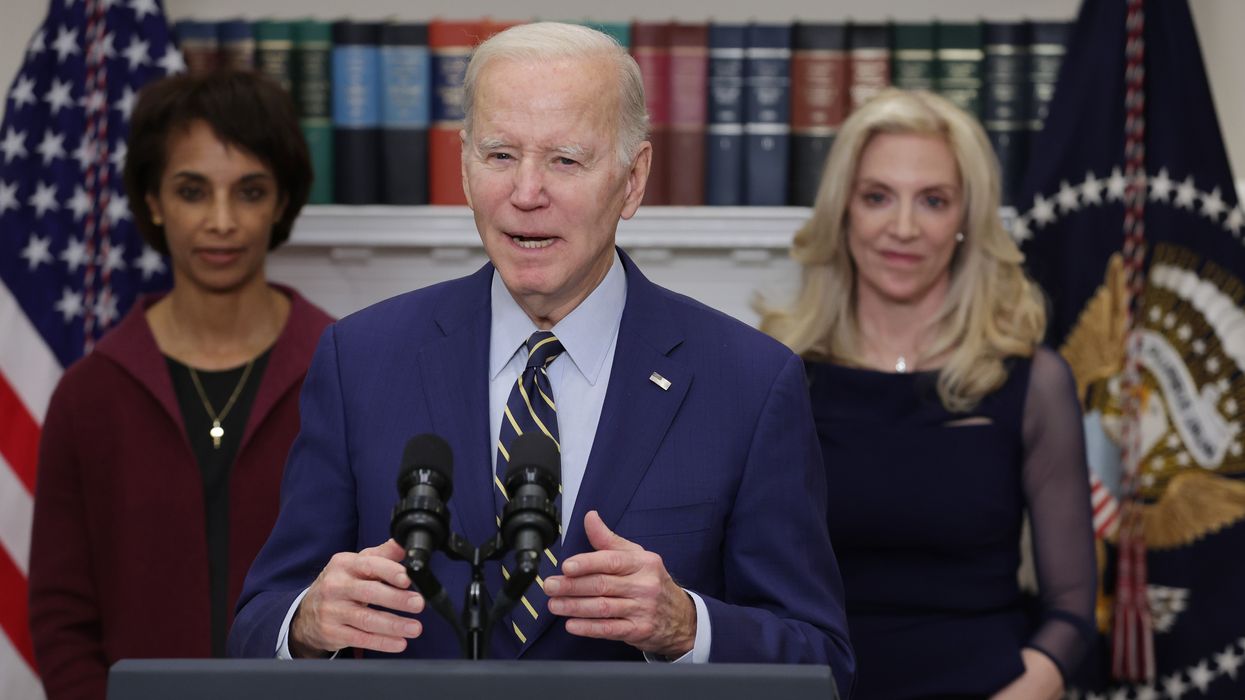 "Republicans have already made clear they're on the side of the 1 Percenters and big corporations by trying to shield rich tax cheats and endangering Social Security and Medicare with deficit-busting tax cuts for the wealthy and corporations," said one expert. "The contrast couldn't be sharper."
While far-right Republicans continue threatening to blow up the global economy unless Congress makes cuts to popular social programs, progressive taxation experts are celebrating U.S. President Joe Biden's latest push to invest in "widespread prosperity" by raising taxes on wealthy individuals and corporations.
As part of his fiscal year 2024 budget blueprint unveiled Thursday, Biden calls for a 25% minimum tax on the wealthiest 0.01%; reforms to ensure high-income individuals pay their fair share into the Medicare Hospital Insurance trust fund; and repealing 2017 tax cuts and restoring the top tax rate of 39.6% for people making over $400,000 a year.
Along with pushing for raising the corporate tax rate from 21% to 28%—which is still far below the 35% rate that was in place prior to Republicans' 2017 tax overhaul—the president advocates expanding the child tax credit while eliminating tax subsidies for cryptocurrency transactions, fossil fuel companies, and real estate.
Biden also "proposes to reform the international tax system to reduce the incentives to book profits in low-tax jurisdictions, stop corporate inversions to tax havens, and raise the tax rate on U.S. multinationals' foreign earnings from 10.5% to 21%," according to a White House fact sheet.
Although many of these proposals are unlikely to go anywhere due to the GOP-controlled U.S. House and divided Senate, Groundwork Collaborative executive director Lindsay Owens said Friday that "it's great to see President Biden leading the charge to increase taxes on billionaires, crack down on stock buybacks by massive corporations, and prevent the wealthiest Americans from cheating on their taxes and avoiding paying what they owe."
"The tax policies laid out in this budget are fair, popular, and long overdue," she declared. "The next time someone claims that we can't afford to protect Social Security and Medicare for future generations—or that we need to cut popular investments in education, healthcare, housing, or clean energy—show them President Bident's latest budget proposal and ask them why they care so much about protecting the ultrawealthy from paying their fair share."
According to Institute on Taxation and Economic Policy executive director Amy Hanauer, "President Biden's budget proposal presents a bold vision for what tax justice should look like in America."
"The provisions would raise substantial revenue, fund important priorities, and increase tax fairness," she stressed. "The revenue raisers are laser-focused on taxing very wealthy individuals and corporations, and the budget would reduce the deficit while easing costs for American families, particularly for middle and low-income parents."
Americans for Tax Fairness executive director Frank Clemente asserted Thursday that "President Biden's budget plainly shows whose side he's on: working families struggling with the high cost of healthcare, childcare, housing and more—not the wealthy elite and their big corporations rolling in dough and dodging their fair share of taxes."

"Republicans have already made clear they're on the side of the 1 Percenters and big corporations by trying to shield rich tax cheats and endangering Social Security and Medicare with deficit-busting tax cuts for the wealthy and corporations," Clemente added. "The contrast couldn't be sharper."
As Common Dreams reported earlier Friday, the House Freedom Caucus said its 45 members would "consider voting" to raise the U.S. debt limit if their colleagues in Congress abandon some of Biden's key economic priorities, slash hundreds of billions of dollars in social spending, and restrict federal agencies' future budgets.
Responding on Twitter, Biden said that "extreme MAGA House Republicans are showing us what they value: tax breaks for the rich."

News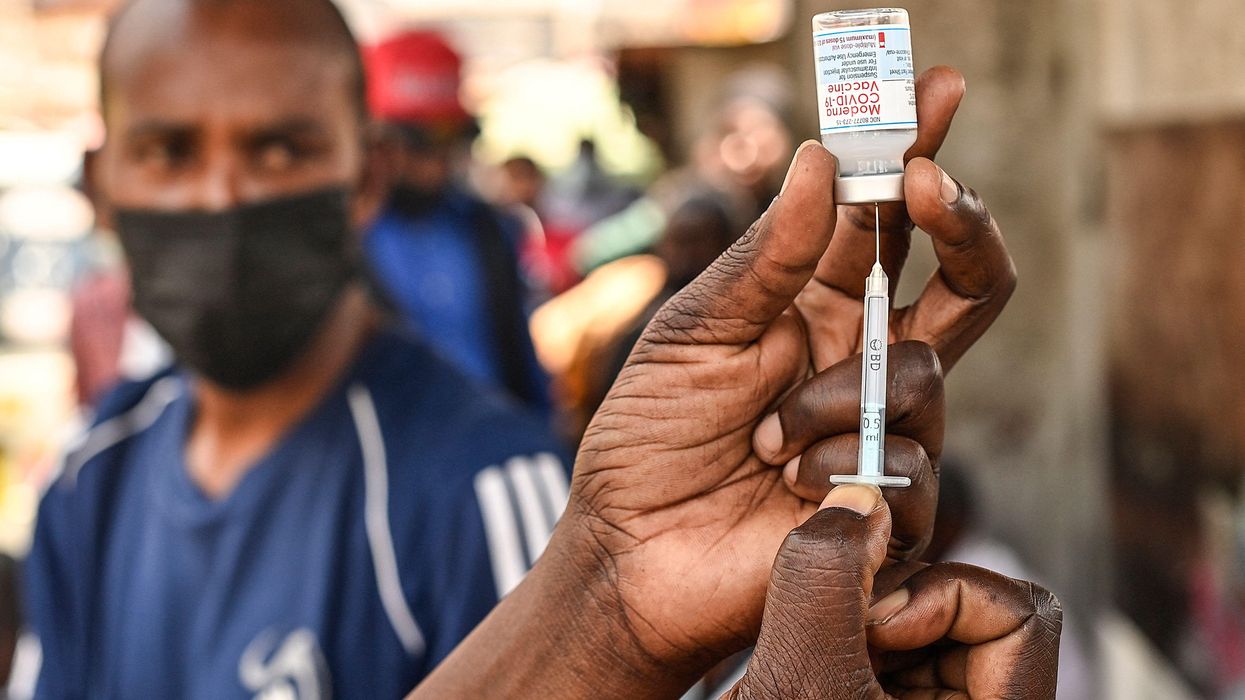 "These past three years should act as a warning for future pandemics," said former U.N. Secretary-General Ban Ki-moon. "We need a return to genuine cooperation between nations in our preparation and response to global threats."
Around 200 current and former world leaders, Nobel laureates, health and faith leaders, and activists this week marked the third anniversary of the World Health Organization's Covid-19 pandemic declaration by taking aim at the "vaccine apartheid" that according to one advocacy group was responsible for one death every 24 seconds during the outbreak's first year alone.
A letter led by the People's Vaccine Alliance notes that three years have passed since "the World Health Organization (WHO) first characterized Covid-19 as a pandemic" on March 11, 2020 and implores governments to "never again" allow nationalism and capitalist greed to supersede human needs."

"We have seen extraordinary feats of scientific innovation and an enormous mobilization of public resources to develop effective vaccines, tests, and treatments," the letter continues. "But we have also seen a global response held back by profiteering and nationalism."
The signers asserted:

We are hopeful that an end to the acute stage of the Covid-19 pandemic may be in sight. Thus, the world is at a critical juncture. Decisions made now will determine how the world prepares for and responds to future global health crises. World leaders must reflect on mistakes made in responding to the Covid-19 pandemic so that they are never repeated.

There are decades of publicly funded research behind Covid-19 vaccines, treatments, and tests. Governments have poured taxpayer money by the billions into research, development, and advance orders, reducing the risks for pharmaceutical companies. These are the people's vaccines, the people's tests, and the people's treatments. Yet, a handful of pharmaceutical companies has been allowed to exploit these public goods to fuel extraordinary profits, increasing prices in the Global North while refusing to share technology and knowledge with capable researchers and producers in the Global South.
"Instead of rolling out vaccines, tests, and treatments based on need, pharmaceutical companies maximized their profits by selling doses first to the richest countries with the deepest pockets," the letter adds. "Billions of people in low- and middle-income countries, including frontline workers and the clinically vulnerable, were sent to the back of the line."
These inequities, the alliance said, resulted in over 1.3 million preventable deaths—one every 24 seconds—in the pandemic's first year alone. Even today, as the pandemic enters its fourth year, much of the Global South lacks adequate access to Covid-19 testing and treatments.
The letter's signatories urge world leaders to take immediate action to:
Support a pandemic accord at the WHO that embeds equity and human rights in pandemic preparedness and response;
Invest in scientific innovation and manufacturing capacity in the Global South through projects like the mRNA Technology Transfer Hub established by the WHO and partners;
Invest in global common goods; and
Remove the intellectual property barriers that prevent knowledge and technology sharing.
"In the AIDS pandemic, pharmaceutical monopolies have resulted in an appalling number of unnecessary deaths—and it has been the same story with Covid-19," lamented Winnie Byanyima, executive director of UNAIDS and co-chair of the People's Vaccine Alliance.

"It was only the production of inexpensive generics in developing countries that made the first generation of HIV medicines available and affordable to people in the [Global] South," she added. "But governments still have not learned that lesson. Unless they break the monopolies that prevent people from accessing medical products, humanity will sleepwalk unprepared into the next pandemic."

East Timorese President José Manuel Ramos-Horta, who also signed the letter, said that "in the Covid-19 pandemic, those of us in low and middle-income countries were pushed to the back of the line for vaccines and denied access to the benefits of new technologies."
"Three years on, we must say 'never again' to this injustice that has undermined the safety of people in every country," he added. "Steps that we take today can hasten global access to vaccines, medicines, and tests in the next pandemic, with regional hubs researching, developing, and manufacturing medical products for everyone, everywhere."
Former United Nations Secretary-General Ban Ki-moon asserted:
The great tragedy of the Covid-19 pandemic has been the failure of multilateralism and the absence of solidarity between the Global North and Global South. These past three years should act as a warning for future pandemics. We need a return to genuine cooperation between nations in our preparation and response to global threats. That requires a pandemic accord rooted in equity and human rights, which places the needs of humanity above the commercial interests of a handful of companies.
Independent Panel for Pandemic Preparedness and Response co-chair Helen Clark—who served as New Zealand's prime minister from 1999 to 2008—noted that "publicly funded science contributed a lot to the phenomenal success of Covid-19 vaccines."
"Yet, that public investment did not lead to vaccines being treated as global common goods," Clark continued. "Rather, nationalism and profiteering around vaccines resulted in a catastrophic moral and public health failure which denied equitable access to all."
"We need to fix the glaring gaps in pandemic preparedness and response today," she added, "so that people in all countries can be protected when a pandemic threat emerges."
News
SUPPORT OUR WORK.
We are independent, non-profit, advertising-free and 100%
reader supported.