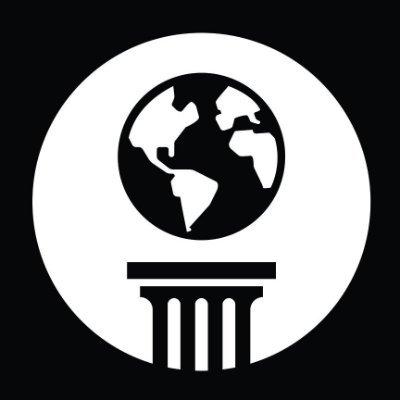 For Immediate Release
Contact:
Email:,info@earthjustice.org
Court Rules Cleanup Tab For Mines and Other Hazardous Sites Should Not Fall to Public
In closing 25-year loophole, court protects public from hazardous waste sites and could save taxpayers billions
WASHINGTON
A federal court has ruled
that the U.S. Environmental Protection Agency must close a loophole
that -- for more than 25 years -- has made it easy for mining
companies, coal ash dumps, and a host of other polluting industries to
skip out on costly cleanups by declaring bankruptcy. The case concerned
EPA's failure to issue "financial assurances" standards that ensure
that polluting industries will always remain financially able to clean
up dangerous spills and other contaminated sites.
Attorneys Lisa Evans and Jan Hasselman with the public interest law
firm Earthjustice represented the Sierra Club and environmental groups
in New Mexico, Nevada, and Idaho in the case, decided late yesterday by
U.S. District Judge William Alsup, based in San Francisco.
Environmental advocates hailed the decision as a victory that paves
the way for new federal rules that would require hardrock and phosphate
mine operators, metal finishers, wood treatment facilities, and other
industries to post bonds covering the cost of potential future
cleanups.
"By not promulgating financial assurance requirements, EPA has
allowed companies that otherwise might not have been able to operate
and produce hazardous waste to potentially shift the responsibility for
cleaning up hazardous waste to taxpayers," Judge Alsup wrote in the
decision. The undisputed evidence before the Court demonstrated that
such financial assurance requirements result in better environmental
protection and faster and more thorough cleanups.
When the Superfund law was passed in 1980, lawmakers gave EPA three
years to start putting financial assurance regulations in place. More
than 25 years later, these regulations remain unwritten. Under the
terms of the decision, EPA has until May 4 to identify the industries
that will be first subject to these financial assurance requirements.
"This victory paves the way for the new administration to correct a
longstanding environmental problem while saving taxpayers billions of
dollars at the same time," said Earthjustice attorney Jan Hasselman,
who argued the case before Judge Alsup. "New standards will push
companies that deal with toxic substances towards more responsible
practices."
Perhaps the industries most impacted by the decision are hardrock
and phosphate mining. The Environmental Protection Agency (EPA) ranks
the mining industry as the nation's top toxic polluter, reporting more
toxic releases annually than any other industry. The industry generates
more than 2 billion pounds of toxic waste each year and has polluted
more than 40 percent of western watershed headwaters. Without financial
assurance regulations, it has been easy for mine operators to walk away
from sites contaminated with cyanide, lead, arsenic, mercury and other
toxins, and they have done so time after time.
In 2004, the EPA reported that 63 hardrock mining sites were listed
as Superfund sites on the agency's National Priority List (NPL), EPA's
list of the most contaminated Superfund sites, with an estimated
cleanup cost of $7.8 billion. Of that, $2.4 billion was expected to
come from taxpayers. Another 93 mining sites were being eyed for
inclusion on the Superfund NPL list.
One of those Superfund sites is the Molycorp/Chevron molybdenum mine
near Questa, New Mexico. The Taos-based organization Amigos Bravos has
long called for Molycorp to take responsibility for the toxins it
released during the mine's 40-year history, contaminating the Red River
and nearby groundwater aquifers. In 2002, after much of the damage was
already done, the company agreed to set aside $152 million for cleanup.
But total cleanup costs could reach $400 million, and observers wonder
if the scale of destruction would have been less if Molycorp knew at
the outset it would be held responsible.
"This victory will encourage mine operators to act more responsibly,
hopefully preventing future problems in New Mexico," said Brian
Shields, executive director of Amigos Bravos. "Now that companies know
that they are responsible for cleaning up after themselves, there's a
strong incentive for them to improve their waste management practices."
Perhaps the most far-reaching example of irresponsible mining
operations is Asarco, which declared bankruptcy in 2005. The
century-old mining and smelting company left behind 94 Superfund sites
in 21 states, with a total cleanup cost estimated at more than $1
billion, far more than the $62 million trust the company set aside for
cleanup.
In Idaho, Asarco is among mining companies responsible for
contamination spread across the 1,500-square-mile Coeur d'Alene River
basin. Cleanup work is likely to last for generations. EPA has
estimated the cost of the first 30 years at $359 million.
The Idaho Conservation League is also watching prospective cleanup
costs mount from 17 contaminated sites caused by phosphate mining.
"We're heartened by this victory and hope that it will help relieve
taxpayers of a financial burden and keep our rivers and streams clean,"
said Justin Hayes, Program Director of the Idaho Conservation League.
In Nevada, 27 mining companies had declared bankruptcy as of July
2000, creating some of the country's highest potential taxpayer
liability.
"This victory comes at a crucial time for communities impacted by
Nevada's mining industry," said John Hadder, executive director of
Great Basin Resource Watch. "The gold mine bankruptcies from the 1990s
left our state riddled with contaminated sites. But from now on, we
hope to benefit from the stronger protections brought by this court
win."
Another industry potentially impacted by the decision are coal-fired
power plants, responsible for generating 131 million tons of toxic coal
ash per year. The industry has been in the spotlight in the wake of
immense toxic spills at two Tennessee Valley Authority sites. When coal
ash is dumped in mines and waste ponds, financial assurance for cleanup
is rarely required.
"We hope that the municipal utilities and coops that now own most of
the Peabody Prairie State Energy power plant in downstate Illinois take
notice of this decision," said Kathy Andria, Waste & Recycling
chair of the Illinois chapter of Sierra Club. Prairie State plans to
dump 60 million tons of coal combustion waste on a 4,000-acre site of
old strip-mined land near farms and homes. "After the recent disasters
in Tennessee and Alabama, we want to make sure Peabody and its partners
have the cash to pay for any problems that could arise in the future.
More importantly, we hope that cash will serve as an incentive for them
to act responsibly to keep surrounding communities and water resources
safe."
Read the decision (PDF)
Earthjustice is a non-profit public interest law firm dedicated to protecting the magnificent places, natural resources, and wildlife of this earth, and to defending the right of all people to a healthy environment. We bring about far-reaching change by enforcing and strengthening environmental laws on behalf of hundreds of organizations, coalitions and communities.
800-584-6460
LATEST NEWS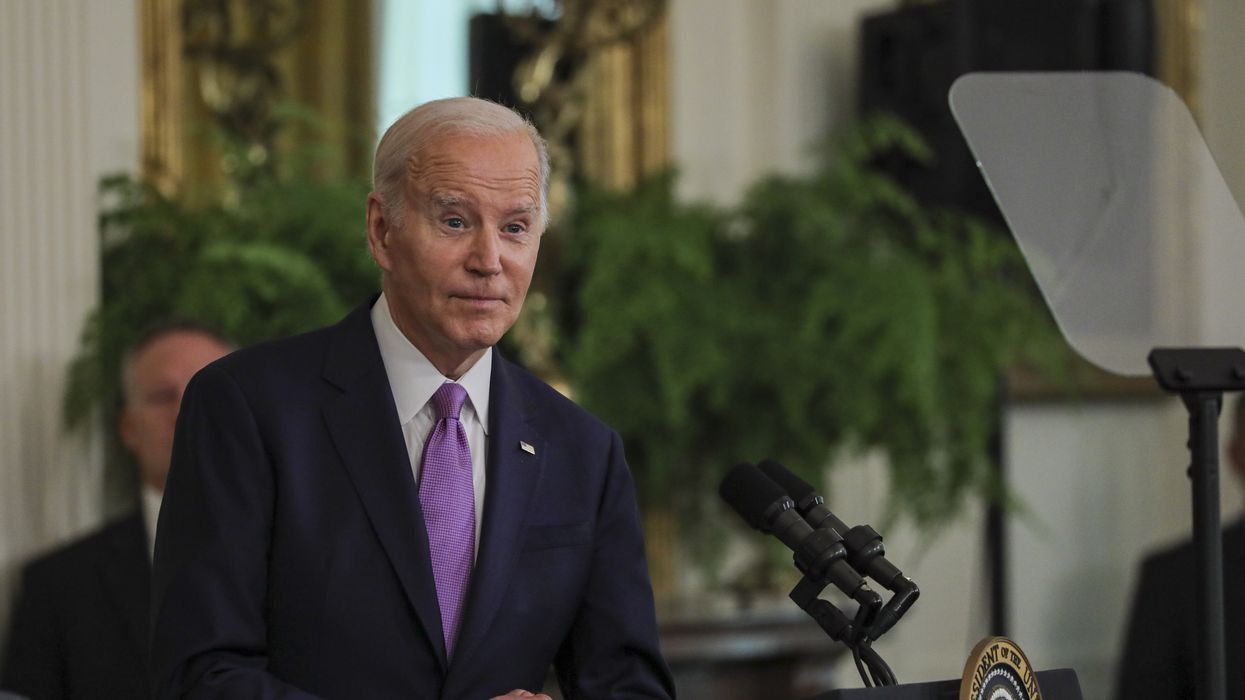 The U.S. president has come under heavy criticism for approving oil and gas projects in the face of global climate breakdown.
U.S. President Joe Biden is reportedly planning to skip the United Nations climate summit that kicks off later this week in Dubai, a decision sure to anger climate advocates and scientists who have pushed him to back a speedy fossil fuel phaseout at the talks.
The New York Times was first to report the president's plans on Sunday, citing an unnamed White House official who did not provide a specific reason why Biden intends to skip COP28, which comes at the tail end of what's almost certain to be the hottest year on record. The U.S. is the largest historical emitter of planet-warning greenhouse gases, and the country is on pace to extract more oil and gas than ever this year.

Biden attended the previous two U.N. climate summits, neither of which yielded concrete agreements from world leaders to drastically curb oil, gas, and coal production and use in line with the latest scientific evidence indicating that nations are acting far too slowly to prevent catastrophic warming.
The U.S. president has himself faced significant backlash for approving massive fossil fuel projects such as the Willow drilling venture on Alaska's North Slope, which—if completed—is expected to result in more than 9 million metric tons of carbon dioxide pollution each year. And Biden's fossil fuel approvals go well beyond Willow: During his first two years in office, the president's administration greenlit more than 6,400 permits for oil and gas drilling, outpacing the Trump administration.
According toThe Washington Post, "there are no public events" on Biden's schedule for Friday, the first day of COP28's world leaders' summit. On Thursday, the opening day of COP28, Biden "is set to meet with Angolan President João Manuel Gonçalves Lourenço and participate in the White House Christmas tree lighting," the Post reported.
John Kerry, Biden's climate envoy, will be in attendance at COP28.

News that the U.S. president will be skipping COP28 came as the BBCreported that the summit's host, the United Arab Emirates, "planned to use its role... as an opportunity to strike oil and gas deals."

"The UAE team did not deny using COP28 meetings for business talks," the outlet added, "and said 'private meetings are private.'"
Last week, research by the Kick Big Polluters Out coalition showed that oil and gas industry lobbyists have attended United Nations-led climate talks more than 7,000 times over the past 20 years in an attempt to prevent action to rein in fossil fuels.
Like previous U.N. climate summits, COP28 is expected to be inundated with fossil fuel representatives, particularly given the UAE's status as one of the world's leading oil producers. Sultan al-Jaber, president of COP28, is the CEO of Abu Dhabi National Oil Company.
Kaisa Kosonen, policy coordinator at Greenpeace International, said in response to the BBC report that "the climate summit leader should be focused on advancing climate solutions impartially, not backroom deals that are fueling the crisis."
"We have all the solutions we need to transition to renewable energy, but it won't happen fast enough if governments fail to regulate fossil fuels out of the way," said Kosonen. "COP is an opportunity to secure our survival, not to strike business deals that fuel the crisis."
News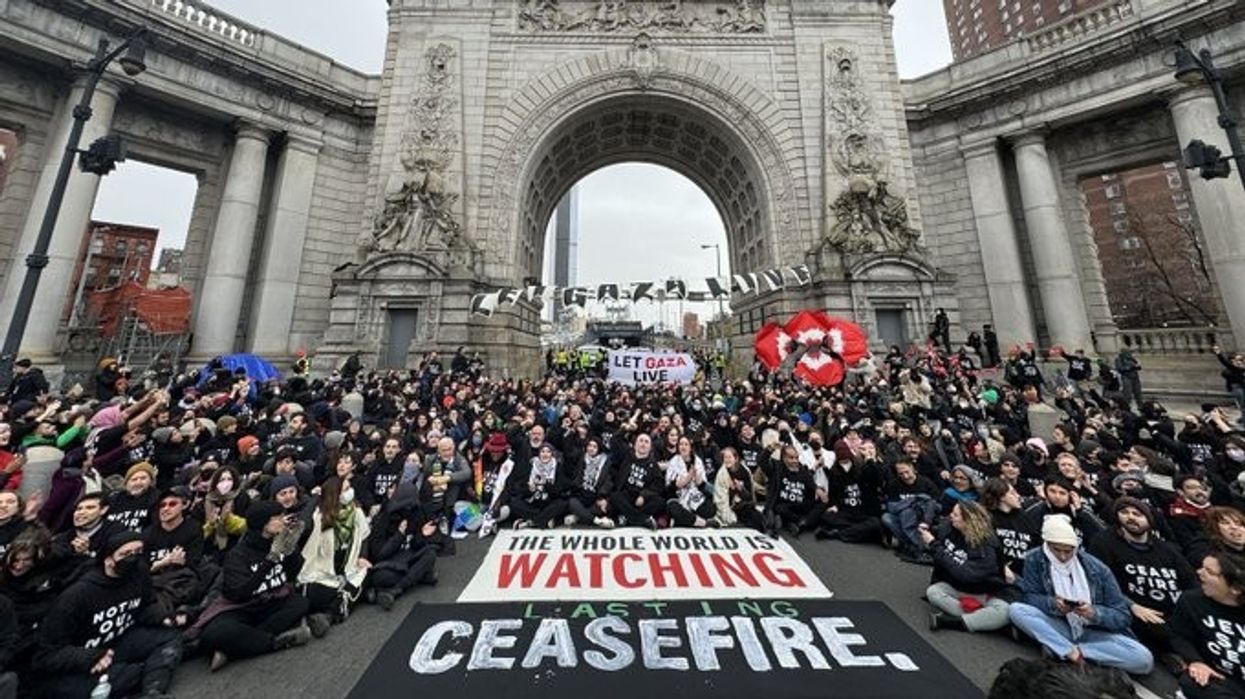 "We will make business as usual impossible until the U.S. stops funding and fueling a genocide," Jewish Voice for Peace said.
In what organizers said was the largest action of civil disobedience in New York City since the Iraq War, more than 1,000 protesters blocked traffic on the Manhattan Bridge for hours Sunday to demand a permanent cease-fire in Israel's war with Hamas in Gaza.
The action, organized by Jewish Voice for Peace, began around 2 pm Eastern Time, and traffic began moving again around 5:30 pm, The New York Times reported. The group included 1,500 Jews, Palestinians, religious leaders, and elected officials, Jewish Voice for Peace said on social media.
"These kind of things where you stop traffic brings more attention to the issue," 74-year-old participant Joan Glickman, who lives in Westchester, toldGothamist. "I do think there are many Americans who don't really pay attention to how serious this is."
The protest came on the third day of a negotiated four-day pause in hostilities between Israel and Hamas. On Sunday, Hamas released a third group of 17 hostages while Israel released 39 Palestinian prisoners, The Associated Press reported. However, activists expressed concern about what would happen when the temporary truce ended.
"There are only two days left before the Israeli government resumes its genocidal onslaught against the people of Gaza—funded and fueled by the U.S. Netanyahu has said, 'We will come back to annihilate them,'" Jewish Voice for Peace tweeted Sunday.
On October 7, Hamas attacked Israel, killing 1,200 and taking around 240 hostages. In the month and a half since, Israel has killed more than 14,800 Palestinians in Gaza, including 10,000 women and children. That figure is more than double the number of women and children confirmed killed in Ukraine in two years of war against Russia. More than 800 legal scholars have said Israel may be committing a genocide in Gaza, and one human rights lawyer and former United Nations official called Israel's campaign in Gaza a "textbook case of genocide."
The protesters Sunday blocked the Manhattan entrance to the bridge and sat down in the center of the entrance ramp, The New York Times reported. One person scaled the arch over the ramp to unfurl a Palestinian flag.
"We needed to continue to raise our voices and continue to speak out because there's thousands of Palestinians that are under the rubble right now," Jewish Voice for Peace member Jay Saper said at the protest, as the Times reported.
At one point, the protesters said they would refuse to leave until U.S. President Joe Biden called for a permanent cease-fire to the conflict, and they unfurled banners reading, "Lasting cease-fire," and "The whole world is watching."
"We will make business as usual impossible until the U.S. stops funding and fueling a genocide," Jewish Voice for Peace tweeted.
A spokesperson for the New York Police Department told Gothamist that it made "multiple" arrests.
"I hope that this message is strong and they're listening in the White House," Palestinian American activist Linda Sarsour said during the protest, as Gothamist reported.
News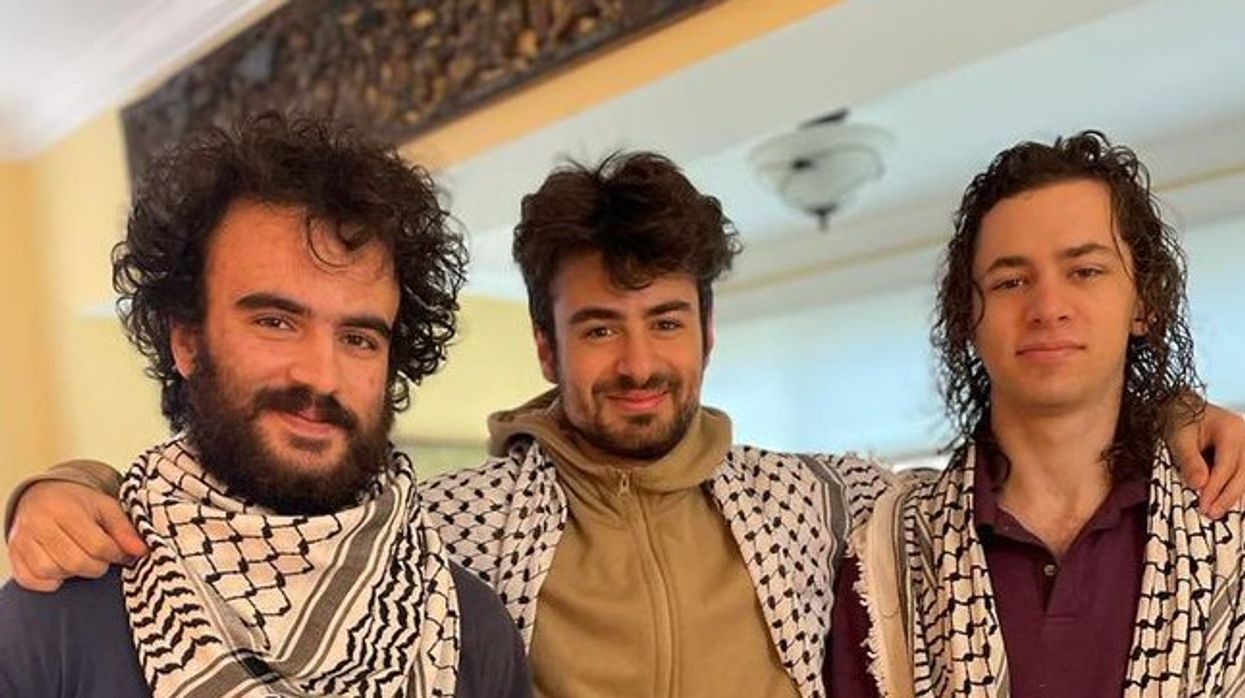 "The surge in anti-Arab and anti-Palestinian sentiment we are experiencing is unprecedented, and this is another example of that hate turning violent," one advocate said.
Three university students of Palestinian descent were shot and wounded Saturday night in Burlington, Vermont.
The students were identified as Brown University student Hisham Awartani, Haverford College student Kinnan Abdel Hamid, and Trinity College student Tahseen Ahmed. In a Sunday morning statement posted on social media, the American-Arab Anti-Discrimination Committee (ADC) said they had "reason to believe that the shooting was motivated by the three victims being Arab."
"We are praying for a full recovery of the victims, and will support the families in any way that is needed," ADC executive director Abed A. Ayoub said in a statement. "Given the information collected and provided, it is clear that the hate was a motivating factor in this shooting. We call on law enforcement to investigate it as such."
"The surge in anti-Arab and anti-Palestinian sentiment we are experiencing is unprecedented, and this is another example of that hate turning violent," Ayoub continued.
The three 20-year-olds were visiting one of the trio's family members in Burlington for Thanksgiving, police said, as the Burlington Free Press reported. They were walking along a residential street near the University of Vermont campus around 6:30 pm Eastern Time when a white man confronted them, according to Seven Days.
"The suspect was on foot in the area. Without speaking, he discharged at least four rounds from the pistol and is believed to have fled on foot," police said, as the Burlington Free Press reported.
Police said that two of the men were wearing keffiyehs at the time of the shooting, while ADC said that all three were wearing keffiyehs and speaking Arabic. Police, however, said they did not yet know the shooter's motives.
"The hate crimes against Palestinians must stop. Palestinians everywhere need protection."
"My deepest condolences go out to the victims and their families," Burlington Police Chief Jon Murad said in a statement reported by the Burlington Free Press. "In this charged moment, no one can look at this incident and not suspect that it may have been a hate-motivated crime. And I have already been in touch with federal investigatory and prosecutorial partners to prepare for that if it's proven."
The three men were taken to the University of Vermont Medical Center where two are stable and one "has sustained much more serious injuries," police told Seven Days on Sunday.
Two of the students are U.S. citizens and the third is a legal resident.
The families of the three men circulated a statement through the nonprofit Institute for Middle East Understanding.
"We call on law enforcement to conduct a thorough investigation, including treating this as a hate crime," the statement read in part. "We will not be comfortable until the shooter is brought to justice."
"We need to ensure that our children are protected, and this heinous crime is not repeated. No family should ever have to endure this pain and agony," the families continued.
The Council on American-Islamic Relations (CAIR) said it was offering $10,000 to anyone providing information that led to the arrest or conviction of the shooter or shooters, and the FBI said it was aware of the incident and prepared to investigate if local police found evidence of a federal crime, according to TheAssociated Press.
The head of the Palestinian mission to the United Kingdom, Husam Zomlot, linked the shootings to the killing of six-year-old Wadea Al Fayoume last month, a Palestinian boy who was stabbed 26 times by his family's landlord in Chicago.
"The hate crimes against Palestinians must stop," Zomlot tweeted. "Palestinians everywhere need protection."
Independent Vermont Senator Bernie Sanders also issued a statement.
"It is shocking and deeply upsetting that three young Palestinians were shot here in Burlington, Vermont," Sanders said on social media. "Hate has no place here, or anywhere. I look forward to a full investigation. My thoughts are with them and their families."
In the wake of Hamas' October 7 attacks on Israel and Israel's bombardment of Gaza afterword, both Islamophobic and antisemitic incidents have increased in the U.S., The Guardian reported. CAIR said it had received 1,283 reports of discrimination and petitions for help between early October and early November, a 216% increase from the same time period last year.
News