For Immediate Release
Contact:
Sam Husseini, (202) 347-0020; or David Zupan, (541) 484-9167
The Economy and Transition
WASHINGTON
CRAIG HOLMAN
Holman is government ethics lobbyist for Public Citizen. He said today: "Bolstered with enthusiastic public support, Obama has a great opportunity for breaking the grip of special interests over Washington. But his transition to the White House -- marked with the appointment of several lobbyists and big-money bundlers -- is cause for concern. Public Citizen will be monitoring his appointments on a web site and uncovering any links that may exist between special interests and the new Obama administration."
MARK WEISBROT
Lawrence Summers and Timothy F. Geithner were named to Obama's economic team today.
Co-director of the Center for Economic and Policy Research, Weisbrot said today: "Geithner and Summers are credited with expertise in crisis management, but we better hope they don't manage the current crisis like they did in East Asia, Russia, Argentina or any of the other countries that Treasury was involved in during the 1990s with their help. They helped bring on the East Asian crisis in 1997 by pressuring the governments in the region to de-regulate international financial flows, which was the main cause of the crisis. Then they insisted that all bailout money go through the IMF, and delayed aid until most of the damage was done. Then they attached damaging conditions ... to the aid, leading Jeffrey Sachs to call the IMF under their watch 'the typhoid Mary of emerging markets, spreading recessions in country after country.'"
MAX FRAAD WOLFF
Wolff, an instructor at the Graduate Program in International Affairs at the New School University, is a frequent contributor to Huffington Post, Asia Times and The Indypendent. He said today: "The economic team taking shape alongside Obama represents the return of enterprise moderate Clinton era folks selected by other Clinton-era folks. Lawrence Summers and Timothy F. Geithner are Robert Rubin mentees and are emerging as the leading lights of yore as well as of tomorrow. Ivy League backgrounds, stints at Bretton Woods institutions IMF and World Bank and activity in or on the cusp of private sector banking define the group taking shape. All are friends, all have worked together and all have been actively involved in shaping the global financial architecture with which the world grapples today. Geithner comes over from the IMF, Council on Foreign Relations and the New York Fed. He has been more involved in charting the course for financial markets of late than either Rubin or Summers. His work in the Bear Stearns, Lehman, AIG and TARP activities/inactivities is well established and has attracted much and well-deserved controversy."
More Information
A nationwide consortium, the Institute for Public Accuracy (IPA) represents an unprecedented effort to bring other voices to the mass-media table often dominated by a few major think tanks. IPA works to broaden public discourse in mainstream media, while building communication with alternative media outlets and grassroots activists.
LATEST NEWS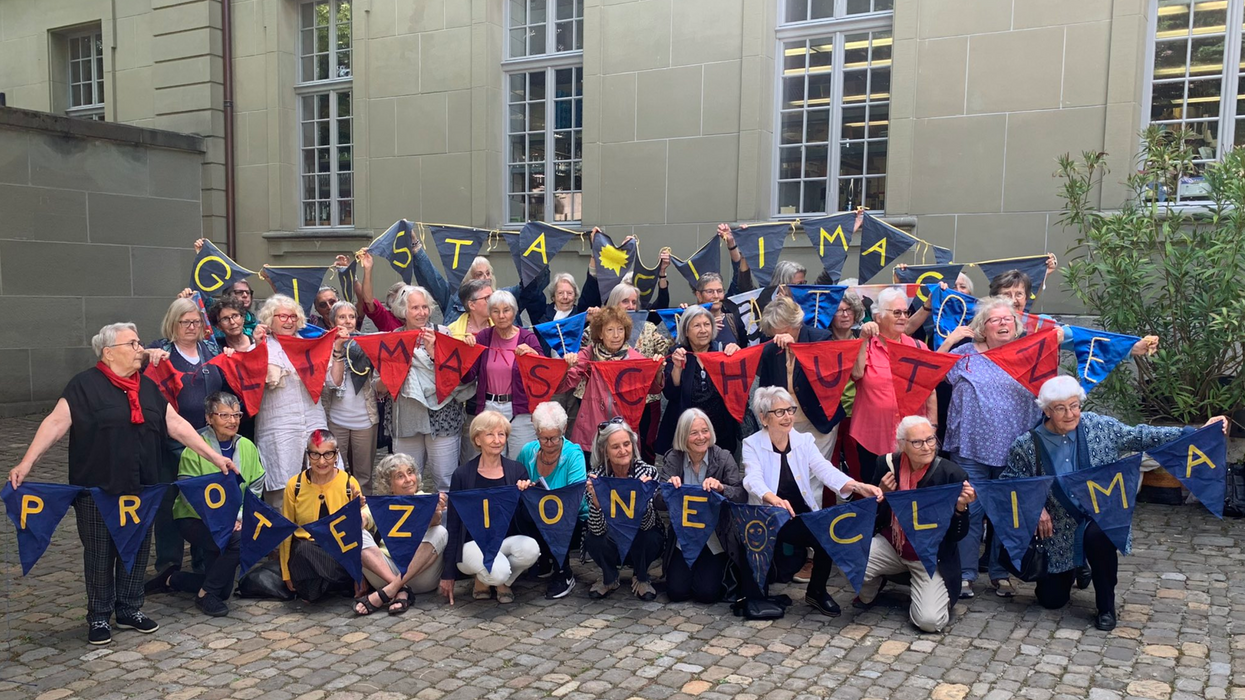 "We are suing for our human right to life," said one 78-year-old plaintiff. "With this case, we want to help spur politicians into action a little bit."
The European Court of Human Rights on Wednesday heard arguments in a case brought by a group of elderly Swiss women who are suing their country's government, alleging that its "current climate targets and measures are not sufficient to limit global warming to a safe level."
Members of Senior Women for Climate Protection (KlimaSeniorinnen) and their attorneys appeared in the Strasbourg, France court for the tribunal's first-ever climate case. Outside the court, activists from the group and from other organizations including Greenpeace held banners and flowers and chanted "bravo" as each woman exited the building, according toSwissInfo.
"We are suing for our human right to life," Lore Zablonier, a 78-year-old from Zurich, toldThe Associated Press outside the court. "With this case, we want to help spur politicians into action a little bit."
\u201cThank you for supporting us \ud83d\ude0d\n\ud83d\ude4c\ud83d\ude4c\ud83d\ude4c\ud83d\ude4c\ud83d\ude4c\ud83d\ude4c\ud83d\ude4c\ud83d\ude4c\ud83d\ude4c\ud83d\ude4c\u201d

— KlimaSeniorinnen (@KlimaSeniorinnen) 1680071319
As KlimaSeniorinnen's website explains:
Climate change already produces extensive damage. Menacing heatwaves, landslides, and floods will become the norm unless we take immediate action. Scientific insights notwithstanding, Switzerland along with most other countries is not doing as much as is necessary to avert such disasters. Because governments, through their inaction, violate basic rights, more and more people around the globe are taking them to court. What's at stake is a livable future—without climate collapse.
A growing number of climate-related cases are on the docket in courts around the world, from Australia to Sweden to the United States. The European Court of Human Rights will hear at least two more climate cases this year—one filed by a group of Portuguese youth and the other by a Green member of the European Parliament from France.

Switzerland is warming at a rate of more than twice the global mean. According to the Swiss Federal Office of Meteorology and Climatology:
The strong warming has an impact on many other climate indices in Switzerland. For instance, the zero-degree line has climbed substantially, which has resulted in Alpine glaciers losing over 60% of their volume since 1850. It is likely that they will no longer be part of the Alpine landscape by the end of this century. The vegetation period now lasts several weeks longer in the lowlands than it did even in the 1960s. Due to warming, precipitation now falls more often as rain than snow.
In 2021, Swiss voters narrowly rejected a government proposal to tax automobile fuel and airline tickets in a bid to help the country meet its targets under the Paris climate agreement. Switzerland is responsible for about 0.1% of global emissions.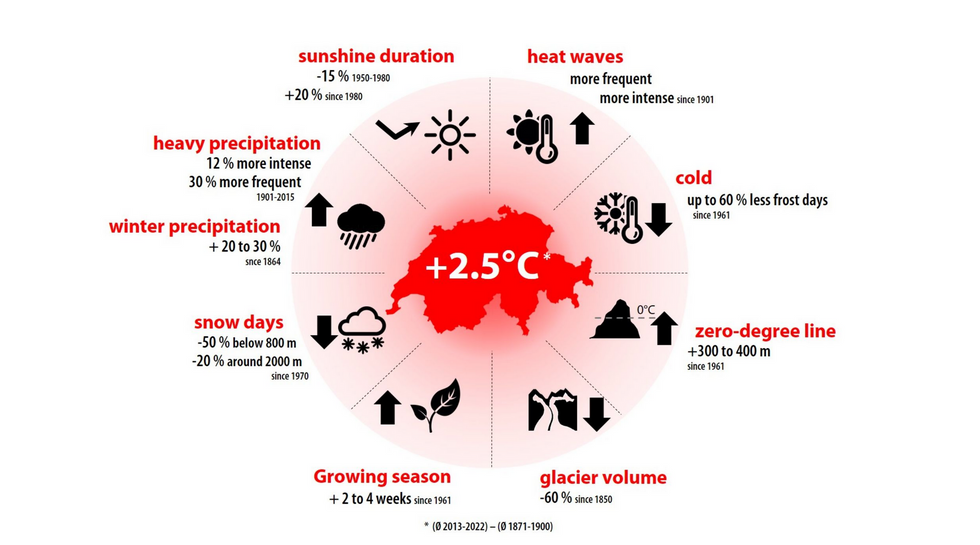 (Image: Federal Office of Meteorology and Climatology)
A verdict in the suit filed by KlimaSeniorinnen is expected next year.
"Should we win... a better climate policy will help less the lives of senior people than those of our children and grandchildren," explained plaintiff Elisabeth Stern.
"Are we older women victims? Yes, in the sense of being personally affected and at increased health risk from increasing temperatures," Stern added. "But we are also highly competent agents of change. Because our climate complaint for the first time puts the European Court of Human Rights in the situation to comment on the climate protection measures of a member state. And on the question of whether climate action to protect citizens is a fundamental human right."
News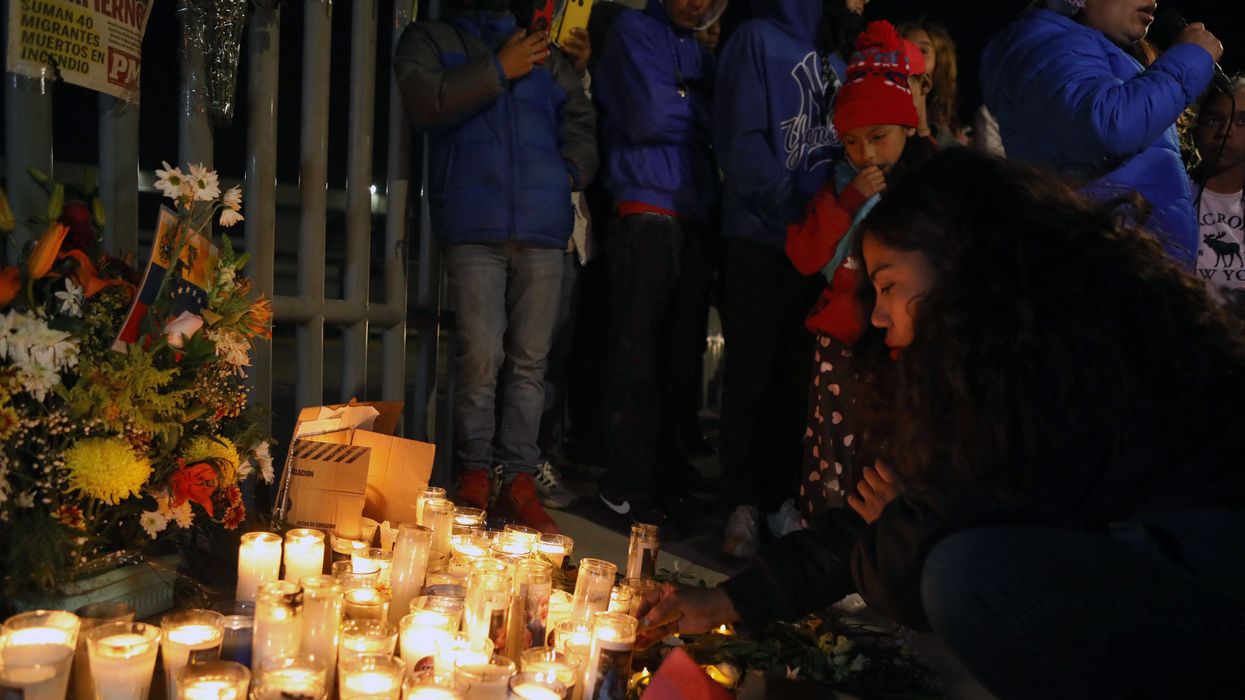 "The U.S. and Mexican governments must work together to ensure that migrants receive access to asylum and to fair and efficient processing at the border and are given humanitarian support when forced to wait in Mexico," said one advocate.
Calling for a full investigation into the fire that killed at least 38 people at a migrant detention center in Ciudad Juarez, Mexico this week, United Nations officials on Tuesday joined human rights groups in calling for an end to the U.S. and Mexican migration policies which led to the detention of dozens of men at the facility.
A spokesperson for the U.N. said all member states must "live up to the commitments they have made as signatories to the U.N.-led Global Compact for Migration," which "intends to reduce the risks and vulnerabilities migrants face at different stages of migration by respecting, protecting, and fulfilling their human rights and providing them with care and assistance."
"We, again, urge all states to adopt alternatives to immigration detention," said the U.N. human rights office.

\u201c#Mexico: The deadly fire at the migrant centre in Ciudad Ju\u00e1rez was a preventable tragedy. We, again, urge all States to adopt alternatives to immigration detention. A prompt, transparent investigation to clarify the circumstances behind this tragedy will be crucial.\u201d

— UN Human Rights (@UN Human Rights) 1680037433
The 68 men who were being held at the migration facility were mainly from Guatemala, Honduras, Venezuela, and El Salvador originally, and Reuters reported Wednesday that many migrants had been "rounded up off the streets of Ciudad Juarez on Monday" and taken to the center, which is run by Mexico's National Migration Institute (NMI).
A woman named Viangly Infante told the outlet that her husband was among those detained and that the couple had traveled from their home country of Venezuela last fall with their three children, crossing the U.S.-Mexico border in December into Eagle Pass, Texas.

They were then sent back to Mexico by U.S. immigration authorities and bused to Ciudad Juarez.
"We cannot ignore that many of these migrants continue to wait in border cities like Ciudad Juarez without documentation so they can enter the United States to seek protection—a situation created by successive U.S. administrations' undue restrictions on asylum access," said Rachel Schmidtke, senior advocate for Latin America at Refugees International. "The U.S. and Mexican governments must work together to ensure that migrants receive access to asylum and to fair and efficient processing at the border and are given humanitarian support when forced to wait in Mexico."

The U.N. Refugee Agency in January warned the Biden administration that its expansion of former President Donald Trump's Title 42 policy—under which the White House is expelling up to 30,000 migrants per month unless they arrive in the U.S. via a humanitarian parole program—is "not in line with refugee law standards" by which the U.S. is obligated to abide.
Like the U.S. Department of Homeland Security, the NMI in Mexico has long been denounced by migrant rights advocates over its treatment of people in its detention facilities, including overcrowding and lack of medical care. Protests broke out last year in detention centers in Tijuana and the southern city of Tapachula, near the border of Guatemala.
The fire that broke out early Tuesday was reportedly started by migrants who were protesting their confinement in a cell intended for a maximum of 50 people in which 68 people were being detained, and the guards' refusal to provide them with drinking water.
Outrage over the fire, in which at least 29 people have been hospitalized in addition to those who were killed, was compounded Wednesday after newly released surveillance footage footage showed guards quickly walking away from the cell where the men were protesting, while smoke filled the room.
The men were trapped behind padlocked doors as they yelled for help, NBC News reported.
"How could they not get them out?" Katiuska Márquez, a Venezuelan woman who was looking for her half-brother, asked the Associated Press.
The deaths of more than three dozen people in the fire "lay bare a truly inhumane system of immigration enforcement," said Erika Guevara-Rosas, Americas director at Amnesty International. "How is it possible that the Mexican authorities left human beings locked up with no way to escape the fire? These facilities are not 'shelters,' but detention centers, and people are not 'housed' there, but deprived of their freedom."
Amnesty called on Mexican officials to adhere to a recent ruling by the country's Supreme Court of Justice (SCJN), which said on March 15 that people should not be held in migrant detention facilities for more than 36 hours.

"Amnesty International urges the Mexican state to comply with the ruling of the SCJN and to establish protocols to act in fires, as well as evacuation routes in such situations," said the group. "It also calls on the state to investigate the human rights violations, especially the allegations that the migrants were left locked up while the fire occurred, as well as to recognize that the migrants were in its custody and, therefore, it was its obligation both to prevent the fire and to act diligently during the fire to avoid fatal consequences."
The court ruling made clear, said Edith Olivares Ferreto, executive director of Amnesty International Mexico, that the country must "put an end to the practices that have caused untold damage, including torture and cruel, inhuman, and degrading treatment, to thousands of migrants who have passed through these centers."
News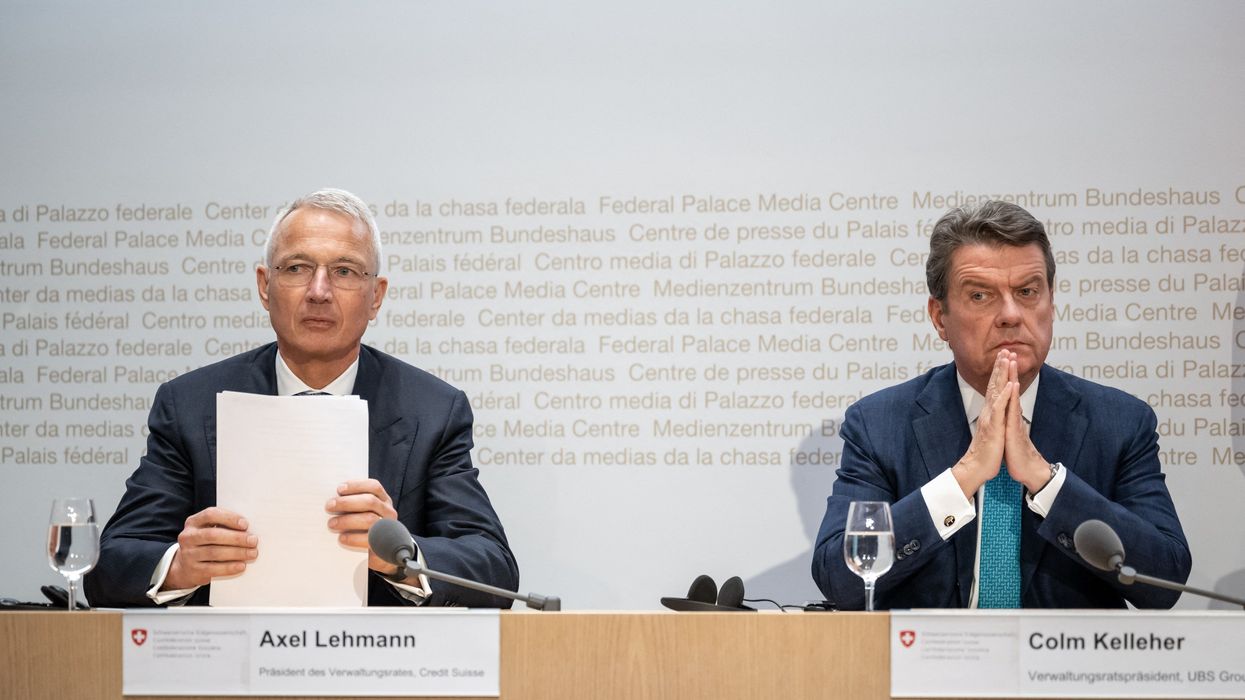 "Republican budget cuts have decimated the IRS's ability to root out this kind of offshore tax evasion scheme," said Sen. Ron Wyden.
The Senate Finance Committee on Thursday published the results of a two-year investigation showing that the scandal-plagued Swiss bank Credit Suisse has been complicit in a "massive, ongoing conspiracy" to help wealthy U.S. citizens dodge taxes.
Spearheaded by Sen. Ron Wyden (D-Ore.), the chair of the Senate panel, the probe found that Credit Suisse violated the terms of a 2014 plea agreement with the U.S. Department of Justice (DOJ) that required the bank to crack down on tax dodging by its U.S. clients.
As part of the 2014 deal, according to the Justice Department, Credit Suisse admitted to "knowingly and willfully" helping U.S. clients hide offshore assets and income from the Internal Revenue Service (IRS).
The Senate Finance Committee report states that it obtained "voluminous records detailing the role Credit Suisse employees played in assisting U.S. businessman Dan Horsky in concealing over $220 million in offshore accounts from the IRS."
"The committee's investigation also uncovered almost two dozen additional large, potentially undeclared accounts held by Credit Suisse belonging to ultra-high net worth U.S. persons," the report continued. "In 2022, Credit Suisse disclosed to the committee that in connection with its ongoing cooperation with DOJ, it had identified 10 additional large client relationships involving U.S. persons, with each client holding accounts in excess of $20 million."
Wyden said in a statement Wednesday that "at the center of this investigation are greedy Swiss bankers and catnapping government regulators, and the result appears to be a massive, ongoing conspiracy to help ultrawealthy U.S. citizens to evade taxes and rip off their fellow Americans."
"Credit Suisse got a discount on the penalty it faced in 2014 for enabling tax evasion because bank executives swore up and down they'd get out of the business of defrauding the United States," the Oregon senator continued. "This investigation shows Credit Suisse did not make good on that promise."
"Republican budget cuts have decimated the IRS's ability to root out this kind of offshore tax evasion scheme, but Democrats are committed to stepping up enforcement against wealthy tax cheats."
The report was published days after the Switzerland-based investment banking giant UBS agreed to purchase Credit Suisse for more than $3 billion as the latter firm faced growing questions about its financial health amid fears of a broader banking crisis.

Wyden said Wednesday that Credit Suisse's "pending acquisition does not wipe the slate clean," urging the U.S. Justice Department to follow through on its pledge to "crack down on corporate offenders, particularly repeat offenders like Credit Suisse."
"In addition to a significant penalty for the bank, the individual bankers involved in these schemes must also face criminal investigation," Wyden added. "It simply makes no sense to allow the bankers who have their hands on these hidden accounts and enable tax evasion to get away scot-free. Finally, the cases detailed in this investigation are textbook examples of why Democrats gave the IRS new funding for enforcement. Republican budget cuts have decimated the IRS's ability to root out this kind of offshore tax evasion scheme, but Democrats are committed to stepping up enforcement against wealthy tax cheats."
In total, the Senate Finance Committee said it found evidence that Credit Suisse helped potentially more than two dozen American families hide upwards of $700 million at the bank after the 2014 plea agreement with the Justice Department.
Citing two former Credit Suisse employees, CNBCreported Wednesday that "although the bank did disclose and close many American accounts after its 2014 plea agreement, some bankers worked with high net worth clients to keep certain Americans at the bank, by changing the nationalities listed on their accounts and ignoring evidence that the account holders were Americans."
"In other cases, they helped American clients move money to other banks, without reporting those transfers to U.S. authorities," the outlet added.
News
SUPPORT OUR WORK.
We are independent, non-profit, advertising-free and 100%
reader supported.