Our work is licensed under Creative Commons (CC BY-NC-ND 3.0). Feel free to republish and share widely.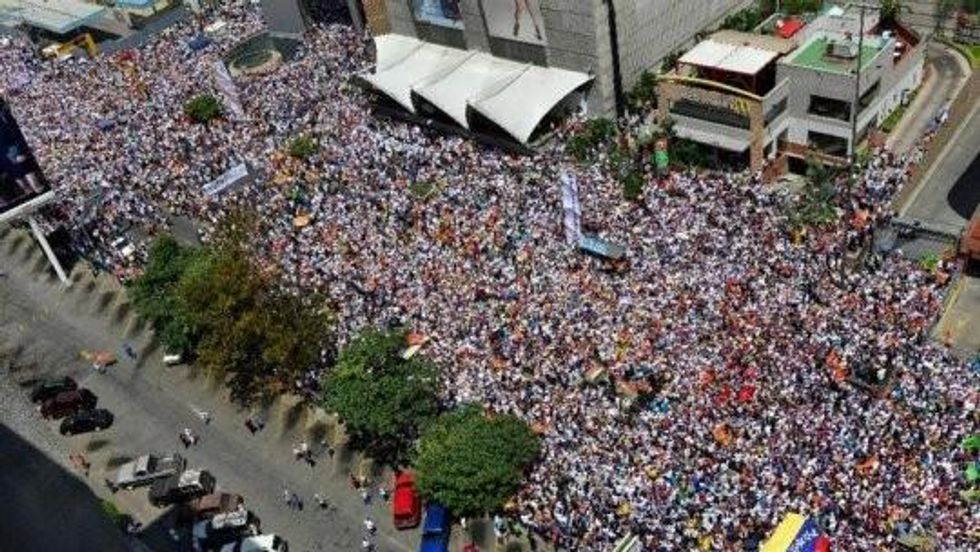 Unrest continued in Venezuela on Saturday when competing pro- and anti-government marches brought an estimated
hundreds of thousands
onto the streets.
Opposition forces blame economic problems and crime on leftist President Nicolas Maduro, while Maduro
says the violence is part of a strategy devised by right-wing groups, with the support of the US, to destabilize his government.

"We have a strong democracy. What we don't have in Venezuela is a democratic opposition," Mr Maduro told thousands of his supporters in Caracas.
"There's a world campaign against Venezuela," Maduro said during a news conference on Friday. "It's a campaign to justify an intervention in the domestic affairs of Venezuela."
As Jake Johnston recently commented in CEPR's Americas Blog,
The U.S. government has been funding the Venezuelan opposition for at least 12 years, including, as the State Department has acknowledged, some of the people and organizations involved in the 2002 military coup. Their goal has always been to get rid of the Chavez government and replace it with something more to their liking. However, their funding is probably not their most important contribution in Venezuela, since the Venezuelan opposition has most of the wealth and income of the country. A more important role is the outside pressure for unity, which, as [the WikiLeaks] cables and the history of the past 15 years show, has been a serious problem for the Venezuelan opposition. The cables also show that this is a serious concern for the U.S. government.
The Guardianreported:
Maduro reiterated that the events of the last two weeks are a coup-in-the-making backed by the US and financed by Colombia's ex-president Alvaro Uribe, whom Maduro accuses Lopez of working closely with. The proof of his allegations, he says, "will soon come to light".

But as Venezuelans take to the streets again it is hard to predict whether the march will be the last, or if it will serve to inject new energy into an opposition that has been dispersed over the last couple of nights by National Guard troops firing rubber bullets and teargas and tearing down the camps students set up on street corners.
Reuters reports that
Five people have died from gunshot wounds, beginning on Feb. 12 when two opposition supporters and a pro-government loyalist were shot after a peaceful opposition protest in central Caracas degenerated into running battles between riot police and hooded demonstrators.

Two other people were shot dead at protests around the country in the following days, and a sixth was run over by a car during a melee.
Maduro has called for a national peace conference to be held on Wednesday.
__________________
We've had enough. The 1% own and operate the corporate media. They are doing everything they can to defend the status quo, squash dissent and protect the wealthy and the powerful. The Common Dreams media model is different. We cover the news that matters to the 99%. Our mission? To inform. To inspire. To ignite change for the common good. How? Nonprofit. Independent. Reader-supported. Free to read. Free to republish. Free to share. With no advertising. No paywalls. No selling of your data. Thousands of small donations fund our newsroom and allow us to continue publishing. Can you chip in? We can't do it without you. Thank you.