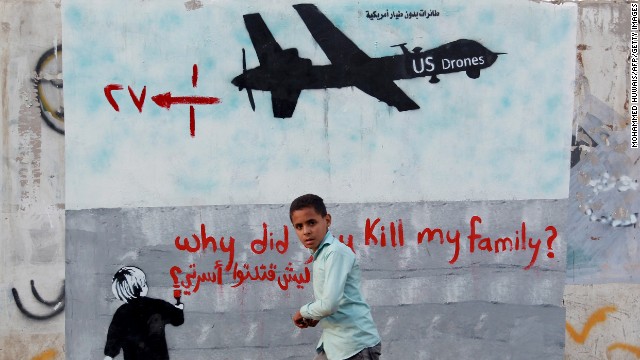 In its most assertive rebuke yet to its own president and the U.S. government, the Yemen Parliament on Sunday demanded an end to U.S. drone bombings in the country just days after a missile strike on a wedding party killed at least fifteen people and left many more wounded.
"If the government fails to stop American planes from... bombing the people of Yemen, then it has no rule over us." —tribal chief Ahmad al-Salmani
"Members of parliament voted to stop what drones are doing in Yemeni airspace, stressing the importance of preserving innocent civilian lives against any attack and maintaining Yemeni sovereignty," the state news agency SABA reported.
Though the nearly unanimous vote is considered "non-binding" under Yemeni law, a government official told CNN that the legislative move should be seen as "a strong warning" to Yemeni President Abdo Rabbo Mansour Hadi.
"The Yemeni public is angered by the drone strikes," said the official, who spoke to CNN on condition of anonymity because he's not authorized to talk to reporters. "The people's representatives reflected on the tone of the streets."
Anti-drone activists in Yemen and abroad have been joined by foreign policy experts who all agree that the U.S. drone campaign in the country is having a counter-productive and destabilizing effect.
The U.S. government has so far refused to comment on the attack or take responsibility for the civilians killed, though a statement by the Hadi's Supreme Security Committee said the bombing targeted al-Qaeda leadership.
As Agence France-Presse reports:
In the car "were top leaders who plotted several terrorist attacks against the armed forces, police, civilians and vital government installations," it said.

The statement did not give a death toll for the strike, nor refer to any civilian casualties or acknowledge that the attack was launched by a US drone.

Security sources and witnesses said two missiles were fired, and that mostly civilians had died.

Amnesty International said confusion over who was behind the raid "exposes a serious lack of accountability for scores of civilian deaths in the country."

"Even if it turns out that this was a case of killing based on mistaken identity or dodgy intelligence, whoever was responsible needs to own up to the error and come clean about what happened in this incident," said Philip Luther, Amnesty's Middle East and North Africa director.

Relatives of the dead staged protests to denounce the killings and demanded an official apology as well as compensation.

Hundreds of people also blocked the road between Rada and Sanaa at Friday's funeral of 13 people but reopened a day later after reaching agreement on compensation with local military authorities.

"If the government fails to stop American planes from... bombing the people of Yemen, then it has no rule over us," tribal chief Ahmad al-Salmani told AFP on Saturday.
_____________________________________