Our work is licensed under Creative Commons (CC BY-NC-ND 3.0). Feel free to republish and share widely.
Jacob Chamberlain
Jacob Chamberlain is a former staff writer for Common Dreams. His website is www.jacobpchamberlain.com.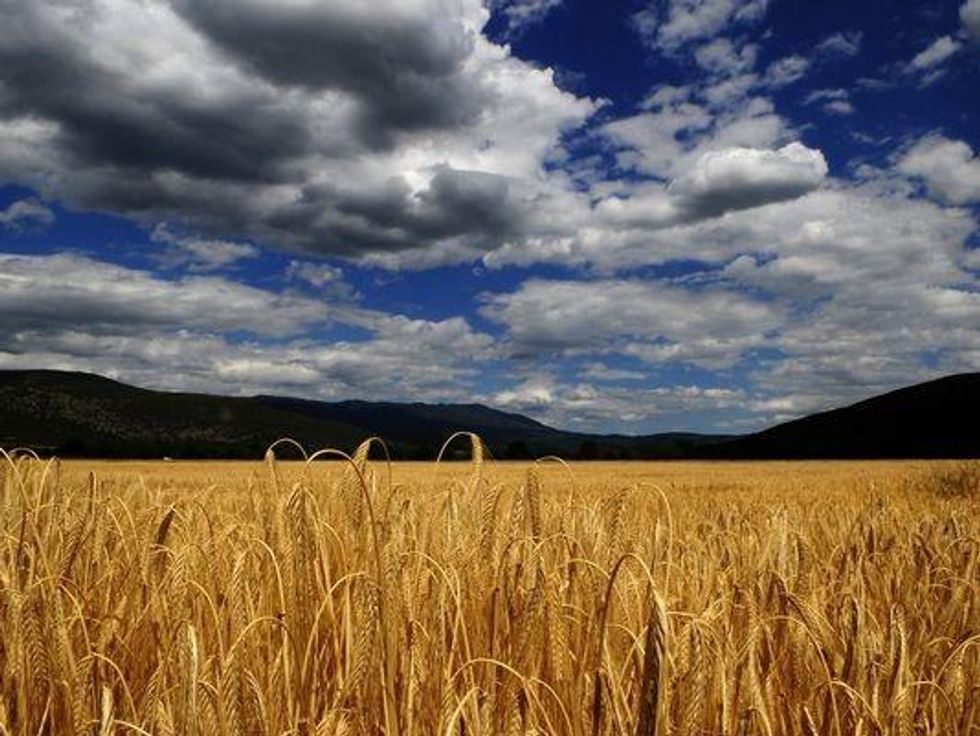 Monsanto claimed Wednesday that the Oregon field found last week to be contaminated with Monsanto's unapproved GM wheat was an "isolated" incident, and that it was likely either the result of an accident or "sabotage." However, scientists warned Thursday that the biotech giant's denial has many holes.
Monsanto claims that it has since tested 31,200 seed samples in Oregon and Washington and found no evidence of contamination--insisting there is no cause for concern in the world market.
However, researchers this week said that Monsanto's tests are misleading and that the genetically modified gene, not yet approved for use in the U.S., will likely continue to be found in wheat seeds.
"We don't know where in the whole chain it is," said Carol Mallory-Smith, the weed science professor at Oregon State University who tested the initial wheat plants and determined they were the unapproved Monsanto seed.
"I don't know how Monsanto can declare anything. We obviously had these plants in the field."
"You introduce something into the environment, and genes move around in the environment, whether transgenic or not," she added.
The U.S. Department of Agriculture is currently investigating how the wheat gene, which was taken out of test fields eight years ago, is now showing up.
Monsanto claims that all of the tested seeds had been either destroyed or recovered and sent to a USDA facility in Colorado for storage.
However, David Andow, a professor of entomology at the University of Minnesota, said in an interview with Bloomberg that these claims are misleading and that the tests cited by Monsanto this week, which displayed clean wheat in the state of Washington, are shortsighted.
"Sure they tested it, but that doesn't mean it's all clean," Andow said. "It just means it's not so widespread that it could be detected easily."
And Doug Gurian-Sherman, senior scientist at the Union of Concerned Scientists in Washington, said that this is not the first time Monsanto has been less than forthcoming on the extent of its seed contamination: "In previous cases, such as during the outbreak of herbicide-resistant weeds in recent years, Monsanto has initially played down the risks."
"The reality is that nobody knows what happened until extensive testing is done."
Additionally, Bloombergreported recently that even if Monsanto's claims about this specific wheat strain were proven true, Monsanto has resumed trials of other and very similar GM wheat seeds, according to information posted in a U.S. Department of Agriculture (USDA) database.
Monsanto planted 150 acres of GM wheat in Hawaii last year and 300 acres of GM wheat in North Dakota this year--meaning the risk of genetic pollution from unapproved Monsanto wheat is even greater than most people are aware.
Meanwhile, the discovery of the GM wheat in Oregon caused fast moving international backlash, with Japan suspending some imports of US wheat, South Korea testing all of its US wheat imports, and the EU urging its members to test some of its US wheat imports.
The extent of contamination from Monsanto's GM wheat seeds in Oregon, let alone Hawaii and North Dakota, remain unknown.
_______________________
We've had enough. The 1% own and operate the corporate media. They are doing everything they can to defend the status quo, squash dissent and protect the wealthy and the powerful. The Common Dreams media model is different. We cover the news that matters to the 99%. Our mission? To inform. To inspire. To ignite change for the common good. How? Nonprofit. Independent. Reader-supported. Free to read. Free to republish. Free to share. With no advertising. No paywalls. No selling of your data. Thousands of small donations fund our newsroom and allow us to continue publishing. Can you chip in? We can't do it without you. Thank you.