Our work is licensed under Creative Commons (CC BY-NC-ND 3.0). Feel free to republish and share widely.
The Green Party of the United States is set to nominate Presidential and Vice-Presidential candidates at their National Convention being held in Baltimore, Maryland this weekend.
About 275 delegates pre-registered to attend the convention, and organizers say as many as 400 could show up.
Jill Stein, a doctor and public health advocate, clinched the nomination by winning 30 of 33 Green Party presidential primaries as one of five candidates. She is to be officially named the nominee Saturday in Baltimore.
Stein, a Massachusetts resident and former candidate for governor, recently named Cheri Honkala, national coordinator for the Poor People's Economic Human Rights Campaign, as her choice for vice president.
Stein was inspired to take up politics by environmental health epidemics but the centerpiece of Stein's run is a Green New Deal meant to create 25 million jobs by fostering renewable energy, conservation and energy efficiency efforts like weatherization.
The Green Party has qualified for matching funds from the feds, up to donations of $250.
Green Party officials say they expect their candidates to be on the ballot in more than 40 states in November.
Ralph Nader ran as the Green Party candidate in both 1996 and 2000. In 1996, Nader received 0.71% of the popular vote.
In 2000, Nader and his running mate Winona LaDuke received 2,883,105 votes, for 2.74 percent of the popular vote, missing the 5 percent needed to qualify the Green Party for federally distributed public funding in the 2004 election, yet qualifying the Greens for ballot status in many states.
In 2004, David Cobb was the Green's Presidential candidate, Pat LaMarche was the Vice-Presidential candidate, receiving just 119,859 votes or 0.096 percent of the national popular vote.
And in 2008, Cynthia McKinney and Rosa Clemente, the Green Party candidates, received just 161,603 votes or 0.12 percent of the national vote.
* * *
Jill Stein won't be getting the endorsement of Ralph Nader this year, however.
The former Green Party presidential nominee has already endorsedRocky Anderson of the Justice Party for president.
"Ralph Nader is backing Rocky Anderson for president," Current TV reported in May, "because Rocky had 'a very, very progressive record' when mayor of Salt Lake City and because he was a constitutional lawyer, a civil rights lawyer, a candidate of conscience for voters of conscience."
The Justice Party claims to have registered with 22 states but seems unlikely to achieve ballot access on most of those states' ballots - as of June, Anderson had made the November ballot in just three states.
Here's a April 17, 2012, Nader interview with CBS News's Brian Montpoli where Nader discusses Rocky Anderson:
* * *
Democracy Now!, Friday, July 13, 2012:
Green Party members from around the world have joined people from across the United States for the organization's 2012 national convention in Baltimore. We discuss the Green Party's global reach with Dr. Joachim Denkinger, Deputy Secretary General of The Greens Group in the European Parliament, and Justine McCabe of the International Committee of the Green Party of the United States. "I think we just recognized that something is moving in the U.S. in the Green field," Denkinger says. "We have to strengthen the transatlantic bridge because more and more things will be decided on a global level."
* * *
FAIR (Fairness and Accuracy in Reporting) reports Friday:
The Third-Party Lock Out
The New York Times has a long profile (7/13/12) of presumptive Green Party presidential candidate Jill Stein. Though I could have done without some of it ("ever polished in bright scarves and slim pantsuits"), reporter Susan Saulny gives readers a good-and rare-look at a third party political candidate.
Stein actually debated Mitt Romney in the 2002 gubernatorial race, and Saulny notes that many viewers thought she'd won. ("It's easy to debate a robot," as she put it.)
Barring a miracle, she's not going to get another chance to beat the robot. The Times tries to explain why:
She longs to be included in the nationally televised debates, a high hurdle for any third-party candidate. According to the Commission on Presidential Debates, a candidate must have "a level of support of at least 15 percent of the national electorate" as determined by five national polling organizations.

Ms. Stein's problem, then, is of the chicken-and-egg variety: To get national name recognition, she needs television exposure in debates. But she does not qualify for debates because of a lack of national name recognition.

She thinks that is by design, to benefit major parties.

"If they actually have to debate a living, thinking, informed person, it's very hard for them," Ms. Stein added, referring to Mr. Obama and Mr. Romney. "They have kind of a mutual agreement, which you can see evident in the nature of their debate right now. If it's important, they won't go there. Many issues are not on the table."
That's a pretty good explanation of the absurd presidential debate rules, but it's important to note that they are, in fact, rigged by the two major parties. This is not just something Jill Stein thinks.
The Commission on Presidential Debates was set up by the parties themselves in 1987, in order to take the debates away from the League of Women Voters. As FAIR founder Jeff Cohen shows (9/28/00), some of this history has been reported by the New York Times:
The CPD was launched in 1987 by the then-national chairs of the Republican and Democratic parties, Frank Fahrenkopf and Paul Kirk, to promote the interests of the two major parties and to ward off third-party interlopers. Mr. Fahrenkopf and Mr. Kirk head the CPD today.

"Mr. Fahrenkopf indicated that the new Commission on Presidential Debates was not likely to look with favor on including third-party candidates in the debates," the New York Times reported. "Mr. Kirk was less equivocal, saying he personally believed the panel should exclude third-party candidates from the debates." Mr. Kirk explained: "As a party chairman, it's my responsibility to strengthen the two-party system."
Not much has changed in 12 years-Fahrenkopf is still one of the two co-chairs, but Kirk's place has been taken by former Clinton press secretary Mike McCurry.
TV networks have followed along with the CPD structure, but there's no reason they have to. Why not invite all legitimate candidates with ballot access to an open presidential debate? The candidates who don't show-probably the ones named Romney and Obama-can be represented by empty podiums.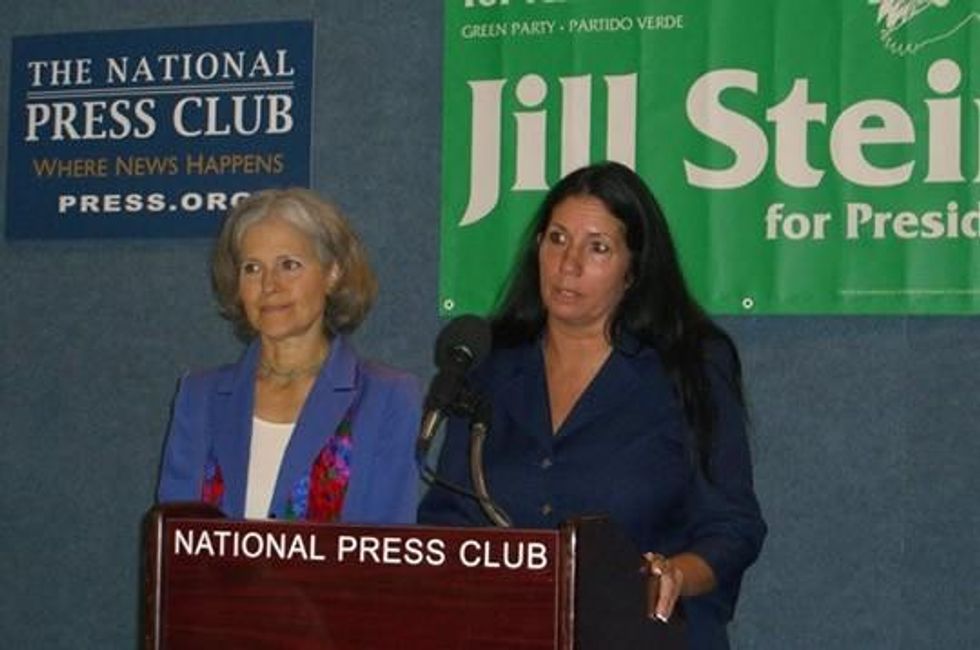 # # #
We've had enough. The 1% own and operate the corporate media. They are doing everything they can to defend the status quo, squash dissent and protect the wealthy and the powerful. The Common Dreams media model is different. We cover the news that matters to the 99%. Our mission? To inform. To inspire. To ignite change for the common good. How? Nonprofit. Independent. Reader-supported. Free to read. Free to republish. Free to share. With no advertising. No paywalls. No selling of your data. Thousands of small donations fund our newsroom and allow us to continue publishing. Can you chip in? We can't do it without you. Thank you.