Our work is licensed under Creative Commons (CC BY-NC-ND 3.0). Feel free to republish and share widely.
Max Richtman
Max Richtman is president and CEO of the National Committee to Preserve Social Security and Medicare. He is former staff director at the United States Senate Special Committee on Aging.
In the iconic photo of Franklin D. Roosevelt signing the Social Security Act of 1935, the dignitaries crowded around the president stare intently at the legislation on his desk. Only one looks directly into the camera. She is the woman without whom we likely would not have Social Security today: Secretary of Labor Frances Perkins - alone in a sea of men, wearing a slim black dress with white buttons and a fashionable tricorn hat. Like other pioneering women from the first half of the 20th century, Perkins deserves to be honored before Women's History Month 2019 ends.
If FDR was the father of Social Security , the first-ever female Labor Secretary was the mother. Perkins coaxed, cajoled, and practically willed the program into being, undaunted by formidable obstacles (including the question of its very constitutionality). When Christopher Breiseth, former CEO of the Franklin and Eleanor Roosevelt Institute, asked Perkins to identify her proudest achievement toward the end of her life, she said without hesitation in her clipped and carefully cultivated Boston Brahmin accent: "Two words: Social Security."
"Social Security has already outlived Frances Perkins by 54 years, and will continue to provide Americans with baseline financial security in old age for generations."
Born in 1880, Perkins grew up in a middle-class household in Worcester, Massachusetts. After graduating from Mt. Holyoke University, she was drawn to social work as the Progressive movement of the early 20th century took shape. In so doing, she rejected the views of her parents who had told her as a child that "poverty was the result of alcohol or laziness... and that little girls shouldn't concern themselves with such things."
Having personally witnessed the horror of the 1911 Triangle Shirtwaist Company fire in New York City, Perkins became a passionate advocate for workers' rights and safety. She eventually served as head of the New York Industrial Commission , then as state Labor Commissioner under Governor Franklin Roosevelt. FDR nominated her for U.S. Labor Secretary after winning the presidential election in 1932.
"I came to Washington to work for God, FDR, and the millions of forgotten, plain common workingmen," Perkins said. But she did not accept the nomination immediately. She first sought FDR's reassurance that the new administration would pursue several ambitious federal programs to help the poor, working people, and the elderly - which would eventually become signature achievements of the New Deal. One of the programs Perkins insisted upon was social insurance for American retirees, many who were literally living in poor houses across the country.
Moved by Perkins' entreaties, President Roosevelt told her to run with the agenda she laid out, including - and especially - what would become known as Social Security. "You care about this thing. You believe in it," FDR told her. "Therefore, I know you will put your back into it more than everyone else. You will see that something comes of it, and you must not delay."
Perkins set to work on Social Security - jumping legal, bureaucratic and political hurdles as only someone with her passion and unflinching commitment to social justice could do. In her biography of Perkins, The Woman Behind the New Deal , author Kirstin Downey recounts that Perkins would lie in bed late at night working on the administration's Social Security plan, intermittently dripping cold water onto her eyelids to stay awake.
"She took very seriously how she as a woman could work in a man's world. She was very hard-headed," says Christopher Breiseth. "She had studied social insurance in Europe and felt that it was indispensable. She assembled a sophisticated team of policy experts in that field to serve on the President's Committee on Economic Security . Secretary Perkins was a strong leader, but also open to the best ideas."
The nonprofit Frances Perkins Center describes the two-year birth of Social Security this way:
The process was rough going, with worries over court challenges to the final legislation [and] internal struggles within the committee. Details were hard to resolve and they were close to bumping up against the... Christmas deadline FDR had set. On December 22 or 23, [1934] Frances called committee leaders to her home, "led them into the dining room, placed a large bottle of Scotch on the table, and told them no one would leave until the work was done," [Kirstin] Downey writes. They met the deadline.
Congress passed the Social Security Act in August, 1935 and President Roosevelt proudly signed it a few days later. The Labor Secretary's grandson, Tomlin Perkins Coggeshall , who knew her for the first decade of his life before she passed away in 1965, got glimpses of the same steely determination that wrought the Social Security program.
"She insisted during our visits that we go to church together," Coggeshall remembers. (Frances Perkins was raised Catholic but eventually became an Episcopalian.) "This was based on her firm belief that the teachings of the church - including the importance of treating your fellow man justly - was something we should take seriously," he says. "I'd get a milkshake after church if I hadn't fidgeted in the pews. My grandmother was firm, but she also wasn't above bribery."
Coggeshall describes Perkins as a loving grandmother - humorous and anxious to pique his curiosity about things in the wider world. He emphasizes that she was a modern, working woman in a way that is commonplace today but not in the 1930s - struggling to balance the demands of work and family. Two years after her first and only child was born, Perkins' husband was diagnosed with what might be known today as bipolar disorder. Coggeshall says Perkins essentially found herself supporting the family while his grandfather grappled with deteriorating mental health.
In fact, he says, on the same day that the Social Security Act was signed, Frances Perkins received a phone call from the family's home base of New York City. "We need you to come back and help find [your husband]. He's gone missing." Coggeshall says the worry and stress are evident on Perkins' face in film footage of the Social Security signing. "She looks agitated and she's kind of shifting around, and yet she looks over FDR's shoulder to make sure he's signing the right papers."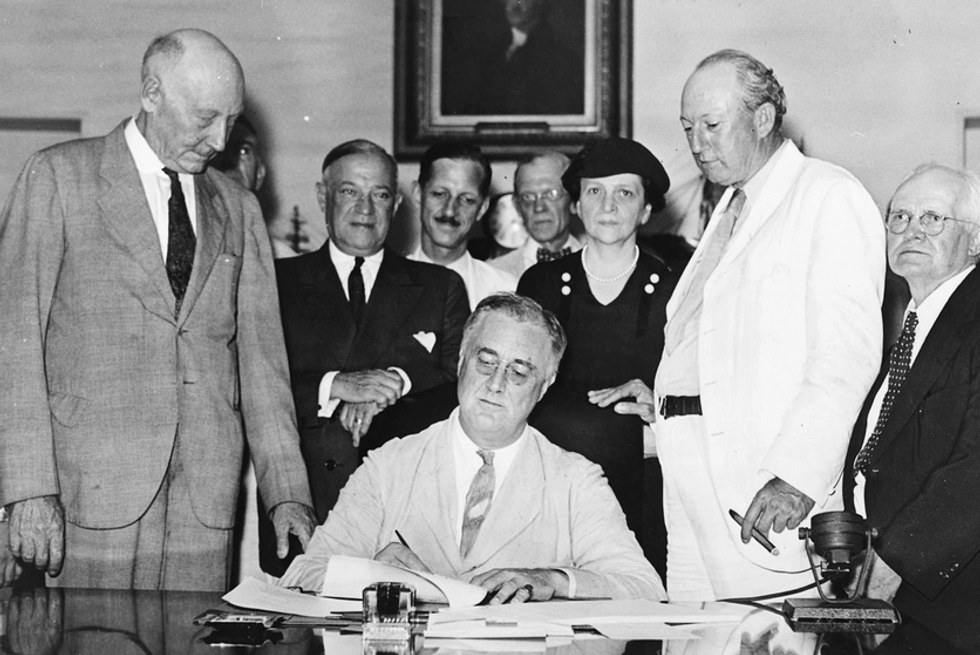 In addition to Social Security, Perkins successfully advocated for minimum wage laws, unemployment insurance, and restrictions on child labor. Ironically, her only unrealized policy goal was universal health care. Perkins served as Labor Secretary until 1945, when she was appointed to the U.S. Civil Service Commission by President Truman. She remained a champion of Social Security until her death in 1965.
Social Security has already outlived Frances Perkins by 54 years, and will continue to provide Americans with baseline financial security in old age for generations. "All I can say is that I am proud and humbled by everything she got done, especially Social Security," says her grandson, who founded the Frances Perkins Center to honor her legacy.
That legacy is crucial to every worker, retiree, and individual with disabilities collecting Social Security today. In fact, we all owe a debt of gratitude to the social justice warrior with a tricorn hat, staring down the lens in that iconic photo - surrounded by men.
We've had enough. The 1% own and operate the corporate media. They are doing everything they can to defend the status quo, squash dissent and protect the wealthy and the powerful. The Common Dreams media model is different. We cover the news that matters to the 99%. Our mission? To inform. To inspire. To ignite change for the common good. How? Nonprofit. Independent. Reader-supported. Free to read. Free to republish. Free to share. With no advertising. No paywalls. No selling of your data. Thousands of small donations fund our newsroom and allow us to continue publishing. Can you chip in? We can't do it without you. Thank you.