Copyright FDL Media Group © 2023, All Rights Reserved.
Kevin Gosztola
Kevin Gosztola is managing editor of Shadowproof Press. He publishes the Dissenter Newsletter at Substack and hosts "The Dissenter Weekly" show, which covers whistleblower stories. He also produces and co-hosts the weekly podcast, Unauthorized Disclosure.
Moumita Ahmed, an at-large delegate for Bernie Sanders and co-founder of Millennials For Bernie, walked down the aisle to rally fellow delegates at the New York state meeting. The chair of the meeting, Michael Reich, a lawyer for the Democratic Party, refused to accept motions from the floor. Ahmed attempted to mobilize people in the back of the room to challenge Reich. But, as she was walking, an elderly white man who is a delegate for Hillary Clinton reached out and grabbed her.
This man took his hand and smacked her on her upper back "really hard," according to Ahmed. He gave her a "little bruise." When she turned around, Ahmed said "he hit me with his cane" and "tried to trip me." She asked people sitting by the man if they had seen what just happened. Some were a bit stunned, but one person suggested he was old, so she shouldn't worry about it. Staffers at the New York meeting had a similar reaction and acted like nothing could be done to remove this person.
Ahmed told Shadowproof she went back to the man and sharply warned him never to hit her again. He took his cane and hit her with it. Staff working registration for the state meeting were urged to do something about this man, but they maintained it was no big deal.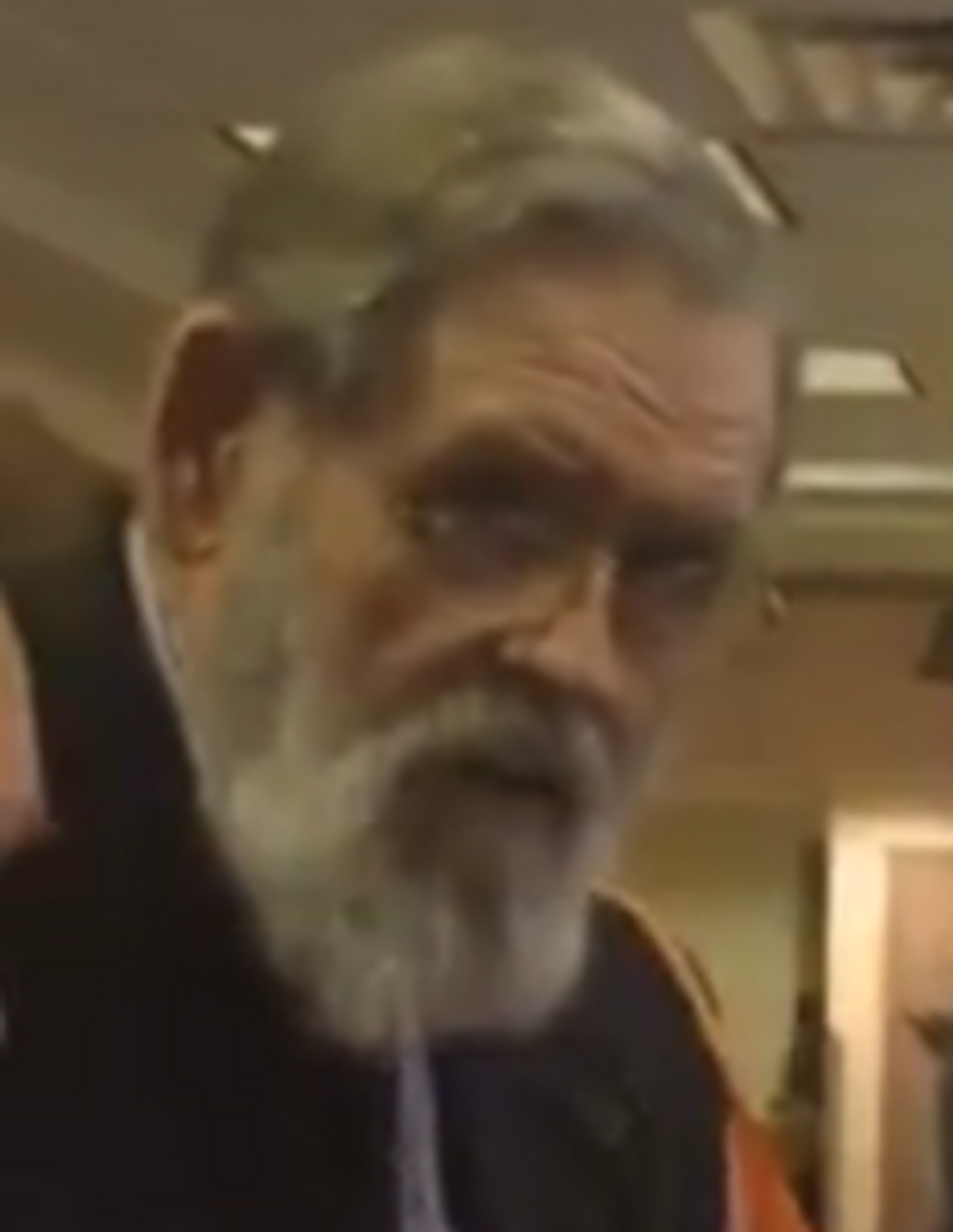 "Can you imagine if that man was a Bernie delegate?" Ahmed asked. "All hell would break loose. Every media outlet would talk about how sexist this campaign is over one man's action and just paint the entire movement as this sexist movement against women."
Ahmed is a woman of color. She said, "the imagery of this old white man caning someone like me" is a potent symbol of "racial inequality." And throughout the Democratic presidential primary, the Clinton campaign and Democratic Party establishment has tried to "erase people" like Ahmed, who support Sanders.
Clinton would like to be the first woman president of the United States, however, an older white man, who is one of her delegates, caned a woman at a delegate convention, Ahmed said. "To me, that is just ridiculous."
When Ahmed and a few of her colleagues at the meeting confronted the Clinton delegate while he was leaving, he told them to, "Go to hell!" He also reacted to accusations of assault by saying, "Why do you beat your wife?" Ahmed has since filed a complaint with the police department.
It turns out the man is well-known within the Democratic Party in New York. He has hosted meet-and-greets and fundraisers at his home in Granville, according to Sanders surrogate and at-large Sanders delegate Nomiki Konst. But Ahmed said officials working the meeting claimed they had no idea who had hit her with a cane.
This is but one example of foul behavior or improprieties, which occurred at the New York State Democratic Committee meeting on July 21. It was held to select a chair, who will represent New York delegates at the Democratic National Convention in Philadelphia. It also was an opportunity to propose motions, like a motion to abolish superdelegates, which delegates could support at the convention. However, the leadership of the meeting effectively ensured that no motions were brought to a vote and that Governor Andrew Cuomo was anointed the chair of the delegation through an unfair process.
"Sanders delegates can see clearly that the Democrats are going to try and avoid following the rules at the convention in Philadelphia. There is a sense that now is the time to prepare for it and warn others of what is to come."
Kat Brezler, a delegate who serves on the People For Bernie press committee, told Shadowproof the New York for Bernie delegation plans to file a legal challenge against the vote because the party did not follow Robert's Rules of Order or a proper procedure for the meeting. They believe the vote for Cuomo as chair should be nullified or a Sanders delegate should be granted a co-chairmanship with the governor.
As Konst recounted, a little over one hour into the meeting, Reich called for a vote on making Cuomo the delegation chair. Fifteen people stood up to say they did not recognize the nominee and that they wanted to make a motion to nominate another person for the position. Delegates wanted to nominate Sanders at-large delegate Linda Sarsour, an American Muslim activist and prominent figure in the campaign. Reich ignored everyone. He pounded the gavel and indicated Cuomo had won the vote.
Konst rushed up to the microphone, along with Ahmed, to demand the chair of the meeting recognize those individuals trying to make motions. She informed the chair that there were twenty motions. The chair maintained those motions were not made when he asked.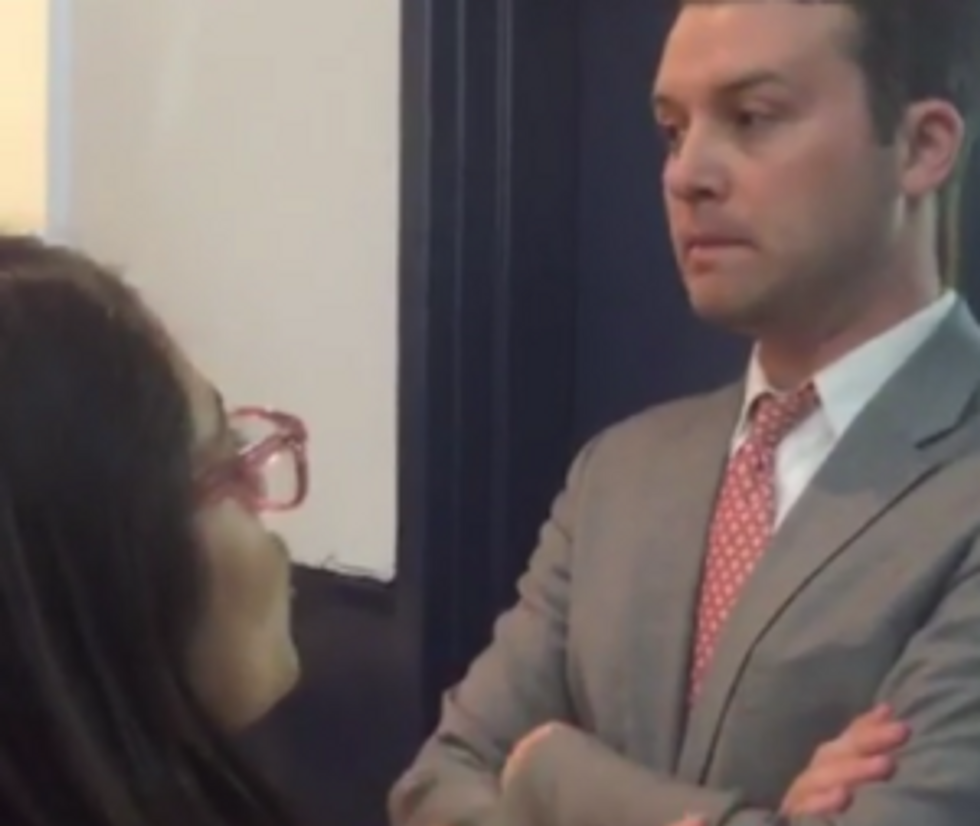 According to Konst, she pointed to all the people making motions and then the microphone was shut off. She tried to follow Robert's Rules of Order and the leadership of the meeting silenced her and everyone in the room trying to participate in the meeting.
Konst claimed Basil Smikle, the executive director of the New York State Democratic Party, was under the impression no Sanders delegate would motion during the meeting. No such agreement was made with the Democratic state party, but regardless, that did not mean a procedure could be ignored. She also claimed Reich told her it did not matter what Sanders delegates did. What happened during the meeting was entirely up to him.
The delegates did not necessarily think they would stop Cuomo from becoming delegation chair, but they wanted a fair vote.
"It's just very peculiar always to the Bernie camp why there is so much subversion of democracy," Brezler suggested. "When democracy's in your favor, why would you subvert it?"
Yet, Konst declared, "[This] shows that the party is controlled by Andrew Cuomo. He wasn't there, but his presence was very real. He clearly didn't want anything on the record that showed opposition. That's why they shut down mics. That's why they didn't allow motions or objections."
Konst added:
I've been a Democrat my whole life. My parents were very involved in the Democratic Party. My mom was an elected official. I've raised money for Democrats. This is the fifth national convention I'm going to. I've worked on presidential campaigns. I even used to volunteer for Hillary Clinton. This is not the Democratic Party that I want to be a part of. I'm disgusted. We've given up on all the things that we stand for. We go overseas and we teach other countries. I was representing the State Department in Libya, teaching other people about due process and electoral process and fairness, and we can't even conduct it that way. And we turn a blind eye like this is the way it is.
Konst referred to the nomination of Cuomo as a "theatrical nomination." It was not discussed with all delegates ahead of time. There was no deliberation.
She said, "Andrew Cuomo is very unpopular in our state. He's being investigated by the U.S. Attorney. He shut down an anti-corruption commission when it started looking into his administration." He also ran in a primary a few years ago against Zephyr Teachout, someone with little name recognition at the time, and Teachout stunned pollsters by winning thirty-four percent of the vote.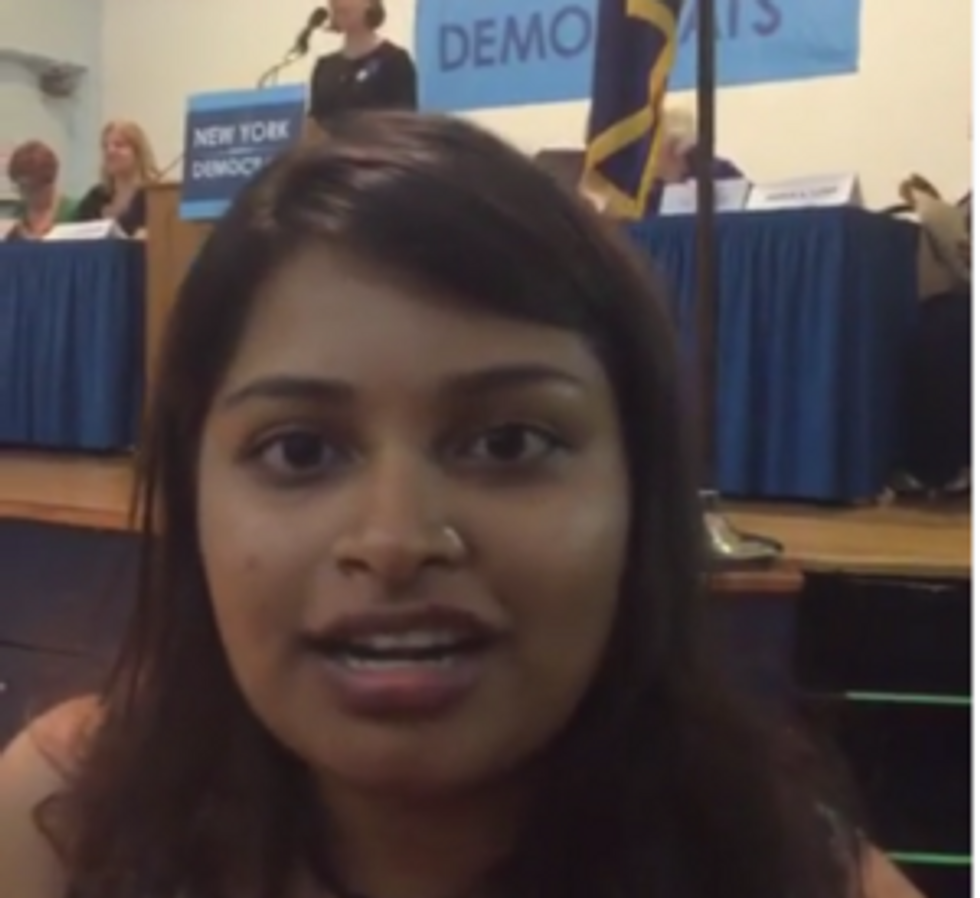 Ahmed said it was "so undemocratic on so many levels. It's not how things should be done."
"It's not how a democratic society functions. Especially in a progressive state like New York, to allow such things to happen is absolutely, as someone who is getting involved for the first time with electoral politics, it just turns me off even more and just makes me want to never do anything with the Democratic Party," Ahmed stated.
There were no people from the Sanders campaign allowed to play a role in the administration of the state meeting in New York, even though Sanders won 42% of the vote in the state primary.
Christine Quinn, a former speaker of the New York City Council and vice-chair of the New York State Democratic Committee, delivered a provocative speech that deeply offended Sanders delegates. Brezler said Quinn was "yelling at us from the floor."
"They weren't looking to settle the room. They very much seemed to be provocateurs," Brezler said.
Konst said the speech was "tone-deaf." She said Quinn was basically arguing they had no choice but to support Clinton so "we better suck it up." She was essentially scolding Sanders delegates for being "bad Democrats." She even suggested they might cost Democrats the election. So, Sanders delegates booed and then they stopped booing and turned their backs to Quinn. (Clinton delegates were not happy about that.)
"The party does not realize that it's in crisis," Konst asserted. "They're losing membership at record rates. It's not just they're ignoring newcomers. They're ignoring loyal members that worked very hard to keep the party alive."
These are members, who have "raised money for them. They've organized for them. They've gotten elected. But unless they're cutting deals right now for Hillary Clinton, it's like they don't exist," Konst maintained. Democrats "can't sustain themselves if they're using that model because it's just going to be a bunch of Democratic establishment members and nobody else to vote them in."
Many of the Sanders delegates in New York are under 30 years-old, including Ahmed. She's one of the youngest members of the delegation. However, the Democrats don't really seem to want these people to be in their party.
Ahmed said they don't like the way the Sanders people, especially young Sanders supporters, engage in politics. They don't think these individuals "follow the rules." They want them to "just sit down and behave."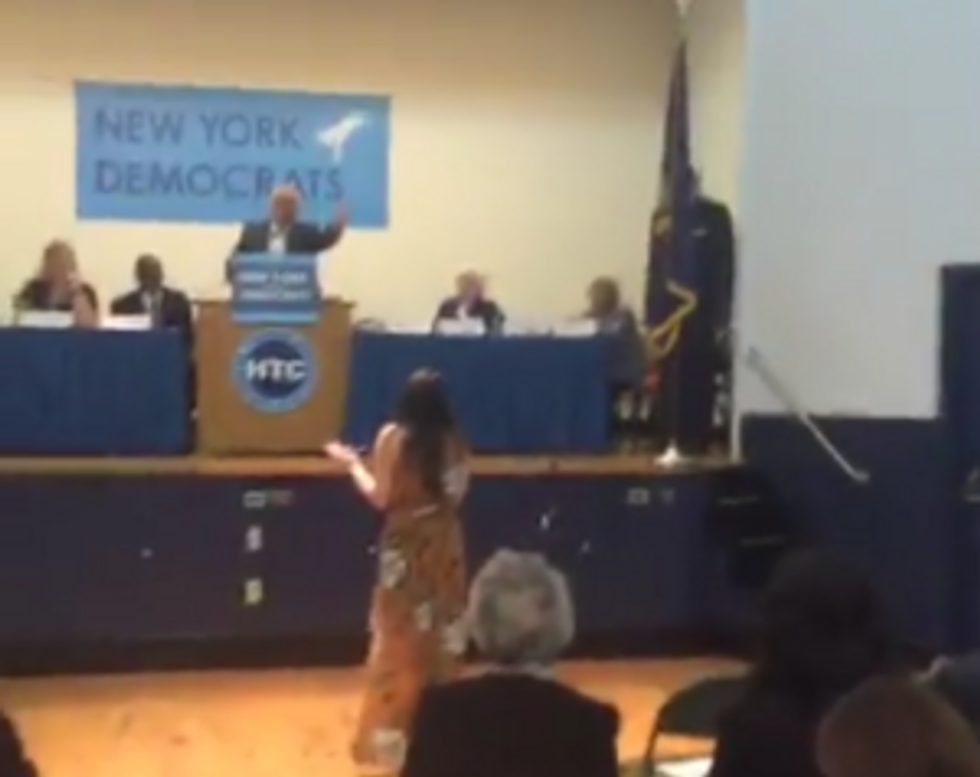 "Some people actually called me brainwashed and rowdy and uncivilized," Ahmed recalled. "These were the words that were thrown at me and my other delegate friends, who are young just like me. So, they see us as people who are not equipped to run for these positions or to engage in electoral politics."
Returning to the issue of the Clinton delegate, who hit Ahmed with his cane, Konst referenced Michelle Fields, the Huffington Post reporter who pressed charges against Donald Trump's campaign manager Corey Lewandowski when she grabbed her arm. If Fields can do that, then Ahmed should definitely be able to pursue charges.
"You do not hit a woman and then be allowed to be a delegate," Ahmed stated. "That's unacceptable. He should be punished."
With stark language, Ahmed wondered, "What are we going to do when their people are assaulting and ready to beat Bernie people into compliance instead of discussing party unity? What do we do?" She expressed concern about people's safety at the Democratic National Convention.
"They clearly aren't interested in party unity or having any civility. They just want to agitate. They just want to paint us a certain way, and some of them are actually willing to beat us and assault us."
Sanders delegates can see clearly that the Democrats are going to try and avoid following the rules at the convention in Philadelphia. There is a sense that now is the time to prepare for it and warn others of what is to come.
Democrats are "used to getting away with this crap for so long because they have not had the media to shame them, to show how it really is run," Konst concluded. "The more the media highlights this, the more people become aware and don't want to be engaged in the Democratic Party. And that's what they're in fear of right now."
Watch video from the meeting posted by New York For Bernie Sanders 2016 on Facebook:
We've had enough. The 1% own and operate the corporate media. They are doing everything they can to defend the status quo, squash dissent and protect the wealthy and the powerful. The Common Dreams media model is different. We cover the news that matters to the 99%. Our mission? To inform. To inspire. To ignite change for the common good. How? Nonprofit. Independent. Reader-supported. Free to read. Free to republish. Free to share. With no advertising. No paywalls. No selling of your data. Thousands of small donations fund our newsroom and allow us to continue publishing. Can you chip in? We can't do it without you. Thank you.