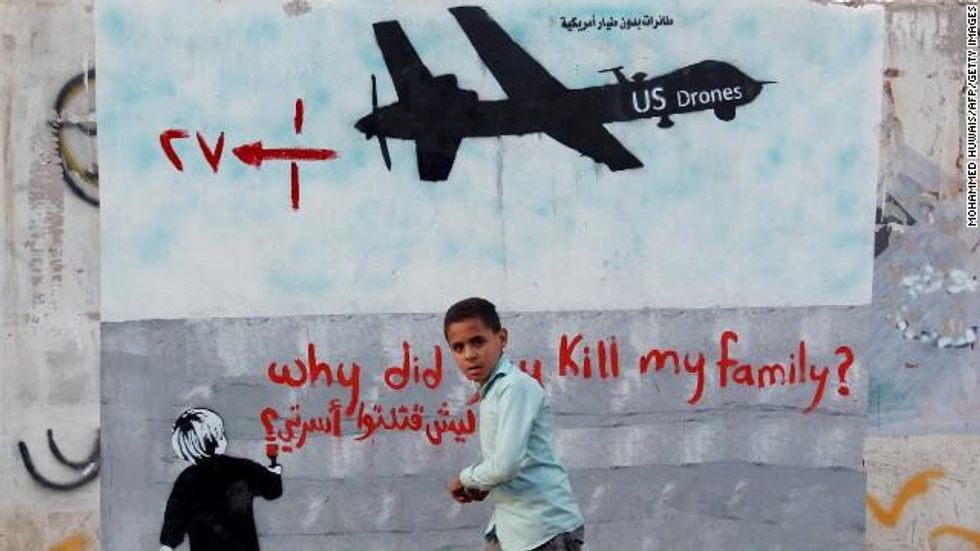 December 12 was supposed to be a day of celebration for the al-Ameri family. A young bride traveled to her wedding with her relatives in Bayda province, Yemen. But in a few dark seconds their celebrations were eviscerated. A U.S. drone fired at the wedding procession, destroying five vehicles and most of their occupants. Not even the bride's car, ornately decorated in flowers for the occasion, was spared from the carnage. Senior Yemeni officials later admitted that the strike was a "mistake".
Some mistake: Though the bride survived, the strike is said to have killed at least 14 civilians and injured 22 others, over a third of them seriously. This marks the largest death toll by a drone strike in Yemen since the drone war's inception. It is also the largest death toll by U.S. strike since December 2009, when a U.S. cruise missile killed 41 civilians in al-Majala, including 14 women and 21 children.
"Rather than forthrightly address its role in these grim events, the U.S. government has issued no admission of responsibility, nor any apology."
In the wake of the killing, a wave of outrage has swept the country. The Yemeni government rushed to meet community elders, seeking to negotiate a quiet settlement for the killing of the bride's loved ones. But the bereaved villagers rejected the overtures and instead demanded that Yemen's president, Abed Rabbo Mansour Hadi, stop U.S. drones before they would sit at any negotiating table.
On its side, rather than forthrightly address its role in these grim events, the U.S. government has issued no admission of responsibility, nor any apology. It has left the Yemeni government to clean up another bloody mess.
Only recently,we had cause to hope for better. In November, Yemeni civil engineer Faisal bin Ali Jaber traveled over 7,000 miles to the U.S. in search of answers. He met congressmen, senators, and even some White House officials to tell them how U.S. missiles incinerated his nephew and brother-in-law at his son's wedding last year. In that strike,the U.S. killed two potential allies - one an imam who regularly preached against al-Qaeda; the other one of the town's few policemen. Jaber received heartfelt condolences from many lawmakers. Yet no official was prepared to explain why his relatives were killed, or why the U.S. administration would not acknowledge its mistake.
This is not the first time a U.S. drone has killed civilians in Bayda. On Sept. 2, 2012, a U.S. plane hit a village shuttle near Radda. The vehicle was full of villagers carrying their day's shopping. As usual, the initial press coverage labelled the dead as "al-Qaeda militants," but when the relatives threatened to deliver the bodies to the president's gates, the Yemeni government was forced to concede that all 12 of those people killed were civilians. Among the victims, a pregnant woman and three children were laid to rest.
The use of drones in Yemen might appear a simple, quick-fix option for President Obama. But as Nabeel Khoury, former U.S. deputy chief of mission to Yemen, recently wrote, "Drone strikes take out a few bad guys to be sure, but they also kill a large number of innocent civilians. Given Yemen's tribal structure, the U.S. generates roughly forty to sixty new enemies for every AQAP [al-Qaeda in the Arabian Peninsula] operative killed by drones."
Let me be clear: I, like the vast majority of my countrymen, reject terrorism. All of us were repulsed by recent footage of a gruesome attack on a Yemeni defense ministry hospital. We agree that our fight against extremist groups cannot be won without a variety of efforts, including robust law enforcement. But more often than not, U.S. drone strikes leave families bereaved and villages terrified. Drones tear at the fabric of Yemeni society. Wronged and angry men are just the sort extreme groups like AQAP find easiest to recruit.
Our president may reassure the United States of his support for drone strikes but the reality is that no leader can legitimately approve the extrajudicial killing of his own citizens. Moreover, he does so in the face of Yemeni consensus. This August, Yemen's National Dialogue Conference -- which President Obama has praised -- decided by a 90 percent majority that the use of drones in Yemen should be criminalised.
Yemeni legislators are aware that the drone war is deeply unpopular. Since the Dec,. 12 strike, our parliament has unanimously voted to ban drone flights in Yemeni airspace, declaring them a "grave breach" of the country's sovereignty. For a country so often divided, this unanimity from Yemen's most representative bodies testifies to the strength of opinion against drones. But their calls have thus far met only with more bombings from the skies. How can the people of Yemen build trust in their fledgling democracy when our collective will is ignored by democracy's greatest exponent?
We've had enough. The 1% own and operate the corporate media. They are doing everything they can to defend the status quo, squash dissent and protect the wealthy and the powerful. The Common Dreams media model is different. We cover the news that matters to the 99%. Our mission? To inform. To inspire. To ignite change for the common good. How? Nonprofit. Independent. Reader-supported. Free to read. Free to republish. Free to share. With no advertising. No paywalls. No selling of your data. Thousands of small donations fund our newsroom and allow us to continue publishing. Can you chip in? We can't do it without you. Thank you.