Our work is licensed under Creative Commons (CC BY-NC-ND 3.0). Feel free to republish and share widely.
Jennifer Browdy De Hernandez
Jennifer Browdy de Hernandez teaches comparative literature and gender studies with an activist bent at Bard College at Simon's Rock in Great Barrington, MA and blogs at Transition Times.
Denial of climate change is deep and it is wide.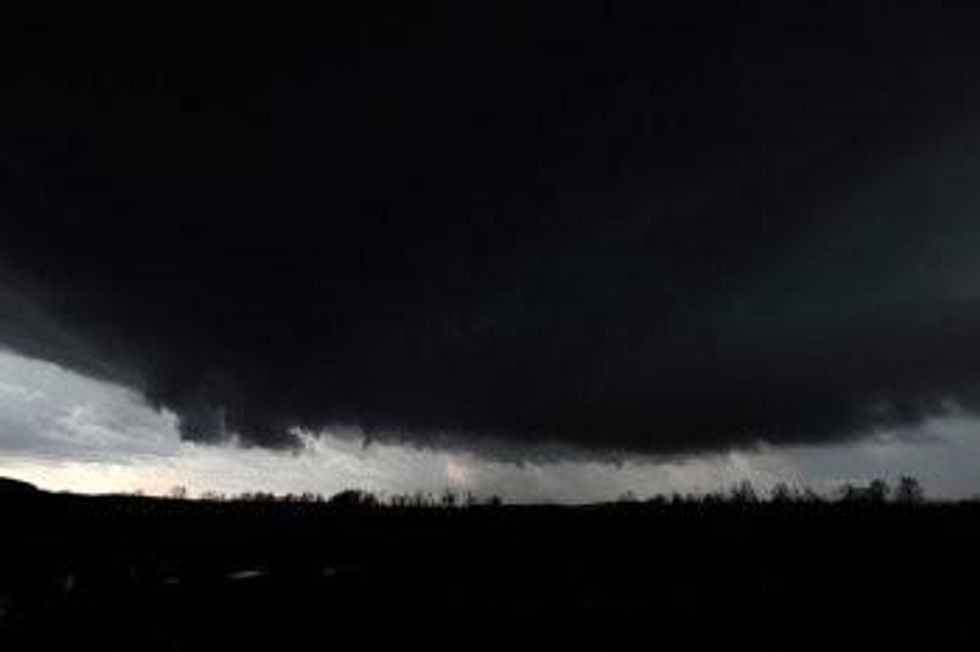 We woke up this weekend to news of record-breaking tornadoes touching down across a wide swath of the American Midwest, flattening entire townships and leaving behind multiple trails of devastation.
Reading the mainstream media reports, the focus was all on the damage; very little was said about the cause.
Again, a case of focusing on symptoms rather than on the motivating problems. The news media focuses on the "what" but ignores the "why."
And they are even further away from what's most important: looking for solutions.
Last Thursday, thanks to the ever-impressive leadership of Senator Bernie Sanders, representatives of the national and international insurance industry came together in Washington to discuss the business implications of climate change.
Co-sponsored by the Ceres Foundation, which has been working to bring business into the sustainable future fold, the meeting was unequivocal in its acknowledgement that climate change is here, it is real, and it must be dealt with head on, before it runs right over us like a tornado.
The reinsurance industry reps were pretty blunt.
"We need a national policy related to climate change and weather," said Franklin Nutter, president of the Reinsurance Association of America.
Pete Thomas of Willis Re, a global reinsurance broker, cited an alarming statistic: 4 out of 5 Americans now live in federally declared disaster areas. ""Demographics and coastal urbanization are catastrophic force multipliers, making weather events increasingly costly," he said.
In case you didn't know, reinsurance companies are the ones that insure the insurers.
A difficult industry, in the age of climate change.
If I were an economist, I would be doing the math to figure out whether we are really coming out ahead as a society when we fight to pay less than $5 a gallon for oil.
What may seem cheap up front is often outrageously expensive in the long run.
Like eating cheap food laced with chemicals to keep costs down, to find yourself paying the exorbitant bills for chemotherapy in midlife.
It just doesn't make sense.
There has never been a more important time to come forward and demand that government and industry work together to ensure (not insure!) our future.
Let's stop hiding our heads in the sand and pretending that everything will be all right-until the next tornado, hurricane, wildfire or drought rides roughshod over our house and town.
Sitting at home worrying serves no purpose at all.
If you want to be of use to your grandchildren and all future generations, you should be out on the frontlines, insisting that:
a) the media does its job as a watchdog and reports the whole story;
b) our elected representatives do their job and create policy aimed at saving lives by mitigating and adapting to the effects of climate change; and
c) our fellow citizens get off their butts and start taking responsibility for our collective future.
We've had enough. The 1% own and operate the corporate media. They are doing everything they can to defend the status quo, squash dissent and protect the wealthy and the powerful. The Common Dreams media model is different. We cover the news that matters to the 99%. Our mission? To inform. To inspire. To ignite change for the common good. How? Nonprofit. Independent. Reader-supported. Free to read. Free to republish. Free to share. With no advertising. No paywalls. No selling of your data. Thousands of small donations fund our newsroom and allow us to continue publishing. Can you chip in? We can't do it without you. Thank you.