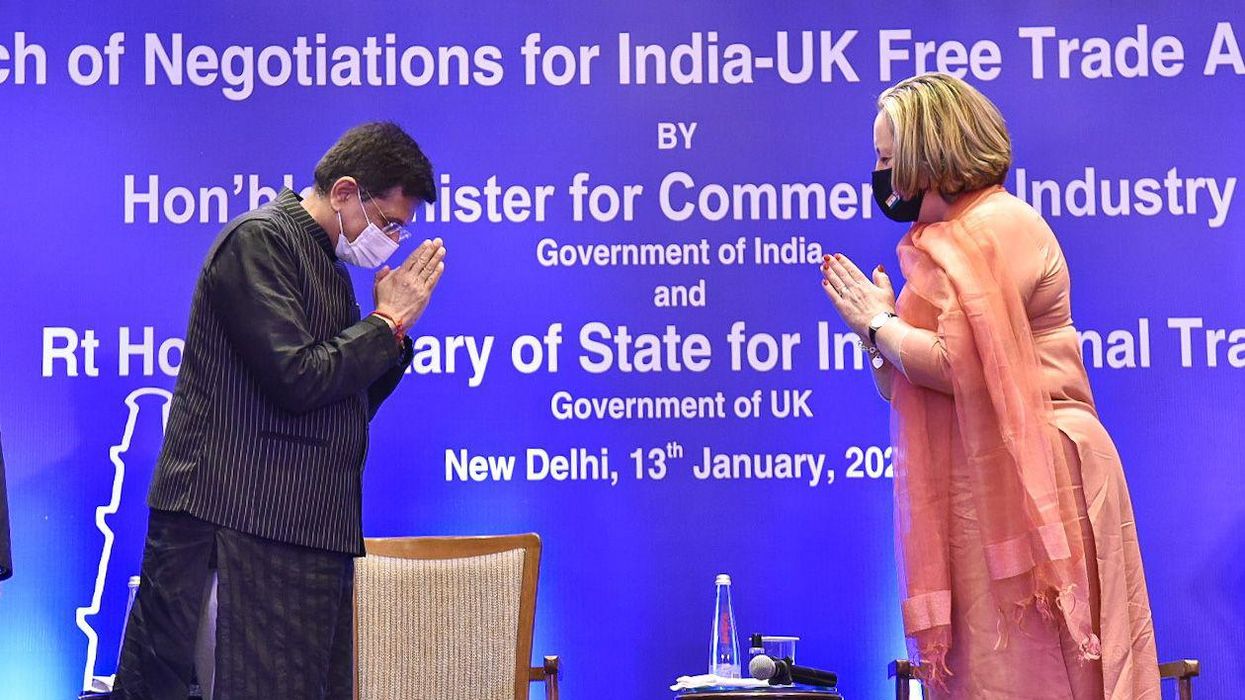 If a leaked draft of the bilateral pact is accurate, said one critic, the agreement "risks India's ability to produce lifesaving medicines for millions of people around the world."
A coalition of leading British health and public development organizations warned Wednesday that a leaked chapter of a proposed India-U.K. Free Trade Agreement contains provisions that could devastate India's ability to produce lifesaving medications, a development that would in turn adversely affect Britain's National Health Service--which gets a quarter of its drugs from the South Asian country.
"We'd be signing our own death warrants if we agree to a deal with these terms--the government simply has to back down."
The leaked chapter revealed that the prospective trade pact--progress on which has recently languished amid British political volatility--will enable pharmaceutical corporations to "evergreen," or indefinitely extend, their monopolies and charge artificially inflated product prices for years after the expiration of a drug's initial 20-year patent.
Another provision would eliminate "pre-grant" patent oppositions, a critical check on unjustified patents. Yet another removes the requirement for patent-holders to disclose to Indian authorities information relating to relevant patent applications in other nations.
"In the interests of patients of the NHS and across the world, the U.K. must urgently rethink its approach and open negotiations to full public transparency and parliamentary scrutiny, including meaningful engagement on intellectual property provisions," the groups said in a letter to U.K. Secretary of State for International Trade Kemi Badenoch.
\u201cBREAKING: Today, UK civil society groups have written to @KemiBadenoch warning that provisions within a leaked text of the UK-India Free Trade Agreement, if adopted, would threaten the financial sustainability of the NHS and put lives at risk.\n\nFULL STORY: https://t.co/5kGsB6cAFL\u201d

— STOPAIDS (@STOPAIDS) 1667403092
The letter's signers--who include members of groups like Global Justice Now, Just Treatment, Medecins Sans Frontieres U.K., Oxfam, and STOPAIDS--argued that the draft agreement's intellectual property (IP) protections "go way beyond what is required under international trade rules--namely the World Trade Organization's (WTO) Agreement on Trade-Related Aspects of Intellectual Property Rights (TRIPS)."
"India's long-standing ability to produce quality-assured, affordable medicines for HIV, [tuberculosis], viral hepatitis, malaria, and other diseases, medicines that save millions of lives globally every year, relies upon its carefully drafted intellectual property laws and medical regulatory processes which balance the monopoly rights of manufacturers with everybody's right to health," the letter notes.
"India also supplies our NHS with 25% of all the medicines used to treat patients here in the U.K.," the signers added. "Any action that curtails India's ability to produce quality, cost-effective medicines also threatens the financial sustainability of our health service, and ultimately puts patients' lives at risk."
The letter asks Badenoch to:
Immediately rethink your approach to IP trade agreements to prioritize the NHS and preserve affordable access to medicines globally;
Refrain from proposals that include TRIPS-plus provisions that may have an impact on the production, registration, and supply of affordable, lifesaving essential medical products for the NHS and around the world;
Ensure full freedom to utilize all available TRIPS flexibilities for public health and access to medicines, as previously committed to by all countries;
Ensure that, as a result of the free trade agreement (FTA) with India, neither of the parties are required to amend their IP laws and policies in relation to medical technologies, including devices, patient data, pharmaceuticals, and biological medical products; and
Open up all negotiation texts to public transparency and parliamentary scrutiny throughout negotiations, and commit to allowing full meaningful debate and votes in Parliament on all aspects of the agreement.
"As an NHS nurse, I know how its budget has been stretched to breaking point and beyond. Our patients use high quality, affordable medicines from India every day," Just Treatment patient leader Carol Webley Brown said in a statement.
"I simply cannot understand why the government would willingly push for changes through this FTA that would push up drug prices for the NHS and put its budget under even more pressure," she added. "That's unless they simply care about their friends in the industry more than the lives of NHS patients."
"We'd be signing our own death warrants," argued Webley Brown, "if we agree to a deal with these terms--the government simply has to back down."
\u201c\u201cThe UK government should withdraw it completely. India should stay vigilant and not allow barriers to affordable medicines to be written into FTA negotiations,\u201d - Leena Menghaney, MSF Access Campaign South Asia Head\n\nhttps://t.co/gKHSTyFRu1\u201d

— MSF Access Campaign (@MSF Access Campaign) 1667386814
Dr. Andrew Hill, senior visiting research fellow at the University of Liverpool Institute of Translational Medicine, said that "the provisions set out in this leaked document would have extremely serious consequences for the NHS and global health, and the impacts would become more and more serious over time."
"By making it easier to secure patents and other forms of intellectual property monopolies on medicines, and much more difficult to challenge them, the U.K. government would be pushing the dramatic price-reducing effects of generic competition further and further into the future," he continued.
"Prices for the NHS will rise, patients will suffer," Hill added. "The naive idea that what is good for the pharmaceutical industry is good for patients and public health must be vigorously challenged. I urge the government to change course."
Baronnes Shami Chakrabarti, a member of the British House of Lords and human rights activist, said that "if accurate, this text doesn't just shame me as a British Asian, it risks India's ability to produce lifesaving medicines for millions of people around the world."
"I hope our prime minister knows what is being argued in his name and that India stands firm against corporate interests over people's lives," she added. "It is increasingly difficult to distinguish U.K. government statements from those of Big Pharma trade bodies. Our ministers resisted the Covid-19 vaccine intellectual property trips waiver that would have scaled up production and prevented many untimely deaths."
News