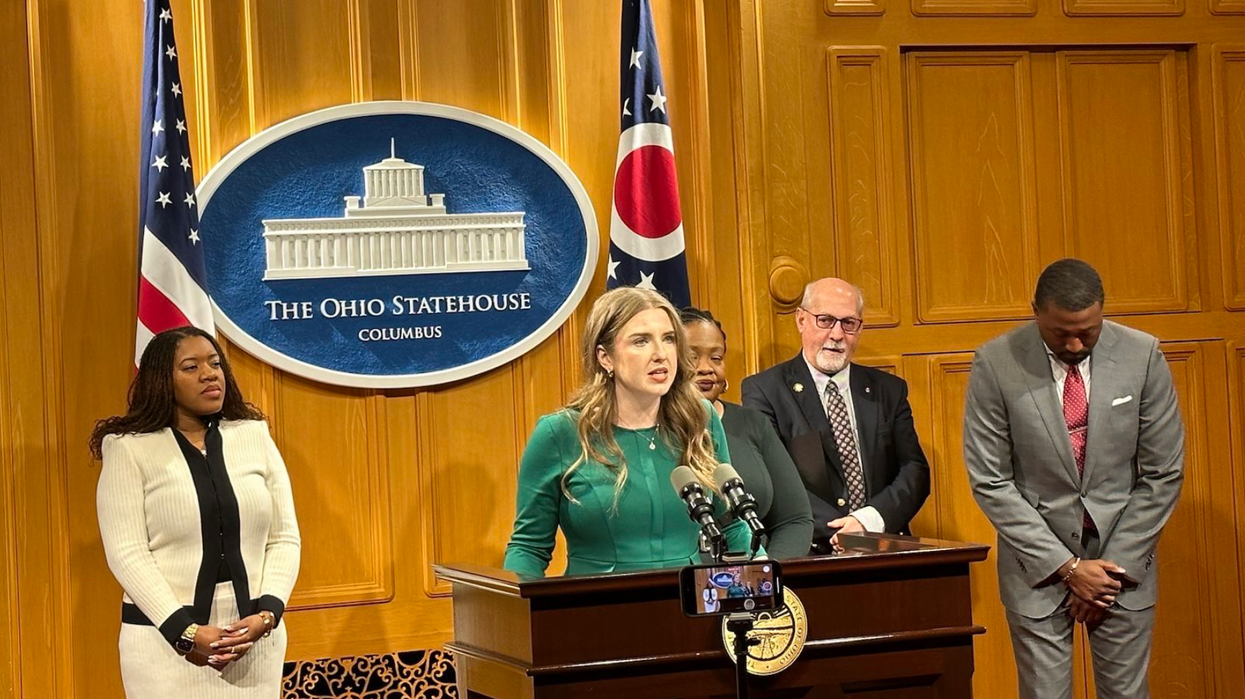 "Ohioans deserve assurances of what will happen to ballots cast by any voters you purged who show up to vote in the November 7th election," said state Rep. Bride Rose Sweeney.
With days to go until Ohio voters decide on a pivotal abortion rights referendum in the November 7 election, one state representative is leading the charge to ensure all eligible Ohioans are able to have their ballots counted despite Republican Secretary of State Frank LaRose's recent purge of 27,000 supposedly "inactive" voters."
Ohio state Rep. Bride Rose Sweeney (D-16) wrote to LaRose on Friday, warning that her office's preliminary analysis had shown "significant errors" were made, with some of the people removed from rolls having voted in recent elections.
Sweeney said her office believes "the purge was not uniform and nondiscriminatory as required by federal law" and called for its reversal.
"Ohioans deserve assurances of what will happen to ballots cast by any voters you purged who show up to vote in the November 7th election," she wrote.
Sweeney took note of the voter purge late last month and promptly demanded answers from LaRose, who, she pointed out, ordered thousands of voters to be removed from the rolls after voting in the general election had already started in September. The voting period began on September 22, when ballots were first sent out to overseas voters, and the purge was ordered for September 28.
Calling the order "stunning" and a "purge of choice" that should have taken place after the election, Sweeney called on LaRose to undo the damage. But after the secretary of state defended the purge, claiming it targeted only voters who had "moved or died" or had been unresponsive to attempts to contact them and accusing Democrats of "trying to help dead people vote," Sweeney doubled down on her demand for answers.
"Something's not adding up," she replied to LaRose on social media, noting that the purged voters were disproportionately under the age of 45, while that age group makes up less than 7% of deaths in Ohio each year.

Sweeney's finding that some of the purged residents are in fact active voters in Ohio "is reason enough to reverse the purge, take a more thorough look at the list, and only remove those who have truly become ineligible to vote in Ohio—and to do so only after the November 7 election," wrote the lawmaker.
She also called on LaRose to clarify whether voters who were wrongly purged will be able to have their votes counted in the election.

On Tuesday, the secretary of state's office said: "If the voter heads to the polls to vote, it reactivates their registration. They are not shut out of the process."
Noting that ballot reports from the August special election indicated that provisional ballots were not counted, Sweeney wrote, "Are you stating that these purged voters' provisional ballots will be counted?"
Next Tuesday, voters will be asked whether the Ohio Constitution should be amended to enshrine the right of Ohioans to make choices about their reproductive health, including whether to have an abortion. A six-week abortion ban is currently on hold in the state while the Ohio Supreme Court deliberates the law.
"No Ohioan should be denied their freedom to vote because of an error or—even worse—because of a hyperpartisan secretary of state," said Sweeney in a statement.
In her letter to LaRose, she noted that "there seems to be a misunderstanding of voting basics" in the secretary's office, which has made "several concerning misstatements about how voter registration and voter roll maintenance work" in recent days.
LaRose's office has claimed that voters who move are no longer legally permitted on voter rolls, which is "simply incorrect," Sweeney said, and that when voters move and register at a new address, their old registration is not canceled.
"In fact, county election officials do remove the former registration when adding a voter to their rolls as a matter of course," said Sweeney. "There simply are not large numbers of duplicate registrations on our rolls. It is a rare case where the former registration stays on the rolls. We look forward to seeing your data showing why each voter was purged."
On social media, Sweeney noted that she called for a third-party audit after the secretary of state's last "massive voter purge," and said expanding voting rights in Ohio and the U.S. would end such purges.
"Automatic voter registration would make our rolls more accurate," said Sweeney, "and basically render the purges moot."

News