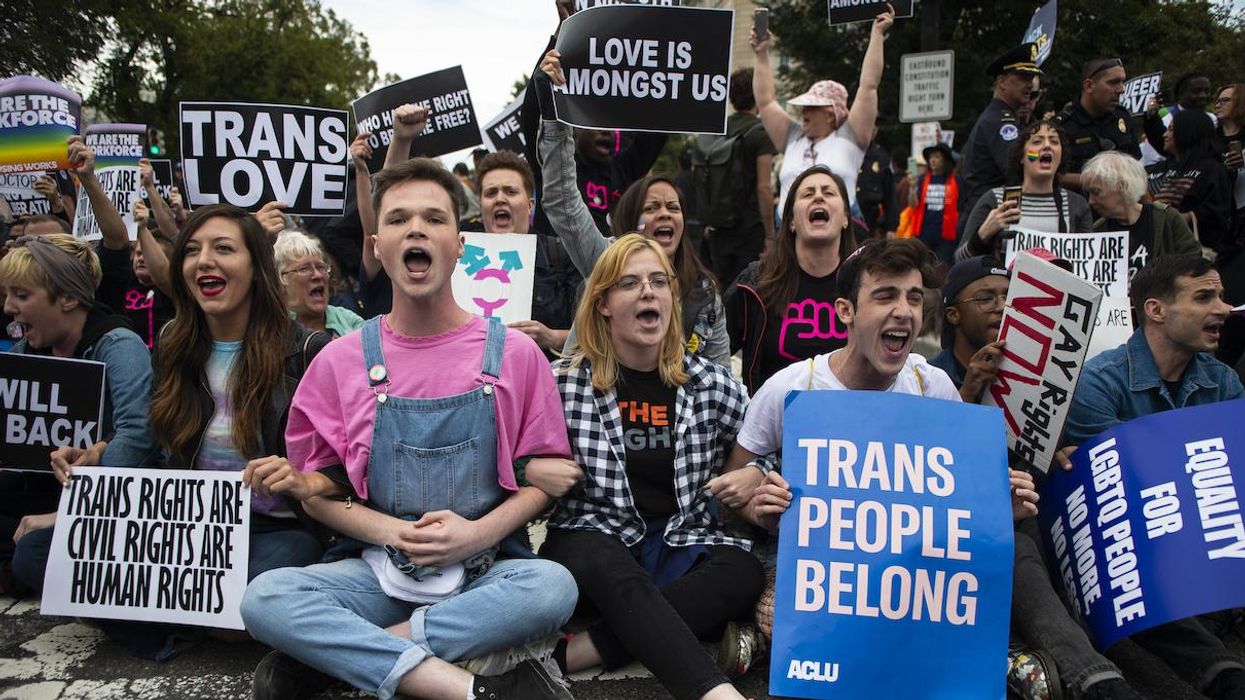 "Lives are at stake. The health, safety, and freedom of trans people are at stake," said Sen. Ed Markey. "Congress must take a stand in the face of dangerous, transphobic attacks waged by far-right state legislatures."
Amid a growing wave of Republican attacks on transgender rights—including a recently passed U.S. House bill targeting trans youth—a pair of progressive congressional lawmakers on Thursday prepared to reintroduce a resolution codifying protections for transgender Americans.
The revived Transgender Bill of Rights—introduced by Rep. Pramila Jayapal (D-Wash.) and Sen. Ed Markey (D-Mass.) and co-sponsored by dozens of congressional Democrats—comes a day ahead of International Transgender Day of Visibility on March 31. According to Jayapal's office, the measure "provides a comprehensive policy framework to provide protections for transgender and nonbinary people, ensuring that everyone has the opportunity to thrive, regardless of their gender identity or expression."
Jayapal, who co-chairs the Transgender Equality Task Force and whose daughter is trans, said in a statement: "Day after day, we see a constant onslaught of anti-trans rhetoric and legislation coming from elected officials. Today we say enough is enough."
"Day after day, we see a constant onslaught of anti-trans rhetoric and legislation coming from elected officials."
Markey asserted that "on this and every International Transgender Day of Visibility, we are reminded of our moral obligation to defend the fundamental rights of trans people against the violence, discrimination, and bigotry that too often mark their lived experience in our country."
"Lives are at stake. The health, safety, and freedom of trans people are at stake," he added. "Congress must take a stand in the face of dangerous, transphobic attacks waged by far-right state legislatures and once again reaffirm our nation's bedrock commitment to equality and justice for all."
According to Jayapal's office, "in 2023 alone, there have been more than 450 anti-LGBTQ+ bills proposed in both state and federal legislature, jeopardizing the safety and mental health of LGBTQ+ youth and trans youth in particular."
"Trans Americans are also four times more likely than cisgender peers to be victims of violent crime and more than 40% have attempted suicide," the congresswoman's office added.
State laws targeting transgender people include—but are not limited to—bans on lifesaving gender-affirming healthcare for trans youth and on trans students from participating on sports teams or using the bathrooms that match their gender identity; and prohibition of public drag shows.
Common Dreamsreported Thursday that West Virginia and Kentucky are the latest states to ban gender-affirming care for trans minors.
Meanwhile, the Kansas House of Representatives on Wednesday approved a bill which would bar transgender individuals from entering single-sex spaces including bathrooms, domestic violence shelters, and prison wards, while labeling intersex people as disabled.

No state is safe from at least the introduction of transphobic legislation, including California, where a Republican state lawmaker earlier this month proposed a bill that would force schools "out" transgender students to their parents under the pretext of boosting parental rights and helping children.
Not content with banning gender-affirming healthcare in their own state, a bill passed earlier this month by Idaho's Republican-controlled House of Representatives included a provision that criminalizes parents or guardians who allow their children to travel outside the state to receive such care.

At the federal level, anti-trans legislation includes the Parents Bill of Rights, passed last week by the Republican-controlled House in a 213-208 vote along party lines.
Among other things, the Transgender Bill of Rights calls on the federal government to amend the Civil Rights Act of 1964 to explicitly include gender identity and to codify the U.S. Supreme Court's Bostock v. Clayton County ruling, which affirmed that Title VII of the Civil Rights Act protects LGBTQ+ employees from discrimination.

Biden continued:
As kids, they deserve what every child deserves: the chance to learn in safe and supportive schools, to develop meaningful friendships, and to live openly and honestly. As adults, they deserve the same rights enjoyed by every American, including equal access to healthcare, housing, and jobs and the chance to age with grace as senior citizens. But today, too many transgender Americans are still denied those rights and freedoms. A wave of discriminatory state laws is targeting transgender youth, terrifying families and hurting kids who are not hurting anyone. An epidemic of violence against transgender women and girls, in particular women and girls of color, has taken lives far too soon. Last year's Club Q shooting in Colorado was another painful example of this kind of violence—a stain on the conscience of our nation.
The president highlighted how his administration "fought to end these injustices from day one":
On my first day as president, I issued an executive order directing the federal government to root out discrimination against LGBTQI+ people and their families. We have appointed a record number of openly LGBTQI+ leaders, and I was proud to rescind the ban on openly transgender people serving in the military. We are also working to make public spaces and travel more accessible, including with more inclusive gender markers on United States passports. We are improving access to public services and entitlements like Social Security. We are cracking down on discrimination in housing and education. And last December, I signed the Respect for Marriage Act into law, ensuring that every American can marry the person they love and have that marriage accepted, period.
"There is much more to do," Biden added. "I continue to call on Congress to finally pass the Equality Act and extend long-overdue civil rights protections to all LGBTQI+ Americans to ensure they can live with safety and dignity."
News