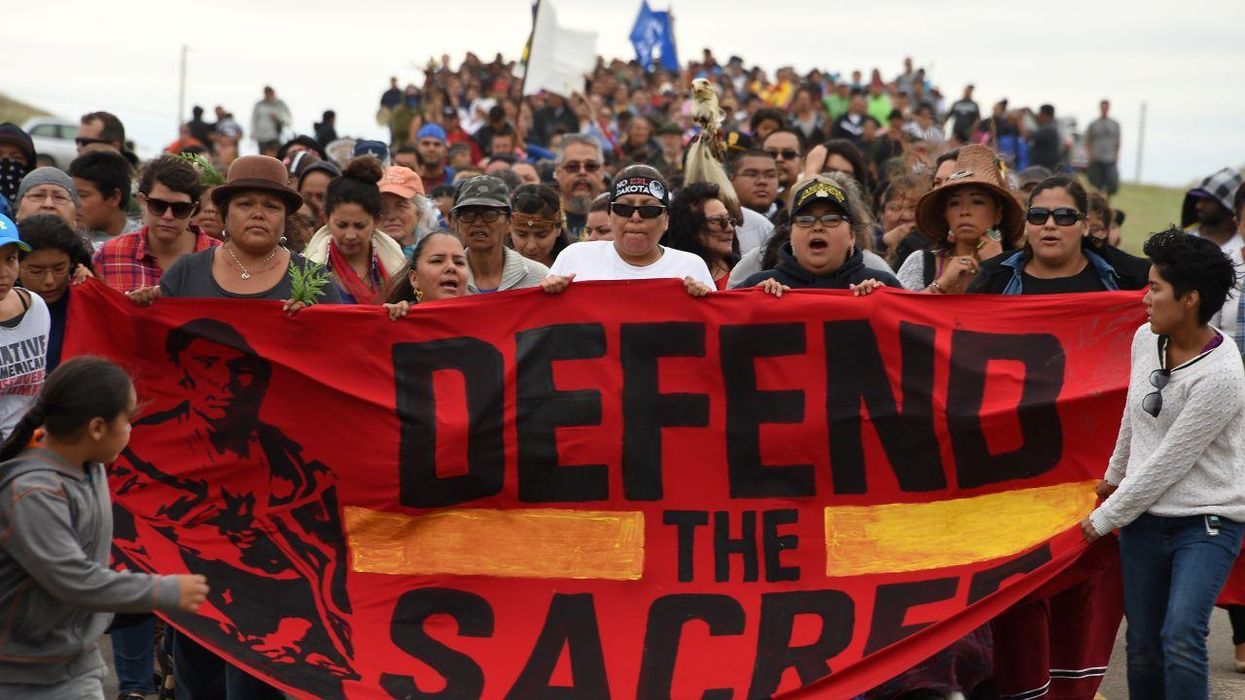 May Boeve, who heads 350.org, decried private security firm TigerSwan's "astonishing abuse of power and significant interference with the right to political freedom of thought and the right to protest."
A private security firm that worked with law enforcement to suppress the Indigenous-led movement against the Dakota Access Pipeline targeted peaceful activist groups including the 350.org climate campaign as part of a sweeping surveillance effort, according to a report published Thursday by The Intercept.
Previous reporting by The Intercept's Alleen Brown showed how TigerSwan—which was founded by U.S. special forces veteran James Reese—infiltrated and spied on water protectors during the 2016-2017 #NoDAPL protests at the Standing Rock Indian Reservation in North and South Dakota.

The new reporting from Brown and Naveena Sadasivam—who received more than 50,000 pages of documents via a public records request—details how "TigerSwan used social media monitoring, aerial surveillance, radio eavesdropping, undercover personnel, and subscription-based records databases to build watchlists and dossiers on Indigenous activists and environmental organizations."
TigerSwan—which did not even have the requisite security license to operate in North Dakota—then tried to sell the intelligence it illegally gleaned to other oil companies.

\u201cWe got 50,000 pages of records Energy Transfer fought to keep secret. Unprecedented detail about a fossil fuel company\u2019s counterinsurgency-style playbook for defeating Indigenous-led water protectors at Standing Rock & beyond 1/ w/ @NaveenaSivam + @grist https://t.co/9wLa2TB2r2\u201d

— Alleen Brown (@Alleen Brown) 1681402591
One of those groups was the nonviolent climate organization 350.org. According to a TigerSwan client document titled Background Investigation: 350.org:
350.org's ability to bring global attention to the DAPL protest via their network of supporters and their media concerns represents a significant concern for TigerSwan and their client. 350.org's ability to mobilize large groups of people is also of significant concern. They are unlikely to remove themselves from the protesters' groups because their goals align perfectly with the Standing Rock Sioux tribe. They have a track record of success and should only be engaged after significant preparation.
Brown and Sadasivam also found that:
TigerSwan also attempted to dig up dirt on legal workers with the Water Protector Legal Collective, which represented pipeline opponents. The security company used the CLEAR database, which is only available to select entities like law enforcement and licensed private security companies, to dig up information on attorney Chad Nodland...

At the same time, the National Sheriffs'Association was building its own profiles and sharing them with TigerSwan. In one instance, a contractor for the sheriffs' group passed along a six-page backgrounder on LaDonna Brave Bull Allard, a prominent Dakota Access pipeline opponent and historian, to TigerSwan. The document included statements Allard made to the press, her public appearances, social media posts, and details about tax liens filed against her and her husband.
"Across the globe we know that thousands of groups have been spied on by government and private security firms that are serving the interests of the fossil fuel industry," 350.org chief executive May Boeve said in a Thursday statement in response to the latest reporting. "This represents an astonishing abuse of power and significant interference with the right to political freedom of thought and the right to protest."
\u201cIn Daily Intelligence Update PowerPoint presentations, they used \u201cIMINT\u201d \u2014 usually photos captured by drones and TigerSwan personnel riding in helicopters \u2014 to track what was happening in camps 5/ https://t.co/Bizoom17tS\u201d

— Alleen Brown (@Alleen Brown) 1681402591
Wasté Win Young, a citizen of the Standing Rock Sioux Tribe and a plaintiff in a class-action civil rights lawsuit against TigerSwan and local law enforcement, told The Intercept that for pipeline supporters, the surveillance "was an opportunity to help create a narrative against our tribe and our supporters."
Boeve contended that "ultimately, it is a means for those who hold power to preserve the status quo and prevent action on the climate crisis and necessary social change."
"We need to always be very clear that the industry knows what a risk the climate movement is," she told The Intercept. "They're going to keep using these kinds of strategies, but they'll think of other things as well."
News