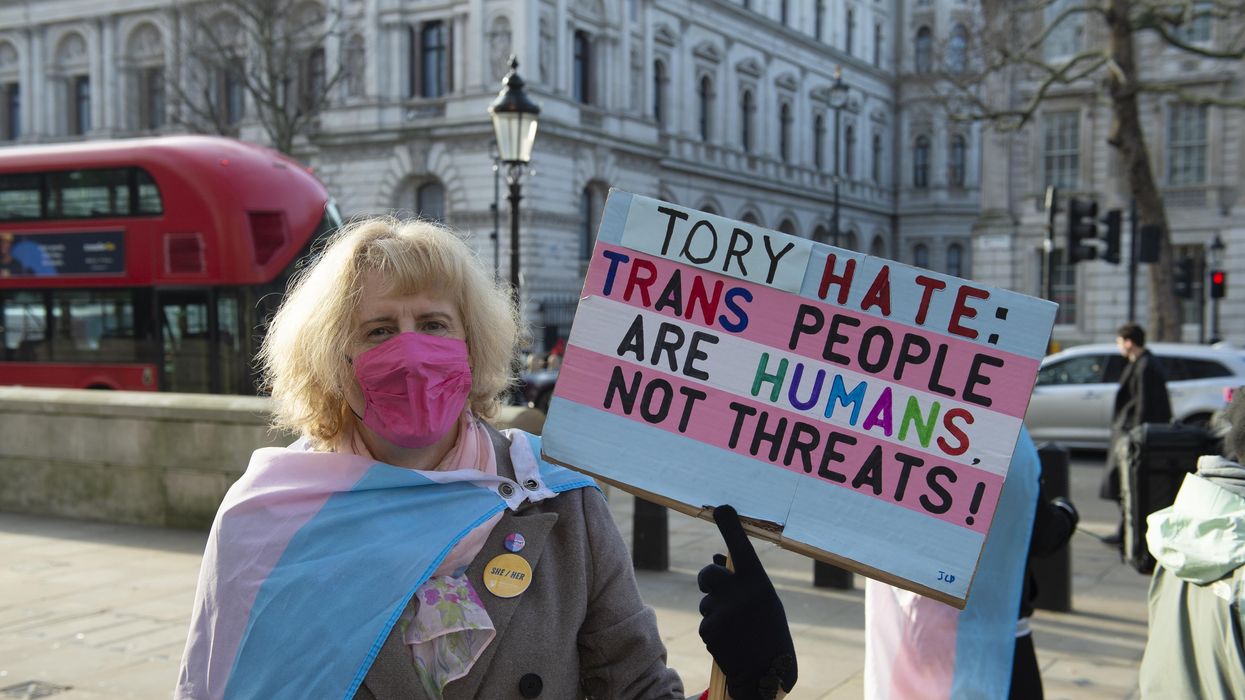 One Scottish National Party leader accused the Tory government of "seeking to stoke a culture war against some of the most marginalized people in society."
Scottish First Minister Nicola Sturgeon said late Tuesday that her government will "inevitably" challenge the United Kingdom in court after Prime Minister Rishi Sunak's Conservative government vetoed a recently passed LGBTQ+ rights bill—a move that critics say will harm both the LGBTQ+ community and the state of democracy across the United Kingdom.

Weeks after the Scottish Parliament
passed
its Gender Recognition Reform Bill, the U.K. secretary of state for Scotland, Alister Jack, announced Tuesday that the government was for the first time invoking section 35 of the Scotland Act to veto the legislation, arguing the bill deals with a matter "reserved" for British Parliament.
The bill would lower the age at which people can apply for a gender recognition certificate, allowing people as young as 16 to do so. People would no longer need to be diagnosed with gender dysphoria in order to apply for a certificate, and people 18 and up would have to live as their gender identity rather than their sex assigned at birth for only three months in order to be recognized. Sixteen- and 17-year-olds would need to live as their gender identity for six months. Currently, anyone who wishes to apply for a certificate is required to live as their gender for two years, in addition to being officially diagnosed.
Jack claimed the legislation would make fraudulent applications more likely—even though the bill would make lying about one's gender identity on an official application punishable by up to two years in prison. The claim led Stephen Flynn, parliamentary leader of the pro-independence Scottish National Party, to accuse Sunak's government of "seeking to stoke a culture war against some of the most marginalized people in society."
\u201c"Are we not now on a slippery slope from devolution to direct rule?"\n\nSNP leader Stephen Flynn accuses the Tories of "seeking to stoke a culture war" after blocking Scotland's Gender Recognition Reform bill.\u201d

— PoliticsJOE (@PoliticsJOE) 1674048847
Sturgeon, who leads the SNP, told the BBC that the Tories have made a "profound mistake" and pledged to "vigorously defend this legislation."
"In doing so we will be vigorously defending something else, and that is the institution of the Scottish Parliament and the ability of MSPs, democratically elected, to legislate in areas of our competence," she said. "In short, we'll be defending Scottish democracy."

As The Washington Post reported on Wednesday, the Conservatives have previously taken a relatively liberal position on transgender rights, but the party appears to be fanning the flames of a culture war over the issue, like their Republican counterparts in the United States. Last year Sunak suggested the words "man," "woman," and "mother" are under attack and said he would fight against "woke nonsense."
"The U.K. government cannot be trusted with trans rights, women's rights, or with devolution," said Member of Scottish Parliament (MSP) Monica Lennon, a Labour Party member. "Justice will prevail."
\u201cThe Scottish Parliament passed the Gender Recognition Reform (Scotland) Bill because trans people deserve to live with dignity.\n\nThe UK government cannot be trusted with trans rights, women\u2019s rights or with devolution. Justice will prevail.\u201d

— Monica Lennon MSP (@Monica Lennon MSP) 1673988300
Jo Maugham, director of the Good Law Project in the U.K., called the Tories' decision a "nuclear option" and said the rejection of the Gender Recognition Reform Bill represents "a real deterioration in respect for the ability of people of Scotland to self-determine."
Fifteen rights organizations in Scotland signed a letter opposing the government's blocking of the bill, noting that while Conservatives claimed the legislation could endanger women and girls by making it easier for men to enter single-sex public bathrooms and changing rooms, "there are a number of very real threats to women's rights in Scotland and the U.K." that the Tories have made worse including austerity policies, the cost of living crisis, and low sexual assault conviction rates.
"We find it particularly concerning that so much political and media attention has been devoted to the debate around this bill in place of tackling these genuine barriers to women's equality," said the groups, including Rape Crisis Scotland, Scottish Women's Aid, and Amnesty International. "The paths to equality for women and trans people [are] deeply interconnected and dependent on our shared efforts to dismantle patriarchal systems that impose barriers to full equality for us all."
News