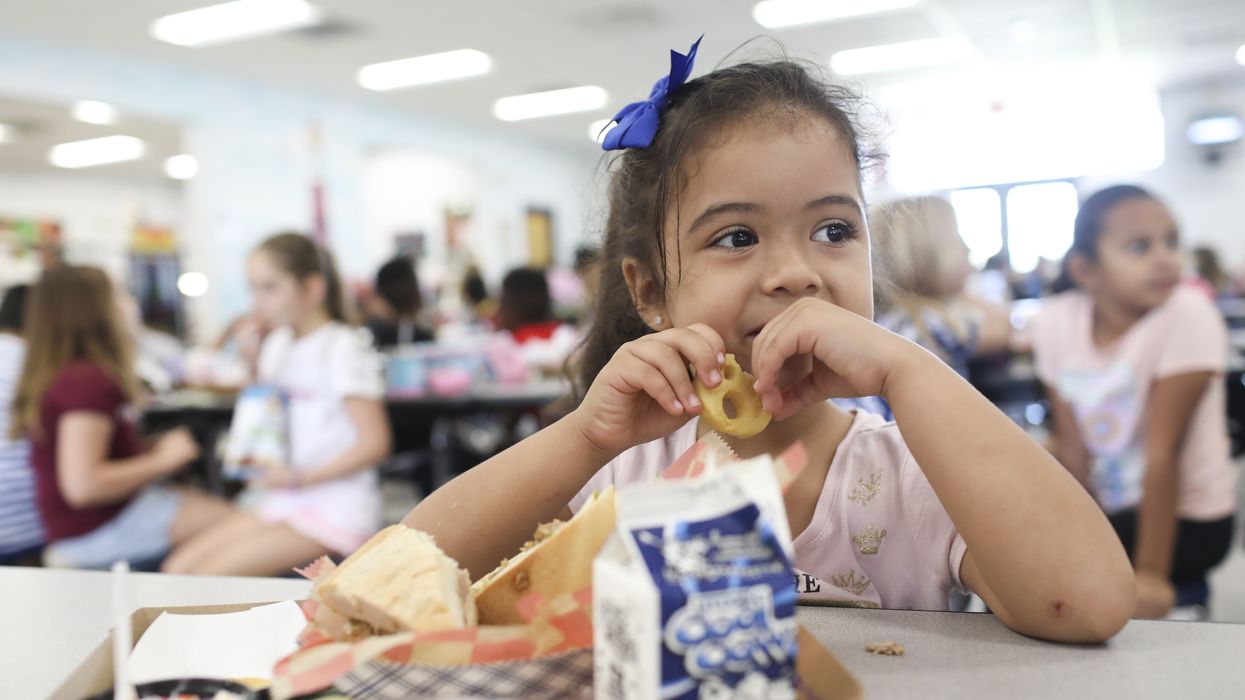 "What's up with the GOP's fetish for preventing hungry kids from getting fed?" asked Sen. John Fetterman.
Progressive U.S. lawmakers said Thursday that they'll do everything in their power to stop the Republican Party from achieving its stated goal of eliminating a school lunch program that serves low-income communities, which was included in a proposed budget unveiled by the party this week.
Along with making former President Donald Trump's tax cuts for the wealthy permanent and imposing work requirements for recipients of social services up to age 64, the Republican Study Committee (RSC) made clear in its proposed budget on Wednesday that reducing the number of children who receive government-funded meals at school is a policy priority in the coming year.
The document states that the RSC—which counts three-quarters of House Republicans among its members—aims to eliminate the Community Eligibility Provision (CEP) from the federal school lunch program, citing the fact that the provision "allows certain schools to provide free school lunches regardless of the individual eligibility of each student."
The CEP is available to schools in low-income communities and allows schools to provide free school meals to their entire student population instead of excluding children based on their household income.
The budget makes clear that to the Republican Party, "every wealthy child accidentally fed is a policy failure," said Adam Cisroe Pearson, director of the St. Louis Department of Human Services.
\u201cEvery wealthy child accidentally fed is a policy failure to them. To me, every child accidentally fed is a policy victory. Feed children. That's my political platform. Just feed the damn kids. When in doubt, feed the children. \n\nhttps://t.co/eGYcxC1FT9\u201d

— Adam Cisroe Pearson OTD, OTR/L (@Adam Cisroe Pearson OTD, OTR/L) 1686889242
"Not on my watch," said Rep. Summer Lee (D-Pa.) of the Republicans' plans for the CEP.

U.S. Sen. John Fetterman (D-Pa.) pledged that as chair of the Senate Subcommittee on Food and Nutrition, he will fight to get the "basic need" of universal school meals met.
\u201cWhats up with the GOPs\u2019 fetish for preventing hungry kids from getting fed???\n\nI support universal school meals and as Chair of the Nutrition Subcommittee, I will fight to protect and expand them to get this basic need met.\n\nhttps://t.co/xmOI06btQA\u201d

— Senator John Fetterman (@Senator John Fetterman) 1686861053
After Republicans allowed the pandemic-era universal school meal program to expire, more than two dozen states including Maine, California, and Minnesota moved to offer meals at school to all children, regardless of income. Under federal law, only children whose families have incomes at or below 130% of the poverty line—those making about $36,000 per year or less—are eligible for free school meals.
Studies have shown that offering school meals to all students has positive effects on attendance and academic performance across the student population, and that providing universal meals reduces stigma and makes it more likely that the children who need nutritional assistance the most will participate.
\u201cThe CEP allows high poverty schools to skip the means-testing and give everyone free lunch. This results in:\n\u2022 Higher math scores\n\u2022 Better attendance\n\u2022 Less stigma\n\u2022 Improved diet quality\n\u2022 Lower cost per meal\nSo of course the GOP want to repeal it \nhttps://t.co/LipZMcv3V1\u201d

— James Medlock (@James Medlock) 1686857134
"As with many universal-oriented programs, it is more practically efficient and, as a bonus, lifts all boats," wrote Prem Thakker at The New Republic regarding the CEP. "This is what Republicans are looking to eliminate."
News