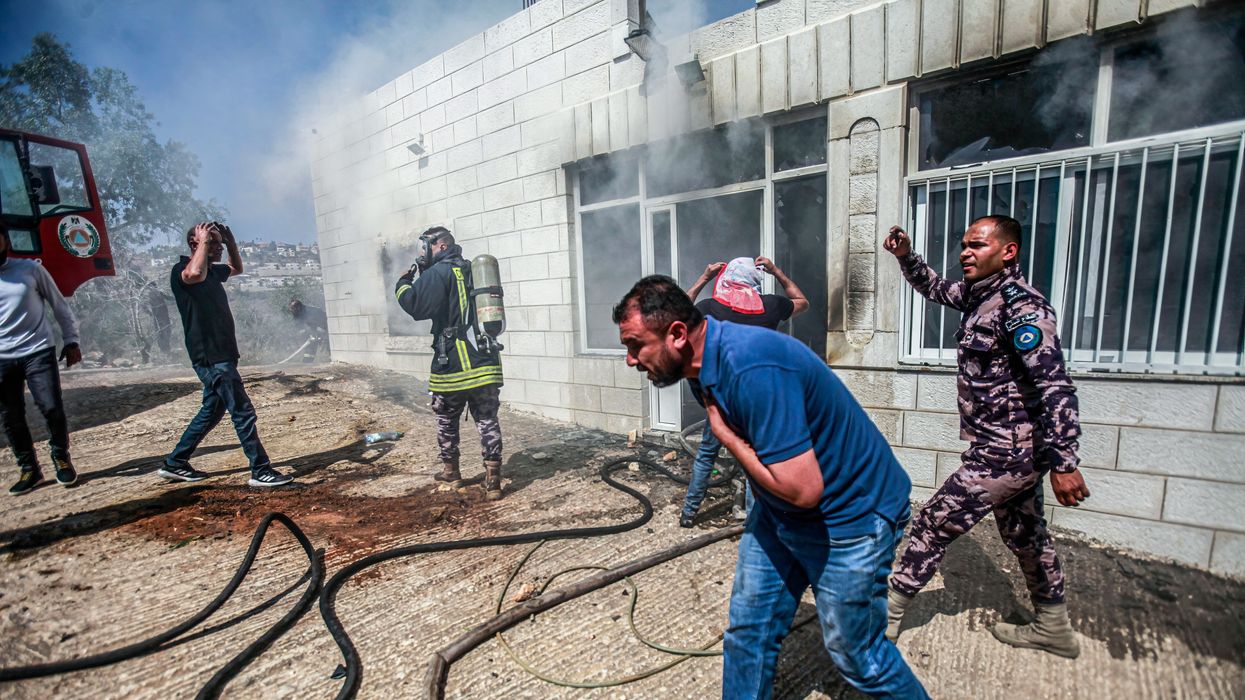 "The U.S. provides billions in military funding to the Israeli military. How long do we have to keep demanding accountability?"
U.S. Rep. Ilhan Omar and other progressive lawmakers decried their government's continued military support for Israel on Thursday after hundreds of settlers rampaged through Palestinian towns this week, terrorizing families and setting fire to dozens of cars, homes, and businesses.
"This is a pogrom," Omar (D-Minn.) wrote late Thursday. "The U.S. provides billions in military funding to the Israeli military. How long do we have to keep demanding accountability?"
One person, 27-year-old Omar Qatin, was killed Wednesday during the latest wave of settler violence, which began after four Israeli settlers were killed in a shooting in the occupied West Bank.
The deadly shooting occurred a day after Israeli forces carried out a massive raid on a refugee camp in the West Bank, killing at least six people—including a 15-year-old child.

The Israeli army and the far-right government of Prime Minister Benjamin Netanyahu have been accused of enabling and encouraging settler attacks, which have intensified in recent months. According toAl Jazeera, it was unclear whether Qatin—a father of two young children—"was killed by a settler or a soldier."
"Witnesses told local media that a number of settlers fired live rounds at village residents as a large contingent of Israeli troops stormed in," the outlet noted. "The Red Crescent Society told the Palestinian Wafa news agency a number of settlers prevented ambulances from reaching the town to treat the wounded."
While Netanyahu publicly criticized the settler violence this week as unlawful, The New York Timesreported that he "also attempted to assuage hard-line allies in his far-right government by announcing that he would immediately advance plans to build 1,000 new homes in Eli," a West Bank settlement.
Such settlements are illegal under international law.
As reports and footage of the settler rampage spread on social media, a chorus of progressive lawmakers slammed the U.S. government's unconditional military aid to Israel.
Rep. Rashida Tlaib (D-Mich.), the first Palestinian-American woman ever elected to Congress, called the billions of dollars in U.S. military aid that flows to the Israeli government each year "blanket permission to do these atrocities."
"This pogrom was fully backed by the Israeli military. The violent apartheid government of Israel is out of control," Tlaib wrote on Twitter. "How many more Palestinians have to die before we say enough?"

Many Palestinian residents of Turmus Ayya, one of the West Bank towns targeted by settlers this week, are U.S. citizens.
Olfat Abdelhalim, who lives in Chicago but is in Turmusayya visiting family, toldTIME that she was at a doctor's appointment earlier this week when her kids called her and said Israeli settlers were attempting to break into the family home.
"I told them, 'Just go downstairs and close all the doors,'" Abdelhalim recounted. "Thank God, they were able to escape from a window on the first floor."
Tlaib voiced outrage over such accounts, writing, "Americans are visiting family this summer and witnessing violent mobs and killing raids that put them in fatal danger all while their president sits in silence."
Tom Nides, the U.S. ambassador to Israel, said Thursday that the Biden administration would "not stand by and watch settler violence occur," but he did not pledge any specific action.
U.S. Rep. Chuy García (D-Ill.), whose district includes parts of Chicago, tweeted Thursday that he has "received reports that constituents, friends, and their families visiting loved ones in Palestine have faced violent threats from Israeli settlers during the recent raids on villages in the occupied West Bank."
"Even as my colleagues and I work with authorities to stop the current settler attacks, Palestinians will continue to face threats to their homes, livelihoods, and safety," García added. "As a close ally of Israel, the U.S. can't continue to tolerate systemic violence against Palestinians."
García, Tlaib, and Omar are among the co-sponsors of Rep. Betty McCollum's (D-Minn.) Defending the Human Rights of Palestinian Children and Families Living Under Israeli Military Occupation Act, a bill that would bar the Israeli government from "using U.S. taxpayer dollars in the occupied West Bank for the military detention, abuse, or ill-treatment of Palestinian children in Israeli military detention; the seizure and destruction of Palestinian property and homes in violation of international humanitarian law; or any assistance or support for unilateral annexation of Palestinian lands in violation of international humanitarian law."
"Congress has a responsibility to not ignore the well-documented mistreatment of Palestinian children and families living under Israeli military occupation," McCollum said upon reintroducing the bill last month.
News