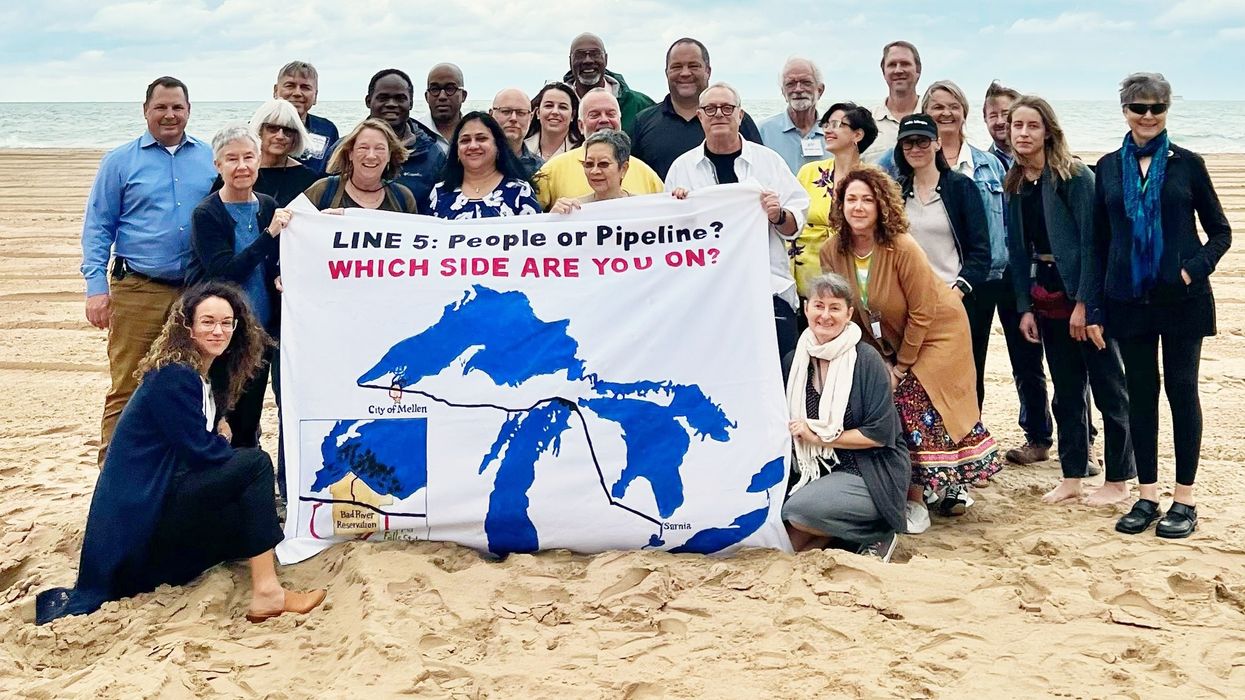 "Today's decision is another notch in a long history of ignoring the rights of tribal nations," said one Indigenous leader.
Days after climate advocates applauded Michigan Gov. Gretchen Whitmer's signing of a package of clean energy bills that one campaigner said would "translate into better air, water, and health for everyone," state regulators took several steps back from a sustainable future as they approved a key permit for Enbridge's Line 5 expansion project beneath the Great Lakes.
In a 2-0 vote with one member abstaining, the Michigan Public Service Commission (MPSC) approved siting for the project, granting Canadian oil firm Enbridge permission to build a concrete tunnel beneath the Straits of Mackinac—which connect Lake Michigan and Lake Huron—to house a four-mile section of its 645-mile petroleum pipeline.

The company can't break ground on the project without approval from the U.S. Army Corps of Engineers, which isn't expected to announce its decision until 2026, but Indigenous tribes and advocacy groups that have fought for years to stop the pipeline from being built expressed outrage that the commission approved the permit despite well-documented objections.
All federally recognized tribes in Michigan have passed resolutions opposing Line 5, which safety experts have warned puts the Great Lakes at risk for a massive explosion and oil spill.
"Today's decision is another notch in a long history of ignoring the rights of tribal nations," said Whitney Gravelle, president of the Bay Mills Indian Community. "We must act now to protect the peoples of the Great Lakes from an oil spill, to lead our communities out of the fossil fuel era, and to preserve the shared lands and waters in Michigan for all of us."
Tribes have said the project would violate their treaty rights and that Enbridge has not proven it can operate the tunnel safely. The company's Line 6B oil spill in 2010 contaminated nearly 40 miles of the Kalamazoo River.

"Disappointment isn't a big enough word," Rebecca Liebing, attorney for Bay Mills, told Michigan Bridge after the MPSC vote was announced. "There's no ambiguity regarding how the tribes feel about this matter... We're not done fighting."
The lakes hold 84% of North America's surface freshwater, and the Line 5 expansion would be the largest underwater hazardous liquids tunnel ever completed, said the coalition Oil and Water Don't Mix (OWDM).
"With this action, the Michigan Public Service Commission is putting Michigan in uncharted, dangerous territory while ignoring warnings by independent industry experts who testified during the MPSC's proceedings," said Sean McBrearty, a campaign coordinator for OWDM. "Never before has an oil tunnel that also carries other hazardous liquids been built in one of the most ecologically sensitive spots on Earth."
McBrearty pointed out that Enbridge already operates other oil pipelines in the Straits of Mackinac, and said there is "an open question whether Enbridge intends to build the tunnel or is simply using the project as a diversion and delay from shutting down the existing twin oil pipelines."
"Moreover, the Line 5 tunnel will worsen the impacts of the climate crisis by adding 27 million metric tons of polluting and climate altering carbon into the atmosphere, equivalent to 10 coal-fired power plants," said McBrearty, calling on President Joe Biden to revoke the presidential permit for Line 5.
Whitmer campaigned on closing down Line 5, but Enbridge has claimed the governor has no authority to shut down its pipelines because it runs between the U.S. and Canada and is subject to federal regulations.
A spokesperson for the governor toldMichigan Bridge that Whitmer is reviewing the MPSC's decision and that her goal "has always been getting the pipelines out of the water as quickly as possible."
Christopher Clark, senior attorney for Earthjustice, which represented Bay Mills as it presented its case objecting to Line 5 to the MPSC, said the commission ignored "the concerns of tribal communities in favor of the profit of a fossil fuel company."
"The evidence before the commission demonstrated that the proposed tunnel would put the Great Lakes region at serious risk and profoundly endanger the identity and lifeways of the Bay Mills Indian Community, a sovereign tribal nation whose relationship to these waters preexists the United States," said Clark. "We will use every open avenue to shut down Line 5 in order to avert an environmental catastrophe and slow the unthinkable impacts of climate change."
News