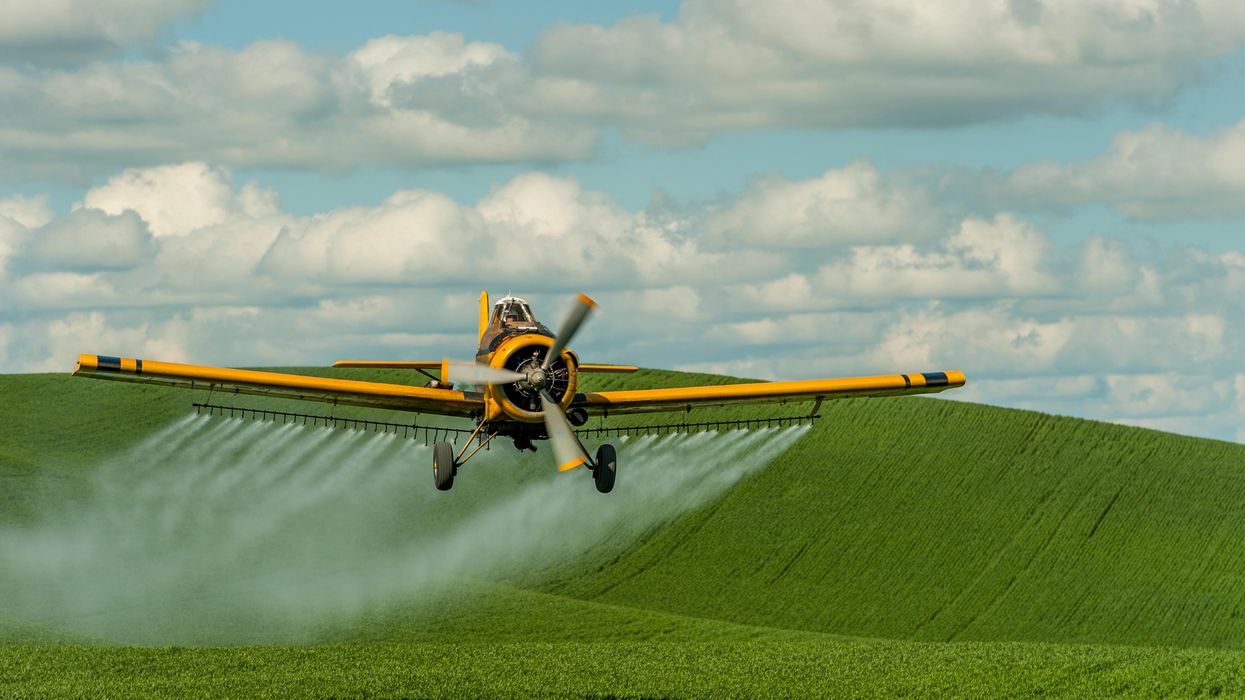 "It looks like the paraquat maker has adopted nearly every strategy we outlined in our book about bending science," said one author and former EPA legal adviser.
Internal documents published Friday by The Guardian and The New Lede shed new light on how multinational chemical giant Syngenta worked to conceal the link between its popular pesticide paraquat and Parkinson's disease.
According to the internal documents, Syngenta sought to "create an international scientific consensus against the hypothesis that paraquat is a risk factor for Parkinson's disease," in part by launching what company officials called a "SWAT team" to counter research that could threaten the corporation's "freedom to sell" the pesticide.
"It looks like the paraquat maker has adopted nearly every strategy we outlined in our book about bending science," Thomas McGarity, a former U.S. Environmental Protection Agency legal adviser and co-author of the 2008 book Bending Science: How Special Interests Corrupt Public Health Research, toldThe Guardian.
"Science matters. We have to be able to depend on science," McGarity added. "When it is perverted, when it is manipulated, then we get bad results. And one result is that pesticides that cause terrible things like Parkinson's remain on the market."
\u201cThe @Syngenta files expose a web of deception, including undisclosed collaborations, misleading regulators, and manipulating scientific reports. \n\nLearn how the chemical giant has protected its toxic weed killer, paraquat. \u2935\ufe0f\n\nvia @thenewledenews/@guardian\nhttps://t.co/qMkAj1uIPo\u201d

— The New Lede (@The New Lede) 1685723295
While a 2006 study found that rats administered paraquat exhibited neural degeneration similar to Parkinson's, a definitive link between paraquat and Parkinson's disease was discovered in 2011, when National Institutes of Health researchers concluded that the brain disorder is "positively associated" with the pesticide. A 2013 paper published in the peer-reviewed journal Neurology found that exposure to paraquat roughly doubled the risk of developing Parkinson's. In 2020, four of the world's leading neurologists published a book citing paraquat as a cause of Parkinson's.
More than 50 countries have banned paraquat, including Brazil, China, and the United Kingdom. The European Union has also banned the pesticide.

Syngenta argues that the evidence showing paraquat causes Parkinson's is "fragmentary and insufficient to establish" a link between the pesticide and the brain disorder.
"Recent thorough reviews performed by the most advanced and science-based regulatory authorities, including the United States and Australia, continue to support the view that paraquat is safe," the company toldThe Guardian for an October 2022 article showing internal Syngenta documents confirmed that corporate officials worried about the pesticide's link to Parkinson's.
\u201cIn less than six months, Swiss chemical manufacturer @Syngenta faces a first-ever trial in a lawsuit brought by U.S. farmers and others who allege the company\u2019s weed-killing herbicide #paraquat causes the neurological disorder known as #Parkinsonsdisease. https://t.co/Yr4cv8PjPL\u201d

— Corporate Crime Blotter (@Corporate Crime Blotter) 1685712611
However, as The Guardian reports in the new article:
The scientific record [Syngenta points] to as proof of paraquat's safety is the same one that Syngenta officials, scientists, and lawyers in the U.S. and the U.K. have worked over decades to create and at times, covertly manipulate...

The files reveal an array of tactics, including enlisting a prominent U.K. scientist and other outside researchers who authored scientific literature that did not disclose any involvement with Syngenta; misleading regulators about the existence of unfavorable research conducted by its own scientists; and engaging lawyers to review and suggest edits for scientific reports in ways that downplayed worrisome findings.
McGarity also said that when he worked at the EPA, pesticide lobbyists were known as "hall crawlers" for their incessant efforts to influence government officials.
Additionally, a revolving door between the chemical industry and government at all levels, from EPA bureaucrats all the way up to the Supreme Court—Justice Clarence Thomas is a former Monsanto attorney who refused to recuse himself from a case involving his former employer—helps corporations conceal the harms caused by their products.
In 2021, a coalition of groups sued the EPA over its decision to renew its approval of paraquat.

The new documents were published amid a raft of over 2,000 product liability lawsuits filed by farmers and others against Syngenta and Chevron, paraquat's former distributor. The first federal bellwether paraquat trial is set to begin in October.

News