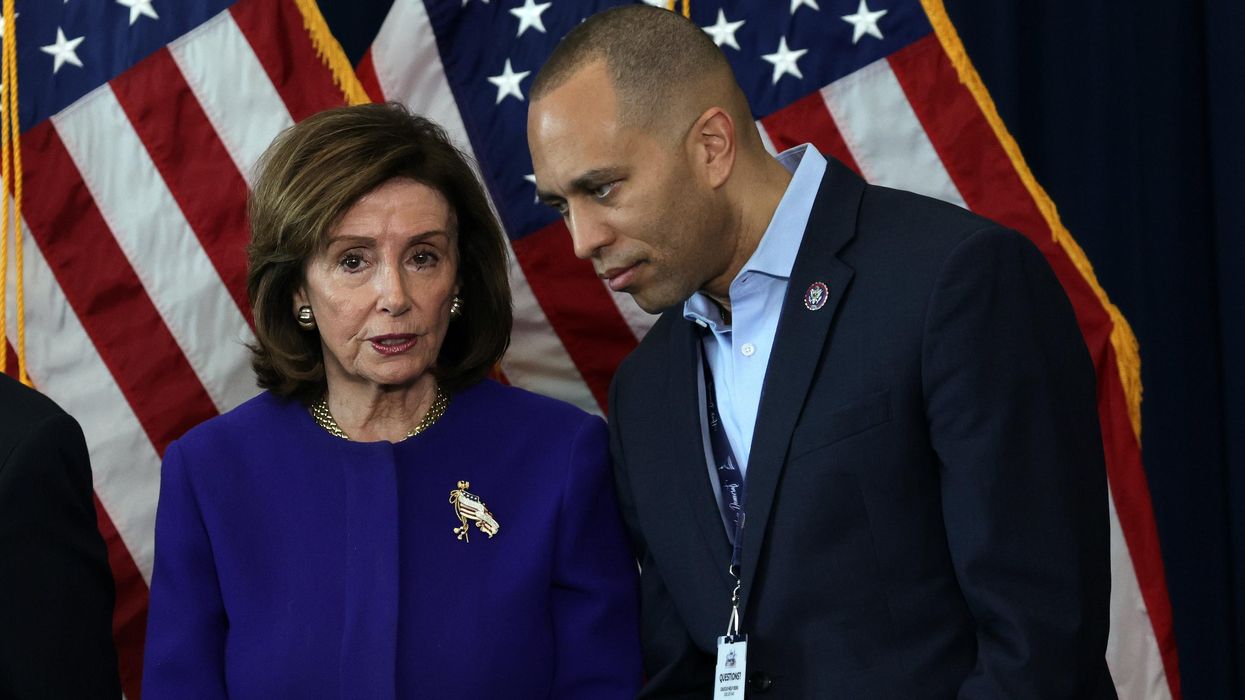 "This resolution is little about intelligent discourse and everything to do about laying the groundwork to cut Social Security and Medicare," said Rep. Mark Pocan, one of 86 House Democrats who voted against the measure.
More than 100 U.S. House Democrats—including some of the wealthiest members of Congress—joined with Republican lawmakers on Thursday in passing a resolution "denouncing the horrors of socialism," a largely symbolic gesture that opponents warned is nonetheless a step toward slashing Social Security, Medicare, and other safety net programs.
House Concurrent Resolution 9, which "denounces socialism in all its forms and opposes the implementation of socialist policies in the United States," was introduced by Rep. María Elvira Salazar (R-Fla.), the staunchly anti-communist daughter of Cuban exiles who once interviewed then-Cuban President Fidel Castro for Telemundo.

"I think it's the best resolution that has ever been presented before the United States Congress," Salazar toldInsider at the U.S. Capitol before the vote. "Our youth are being penetrated by this ideology through media and academia."
The measure—which followed the vote to oust Rep. Ilhan Omar (D-Minn.) from the House Foreign Affairs Committee—passed 328-86, with 14 lawmakers voting "present" and six members not voting.
One hundred and nine Democrats—many of them members of the corporate-friendly New Democrat Coalition—joined with every Republican lawmaker in voting to approve the resolution. Prominent Democrats who voted "yes" include: House Minority Leader Hakeem Jeffries (N.Y.), former House Speaker Nancy Pelosi (Calif.), and House Assistant Democratic Leader Jim Clyburn (S.C.), all of whom played prominent roles in defeating Sen. Bernie Sanders' (I-Vt.) presidential campaigns, which were based on popular democratic socialist policies and principles.
\u201cOne of these "New Democrats" is Congresswoman @SuzanDelBene - the new chair of the @DCCC, the House Democrats' PAC.\n\nThis is their plan to win the majority: not to pass popular bills like #MedicareForAll, but to ATTACK progressives and stoke another Red Scare.\n\nEmbarrassing.\u201d

— Our Wisconsin Revolution (@Our Wisconsin Revolution) 1675369788
Many of the Democrats voting for the resolution also rank among the wealthiest members of Congress, including Pelosi, whose 2018 net worth was over $114 million, according to OpenSecrets.org; Suzan DelBene (Wash., $79 million net worth); Dean Phillips (Minn., $64 million); Scott Peters (Calif., $60 million); and Ro Khanna (Calif., $45 million). Khanna along with Reps. Adam Schiff and Eric Swalwell of California and Rubén Gallego of Arizona, are either current or prospective candidates for U.S. Senate.
Denouncing the measure on the House floor, Rep. Jim McGovern (D-Mass.)—who voted "no"— said that "the socialism resolution is useless. It does nothing. It does not matter. Are we talking about public schools? Are we talking about roads? Are we talking about Social Security? I mean, give me a break."
\u201cThe GOP has called Social Security, Medicare, the Affordable Care Act, & even free public schools "socialism" to scare ppl. Today, House R's wasted our time by debating a sham resolution in an attempt to justify cuts to programs that millions of Americans have paid into & earned.\u201d

— Congressman Maxwell Alejandro Frost (@Congressman Maxwell Alejandro Frost) 1675355277
Rep. Mark Pocan (D-Wis.), Chair Emeritus of the Congressional Progressive Caucus, invoked his experience as a capitalist to lambaste the anti-socialism resolution.
"For 35 years now I've owned a small business, giving me significantly more experience as a capitalist than the vast majority of members on the other side of the aisle. So as a capitalist, let me tell you: This resolution is plain ridiculous. It jointly condemns Pol Pot and Norway," Pocan said during floor debate, referring to the former Cambodian dictator, who was supported by the Republican Reagan administration after leading a genocidal regime that killed at least 1.5 million people.
Pocan continued:
Here's what this is really about: More and more members on the other side of the aisle are calling for cuts to Social Security and Medicare, and many have referred to these programs as "socialism" throughout their existence. The other night in the Rules Committee they showed their cards. Republicans refused an amendment to declare that Social Security and Medicare is not socialism. This resolution is little about intelligent discourse and everything to do about laying the groundwork to cut Social Security and Medicare.
Rep. Maxine Waters (D-Calif.), another "no" vote, called out the hypocrisy of Republicans who support corporate welfare or are personal beneficiaries of social programs. Waters took aim at House Small Business Committee Chair Roger Williams (R-Texas), who summarized his support for the resolution as: "Socialism bad. Capitalism good. In God we trust."
"Mr. Williams is my friend," said Waters, "but I do wonder whether Mr. Williams views the $1.43 million he received in debt forgiveness [to be] consistent with his views on socialism? I don't get it."
\u201cGOP logic:\n\nPublic Housing= Socialism\nSocial Security and Medicare=Socialism\nInfrastructure=Socialism\n\nRepublicans always have and always will brand programs to help working families as socialism. That's why I'm voting no on this distraction of a resolution.\u201d

— Rep. Nydia Velazquez (@Rep. Nydia Velazquez) 1675354158
After Rep. Brad Sherman (D-Calif.), who voted against the measure, noted during floor debate that there have been numerous democratic socialist leaders around the world who've been "allies of America and NATO," Rep. Patrick McHenry (R-N.C.) quipped, "If this resolution would just simply draw out my Democrat colleagues to just say, yes, they are in favor of socialism, maybe this is a worthwhile endeavor."
Rep. Summer Lee (D-Pa.), a former organizer from Pittsburgh's Democratic Socialists of America chapter who voted against the resolution, shrugged off Republicans' red-baiting and the New Democrat Coalition's support for the GOP resolution.
"They're going to call you socialists anyways," Lee said.
News