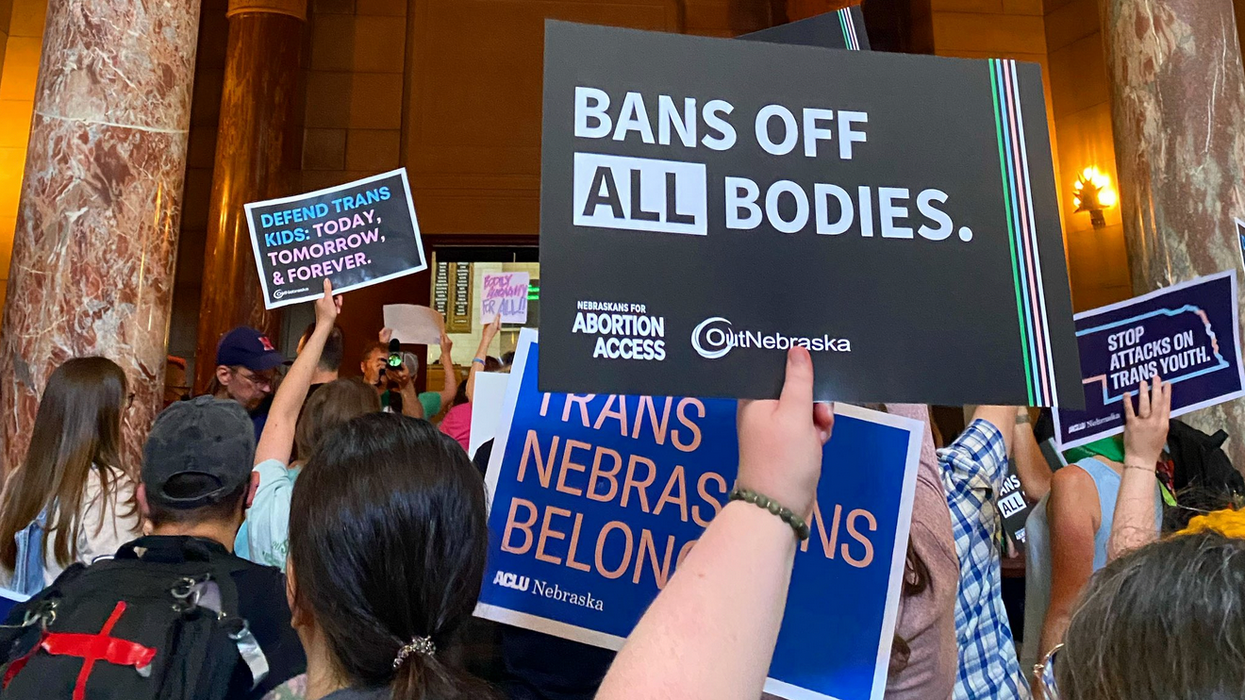 One lawmaker joined protesters in chanting, "We love trans people, we need trans people, trans people belong here!"
This is a developing story... Please check back for possible updates...

Transgender and nonbinary Nebraskans and their allies flooded the state Capitol on Friday as GOP lawmakers prepared to pass Legislative Bill 754, the so-called "Let Them Grow Act," which would ban gender-affirming healthcare for trans minors.
The unicameral Legislature—which is officially nonpartisan but has twice as many Republicans holding seats as Democrats—ultimately voted 33-15 to approve L.B. 754, which also bans abortion after 12 weeks.
Those gathered at the Capitol responded to the vote by chanting: "Shame! Shame! Shame! Shame! Shame!"
Republican Gov. Jim Pillen praised the Legislature's passage of the bill, which he plans to sign into law. Once he does so, the abortion ban will take effect immediately while the restrictions on gender-affirming care will begin October 1.
However, legal challenges are expected. Noting the legislative vote Friday, the ACLU tweeted that "elected officials shouldn't be spending their time and resources making it harder for people to access the healthcare they need. The fight isn't over."

Nebraska is one of more than two dozen states where Republicans have proposed bills prohibiting young people from getting healthcare that medical experts say reduces depression and suicidal ideation in teenagers struggling with gender dysphoria.
Lawmakers including state Sens. Machaela Cavanaugh (D-6) and Megan Hunt (I-8) have led a monthslong filibuster of L.B. 754, with Hunt telling her colleagues that blocking the bill's passage is a matter of protecting her own transgender son as well as young people across the state.
On Friday, Cavanaugh joined protesters gathered outside the Legislature floor in chanting, "We love trans people, we need trans people, trans people belong here!"
During the debate, opponents of the bill presented a letter signed by more than 1,000 medical providers from across Nebraska, who called the 12-week ban "ill-informed" and said the legislation, "in its monstrous, newly amended form, is a direct attack on the medical community of our state."
While the bill includes exceptions for rape, incest, and medical emergencies, as Common Dreams has reported, similar bans—which GOP state legislators are pushing through in the wake of the U.S. Supreme Court reversingRoe v. Wade last year—have left patients on the brink of death before doctors were willing to intervene.

The progressive political commentary site Seeing Red Nebraskareported that as many as four protesters were arrested for demonstrating at the Capitol as the lawmakers debated.
News