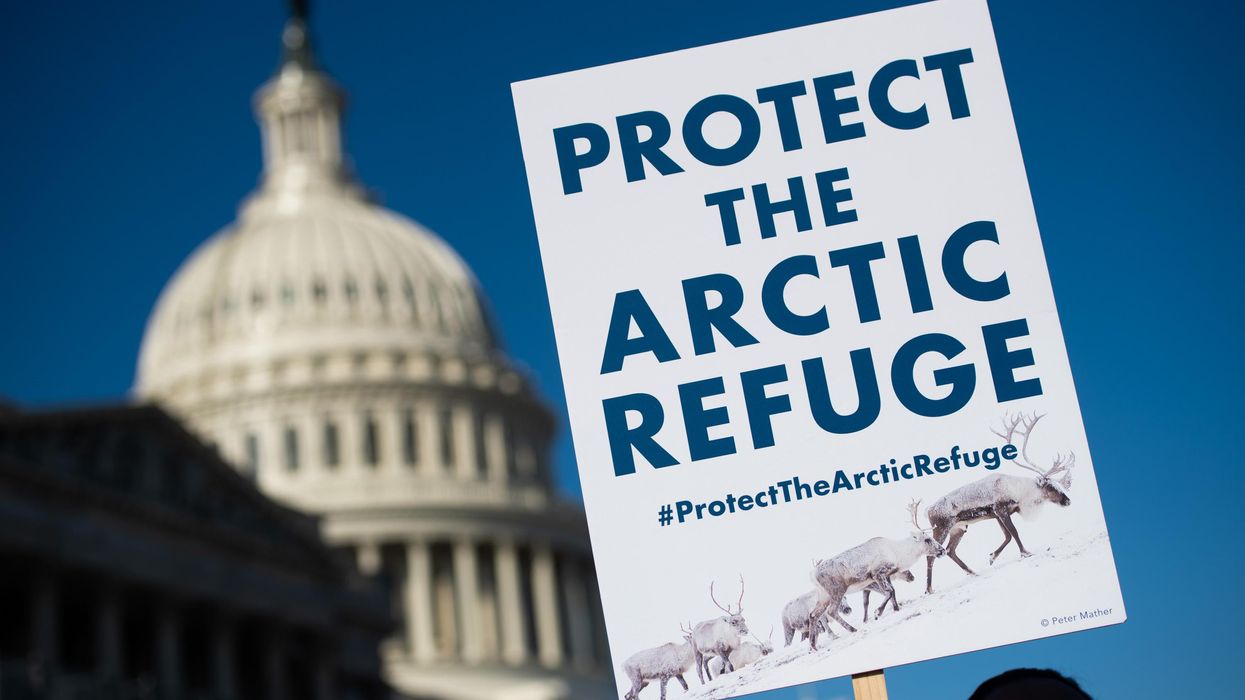 "We will never stop fighting to protect these sacred lands, the Porcupine caribou, and our communities," vowed the Gwich'in Steering Committee's executive director.
Amid widespread applause Sunday for U.S. Senate Democrats' long-awaited passage of a budget reconciliation package, Indigenous and conservationist leaders declared that they were "deeply disappointed" in lawmakers' refusal to restore protections to a key region of Alaska.
"Congress has chosen to ignore the health of the Arctic and the Gwich'in way of life."
Unlike the Build Back Better Act approved by House Democrats last year, the deal negotiated by Senate Majority Leader Chuck Schumer (D-N.Y.) and Sen. Joe Manchin (D-W.Va.) doesn't shield the incredibly biodiverse Arctic National Wildlife Refuge (ANWR) from fossil fuel activity--which the Wilderness Society called "a grievous attack on the rights, culture, and sacred lands of the Gwich'in and Inupiat peoples."
After the Inflation Reduction Act passed the Senate on Sunday, Bernadette Demientieff, executive director of the Gwich'in Steering Committee--an Indigenous group that has long fought to safeguard ANWR's Coastal Plain--blasted the exclusion.
"In the Arctic, we're experiencing a warming climate at four times the rate as the rest of the world, yet Congress has chosen to ignore the health of the Arctic and the Gwich'in way of life by failing to stop this destructive and failed oil and gas program," she said. "We will never stop fighting to protect these sacred lands, the Porcupine caribou, and our communities."
\u201cThe Arctic Refuge is an essential nursery for the world\u2019s birds\u2014but it was put in jeopardy due to potential oil and gas development. But there's hope\u2014we have a chance to permanently #ProtectTheArctic. Take action today: https://t.co/lw4T4M5UFs\u201d

— Audubon Society (@Audubon Society) 1659845521
After Manchin joined with Senate Republicans in 2017 to thwart efforts by other Democrats and conservationists to protect ANWR, Sen. Lisa Murkowski (R-Alaska) proposed forcing the U.S. Interior Department to hold two lease sales for ANWR--legislation that was included in the Tax Cuts and Jobs Act.
When signing what critics called the GOP tax scam into law in December 2017, then-President Donald Trump said that "corporations are literally going wild over this." Murkowski, meanwhile, framed the passage of her ANWR measure as "a watershed moment for Alaska and all of America" that would "give us renewed hope for growth and prosperity."
While the first of the two required lease sales was held just before Trump left office in 2021, the event failed to attract fossil fuel giants.
In fact, as the Gwich'in Steering Committee pointed out Sunday, as global banks and insurance companies have pledged to not be involved with exploiting ANWR, the three companies with leases--Regenerate Alaska, the only oil firm that bid in the 2021 sale, along with Chevron and Hilcorp, which both held decades-old leases--have backed out.
Peter Winsor, executive director of Alaska Wilderness League, said in June that Regenerate Alaska, a subsidiary of Australia-based 88 Energy, "canceling its lease interest on the heels of Chevron and Hilcorp divesting themselves of their own Arctic refuge holdings is the clearest sign yet that there is zero interest out there in industrializing the wildest place left in America."
"We have long known that the American people don't want drilling in the Arctic refuge, the Gwich'in people don't want it, and we now have further proof that the oil industry doesn't want it either," he added.
\u201cThe Arctic Refuge comprises 19.3 million acres of land that has been stewarded and held sacred by Gwich'in & I\u00f1upiat people for millennia.\n\nCongress must #ProtectTheArctic and repeal the drilling mandate in the #InflationReductionAct. #StandWithTheGwichin\n\nhttps://t.co/EU2PvdNs32\u201d

— Northern Center (NAEC) (@Northern Center (NAEC)) 1659383533
Following the Senate's vote Sunday, Winsor joined Demientieff, the Gwich'in leader, in expressing disappointment about the package's exclusion of ANWR safeguards while also highlighting handouts to fossil fuel giants included in the legislation.
"The United States just took a big leap forward to address climate change," he said. "However, today's progress left out public lands as part of the solution, and in fact parts of the bill increased oil and gas extraction on our nation's lands and waters, including in Alaska's Cook Inlet."
"We are... doubling down on our efforts to make certain that public lands are the focus of future climate progress."
The Biden administration in May canceled three fossil fuel lease sales for the Gulf of Mexico and Cook Inlet, citing a lack of industry interest--a move welcomed by climate campaigners, who continue to call on President Joe Biden to end all offshore drilling.
Discussing Manchin and Schumer's compromise, Nicole Whittington-Evans, state director at Defenders of Wildlife, told the Anchorage Daily News in late July that "I think the Alaska provisions will really greatly reduce our achievements, in terms of climate, with this deal."
The federal government would have to make at least 60 million acres of waters available for fossil fuel leases to hold a sale for offshore wind energy projects, which Whittington-Evans said "is very significant" and "does not seem like a great trade-off for Alaska."
Winsor on Sunday pledged to keep fighting for regional protections, saying that "while we too celebrate a win today for our climate as a whole, we are also doubling down on our efforts to make certain that public lands are the focus of future climate progress."
"Tomorrow we'll be back at work," he said, "seeking to restore congressional protections for the Arctic refuge, and urging President Biden to do everything in his power to make sure the Arctic refuge is a climate solution, and not an oilfield."
News