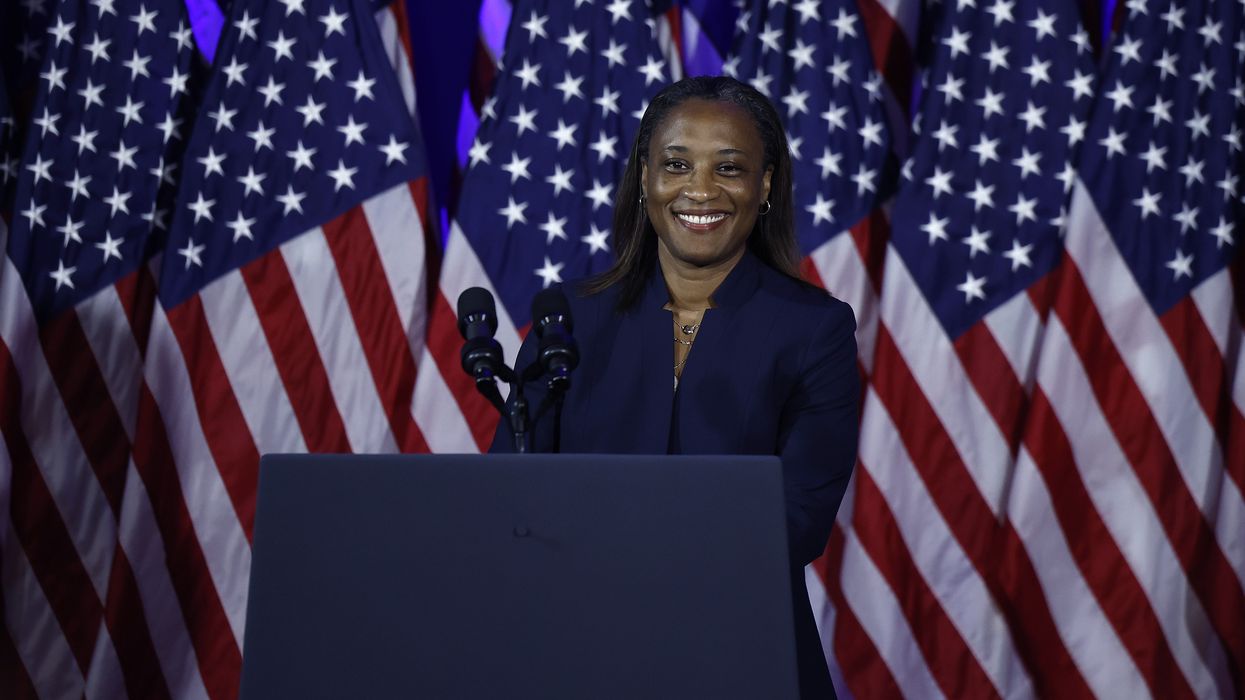 Butler previously served as the head of a major SEIU local. But she also represented Uber as it fought efforts to classify drivers as employees.
California Gov. Gavin Newsom announced late Sunday that he will appoint Laphonza Butler, president of the Democratic Party-aligned reproductive rights group EMILY's List, to fill the U.S. Senate seat left vacant by the death of long-serving Sen. Dianne Feinstein last week.

Newsom's selection rebuffs calls from progressives and some Democratic lawmakers—including the head of the Congressional Black Caucus—to nominate Rep. Barbara Lee (D-Calif.) to fill the vacancy. Lee is one of three prominent Democrats running for Feinstein's seat in 2024.
Feinstein had planned to step down at the end of her term in January 2025.
Newsom pledged to fill any early vacancy with a Black woman, but he signaled last month that it would not be Lee, who is running against Reps. Katie Porter (D-Calif.) and Adam Schiff (D-Calif.).
"I don't want to get involved in the primary," Newsom told NBC, stressing that his selection would be an interim pick. "It would be completely unfair to the Democrats that have worked their tail off. That primary is just a matter of months away. I don't want to tip the balance of that."
In a statement late Sunday, Newsom said that "as we mourn the enormous loss of Senator Feinstein, the very freedoms she fought for—reproductive freedom, equal protection, and safety from gun violence—have never been under greater assault. Laphonza will carry the baton left by Senator Feinstein, continue to break glass ceilings, and fight for all Californians in Washington, D.C."
"An advocate for women and girls, a second-generation fighter for working people, and a trusted adviser to Vice President [Kamala] Harris," Newsom added, "Laphonza Butler represents the best of California, and she'll represent us proudly in the United States Senate."
Shortly following news of the governor's decision, journalists noticed that EMILY's List removed the final line of Butler's bio that said she lives in Maryland with her partner and daughter. Newsom's office confirmed to California reporter Ashley Zavala that Butler moved to the Washington, D.C. area for her role at EMILY's List but owns a home in California, and will reregister to vote in the state before she is sworn in.

Prior to her stint at EMILY's List, which works to elect pro-choice Democrats, Butler served as president of Service Employees International Union (SEIU) Local 2015, the nation's largest home care and nursing home workers union.

But CalMattersnoted Sunday that "despite her previous career, organized labor is likely to split on Butler."
"Many felt betrayed when she represented Uber in 2019 as the company tried to broker a deal that would avoid classifying their drivers as employees," the outlet reported.
Butler also worked as director of public policy for Airbnb.
Politicoreported that "Newsom is making his appointment without putting limitations or preconditions on his pick running for the seat in 2024. That means Butler could decide to join the sprawling and competitive field of Democratic contenders seeking to succeed Feinstein, with special elections now layered on top of the March primary and November runoff."
In a letter to Newsom earlier Sunday, Congressional Black Caucus Chair Steven Horsford (D-Nev.) urged Newsom to appoint Lee to fill the vacant U.S. Senate seat, arguing that her "unparalleled legislative record, longstanding leadership in the Democratic Party, and deep commitment to justice and equality cannot be equaled."
"Barbara Lee has diagnosed a sickness in this country: greed," Horsford wrote. "And, as a former mental health professional, she has a solution: eradicate poverty, exterminate corporate welfare, and end austerity for working families. She is the only person with the courage, vision, and record to eradicate poverty, face down the fossil fuel industry, defend our democracy, and tirelessly advance the progressive agenda."

Lee, for her part, wrote in a social media post that she looks forward to working with Butler to "deliver for the Golden State."
"I am singularly focused on winning my campaign for Senate," Lee wrote. "CA deserves an experienced senator who will deliver on progressive priorities. That's exactly what I'm running to do."
News