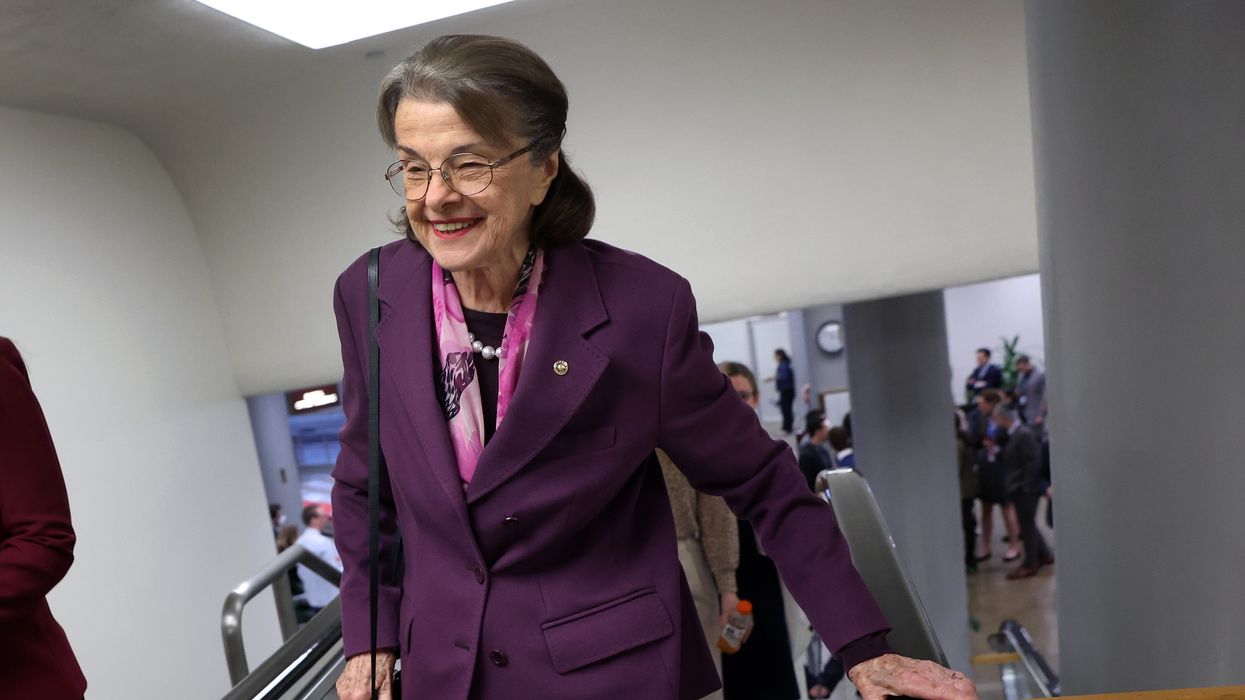 The veteran California Democrat, who plans to retire after this term, has missed 91 votes since late February.
Faced with mounting calls to resign due to the impact of her extended absence, U.S. Sen. Dianne Feinstein headed to Washington, D.C. on Tuesday after being away since late February while recovering from shingles.
The San Francisco Chroniclereported that the California Democrat "boarded a chartered private plane" and "could return to the Senate as early as Tuesday evening." Feinstein spokesperson Adam Russell confirmed her departure to the newspaper.
Senate Majority Leader Chuck Schumer (D-N.Y.) said in a statement that "I'm glad that my friend Dianne is back in the Senate and ready to roll up her sleeves and get to work. After talking with her multiple times over the past few weeks, it's clear she's back where she wants to be and ready to deliver for California."
\u201cThat sound you hear is Chuck Schumer breathing a huge sigh of relief \u2014 for now\u201d

— Jessica Taylor (@Jessica Taylor) 1683659737
Feinstein, who is 89, has already said she will retire at the end of the current term, and three California Democrats in the U.S. House—Reps. Barbara Lee, Katie Porter, and Adam Schiff—have launched campaigns for next year's primary.
Demands for Feinstein to step down early have been building since last spring, when the Chroniclereported that based on interactions with the senator, some of her colleagues were concerned she is mentally unfit to continue serving. During her recent absence, Feinstein has missed 91 floor votes.
The missed votes, Democrats' narrow control of the chamber, and the GOP's refusal to let Schumer temporarily replace Feinstein on the Senate Judiciary Committee so the panel can advance President Joe Biden's judicial nominees, have fueled fresh calls for her to resign—including from some members of Congress.
Ahead of the news of Feinstein's return on Tuesday, former Labor Secretary Robert Reich—who described himself as "one of her personal friends as well as one of her constituents"—wrote that "as someone in his late 70s, let me be clear. I'm not suggesting an age limit on public service. I'm only suggesting vigilance."
Feinstein "has accomplished many worthy things since she was first elected to the Senate in 1992," Reich noted, detailing some of them. "She has said she will retire at the end of 2024, but too much damage is being done in the interim. If she can no longer perform her duties, it is now time for her to step down."
"The three-month absence hurt our agenda, and time will tell on the future."
Congressman Ro Khanna (D-Calif.)—who is co-charing Lee's 2024 campaign and recently called for Feinstein's resignation—said in a statement Tuesday that he is "very glad" the senator "is feeling better and hopeful that she will be able to fulfill her duties upon her return."
"The people of California deserve strong representation and a senator who can vote to advance President Biden's judicial nominees and protect Americans' fundamental rights," he added. "The three-month absence hurt our agenda, and time will tell on the future."
The senator's return "will put two nominees in the spotlight, in part because Feinstein's absence is not the only vote holding them up," Politiconoted, pointing to Biden's nomination of Michael Delaney for the 1st U.S. Circuit Court of Appeals and Julie Su for labor secretary.
Feinstein also comes back to a Congress engaged in a battle over raising the debt ceiling amid estimates that the U.S. government could run out of money to pay its bills as soon as June 1. After meeting with Biden and other congressional leaders at the White House Tuesday, House Speaker Kevin McCarthy (R-Calif.)—who is threatening a catastrophic default unless Democrats agree to huge spending cuts that would impact working people—said that "I didn't see any new movement."

News