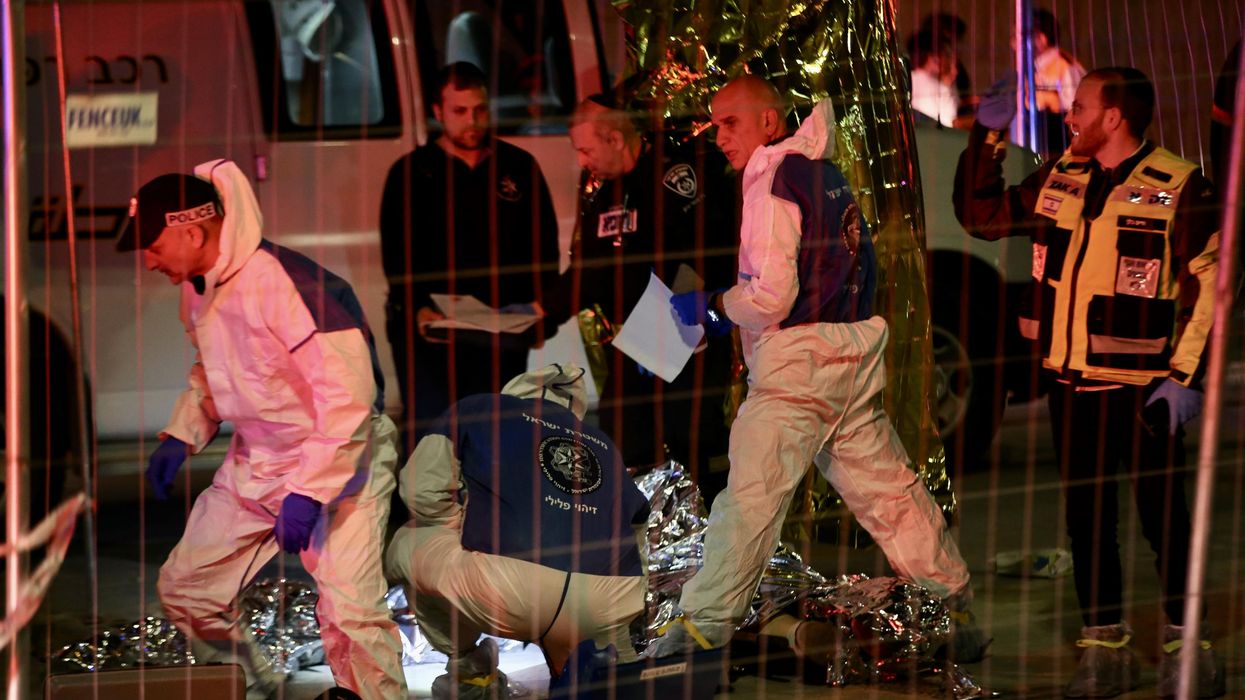 "We grieve for all this unthinkable loss. And with our grief, we also rage," said Jewish Voice for Peace. "The Israeli government's domination and oppression of Palestinians is the root cause of each of these senseless, tragic deaths."
Human rights defenders condemned a Friday attack outside a synagogue in an illegal Israeli settlement by a Palestinian gunman who murdered at least seven people—a massacre that followed the killing of 10 Palestinians by Israeli forces during a raid in the occupied West Bank Thursday.
TheTimes of Israelreports the unidentified gunman shot and killed seven people and wounded three others during the Friday evening attack in Neve Yaakov in East Jerusalem. Friday is International Holocaust Remembrance Day. The attacker was shot dead during a gunfight with police as he attempted to flee into the Palestinian neighborhood of Beit Hanina. An ambulance service said the deceased ranged in age from 20 to 70.
In a statement, Stéphane Dujarric, spokesperson for United Nations Secretary-General António Guterres, said the U.N. chief "strongly condemns today's terrorist attack by a Palestinian perpetrator outside a synagogue in Jerusalem, which claimed the lives of at least seven Israelis and injured several others."
"It is particularly abhorrent that the attack occurred at a place of worship, and on the very day we commemorated International Holocaust Remembrance Day," Dujarric added. "There is never any excuse for acts of terrorism. They must be clearly condemned and rejected by all."
\u201c\ud83d\udea85 #Israelis killed & 5 wounded in a shooting attack near a synagogue in the Neve Yaakov settlements in occupied East Jerusalem.\n\nViolence begets violence begets violence....\n\nPeople don't understand how close the occupied territories are to a full disastrous explosion!\u201d

— Muhammad Shehada (@Muhammad Shehada) 1674846498
Tom Nides, the U.S. ambassador to Israel, tweeted that he is "shocked and disgusted at this heinous terrorist attack on innocent people, including children. Praying for all of the victims and their loved ones."
The synagogue massacre came one day after Israeli occupation forces killed 10 Palestinians including an elderly woman and wounded around 20 others during an early morning raid on the Jenin refugee camp. Israeli forces then bombed Gaza early on Friday morning after Palestinian resistance fighters fired two rockets at Israel.
The Jenin raid was part of Operation Breakwater, a nine-month campaign targeting Palestinian resistance in the camp and nearby Nablus. Human rights groups say 30 Palestinians, both fighters and civilians, have been killed so far by Israeli forces in 2023. Last year was the deadliest year for West Bank Palestinians since the second intifada—or general uprising—a generation ago, with 150 people including 33 children killed. Another 53 Palestinians were killed by Israeli forces in Gaza in 2022.
\u201cInstead of linking today's terrible attack in Jerusalem to Holocaust Remembrance Day, which it has nothing to do with, you might connect it instead to the 30 Palestinians that have been killed by Israel just this month. This is a cycle of violence borne of Israeli apartheid.\u201d

— Arielle Angel (@Arielle Angel) 1674851482
In a statement following the synagogue murders, the U.S.-based group Jewish Voice for Peace (JVP) called the attack "the inevitable, horrifying outcome of decades of Israeli apartheid"
"We grieve for all this unthinkable loss. And with our grief, we also rage. The Israeli government's domination and oppression of Palestinians is the root cause of each of these senseless, tragic deaths," JVP contended.
"The violent, racist speech coming from the Israeli government makes it clear that the Israeli military will continue to escalate its violent attacks on Palestinians. Already the Israeli army has invaded Palestinian neighborhoods in occupied East Jerusalem," the group said.
\u201c10 killed in #Jenin and now 5 dead, 5 wounded in Jerusalem shooting attack: these are the ENTIRELY PREDICTABLE RESULTS of a vicious extremist #Israeli government that leaves no room for hope, no room for peace, more to come. https://t.co/kQt5NgIMw3\u201d

— Sarah Leah Whitson (@Sarah Leah Whitson) 1674845638
JVP continued:

What we are witnessing is not a "conflict," a "clash," or a "war" between two equal parties. There is no mistaking the massive disparity of power between the Israeli government and the Palestinians it targets. Backed by $3.8 billion in annual military funding from the U.S. government, the Israeli government controls, dominates, and dispossesses Palestinian lives and lands.
"We are on the side of unconditional commitment to justice, equality, freedom, and dignity for all people, no exceptions," JVP added. "To achieve a future where all are safe and free, we must end the Israeli government's settler-colonial apartheid regime."

News