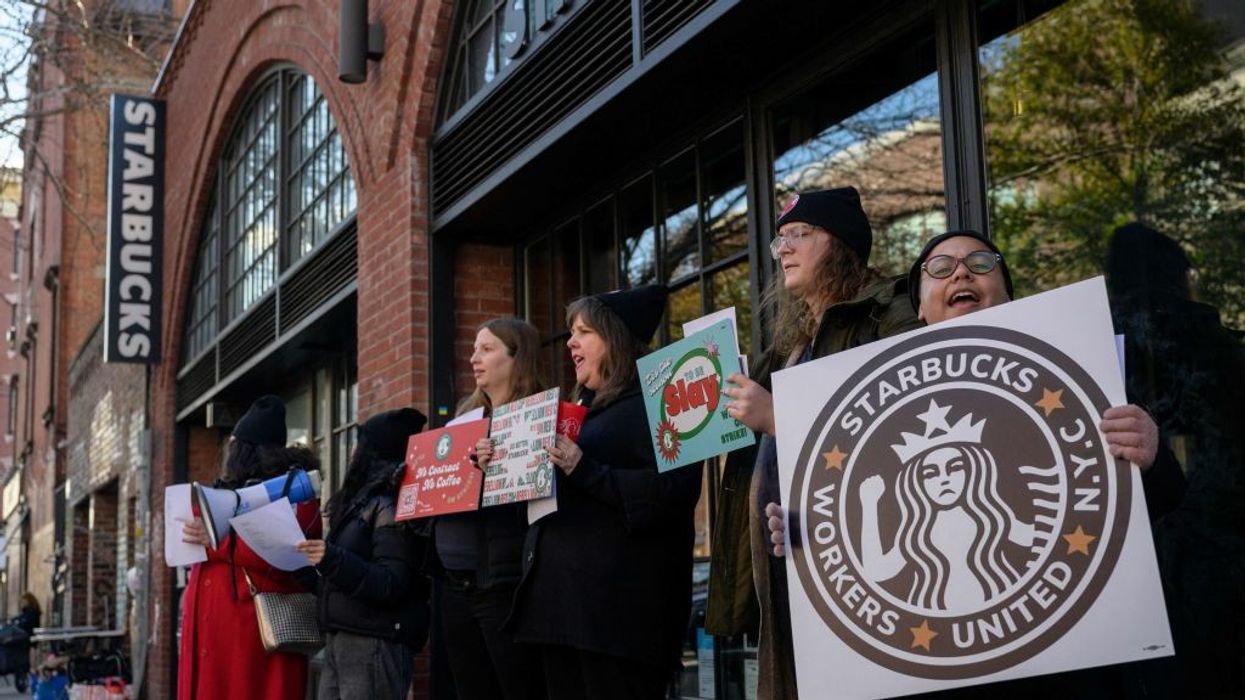 I stay because that's exactly what the company fears, they want us to feel disposable, weak, and worthless. We refuse.
On a warm summer afternoon in Bellingham, my coworkers and I huddle around a single phone outside of my Starbucks, watching as our union election votes are counted. With every "yes"that is announced, we blow into the noisemakers held between our lips, a chorus alerting our coworkers inside the building of our results. Silence falls as the final vote is counted, until we erupt into jumps, cheers, and hugs. The results were in: a unanimous victory.

That unforgettable moment was nearly 10 months ago. Now, we stand among over 7,000 Starbucks workers across 270 organized stores. Yet, none of us have a contract.
Since my store's vote, our working conditions have only gotten worse. In my two years working at Starbucks, I have experienced a dramatic shift from when I first started; I've watched management cut my coworkers hours from 30 a week down to 15, where they no longer qualify for the company's 'incredible' benefits. When we used to expect six people working during our busy morning peaks, we're lucky to have four. We're constantly forced to do the work of two people while getting paid a wage that isn't enough for one.

When I tell people my story, the question I am most often asked—and admittedly one I ask myself—is "why do you stay at this job?"
The union gives us an opportunity to change the company's current trajectory, to reclaim the mission and values that they have abandoned.
Starbucks—led by the whims of former CEO Howard Schultz—has not only ignored our requests to bargain, but they've formulated these new working conditions to break our spirits. It's been incredibly difficult watching my coworkers, the friends I used to laugh with every day, be forced to take on a second job or to quit altogether. The sheer physical and emotional exhaustion from this job has overtaken the joy I used to feel while making lattes and talking to our regular customers; I find myself smiling less and less.

By these standards, the future appears bleak. And it would be, if not for the union behind us.

With a union, we have an opportunity to change the company's current trajectory, to reclaim the mission and values that they have abandoned. The union has brought my coworkers and I hope in times of distress, knowing that we have joined the thousands of others fighting for safety, security, and respect in our workplace. When I see supporters from across the country rooting for our campaign, it reminds me that this fight goes further than Starbucks or even fast food, our fight is for all working people.

Starbucks claims to be a 'different kind of company,' yet they have only shown me that they are dedicated to busting our union campaign and punishing its workers, and will spend millions of dollars to do so. However, this doesn't have to be the legacy of the company forever. With the recent change in CEOs, Starbucks has a new opportunity, one where they can return to the progressive company it once was, but that can only happen if they choose to listen to its workers and commit to negotiate a fair union contract.

So, returning to the question, why do I stay at this job?

I stay because I know that Starbucks can be so much more. This company wants its workers to feel disposable, weak, and worthless, however, joining the union has shown me that is not true. I know that I and every other barista deserve better, and that we will be the ones to change this company into one that lives up to its values. I stay to show Starbucks that they cannot break my spirit; I stay to see the day that we win our first contract and know that this long fight has all been worth it.
Opinion