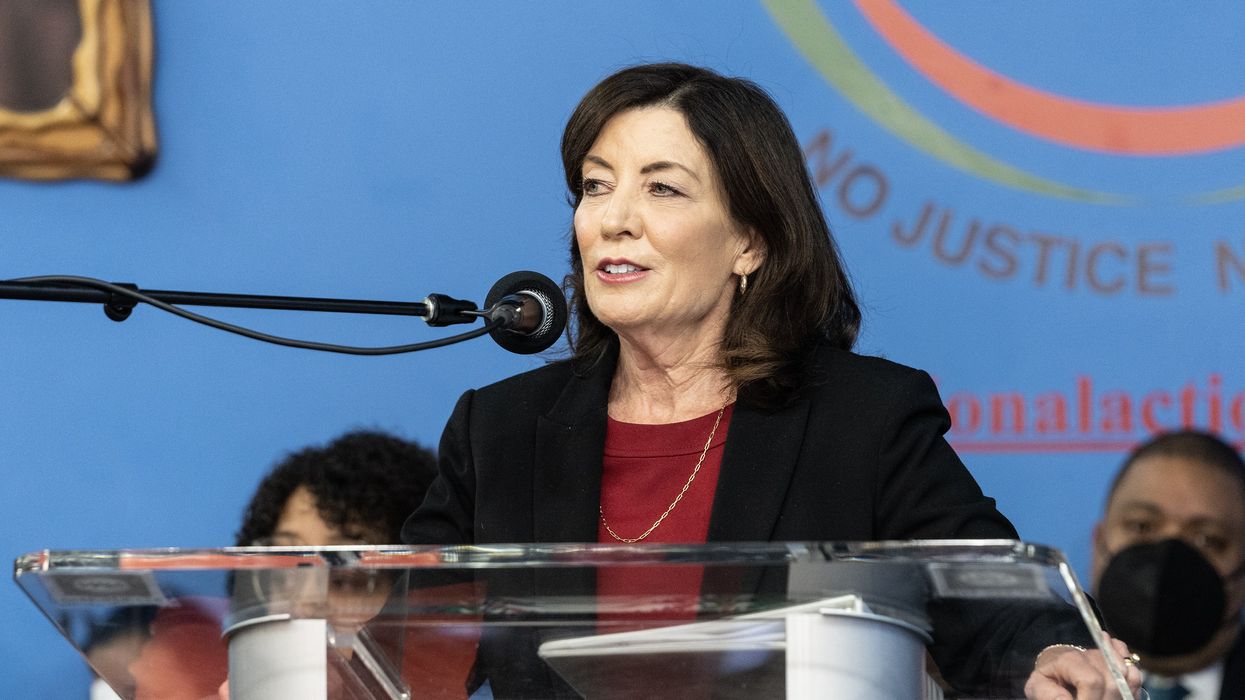 "We thank the members of the state Senate who stood with working New Yorkers in opposing a judge with a troubling judicial record on workers' rights, abortion rights, and racial justice," said one Hector LaSalle critic.
The New York State Senate's Democrats on Wednesday delivered a "major embarrassment" for and "extraordinary repudiation" of Democratic Gov. Kathy Hochul, rejecting Hector LaSalle, her anti-choice, anti-union nominee to lead the state's top court.
"We thank the members of the state Senate who stood with working New Yorkers in opposing a judge with a troubling judicial record on workers' rights, abortion rights, and racial justice," said New York Working Families Party director Sochie Nnaemeka.
"In the wake of an extremist U.S. Supreme Court and a New York Court of Appeals captured by corporate and conservative interests," Nnaemeka added, "we urge Gov. Hochul to return with a chief judge nominee with a clear and unequivocal record of protecting the rights of working people."
\u201cJust wow. Hochul:\n\u2013Disinvited a union leader from an event for criticizing her\n\u2013Had Hakeem Jeffries help\n\u2013Dedicated her MLK day speech to LaSalle\n\u2013Threatened to sue Dems after they rejected LaSalle; had GOP do it for her\n\u2013Got LaSalle rejected again anyways\nhttps://t.co/nxsWBQH2HQ\u201d

— Prem (@Prem) 1676493578
Wednesday's 39-20 vote fell mostly along party lines, with all Republicans present except state Sen. Mario Mattera (R-2) supporting Lasalle and all but one Democrat, Sen. Monica Martinez (D-3), voting against him. It came after the Senate Judiciary Committee last month narrowly opposed the nominee.
While Senate Democrats argued the panel's vote was sufficient to block the nomination, Hochul claimed the state constitution required a full chamber vote and even considered a lawsuit. However, it was the committee's top Republican, Sen. Anthony Palumbo (R-1), who filed suit last week.
As The New York Timesreported:
While the vote could help quell a weekslong intraparty battle that had overshadowed legislative business in Albany, it is sure to strain the governor's relationship with Democrats in the Legislature as they begin to negotiate over the state's budget, which is due in six weeks.

It also means that state officials will need to restart a monthslong process to select a chief judge, who besides sitting on the Court of Appeals is also tasked with overseeing the state's complex court system, which has thousands of judges and staff.
Hochul said in a statement Wednesday that "this vote is an important victory for the constitution. But it was not a vote on the merits of Justice LaSalle, who is an overwhelmingly qualified and talented jurist."
The Times noted that LaSalle "defended his record during a five-hour legislative hearing last month in which he declared his support for reproductive and labor rights, arguing that the cases his critics singled out had hinged on procedural questions."

While reaffirming her support for her defeated candidate, Hochul also said, "Now that the full Senate has taken a vote, I will work toward making a new nomination."
Opponents of LaSalle, including New York State Senate Majority Leader Andrea Stewart-Cousins (D-35) and Deputy Leader Michael Gianaris (D-12), framed the vote as necessary to shift the focus to a new candidate and other important issues.
"Today, we again rose to our leadership responsibilities and ended the ongoing distraction of the Justice Hector LaSalle nomination," said Stewart-Cousins. "We have a state to run. This court case would've dragged on for months and stymied our judicial system. It was time to put this matter to rest."
\u201cGrateful for Senator @AndreaSCousins sensible leadership in advancing the business of the State of New York and preserving the integrity of our courts.\u201d

— Janai Nelson (@Janai Nelson) 1676519450
Gianaris declared that "the failure of some in our state to respect the proper role and independence of this Legislature has led to a crisis affecting all branches of government. It now falls to our Senate majority to again be the adult in the room and move our state past this deadlock that would have otherwise dragged on for even more months while our top court is without a properly appointed chief judge and while we are in the midst of negotiating a state budget that must continue our economic recovery."
"It is the Senate's constitutional right to determine how it operates and to reject nominees that do not have the support of a Senate whose confirmation role is critical to the balance of powers," he stressed. "My colleagues and I voted against this nomination because we need a chief judge possessed of a diverse professional background and who represents a departure from the tenure of former Chief Judge Janet DiFiore, and this nominee was not that person. It is now time to find a new nominee who can get the required support to be confirmed."
News