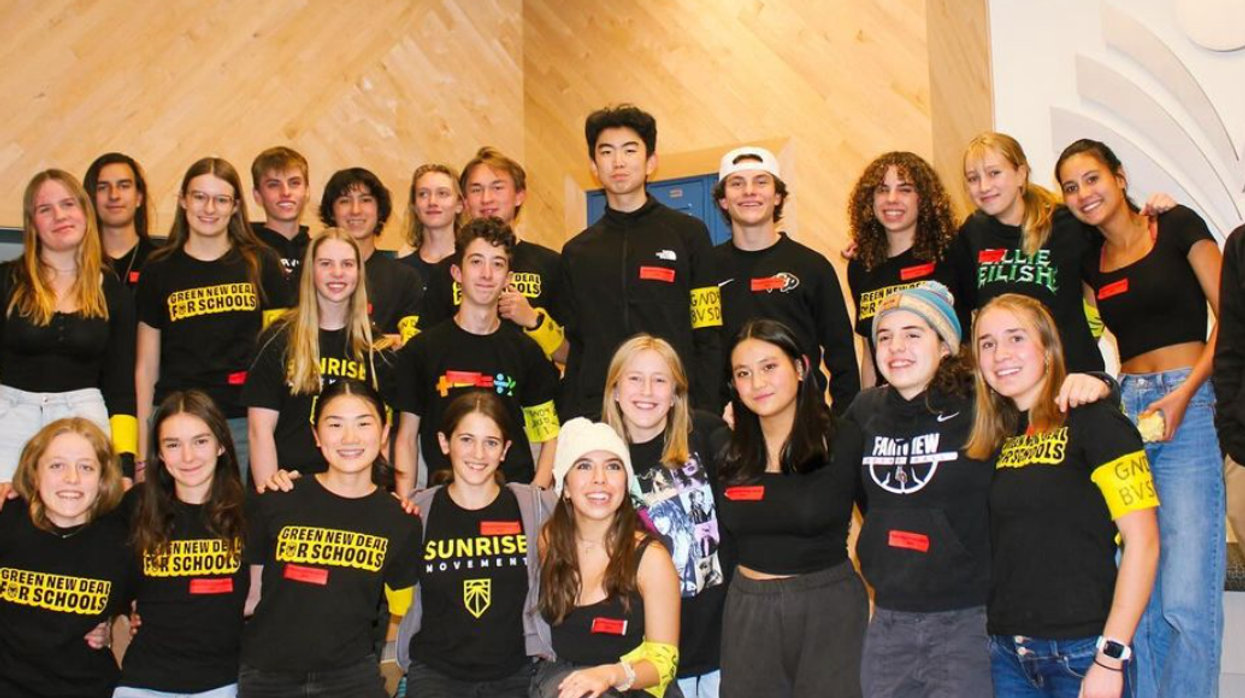 "This is a project of our generation, and we're not gonna stop until every school across the country has a Green New Deal and the kind of schools we deserve," said a 16-year-old student.
Youth advocates with the Green New Deal for Schools campaign notched up their first victory on Tuesday when Colorado's Boulder Valley School District Board of Trustees unanimously approved a resolution drafted by students at Fairview High School.
"This is a project of our generation, and we're not gonna stop until every school across the country has a Green New Deal and the kind of schools we deserve," said 16-year-old Emma Weber, a student leader in the district. "The Green New Deal for Schools is the kind of action and urgency that we need in order to address the climate crisis and prepare students to live with the realities of it."
The Daily Camerareported that the board's president, Kathy Gebhardt, "urged the students to take their advocacy beyond Boulder Valley to local governments and the state Legislature, saying most school districts in the state are struggling to pay teachers and don't have the resources to add solar panels or buy electric buses."

Colorado Public Radio on Tuesday laid out the long history of such policies in the district, which serves over 30,000 students:
Resolutions on the environment go back to 1978. In 2009, BVSD created a sustainability action plan, with updates in later years with a long-term goal of reducing greenhouse gases by 80% and also committed to a goal of zero net energy by 2050. It was one of the first school districts in the nation to make such a commitment.

As a part of its efforts to track carbon and lower emissions, the district has increased the number of buildings with renewable energy, purchased 19 electric buses, reduced greenhouse gas emissions by a quarter, reduced water consumption by 11% in three years, and hit a target of diverting 50% of waste from landfills. BVSD has already become a leader in providing locally sourced lunch to students.
"The students' resolution asks the district to continue and amplify efforts toward reducing carbon emissions, asking for all school buildings and buses to run on renewable energy," CPR added. "By 2026, they want a comprehensive curriculum for all students in all grades to develop sustainability knowledge and behaviors, including information on how climate change affects communities differently."
The Sunrise Movement—which is behind the national Green New Deal for Schools campaign—said on social media that the resolution also commits the district to "pathways to green union jobs for students, and increased collaboration with local, state, and federal agencies to strengthen responses to climate disasters."

With the resolution, the board is also asking U.S. President Joe Biden—who plans to skip COP28, the United Nations climate summit beginning this week—and Congress "to support the Green New Deal for Public Schools Act, reinforcing the call for a nationwide commitment to an education that prepares our generation to navigate the realities of the climate crisis," according to Sunrise.

Spearheaded by U.S. Sen. Ed Markey (D-Mass.) and Rep. Jamaal Bowman (D-N.Y.), a former educator and principal, the legislation would invest $1.6 trillion to transform the country's education system while "creating 1.3 million jobs and eliminating 78 million metric tons of carbon emissions" over a decade.

While the win in Colorado was a first for the campaign, Sunrise and students across the United States are pushing for more. The group noted Wednesday that young people in dozens of districts—from Bozeman, Montana to Philadelphia, Pennsylvania—have recently testified at school board meetings and attended daylong trainings in cities including Chicago, Illinois; Detroit, Michigan; and Washington D.C.
"Shoutout to the incredible students and their tireless advocacy that led to the Green New Deal for Schools resolution, which passed the Boulder Valley school board this week!" Bowman said Wednesday on social media. "Thank you for your incredible work. Now let's make this happen everywhere!"
News