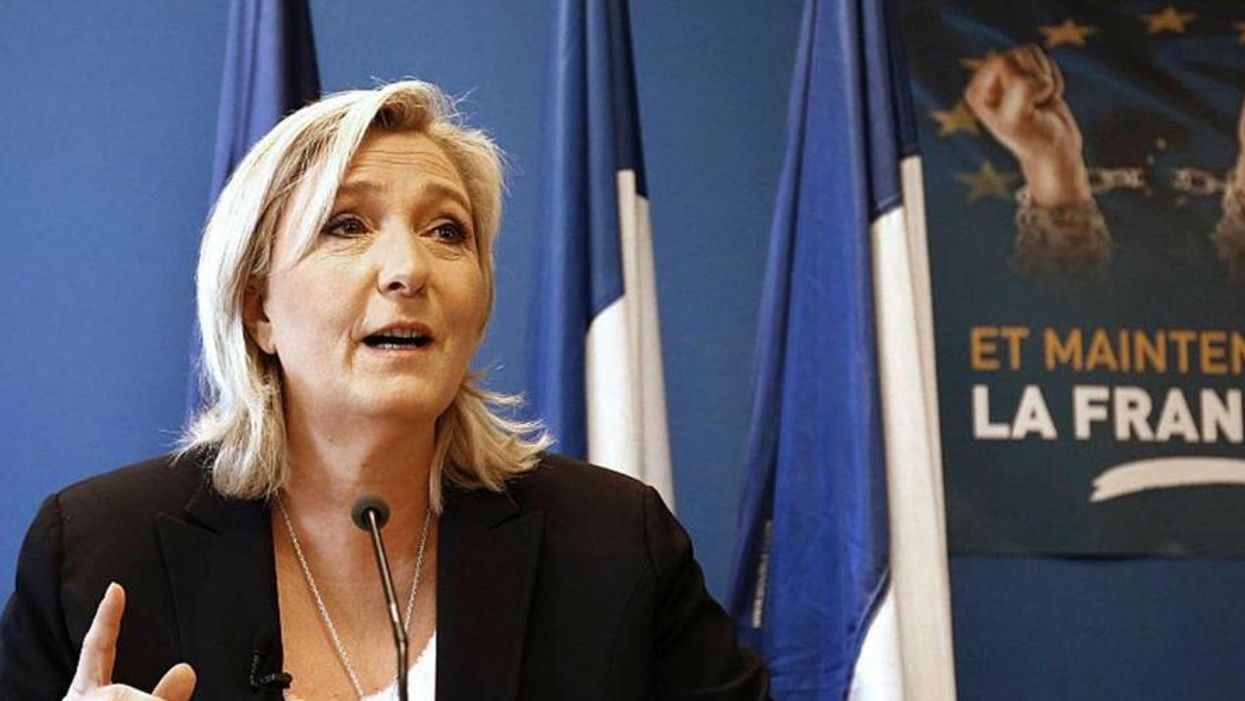 President Donald Trump also appeared to throw weight behind right-wing candidate in highly unpredictable election
Right-wing French presidential candidate Marine Le Pen was accused Friday of exploiting the fatal shooting of a Paris police officer that occurred Thursday, as the anti-immigrant candidate seeks to bolster turnout before Sunday's presidential election.
Le Pen immediately invoked fears of "a war against us," and in response the French prime minister Bernard Cazeneuve accused the Front National candidate of "shamelessly exploiting fear and emotion for purely political ends," reportedAFP. Le Pen's center-right rival Emmanuel Macron also accused Le Pen and the Republican candidate Francois Fillon of exploiting the shooting to their advantage.
French President Francois Hollande said Thursday that the attack appeared to be an act of terrorism, and on Friday Paris police announced that the perpetrator was a French citizen.
The Australian described Le Pen's fear-mongering, xenophobic commentary:
In the wake of the attack, Le Pen said "this war against us is ceaseless and merciless," and charged that the outgoing Socialist government and its right wing predecessor had "done everything to ensure that we lose" the fight.

Le Pen, widely seen as taking the hardest line on security among the candidates, called for France to "immediately" take back control of its own borders from the European Union and deport all foreigners on a terror watchlist.
And President Donald Trump appeared to throw his weight behind Le Pen's right-wing campaign, Salon noted, tweeting Friday that "the people of France will not take much more of this" in reference to the Paris attack.
\u201cAnother terrorist attack in Paris. The people of France will not take much more of this. Will have a big effect on presidential election!\u201d

— Donald J. Trump (@Donald J. Trump) 1492770721
Le Pen and Trump have been connected in the past, notes Salon: "Le Pen and Trump have been said to represent the emerging anti-globalist movement that has taken Europe and the United States. Le Pen was seen at Trump Tower during the presidential transition, but both parties refused to confirm whether or not they had met."
It remains to be seen how or whether the attack in Paris will affect Sunday's vote. Le Pen's leading spot in the polls has been slipping in recent weeks, and left-wing candidate Jean-Luc Melenchon has been gaining ground.
While center-right candidate Macron, a former investment banker who has never held elected office, is the favorite to win, polls show the three politicians plus the scandal-ridden Republican party candidate, Fillon, all within striking distance of one another.
The large size of the field--in total, there are 11 candidates--and falling political fortunes of France's once-leading parties has made this a highly unusual and unpredictable election.
"This situation is totally unprecedented," said Emmanuel Riviere, managing director of the polling firm Kantar Public France, in an interview with Bloomberg. "The fact that there are four potential finalists makes the situation very complex."
"[V]oters are abandoning the two mainstream parties, the Socialists and Republicans, which have dominated French politics for decades," explainedCNN's Frida Ghitis. "While they have always garnered the overwhelming majority of support, this time they may not get even a quarter of the votes. In fact, the parties that until now took turns governing France may not even have a candidate in the final round."
If no candidate captures 50 percent of the vote, which is likely given the size of the field, the two front-runners will face each other in a run-off vote next month.
It's even possible that the country could see a run-off vote between the far-right and far-left candidates, as Common Dreams reported last week.
News