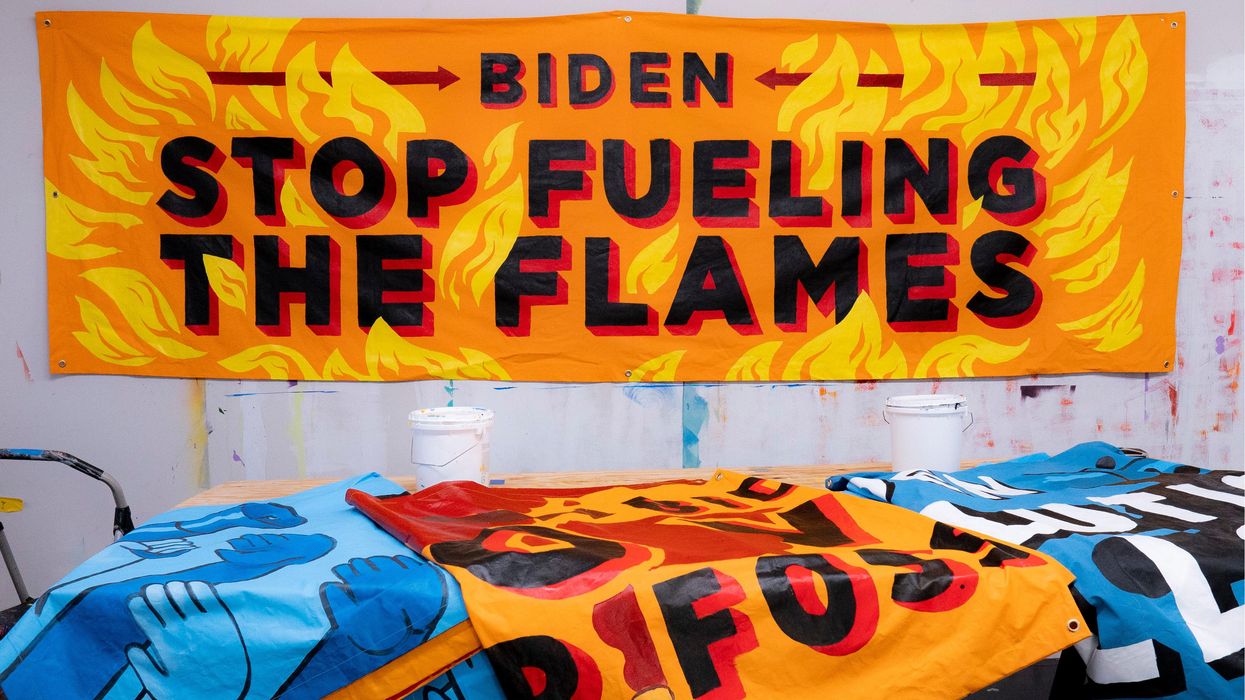 "While the IRA was touted as the 'largest investment in climate and energy in American history,' it could turn out to be a failure if Biden doesn't also take bold action on fossil fuels," said Oil Change International.
The 2022 law heralded as U.S. President Biden's key climate achievement may support an expansion of clean energy, but a new analysis out Monday demonstrates how the Inflation Reduction Act leaves the fossil fuel industry with vast opportunities to extract more oil and gas and continue boosting its record-breaking profits at the expense of frontline communities.
The report, said Oil Change International (OCI) as it released the new findings, proves that the Biden administration can't rely on the IRA to demonstrate its commitment to the emissions reduction that scientists agree is needed to mitigate the climate crisis.
Titled Biden's Fossil Fuel Fail: How U.S. Oil and Gas Supply Rises Under the Inflation Reduction Act, Exacerbating Environmental Injustice and released 10 days before the 28th annual United Nations Climate Change Conference (COP28), the analysis uses previously unpublished data from climate modeling by the Rhodium Group, an environmental think tank.

"The model projects that despite the IRA's investment in renewable energy, electric vehicles, and batteries, the United States could still miss its Paris Agreement goal of reducing U.S. emissions by 50 to 52% below 2005 levels by 2030," reads the report, noting that as the world's largest historical emitter of fossil fuel emissions, the U.S. has a responsibility to "cut its emissions faster than the global average."
The group's model projects that domestic fossil gas demand in the U.S. will decline by 16% by 2035, yet production is expected to rise by 7%. Petroleum demand is expected to decline by 20%, yet production will rise by 13%.
"The gap between production and demand is filled by surging exports," explained OCI. "Gas exports are projected to double by 2035, while oil and petroleum product exports rise 23%."
Wind and solar power are expected to replace gas domestically, added the organization, but the positive effects of the decline in gas demand in the U.S. are "tempered by an increase in gas consumption within the oil and gas industry itself."
The "energy-hungry" liquefied natural gas (LNG) export sector will essentially cancel out progress made by surging wind and solar power in the U.S., said OCI, with gas consumption by LNG export plants growing 140% by 2035.
"The Biden administration touts the Inflation Reduction Act as a centerpiece of its achievements on climate," said Collin Rees, U.S. campaign manager for OCI. "In reality, the bill leaves a massive escape hatch for the fossil fuel industry to continue business as usual."
Rhodium's modeling projects that the U.S. will miss its targeted emissions reduction for 2030 by 16-18 percentage points if the Biden administration relies on the IRA and its investments in technological fixes like carbon capture and storage and fossil hydrogen production while allowing continued investments in oil and gas exports.
"While the IRA was touted as the 'largest investment in climate and energy in American history,' it could turn out to be a failure if Biden doesn't also take bold action on fossil fuels," said OCI in a statement. "As the world gathers for COP28, Biden still has a chance to be the climate leader he claims he is by making a commitment to phasing out fossil fuels."
The phase-out of all oil and gas production in the U.S. is widely recognized as necessary by energy and climate experts, and has long been demanded by advocates for frontline communities, which bear a disproportionate public health burden due to the strong links between fossil fuel extraction, storage, and transport and harms including respiratory illnesses, cardiovascular disease, and poor outcomes for pregnant people and infants.
Boosting fossil fuel production and exports "while exacerbating pollution in environmental justice communities," said OCI, is a "deadly combination."

Roishetta Sibley Ozane, founder of the Vessel Project of Louisiana, said Biden's approval of projects like the Willow oil drilling initiative in Alaska, nearly $2 billion for publicly financed fossil fuel projects abroad, and his support for the Mountain Valley Pipeline, among other pollution-causing infrastructure, has shown frontline communities that the president's campaign promises regarding environmental justice were "nothing but a smokescreen."
"We supported [President Joe] Biden for change, not to deal with deadly decisions made without us at the table," said Ozane. "The fight against climate disaster is collective, and the United States cannot preach about caring for communities while exporting pollution globally."
The pollution impacts of continued fossil fuel production and exports will be "disproportionately borne by Black, Brown, Indigenous, and poor communities—specifically in Appalachia, the Gulf of Mexico, and the Permian Basin of Texas and New Mexico," said OCI.
To align with Biden's stated climate goals, the group said, the president's efforts must go far beyond the IRA and include a phase-out of oil and gas exports, an end to fossil fuel leasing on federal lands, and a halt to all approvals for new fossil fuel infrastructure.
"At COP28 the spotlight will be on our collective effort to end the fossil fuel era," said Rees. "Will the United States deliver, or will Biden's climate legacy be one of disastrous oil and gas expansion and failure to adequately tackle the climate crisis?"
News